Find the Best Halara Dress Dupe
There is no doubt that Halara has many beautiful dresses. However, with inflation at an all-time high and the value of our dollar deteriorating, it's essential to save money where we can. Fortunately, in this article, we will present you with some of the best Halara dress dupes you can buy at a lower price. Find the Halara dress dupe for you and SAVE MONEY!
---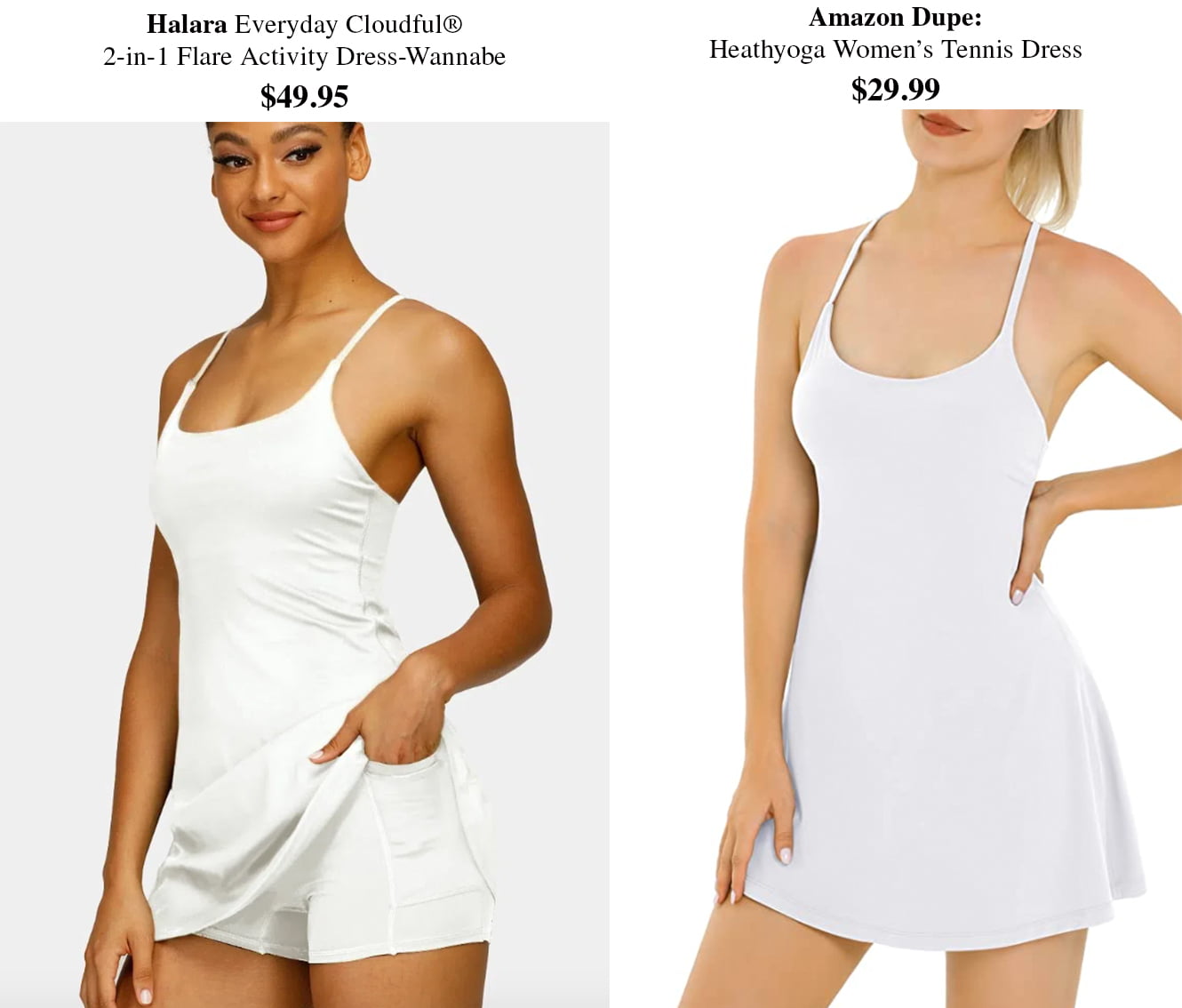 We chose this dress due to the various great features it offers, at a very reasonable price. The dress is made from 87% nylon and 17% spandex and comes in six different colors to match everyone's taste.
The fabric is breathable and feels very soft on the skin. Due to its softness and 4-way stretch, it is an ideal dress for training. The dress also comes with adjustable shoulder straps and a built-in bra, so it perfectly fits everyone and doesn't dig into the skin.
We should also mention that the dress comes with detached shorts with two pockets. It can prevent legs from abrasion and can also be worn separately as yoga pants. The side pockets are large enough to conveniently store a spare tennis ball or personal things such as keys and cards.
Trending: Top 6 Lululemon Pace Rival Skirt Dupes That You Will Love
---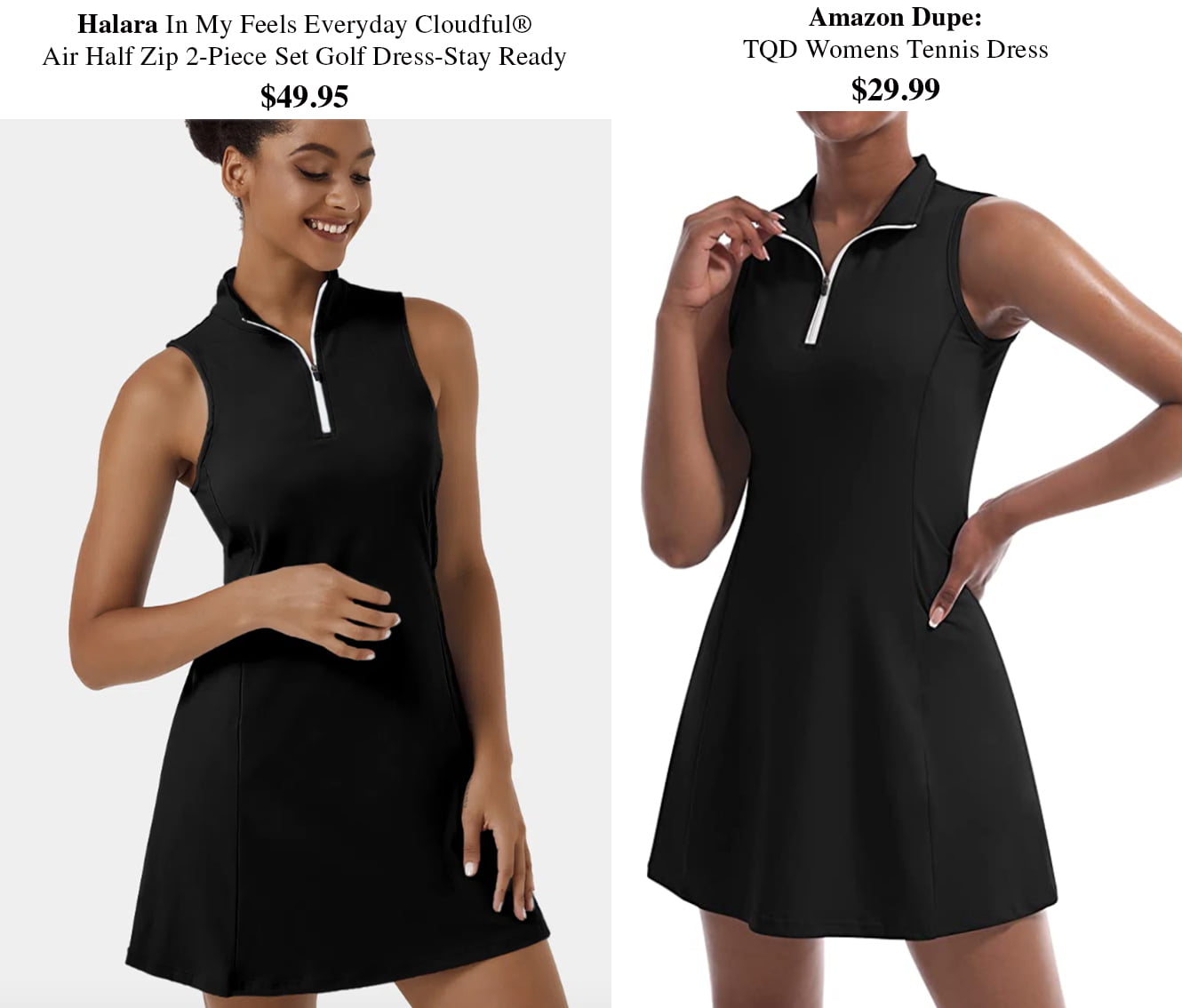 The TQD Tennis dress is another excellent dress, similar to Halara's Cloudful Air Half Zip dress. Like Halara's version, it comes with a half-zip stand-up collar, which allows you to adjust the dress for maximum comfort. The dress also comes with separate shorts with two pockets. While the left pocket has enough space to keep your tennis balls, the right pocket is ideal for keeping your phone, wallet, or keys.
The dress comes in three colors – white, blue, and black. It is made of breathable, stretchy fabric and will keep you cool during workouts due to its moisture-wicking fabric. We should also mention that this model is great not only for sports but for everyday wear as well. It is nice, comfortable, and comes at a reasonable price.
---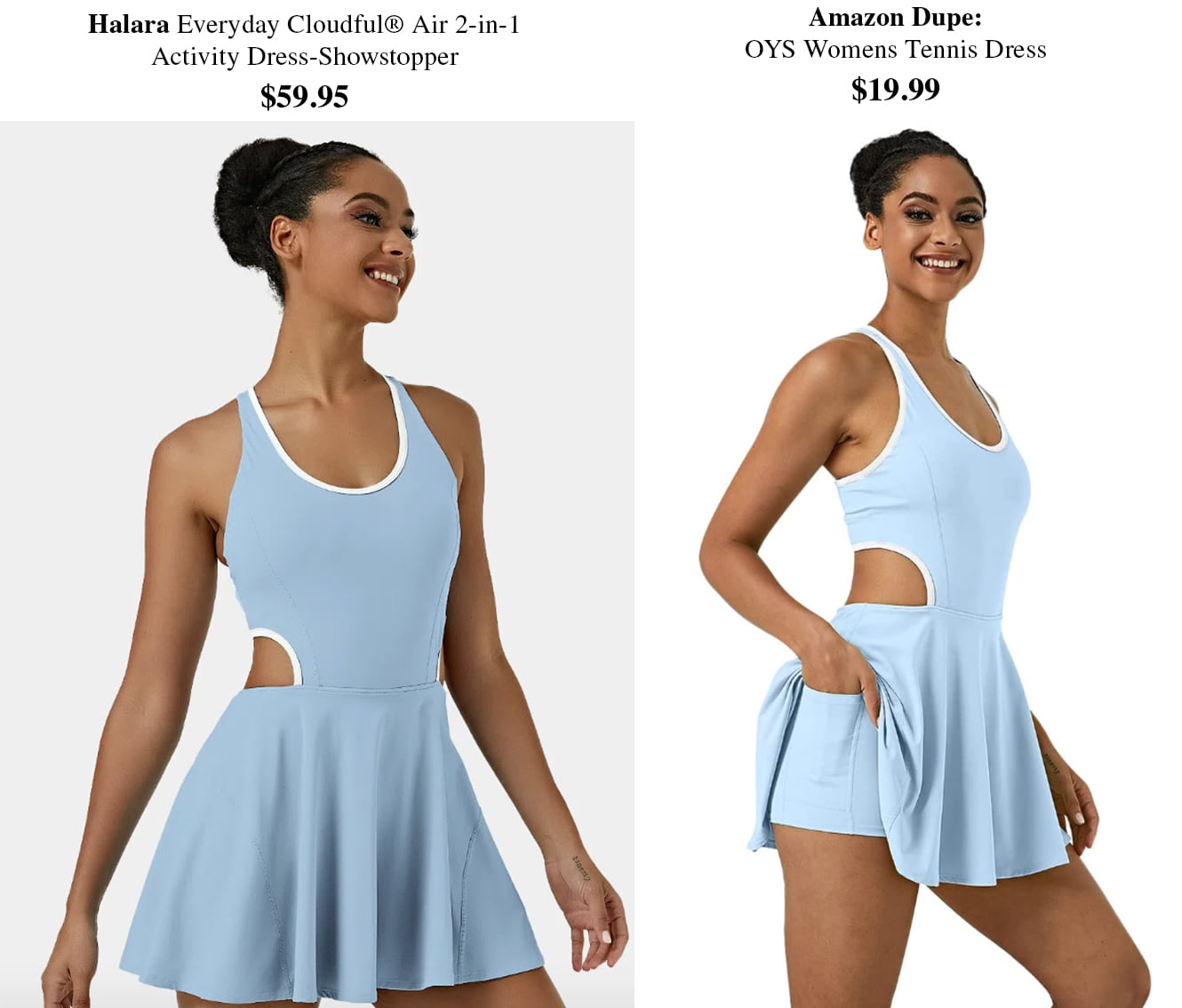 This OYS tennis dress is made from non-see-through, breathable, and sweat-wicking fabric, which consists of 85% polyester and 15% spandex. Like Halara's Everyday Cloudful Activity dress, it comes with separate shorts with one pocket for storing essentials.
The dress also has a 4-way stretch and a design that perfectly hides the hips and tummy. With its cutout cross design and bright color, the dress is fashionable and ideal for many occasions, including sports and everyday wear.
---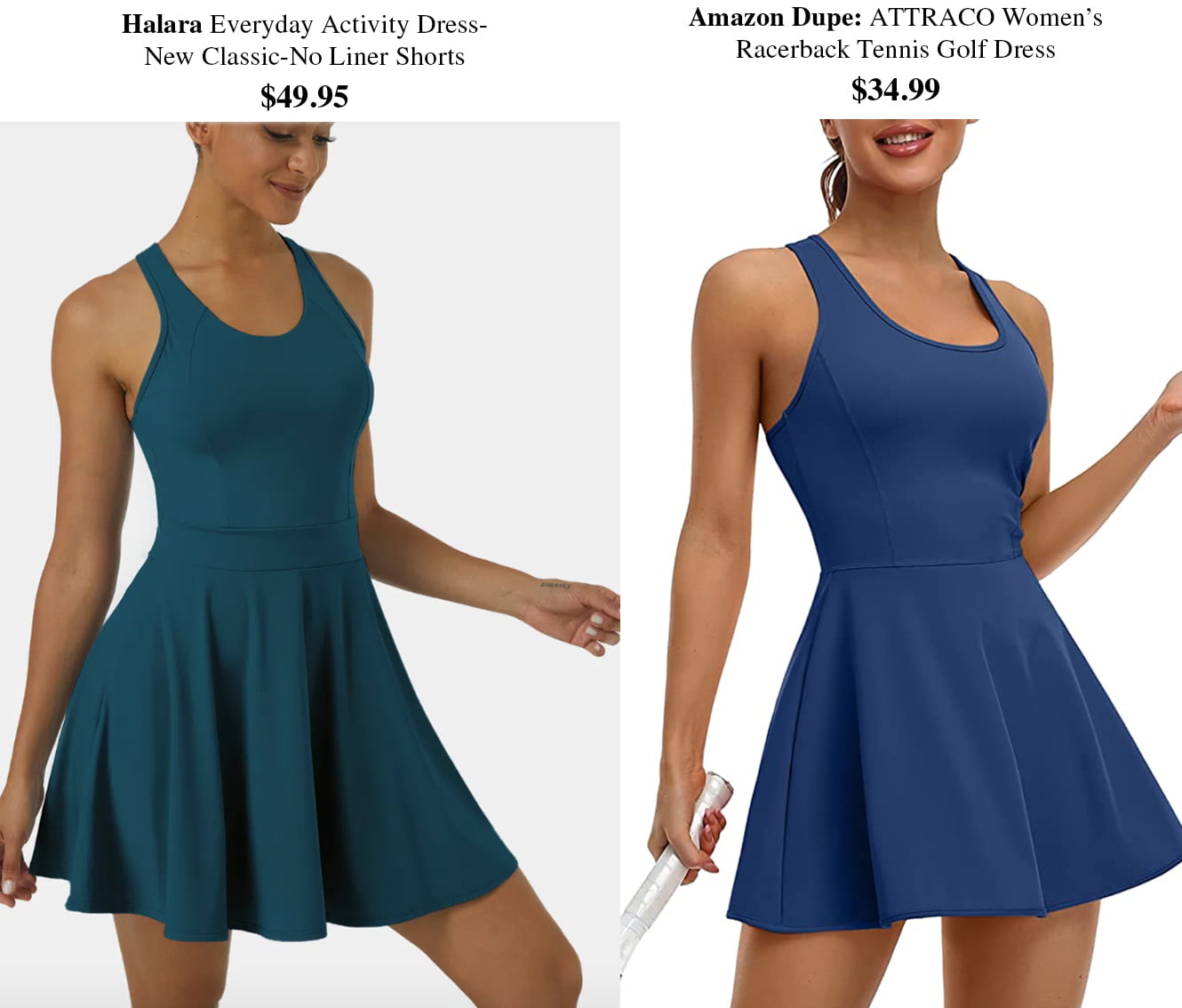 Made from 77% Nylon and 23% spandex, this ATTRACO dress is an excellent dupe for Halara's Everyday Activity dress. It is very comfortable since the material is breathable and feels soft on the skin.
Its racerback design has two functions. First, it looks flattering and makes your back look great. Secondly, the design allows a natural range of motion during the workout, a tennis game, or golf. The material successfully moves sweat from your skin and helps you stay dry. Unlike Halara's dress, the ATTRACTO dress comes with shorts and has two pockets where you can fit tennis balls or your essentials.
---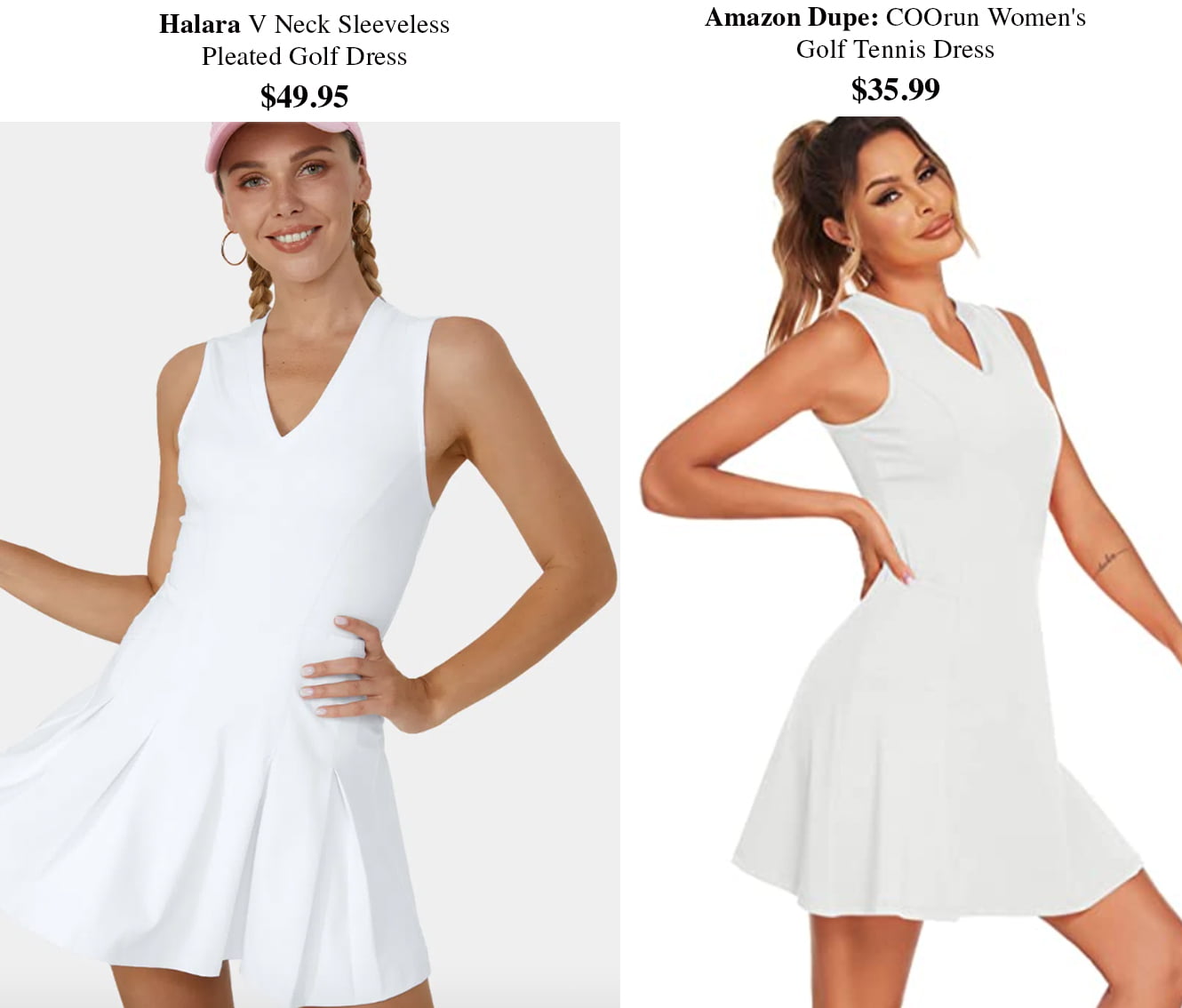 A great feature of this dress is the UV protection. It is made of 100% polyester, and the Performance Breathable fabric has SPF 50+ sun protection. This makes it an excellent choice for stretch and recovery from workouts.
The dress also has built-in shorts with four pockets – two on the front and two on the back. Besides being comfortable and soft on the skin, it has a sexy V-neck design and moisture-wicking properties. The dress comes in six different colors and looks similar to Halara's V-neck Pleated Golf dress.
Will You be Pleased with a Halara Dress Dupe?
We understand that Halara's price points are crazy high like lululemon or Athleta. However, in times like these, where your dollar is stretched thin, we must save where we can. These Halara dress dupes aren't the exact same as Halara's, but they are pretty close. And most importantly, they are budget-friendly and will help you save money!