I love dark, thick, yet natural looking brows. The stark contrast they provide against my bright blonde hair is my signature look. And every morning for years, I would spend 5 minutes or so applying various brow gels and pomades. No matter what brand or method I used, it would always fade by the end of the day and my look would fizzle.
After a little bit of research, I finally decided to take the plunge and go through with microblading. Which, by the way costs $500, is painful as hell, takes at leasts 2 hours, and has the worst, most bizarre healing process that lasts 6-8 weeks! Oh…and on top of that you have to go back after 6 weeks to have certain areas filled in/touched up. All of this pain, money, and torture only for it to start fading 12 months later. Despite all of that, I still went ahead and had it done.
Fast forward 12 months and am convinced that the only option to get my eyebrows back is to go through microblading all over again! Until a few weeks ago when I was at my salon for my routine hair appointment. They happened to be offering brow tinting for $20. My Stylist said it was super easy, quick and would last up to a month. It sounded like the perfect solution to my brow dilemma. And it sure was! I immediately looked amazing! Especially after my fresh cut and blonde highlights.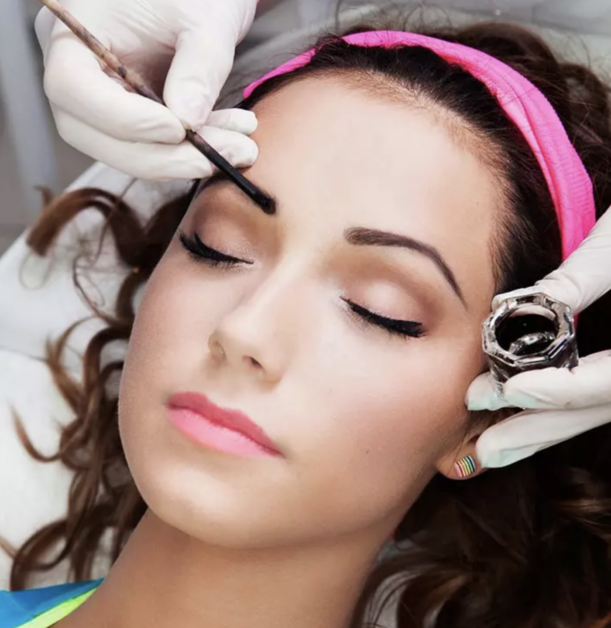 That being said, it only lasts a few weeks. Therefore, I needed a solution for the interim before I returned for my next routine hair appointment. God knows I'm not going to go to the salon every few weeks just to have my brows tinted. I simply don't have the time for that (or the money!)
So I went ahead and did a little research to figure out what the best eye brow dye was. Luckily there are a several excellent semi permanent eyebrow dyes on the market that you can do at home for pennies on the dollar!
What Is Eyebrow Dyeing?
Eyebrow dyeing (or tinting) is simply the process of applying semi permanent color to your brow hairs to make them more defined. In addition to dyeing the hairs, it also dyes the underlying skin to create a more uniform and defined brow shape.

How Do You Choose the Best Eye Brow Dye?
Ingredients: Anytime you are applying a product to your face (especially near your eyes), it is important to make sure it is a mostly all natural product and doesn't contain any sort of ammonia, lead, or parabens that could cause irritation or an allergic reaction.
Shade: This is VERY important. You want to make sure that you don't choose a shade that is too dark or too light for your hair color and features to ensure a natural look. In the description and reviews, check to see if certain shades run darker or lighter than stated and then choose accordingly. These are semi permanent so once you apply the dye, you are stuck with it for at least a few weeks!
Application Method: Ease of application is also an important factor to consider when choosing the best eye brow dye. If you need something that is super quick and simple then look for an eye brow dye that doesn't require too many steps or required tools.
Duration: All of the eye brow dyes in our lineup last anywhere from 3 days to 6 weeks. Make sure to read the reviews to get a more accurate idea of how long each one lasts. NOTE: For most of the eye brow dyes in our lineup, the dye lasts longer on the brows than it does on the skin. Therefore, if it claims to last 6 weeks – that means on your actual brows. It will fade much more quickly from the skin.
Related Article: What are the Best Facial Self Tanners Under $20 in 2023?
How Do You Apply Semi Permanent Eye Brow Dye at Home?
For each of the different eye brow dye brands, the manufacturer's instructions will vary slightly but in general will look something like this: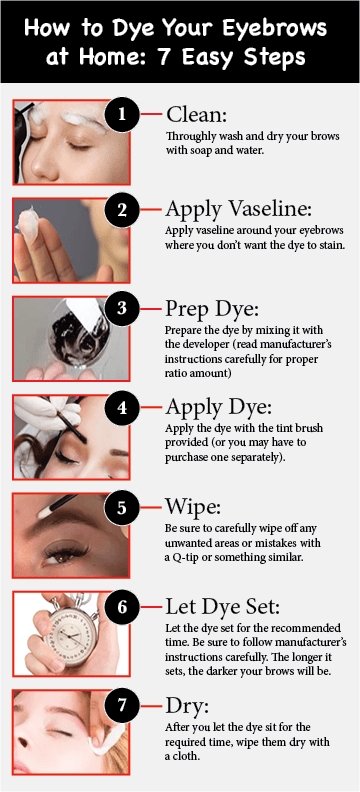 Clean: It is important to throughly wash your and dry your eyebrows and surrounding area
Apply Vaseline: Apply vaseline around your eyebrows where you don't want the dye to stain.
Prep Dye: Some of the eye brow dyes allow you to directly apply the dye but most will require you to either mix the dye with the developer (or water), or will have you apply the dye first, followed by the developer (follow instructions carefully).
Apply with Brow Tint Brush: Carefully apply the dye with the provided brush (or you may have to purchase one separately). Apply only in the spots that you want.
Wipe Mistakes: Be sure to carefully wipe off any unwanted areas or mistakes
Let it Set: Most of the eye brow dyes require a setting period to allow the dye to properly absorb. This will take anywhere from 3 – 20 minutes. NOTE: the longer you let it sit, the darker your brows will be.
Wipe Off: After you let the dye sit for the required time, wipe them dry. And BOOM! Gorgeous Brows!
What is the Best Eye Brow Dye for the Money? Here are 6 Highly Rated, Affordable Options!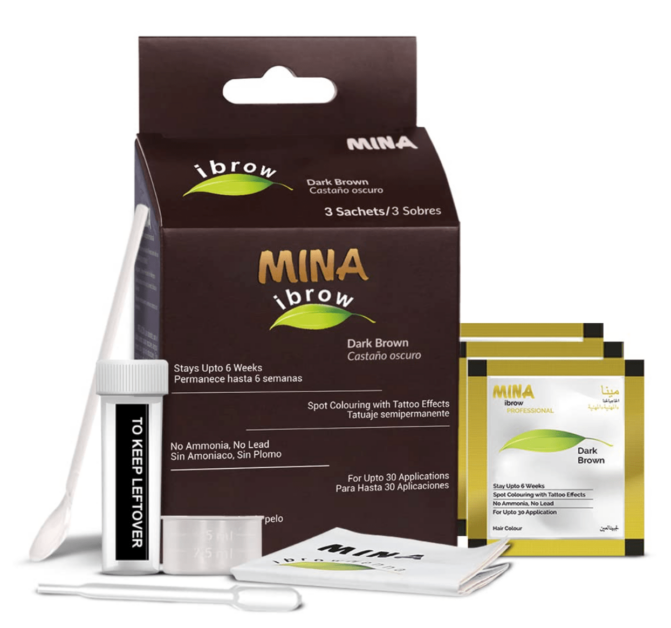 Mina ibrow Henna
Plant Based Formula
Ammonia and Lead Free
12 Shades
Vegan and Cruelty Free
Lasts up to 6 Weeks
30 Applications
Note: Not all kits come with a brush. Make sure you buy one with the brush or purchase a brush separately.
Note: Some kits come with the rose water mixing solution. If you purchase a kit without it, you can just use water.
"I had micro blading done 2 years ago, and it is fading so I was looking for a way to darken my eyebrows without paying so much money, and I found this product and it worked, very easy to mix you just need a good eyebrow brush to spread it with. I applied 2 weeks ago and still good. the instruction says it last 6 weeks, and even if it last 4 still good since it does not take too long to apply it and the box come with enough product for several uses. I highly recommended it."
---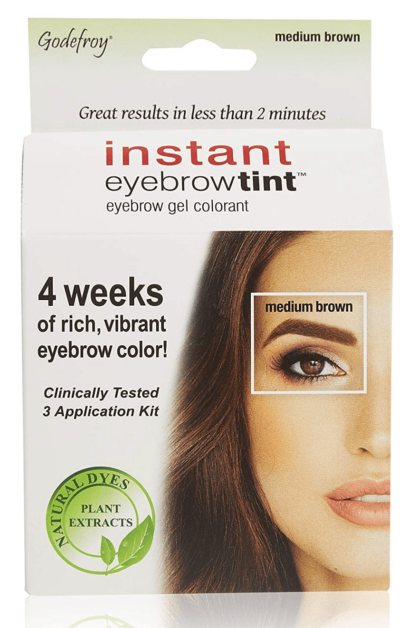 Godefroy Instant Eye Brow
Plant Based Formula
3 Shades (light, medium, and dark brown)
Lasts up to 4 Weeks
Simple Two Step Process
Easy to Follow Instructional Video Included in Images!
"I have been dying my eyebrows for over a decade w hair dye. And it never lasts. And takes forever. This product I did on a limb and I am very pleasantly surprised. It was literally within five minutes I was done. In terms of the four week claim… to be continued. But that would be awesome if so. Try it and follow directions. It's really cool to see the aftermath so quickly."
---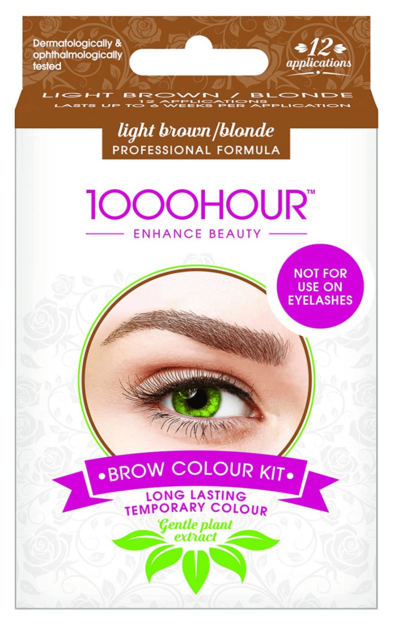 Enhance Beauty 100 Hour Brow
Plant Based Formula Extract
1 Shades (light blonde/brown)
Lasts up to 6 Weeks
Simple Two Step Process (no mixing required)
12 Applications
"I rarely write review in Amazon, but this product satisfied my needs, when I put the color on it looked really dark at first. I was scared that my eyebrows would look like a cloud, but after 1 minute I removed the color and it came out perfect. It's look really natural. It's worth the purchase"
---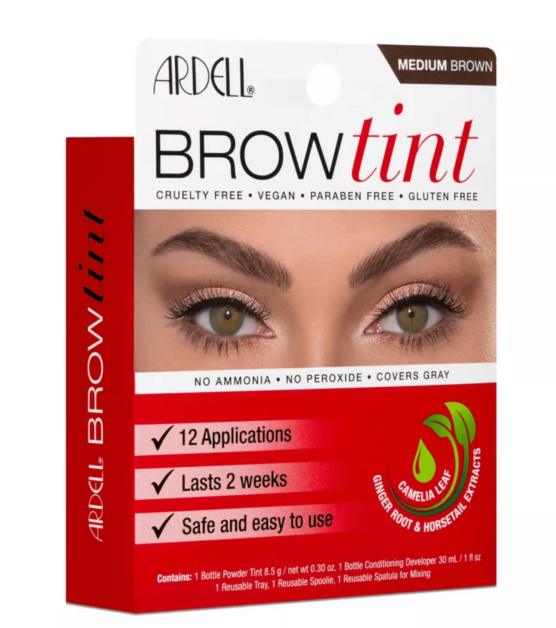 Ardell Brow Tint
4 Shades (light brown, soft black, medium brown, dark brown)
Lasts 2 Weeks
12 Applications
Vegan and Cruelty Free
No Ammonia, Peroxide, or Parabens
Easy to follow instructional video in images!
"This product is great! It lasts a long time and makes my brows look great. Like any product there is some trial and error, so figuring out the ratio can be a bit tricky but once you get that down it's a breeze. I lightly sketch my brow shape with my brow pencil and basically fill in the lines. If you want a lighter coverage go with the time listed on the box, I like my brows darker so I leave it on for about 10-15 minutes. This product isn't normal dye, it's henna so please remember that when you are using it. Hope this helps!"
---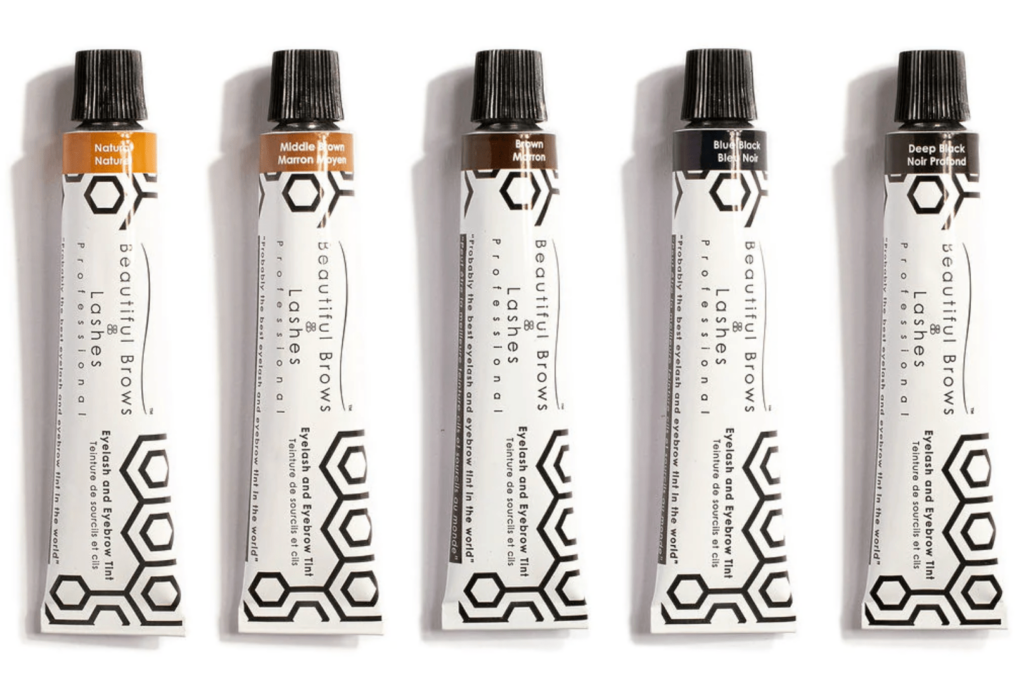 Beautiful Brows and Lashes Tint
5 Shades (natural, mid-brown, brown, deep black, and blue black)
Lasts 3-5 Days on Skin and 3-6 Weeks on Brows
"You have to try this !! The quality of this tint is amazing. The results are beautiful , I love it because it last longer than the others. I highly recommend it."
---

Maybelline New York Brow Tattoo Long Lasting Tint
BEST FOR SHORT TERM USE OR SPECIAL EVENT
4 Shades (chocolate brown, dark brown, light brown, medium brown)
Lasts 3 Days
Smudge Proof and Waterproof
Peel Off Formula: Apply to clean lashes with brush, correct mistakes before it sets, leave on for 20 minutes, and peel off
"The results are amazing. My brows look microshaded! I actually think they look even better than when I get them shaped and tinted at the brow bar. In this photo, I put the gel on, did the rest of my makeup, peeled off the product and slapped on a clear brow gel to hold them in place. Voila!Sounds amazing. However, as the tint fades, it fades to an orange/red within a day on my super light brows. That means having to fill them in with my regular products for day or two if I don't want to look ridiculous."
---
What is the Best Way to Care for Your Eyebrows After Dyeing?
When using any of the above eye brow dyes, you can expect the dye to last anywhere from 3 days to 6 weeks and will all gradually fade over time.
First 24 Hours: After you dye your brows, avoid washing them for at least 12 hours. You should also avoid excessive touching or rubbing for 24 hours to avoid irritation. Chlorine can also shorten the wear of your tint.
After 24 Hours: The best way to care for your eyebrows after the first 24 hours is pretty simple and straightforward. We recommend you avoid any self tanning agents because the pigments can interact with the dye and alter the color.
Try a Brow Conditioner: If you notice your eyebrow dye is fading faster than you expected, you can try an eyebrow conditioner to help hold in the dye.
Avoid Excessive Brushing: We also recommend that you avoid excessively brushing your brows. One quick brush in the morning is enough.