This summer I was on a mission to finally find that perfect swimsuit. You know…the one that has a flattering fit, stays put, has proper coverage, is the right price, and of course has plenty of sex appeal. I was on the verge of splurging a whopping $200 on the viral TA3 corset swimsuit but couldn't pull the trigger. I didn't like the idea of dropping that kind of dough on a swimsuit that I couldn't even try on first!
Google obviously knew I was looking for swimsuits so they were clever enough to display a Calia swimwear ad on one of the sites I was browsing. It triggered my memory from when I bought a few pairs of Calia bike shorts in the past that I absolutely loved. The fit and support were on point and the price was right.
As a bonus, I could actually go up to Dick's and try them on!! So I went up, and BOOM! Fell in love! I tried on a few bottoms but the ones that sold me were the Calia Shirred V Front High Waisted Bottoms. The V front is so slimming and flattering. The material felt very high quality and super smooth on my skin. They had just the right amount of compression and coverage as well.
Additionally, I loved how they had a slight bit of cheekiness but could still feel comfortable and confident wearing them to the local pool with my kiddos. The high leg is also quite sexy!
If you are interested, keep reading my Calia swimwear review where we break down a few factors and 6 key reasons why this is a highly under rated swimsuit brand that you should definitely consider!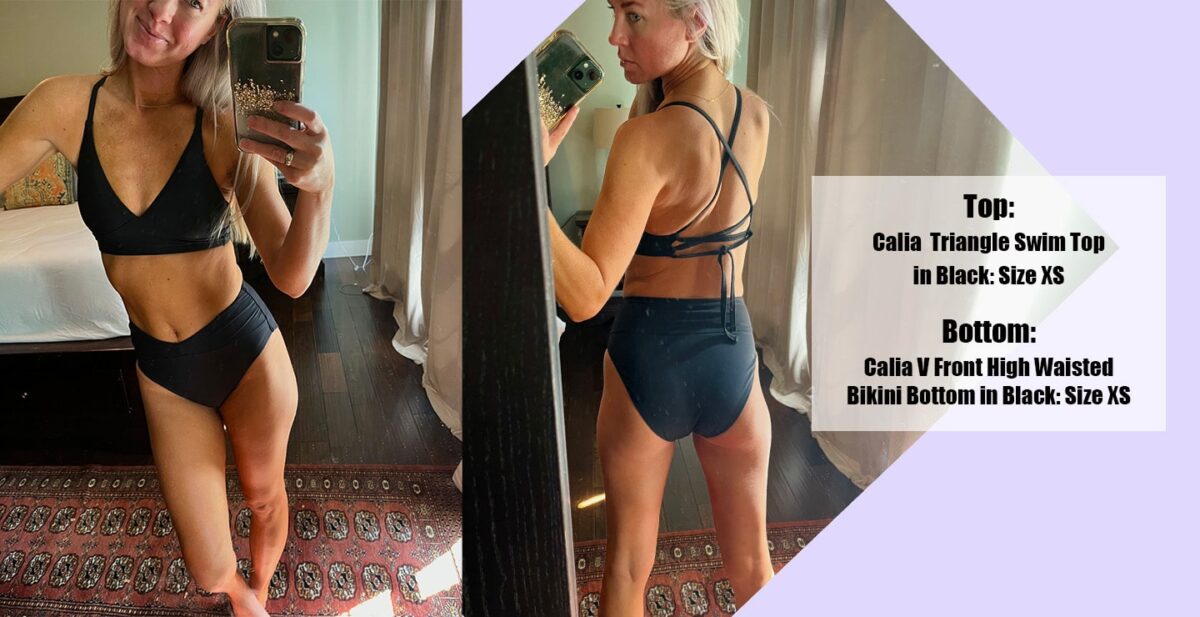 Calia Swim Sizing
Calia swimsuits are available in sizes XXS-XL. They run on the bigger side. I am typically a small in bathing suits and the XS fit perfectly. The Calia swimsuit tops run true to size. I typically wear a size small and the size small fit perfectly. For reference, I am 5'6″ and 115 pounds.
Calia Swim Pricing
Calia swimwear is surprisingly affordable for the quality. The full price per piece is typically $40, however, they are almost always on sale for around $30 at Dick's Sporting Goods.
Related Article: Top 12 Left on Friday Swim Dupes to Feel Sexy and Confident this Summer
Calia Swim Colors
The Calia swimsuits are available in a variety of colors, including black, white, brown, blue, orange, tan, yellow, green, purple, pink, as well as a few fun patterns. I love how you can easily mix and match them with different tops too.
Below in the picture on the left I am wearing the Calia V Front High Waisted Bikini Bottoms (in white) with the Calia Triangle Top (in black) and in the picture to the right I am wearing the Calia V Front High Waisted Bikini Bottoms (in black) with the Calia Ribbed Minimal One Shoulder Swim Top (in white) all in size XS.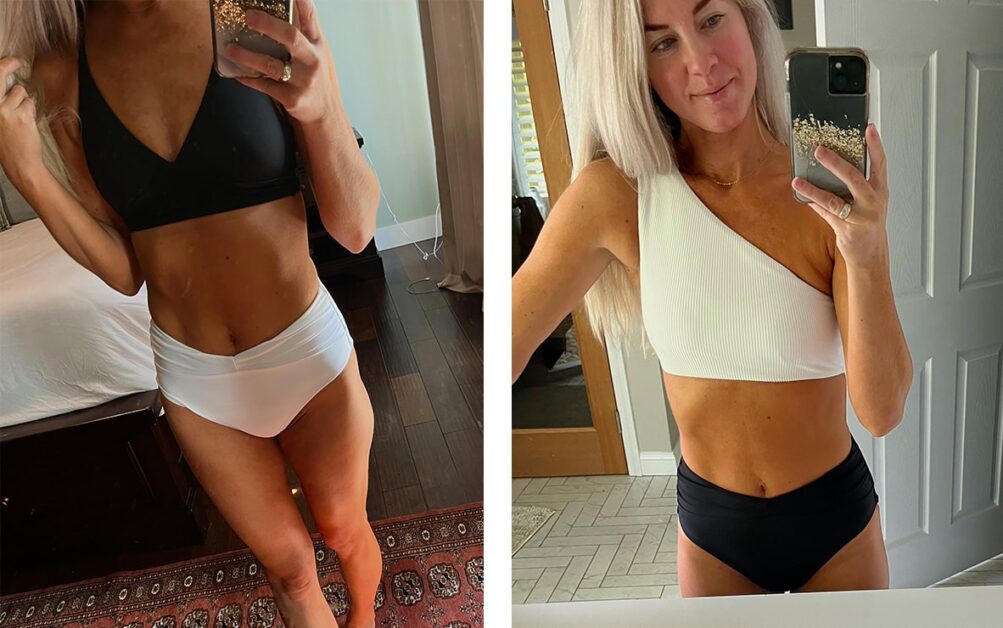 Calia Swimsuits are Best For
Moms: You can tell these suits were designed with moms in mind. They are perfect for moms who desire tummy control and decent bum coverage. You can be rest assured everything will stay in place while chasing your little ones around.
Family Friendly Settings: Calia swimsuits are perfect for family vacations or any family-friendly setting. They allow me to feel sexy without exposing too much skin around children, my parents, and family!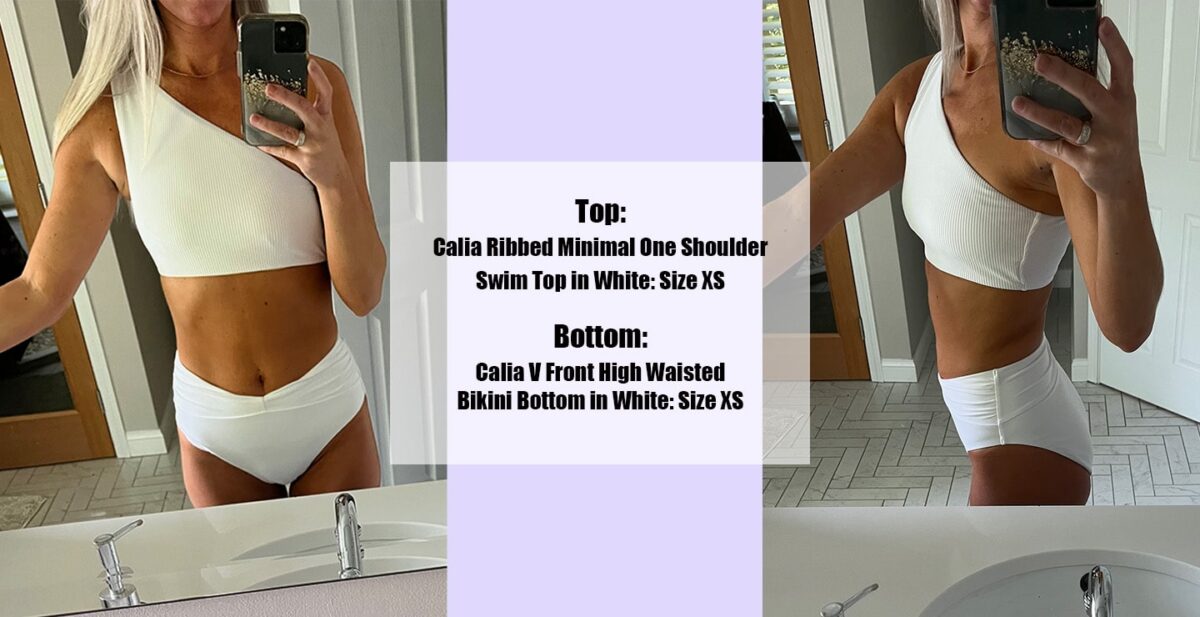 6 Reasons Why I Love Calia Swimwear
Quality Material: Since Calia Swimsuits are composed of nylon and lycra, the fabric retains its shape when wet or dry. You don't have to worry about them getting frumpy or saggy when wet. Halleluja!
Compression: There is a double layer of fabric that helps hold everything in place without feeling heavy or overly tight.
Padding: All of the Calia swimsuit tops come with high quality removable pads that actually stay in place and give support.
Booty Coverage: Calia swimsuits were designed with moms in mind. All of the Calia swimsuit bottoms provide full coverage so you will feel comfortable even when in a family friendly setting. Some of the styles have a touch of cheekiness (just enough for a tease).
Stay in Place: The material along with the double layer of fabric keeps everything in place. You will never have to pull or yank on anything, which is quite rare for a swimsuit.
High Leg: Many of the Calia high-rise swimsuit bottoms have a flattering high leg to elongate your legs, which is rare for high waisted full coverage swimsuits. Most other swimsuit bottoms that have a high leg are usually way too cheeky!
A Few Other Calia Swimwear Review Posts
Perfect Bottoms!!
★★★★★ 5 out of 5 stars
"These fit so well!! As a mother of two kids, I prefer a high rise bathing suit and love when it's also cute! This fits the bill! Mostly full coverage on the bottom with a little cheek popping out. I feel great in this suit!" (Review of Calia V Front High Waisted Swim Bottoms)
Love it!
★★★★★ 5 out of 5 stars
"It's so hard for me to find a cute, comfortable and quality bathing suit. This one fits perfect and the quality is amazing! I am a 36B and the small fits like a glove. I'm bigger on the bottom, so I like that it gives me a little more "oomph" on top. The pink color is definitely more of an orange color than what it looks online." (Review of Calia Triangle Swim Top)
Adorable Top.
★★★★★ 5 out of 5 stars
"I absolutely adore this top! I love the straps in the back and that it clasps. It's also nice that the straps are adjustable. I got the white suit w the palm like branches in black. It looks super cute w my olive green bottoms. I got a medium in the top, which has been consistent over the years w calia. I'm 34/36B, 135lbs, 5'7. It was comfortable and didn't feel like it was too tight or loose as I was in the pool w the kids." (Review of Calia Women's Ruched Front Cross Swim Top)
The swimsuit bottoms I've been missing!
★★★★★ 5 out of 5 stars
"I could live in these bottoms all summer. They are super soft and don't dig in at all. I have three kids so I'm at water parks , pools and at the beach a lot and the bottoms stay put and our super comfortable at the same time." (Review of Calia Wide Banded High Leg Mid Rise Swim Bottoms)