Celebrities, bloggers, and fashionistas everywhere have fallen head over heels for Amina Muaddi's unique and colorful heels. Not only do they look amazing, but they're also comfortable.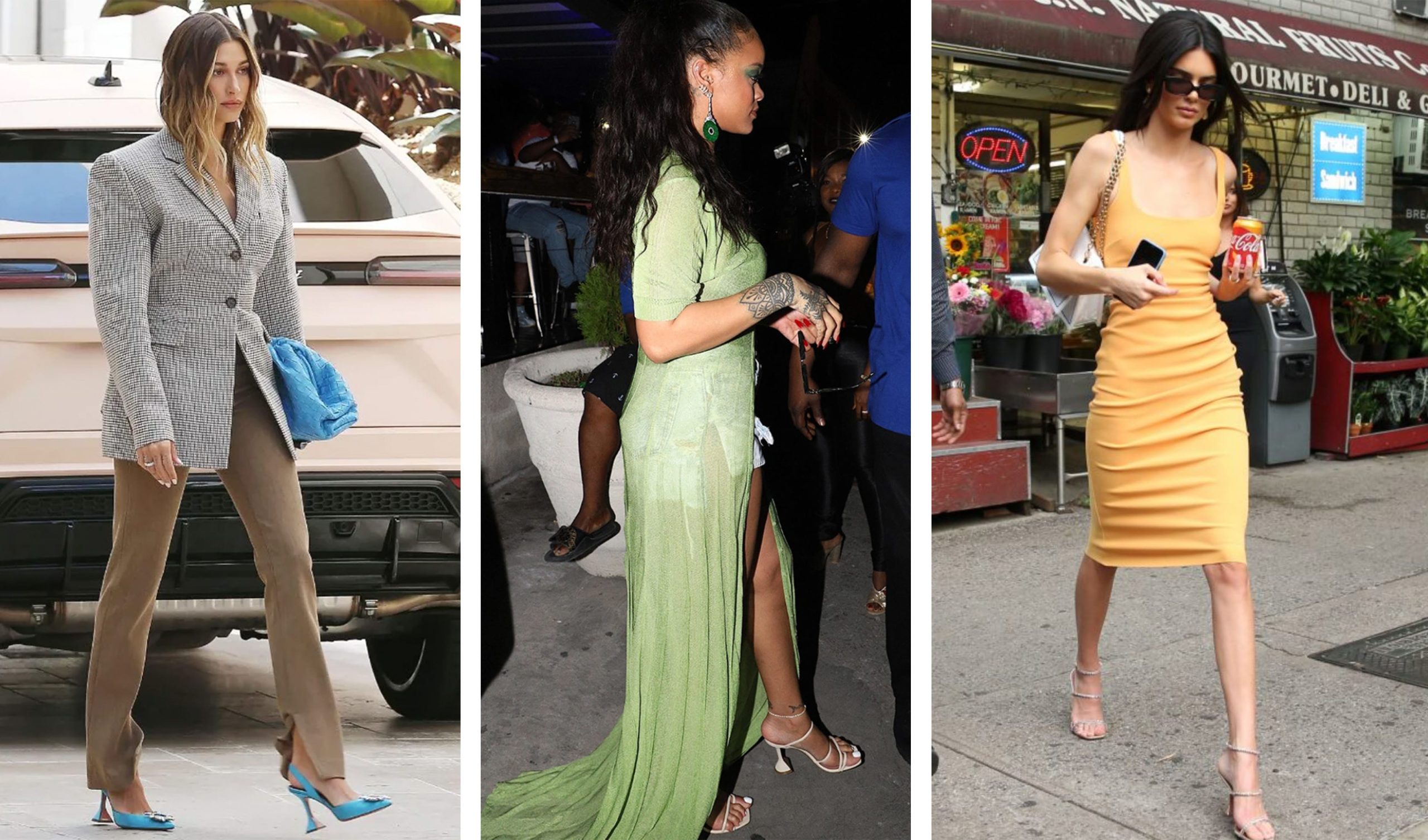 Sadly, style and comfort come at a price. Basic models start around $700, while fancier ones can easily go for $1000 or more. 
Related: Top 10 Jimmy Choo Inspired Bow Heels |10 Best Prada Inspired Loafers
But before you get bummed out, there's good news. Plenty of designers have created Amina Muaddi dupes that are good enough to fool even the most discerning eye. Check out our top 10 picks here. 
What Are The Best Amina Muaddi Dupes? 
While many women would love to get their hands on a genuine pair of Amina Muaddi heels, their $700+ price tag makes them inaccessible for budget-bound fashion lovers. But just because you're on a budget doesn't mean you have to miss out.
This guide of the top 10 Amina Muaddi dupes will give you the same look for a fraction of the price.
#10. Wetkiss Women's Crystal Rhinestones Slingback Heels
Price: $69.99
Colors: Silver, gold, black
These sling-back heels from wetkiss are almost perfect dupes for Amina Muaddi's Cinderella-inspired Begum Glass Slingback Pumps.
Both feature a transparent kick-flare heel, pointed toe, slip-on design, and a clear upper adorned with a jeweled ring. 
Materials-wise, both pairs have synthetic uppers. When it comes to the sole, the wetkiss style uses rubber, while the Muaddi's use an unspecified synthetic material. 
Another slight difference between these Amina Muaddi dupes and the original is the heel height. The look-a-likes on Amazon measure 3.94 inches, while the original pair measure 4 inches.
#9. VETASTE Women's High Heel Crystal Slingback Pumps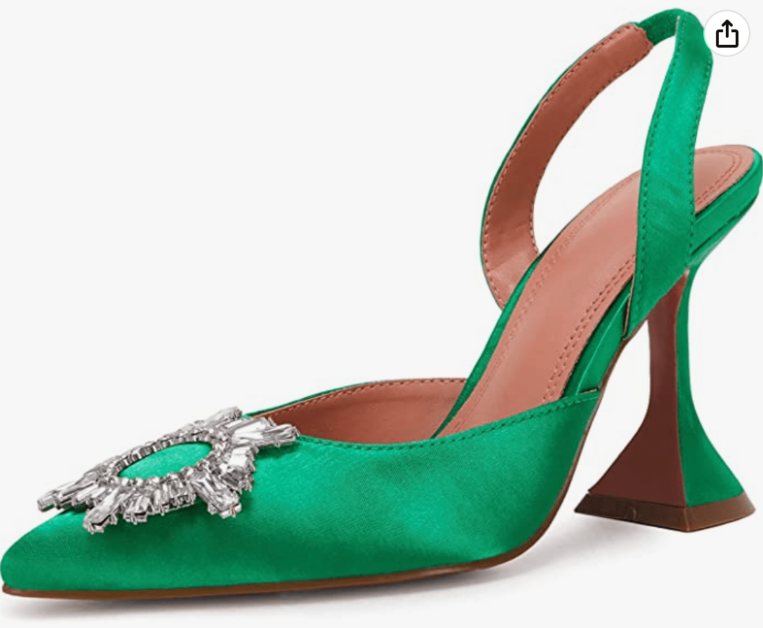 Price: $59.99
Colors: Black, blue, green, red, khaki, nude, pink, transparent, white, yellow/gold, purple
VETASTE has also created a convincing dupe of the Begum slingbacks, this time in satin instead of PVC. 
As with the originals, this pair features Art Deco-inspired crystal buckles on the vamp and an unmistakable structural heel. VETASTE also did an excellent job of replicating Muaddi's jewel-toned colors, making it nearly impossible to spot the Amina Muaddi dupes. 
In terms of heel height, the original Begums measure 3.75 inches. The heel height of the dupes varies based on size, but all are quite close to the originals.
Note: Sizes 5 to 6.5 measure 3.74 inches, sizes 7 to 8.5 measure 3.88 inches and sizes 9 to 11 measure 4.02 inches.
#8. DREAM PAIRS Women's Clear Heels Square Toe High Stiletto Mules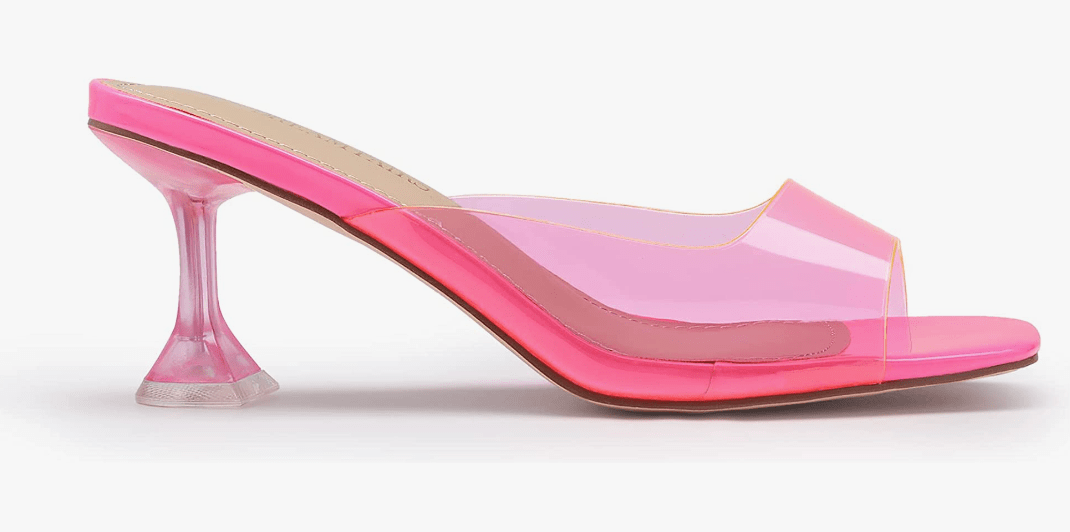 Price: $36.99
Colors: Nude, silver, pink, black, neon yellow
This pair of PVC mules by Dream Pairs are near-perfect Amina Muaddi dupes of Muaddi's Lupita PVC heeled sandals. Like the Muaddis, this pair has a PVC top strap, a square open-toe design, and a transparent curved heel. 
There are several differences between the Muaddis and these dupes. For starters, the original pair have a leather lining, whereas the dupes use polyurethane (PU) leather, a synthetic substitute. 
Another noticeable difference is the heel height. While the Lupita sandals measure 3.7 inches, the dupes measure more than an inch shorter (2.6 inches). 
 Still, both of these differences are fairly minor. The result is a convincing pair of stylish dupes.
#7. Arqa Women's High Heel Slingback Pumps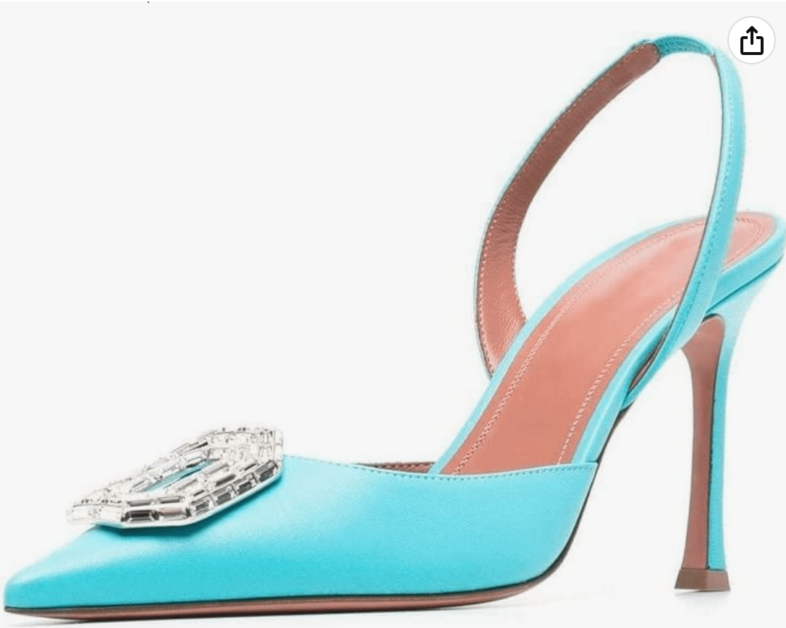 Price: $46.89
Colors: Black, blue, denim, purple, green, pink, white, clear, peacock
Arqa has also created a believable dupe of the Amina Muaddi Begum satin slingbacks. As with the originals, the Arqa pair also features eye-catching crystal embellishments on the vamps and a satin upper.  
In addition, both pairs come in a range of similar bright colors. While the shades are slightly different, only a true Muaddi fan would be able to spot the dupes. 
When it comes to differences, the heel on the Begums measures 3.75 inches, while the Amina Muaddi dupes come in at 3.35 inches.
#6. LauraVicci Women's Crystal Chain Ankle Straps Heeled Sandals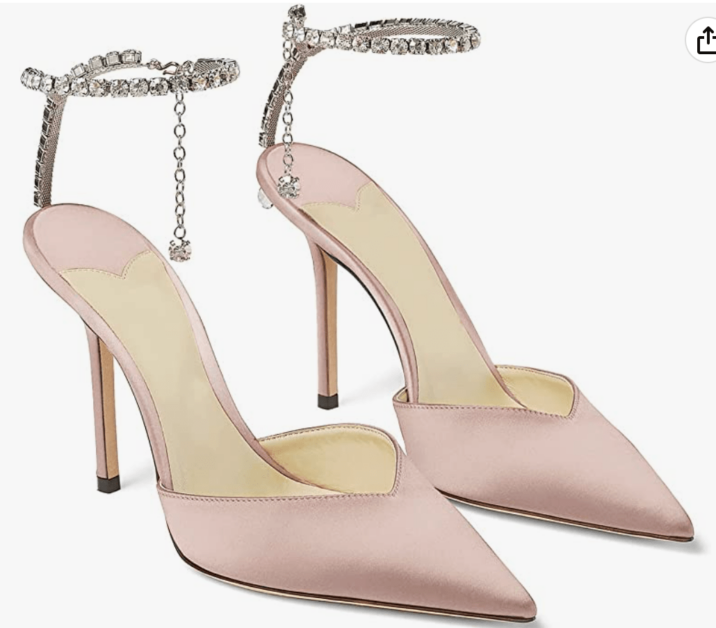 Price: $64.99
21 Color Options
These LauraVicci pumps are convincing look-a-likes to the coveted Amina Muaddi Ursinas. Like the Ursinas, this pair of pumps have closed, pointed toes and are accented by a delicate crystal chain. The heel on both pairs measures 4 inches. 
Perhaps the most noticeable difference between the Muaddis and the LauraVicci heels is that the Ursinas have a closed heel, whereas the dupes have an open heel. 
It's also worth mentioning that the Ursinas come in PVC, patent leather, and printed varieties. These look-a-likes are made of satin and only come in solid colors.
#5. Cape Robbin Lithe Sexy High Heels for Women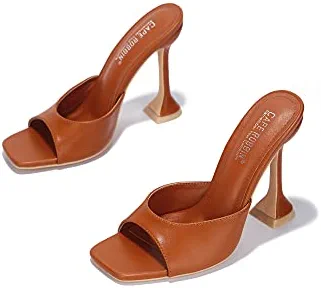 Price: $36.96 
Colors: Purple, black, tan, off-white, green, chocolate, printed, clear
Cape Robbin also makes a believable pair of Lupita inspired pumps, this time in a leather-like version. Like the Lupitas, this pair has a mule silhouette, an open, square toe, and a pyramidal heel. 
The heel height on both pairs is similar, with the dupes measuring 4.5 inches and the Muaddis measuring 4 inches.
Another slight difference is that the Amina Muaddi dupes have slip-resistant rubber soles while the Muaddis have rubber-injected leather soles. 
Both brands offer quite a few options when it comes to colors, but the Muaddis also features raffia and crystal-embellished versions.
#4. VETASTE Women's Crystal Satin Heeled Mules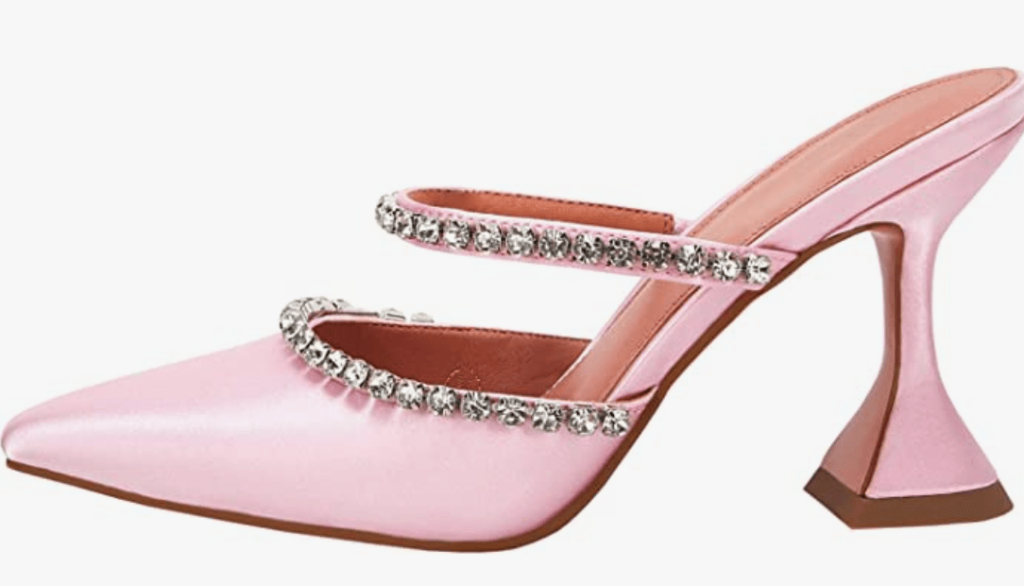 Price: $39.99
Colors: Black, blue, champagne, green, pink, red
VETASTE makes a second appearance on this list thanks to this beautiful pair of Amina Muaddi Gilda inspired pumps. Both pairs have an elegant, modern silhouette complemented by a martini heel and crystal embellishments on the straps. 
While the VETASTE version is very similar to the original Gildas, there are some differences. For instance, the toe box of the Gildas is much longer than the dupes. The heel heights also differ slightly. The Amina Muaddi dupes come in at 3.7 inches but the Gildas measure 3.75 inches. 
There are also some material differences that you might want to be aware of. The dupes have a latex-padded insole, whereas the Gildas are lined with leather. In terms of the soles, the dupes are made of rubber but the Muaddis are made of a combination of leather and synthetic materials.
#3. Steve Madden Women's Lipa Pump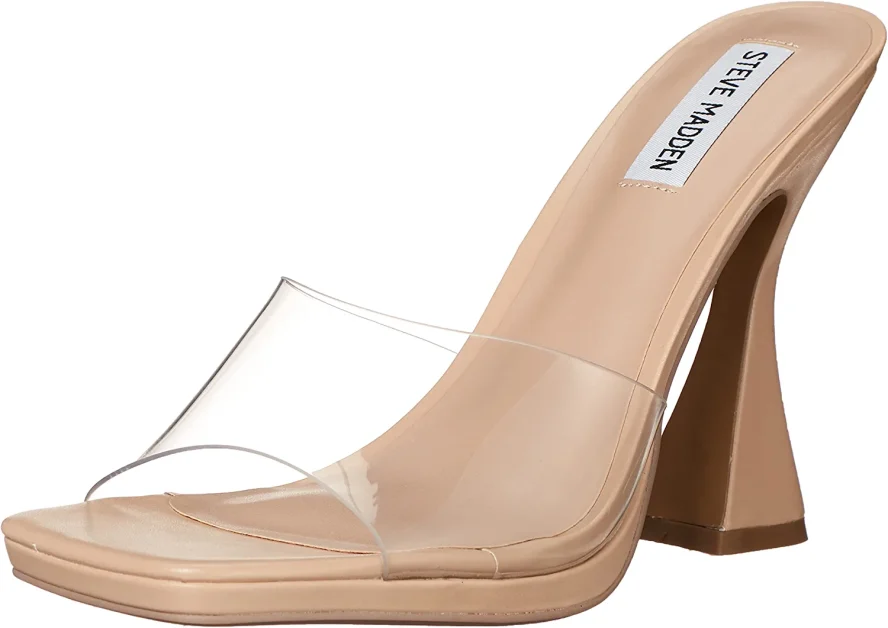 Price: $69.99
Colors: Clear, white, mint, green, nude, blue
Another convincing Amina Muaddi Lupita look-a-like is the Lipa pump from Steve Madden. Like the Lupitas, this pair has a bold PVC toe strap, a square open-toe design, and a curved structural heel. 
Still, despite the similarities, there are quite a few differences to mention, notably in regard to the heel. Whereas the Lupitas has a transparent PVC heel, the Lipa heels are covered. In addition, the Lipa dupes measure 3.5 inches, whereas the Lupitas measure 3.75 inches. 
There are also differences in terms of materials. The Steve Madden pair is made of 100% synthetic materials but the Muaddis have a leather sole and lining. 
Regardless of the differences, the Lipas is a solid choice if you're looking for Amina Muaddi Lupita pumps. Not only are they a fraction of the price, but they also feature comfortable Thermoplastic Elastomers soles.
#2. QPAO Women's Rhinestone Ankle Strap Sandals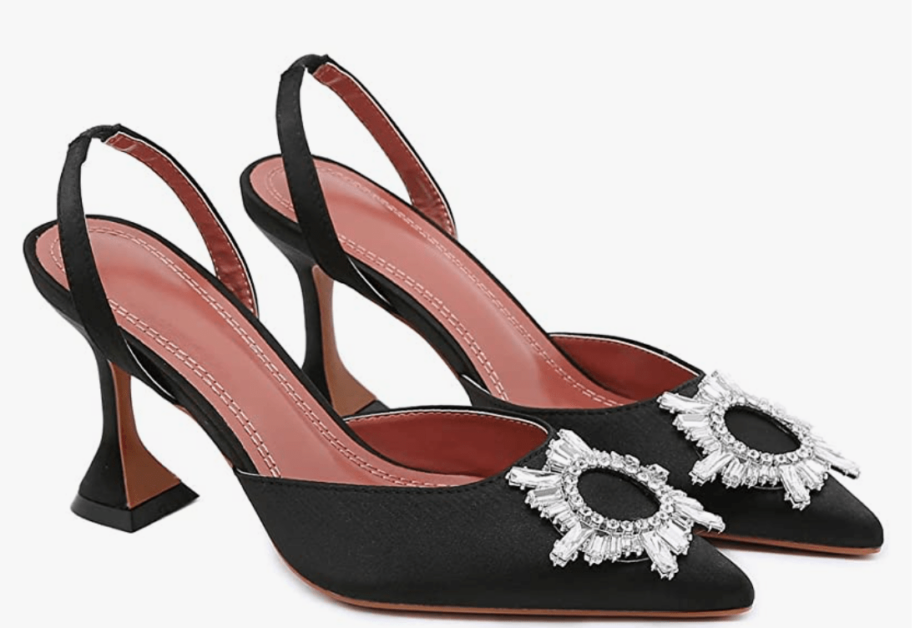 Price: $40.99
Colors: Black
QPAO joins the list of brands that have created a believable pair of Amina Muaddi Begum look-a-likes. As with the originals, this pair has a slingback design, supportive, structural heels, and rhinestone embellishments. 
Unfortunately, QPAO does not provide information about the heel height but this pair does look ever so slightly shorter than the 3.75-inch Begums. 
It's also worth noting that the Amina Muaddi dupes have a rubber sole, as compared to the leather sole on the Muaddis. Still, this beautiful pair of heels will give you the Muaddi look without wrecking your monthly budget.
#1. Tony Bianco Shy Sandal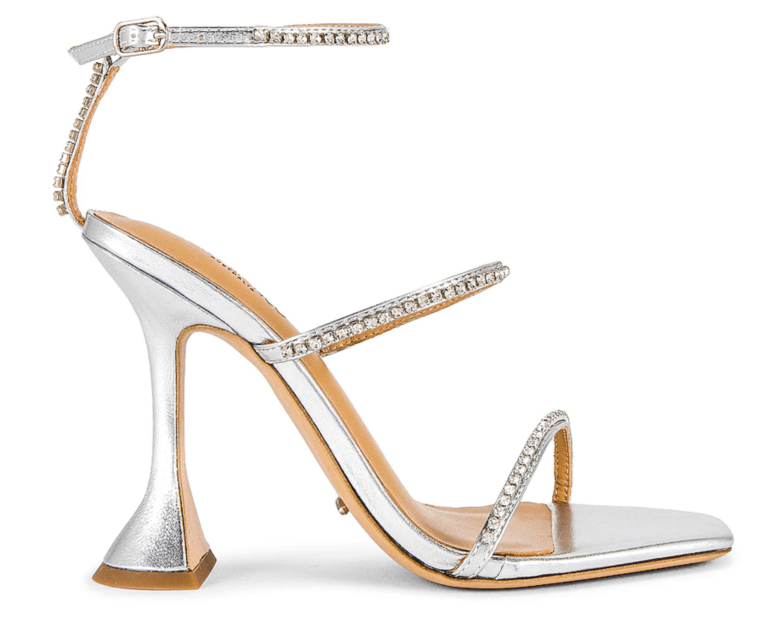 Price: $189.99 
Colors: Black, silver, gold 
Popular brand Tony Bianco took on the task of creating a Muaddi Gilda sandal dupe and succeeded handsomely. Like the originals, this pair has suede uppers, jewel-encrusted straps, and martini heels. 
But the similarities don't end there. Both the dupes and the originals have ankle straps with buckle closures, square toes, and are lined with leather. 
There are two main differences to be aware of. One is that the dupes have a higher heel (4.25 inches) than the Gildas (3.75 inches). The other is that the Biancos have synthetic soles, whereas the soles on the Gildas are made of a leather/synthetic blend. 
Wrapping It Up: Which Pair of Amina Muaddi Dupes Will You Choose? 
Whether you're looking for a funky pair of summer sandals or need to level up your evening wear game, these 10 Amina Muaddi dupes will provide you with plenty of inspiration. The only question you have to ask yourself is which pair should I get?