By now you probably have taken notice to the popularity of retro sneakers. And you may have even noticed people sporting retro sneakers with a distinctive star on the side. If so…those may be Vintage Havanas. They have many low-profile sneakers but my absolute favorite is the Vintage Havana high top sneaker. They are not only distinctive, stylish, and versatile but they are also extremely comfortable and supportive. We will also take a peak at some Dupes too if money is tight.
Vintage Havanas are made of high-quality materials, typically including a leather upper and thick rubber sole with a cushioned footbed. I love how the designs incorporate different designs, colors, and materials but always in a subtle and tasteful way.
Our Favorite Vintage Havana High Top Sneaker
We chose the following Vintage Havana High Top Sneaker line-up based on the fact that they are all quite versatile and pair well with many different things…all while having a uniqueness that sets them apart from other sneakers.
Vintage Havana Axel –  Blush/Taupe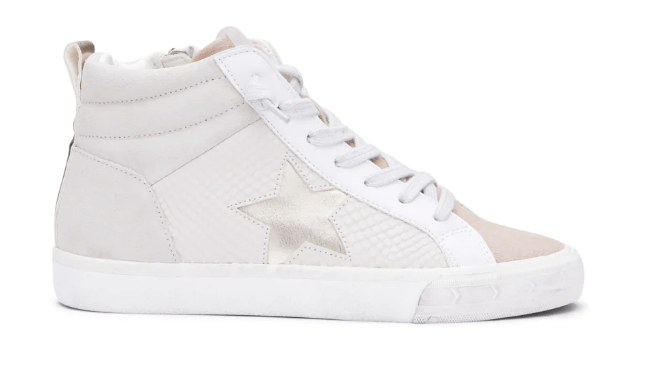 This vintage Havana high top sneaker is made of leather in nearly all sections of the shoe. The only exception is the sole which uses a mixture of leather and rubber.
They feature a traditional lace-up closure and a side zipper. Additionally, they have a durable rubber outsole, making them useful for pickup basketball games. The coloring is white with other light colors and features a grey star on the outer side of each shoe.
How to Style: These high-tops are versatile, making them a good option for an activity like basketball, or a brunch date. Since the shoe mostly features light colors, we recommend pairing it with dark pants. Black always works, but dark blue, brown, or grey can also work. You can safely wear these shoes in casual attire or for a lunch date. However, we do not recommend wearing them for semi-formal events.
---
Vintage Havana Lester –  White/Silver Croco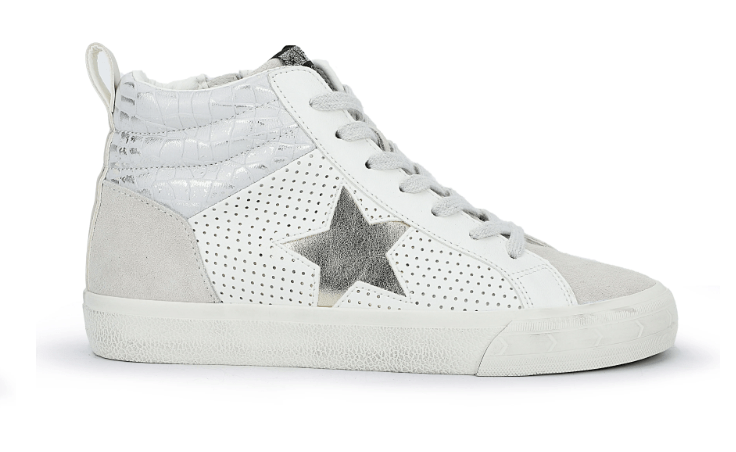 The next pair of high-tops we want to look at is very similar to the previous pair of sneakers. The design is nearly identical, with some small changes. The coloring is even lighter than the previous pair, with more white coloring used than grey.
The features are the same with a side zipper, rubber outsole, and lace-up closure. The sole is made entirely of rubber, whereas the rest of the shoe is made of leather. Finally, an interesting aspect of this shoe is it is machine washable.
How to Style: We do not have many differences in styling recommendations here. The light coloring allows you to pair it with dark jeans or other pants. They make good shoes for a concert as they are comfortable, but not as casual as traditional running shoes.
---
Vintage Havana Excel High –  White/Multi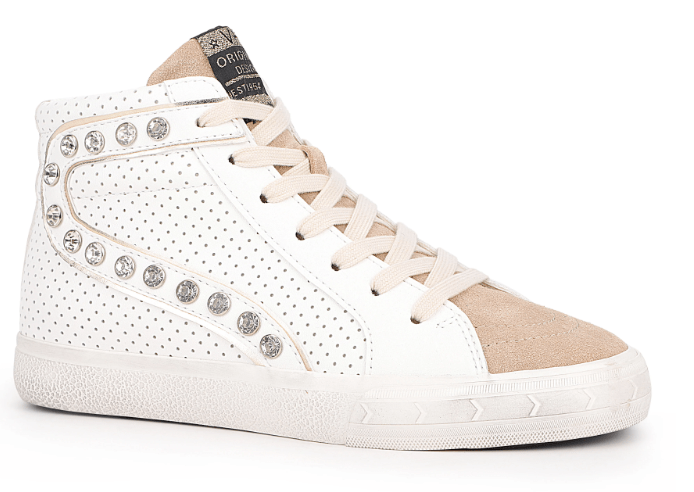 This Vintage Havana high top sneaker has a different look from the previous shoes. While they are similar in many ways, these shoes are thinner than the other options. They look very similar to skater shoes.
They are made of rubber and leather, and they have rhinestone embellishments. Additionally, you can easily slip them on and off thanks to the side zipper closure. Finally, the coloring is white with a brownish hue.
How to Style: These shoes are very versatile. While they feature light colors like the other options, the brownish hue allows you to pair them with light or dark clothing. We do not recommend wearing them with white pants, but light jeans are suitable. The big obstacle is finding an outfit that works with the rhinestones. While they add something unique, rhinestones do not work with everything.
---
Vintage Havana Lester –  Black/Multi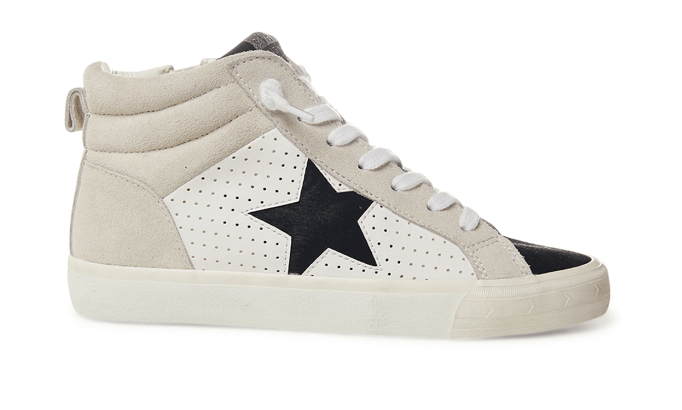 This Vintage Havana high top sneaker has a darker design than the previous options. There is white coloring throughout the shoe, but the top of the shoe is black along with the star on the side. Additionally, the white laces feature black lettering which reads "VH EST 1954." Additionally, the upper is made of leather, whereas the sole is made of rubber. There is a side zipper, and you can safely machine wash these shoes.
How to Style: Shoes with black coloring give you plenty of options. We recommend pairing these shoes with other clothes with dark coloring. If you have black jeans and a leather jacket, these shoes will pull the outfit together. However, these shoes are very versatile and can work with most casual outfits for concerts or lunch dates.
---
Vintage Havana Gadol High – Black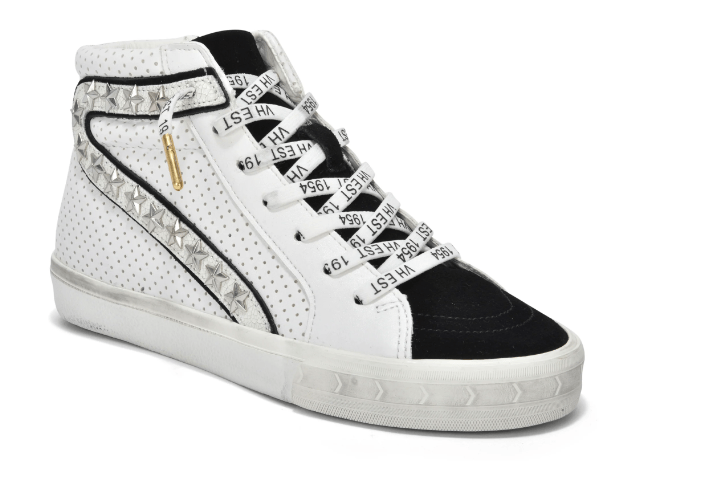 The next Havana high top sneaker features perforated leather and a synthetic upper, making them very breathable. Additionally, there are metal star accents on the outer side of each shoe. The inner side features a zipper closure so that you can easily slip the sneakers on and off. There is a laced front panel with the same lettering as the previous shoes. Finally, these shoes are great for people with sensitive feet as they feature a shock foam footbed.
 
How to Style: The coloring of this shoe is mostly white but with black below the laces. Unfortunately, there is not enough black to consider pairing them with light clothing. So, we recommend pairing these clothes with dark pants to complete an outfit. You should consider wearing these shoes to a concert.
---
Vintage Havana Desire – White Grey Blush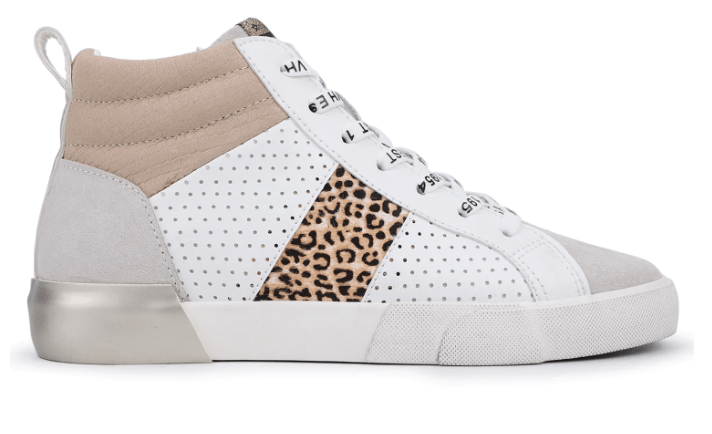 These sneakers have a unique look as they feature a variety of colors. They are broken up into sections, with each section having a different color design. Most sections are various shades of white, grey, and brown. However, there is a section in the middle with a leopard print design that stands out. These shoes also feature the same laces as the previous two shoes. Like all Havana high-top sneakers, there is a side zipper, the upper is made of leather, and the sole is made of rubber.
How to Style: If you wear these shoes, you want their flashy design to stand out. So, we recommend pairing them with toned-down clothing. That does not mean you have to exclusively wear casual clothing, but these shoes should be the star of your outfit. We like wearing these shoes to sporting events and concerts.
---
Vintage Havana Dedra – Black Multi Leopard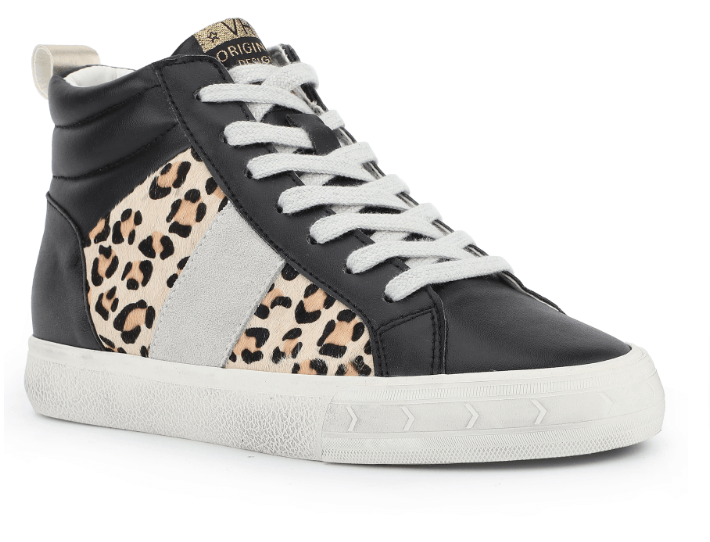 The Vintage Havana Dedra High Tops feature a mixed media upper consisting of leather, suede, shiny metallic, and faux leather. The sole is a distressed rubber (a similar feature to Golden Goose sneakers). The footbed features a shock-absorbing foam cushion. The shiny metallic stripe in the back and zipper are eye-catching. One feature I love is that they are slip-on, making them easy to get on and off and also giving them a cleaner look.
How to Style: These sneakers clearly aren't formal but they also aren't casual. They have a distinct look to them. I would pair them with either acid-wash jeans or black leggings for an elevated casual yet hip look.
---
Vintage Havana Birch –  Multi Mix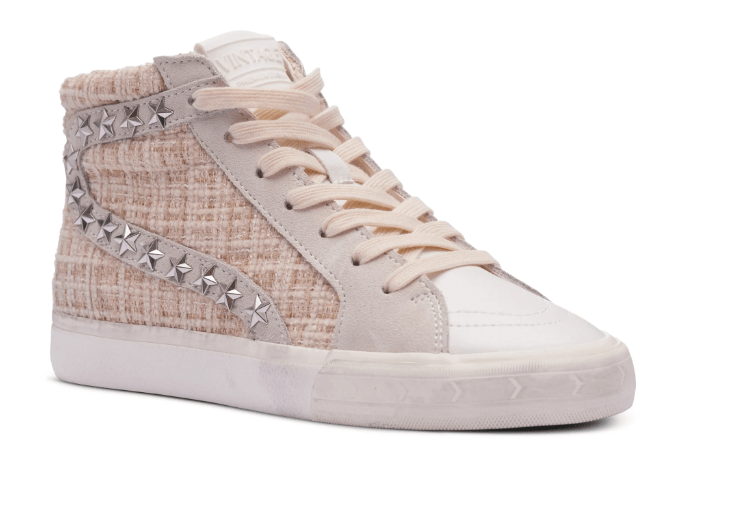 The Vintage Havana Birch High Tops are another great slip-on option. This mixed-media sneaker features a twill-like fabric upper and metallic stars along the side. I love how neutral yet unique these high-tops are, making them more versatile than you might think. One feature I love is that they look all white from the front-view perspective.
How to Style: These neutral yet edgy high-tops would pair well with either light or dark jeans. They would also go well with a variety of leggings (either black, navy, olive green, seafoam green, or light gray). I would avoid wearing these with other patterns or prints since they would likely clash.
---
Vintage Havana Lester – Black/Taupe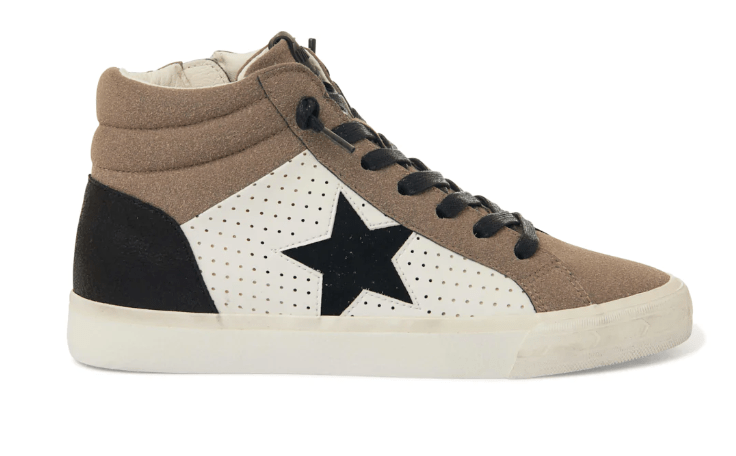 The Vintage Havana Lester sneaker in black/taupe features a combination of suede-like leather and perforated leather with a glittery black star on the side. They also have slip-on styling, which provides a clean look and added convenience.
How to Style: Although this model has a bold color-blocking, it is still quite versatile since the colors are neutral. They pair well with light or dark jeans and a t-shirt, or black leggings with a sweatshirt or sherpa jacket would be cute.
---
Vintage Havana Bishop – Taupe Multi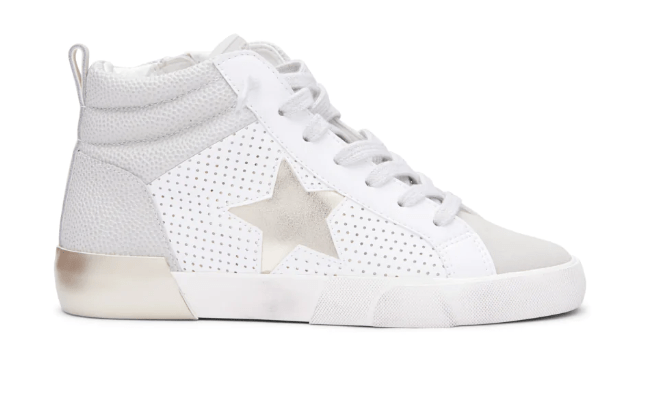 Our final favorite Vintage Havana high top sneaker is similar to the first sneaker we discussed. The main difference you will notice in this model is that there is a chrome detail around the heel portion of the rubber sole and the midsection is perforated to allow more airflow.
How to Style: These high-tops are fairly easy to style due to their almost all-white look. They will go with all different colors of jeans, leggings, and even joggers.  You could even wear these with a cute athleisure dress, or dress them up with faux leather leggings and a blazer.
---
Dupes to Save You Money
We did some research to try and find some dupes that are similar to Vintage Havana in case you are trying to save where you can. We didn't find any EXACT matches but we did find a few more affordable alternatives that do look similar to Vintage Havana kicks.
1. PARTY Star Sneakers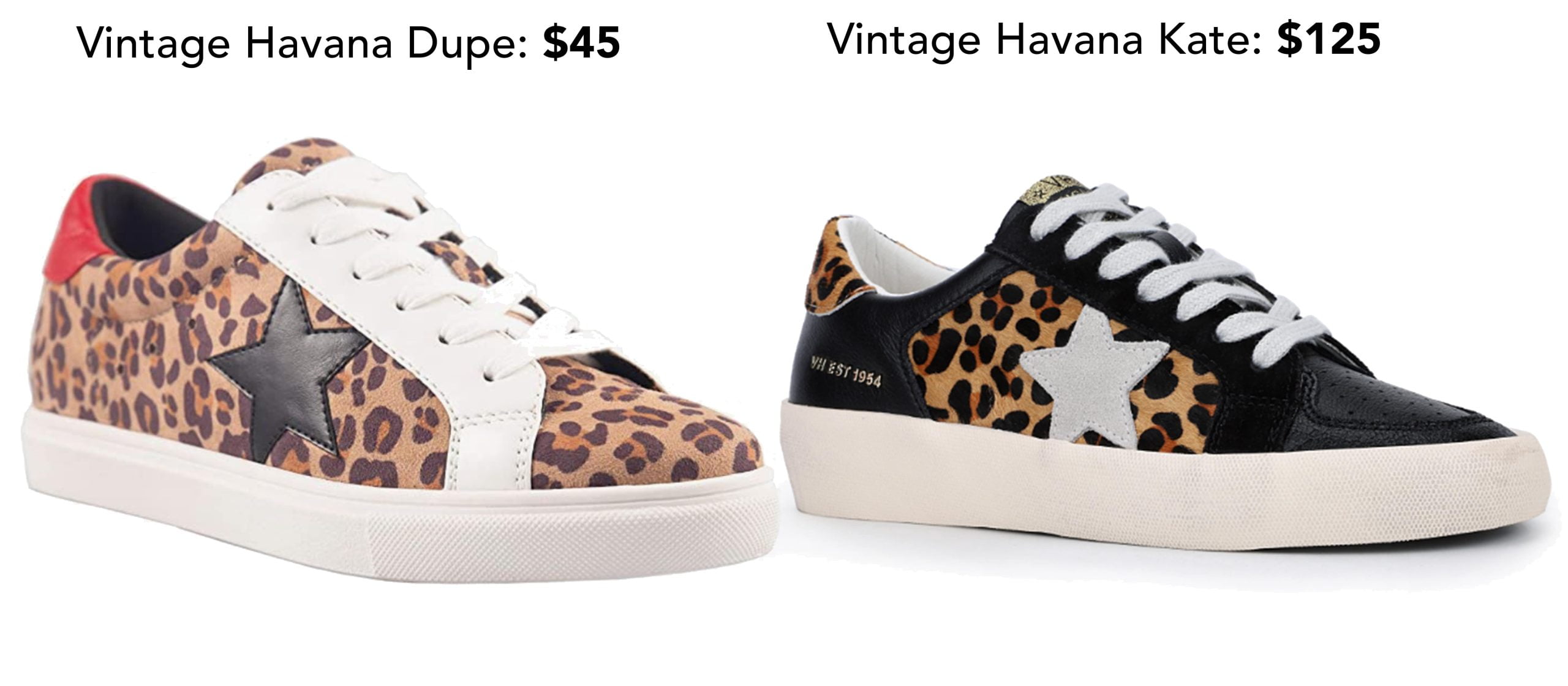 These two Vintage Havana dupes will run you about a third of the price of the Vintage Havana Kate sneakers. Both variations have a similar shape, profile, and color scheme. Both use a combination of materials, patterns, and colors to create a unique yet versatile look to them.
2. Skechers Street Diamond Sneakers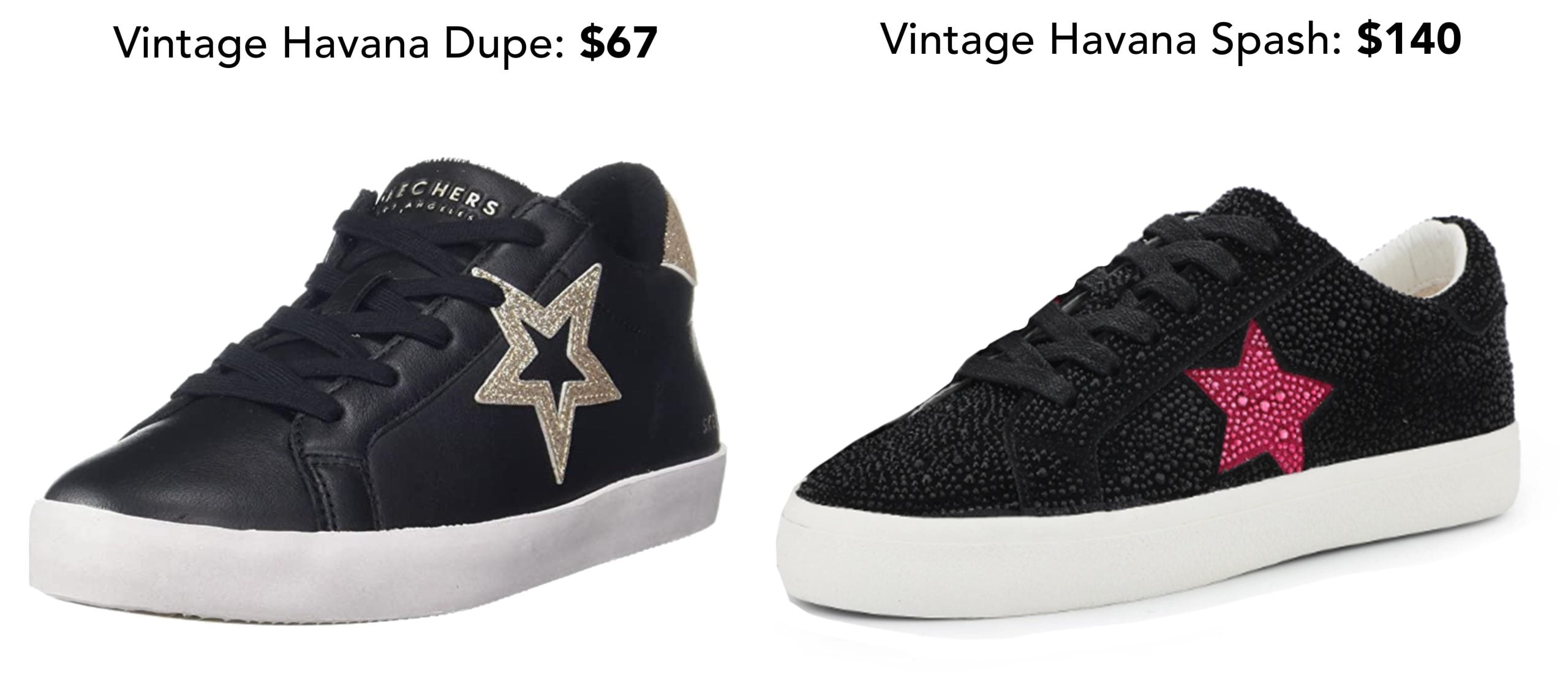 ---
How to Style the Vintage Havana High Top Sneaker
There are two main ways to style the Vintage Havana high top sneaker. The first way is casual. When we say "casually" we mean either with jeans or leggings paired with a t-shirt or a sweatshirt/hoodie.
Another casual way to wear Vintage Havana high tops is with a simple athletic dress (preferably form-fitting).
The other way to style a Vintage Havana high top sneaker is in an "elevated" casual way. Meaning, you can pair them with faux leather leggings and a chunky cardigan. In warmer months you can pair them with either a sporty sundress, cut-off jean shorts, or biker shorts.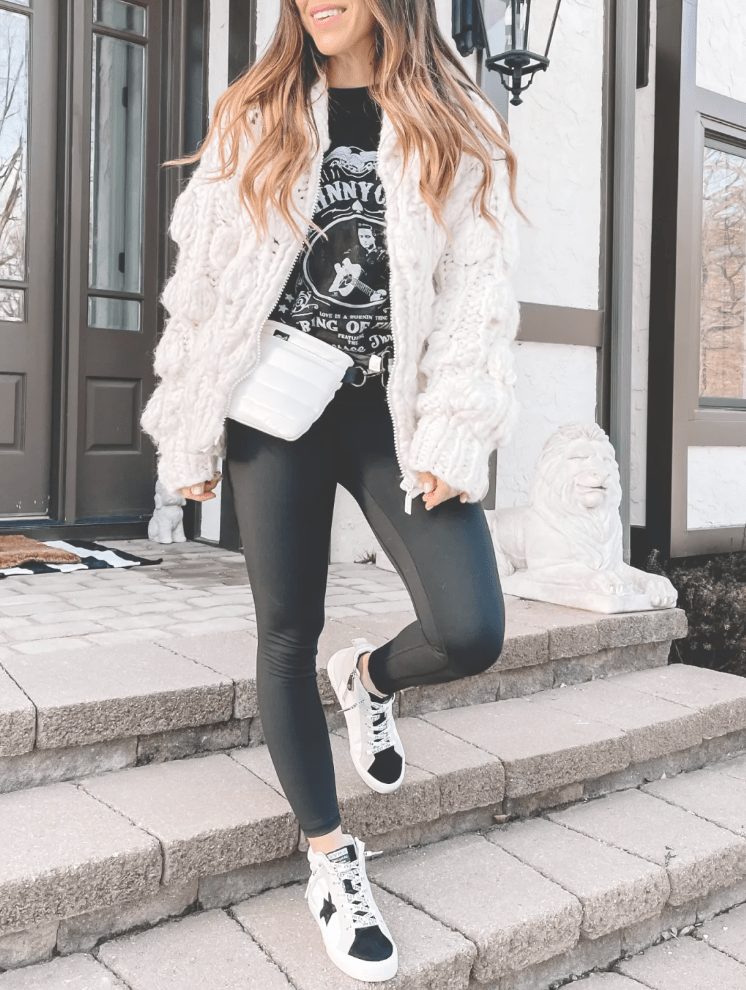 Faux Leather Leggings  |  Johnny Cash T-Shirt  |  Chunky Sweater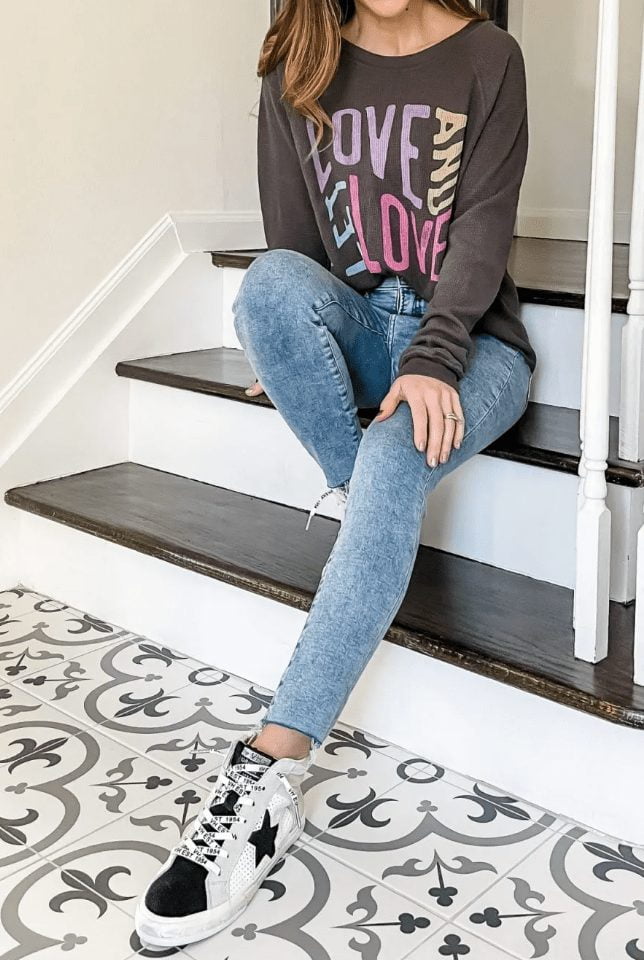 Acid Wash Skinny Jeans  |  Sweatshirt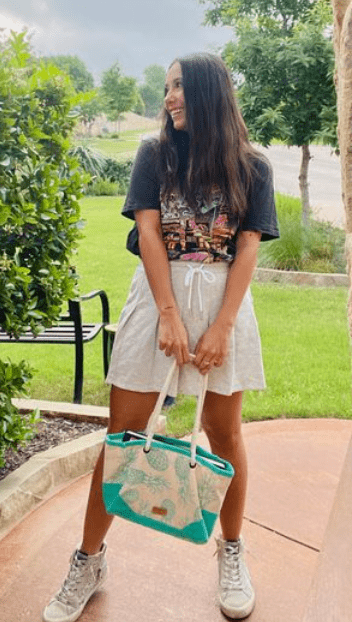 Do Vintage Havana Sneakers Run True to Size?
Vintage Havana sneakers are not only unique, stylish, and versatile, but they also provide a high level of comfort and support. They use high-quality leather and canvas on the upper part and a thick cushioned midsole for your foot to comfortably rest in. As far as the sizing, they do tend to fit more snug than other brands due to the way they are made. That being said, we recommend you either try them on before you buy or size up at least by a half size.