As it gets colder outside, you need to change your wardrobe. Shorts and sundresses are no longer options when leaves start to change colors in October. Many people love sherpa jackets in the fall and winter because they keep you warm and are fashionable.  Sherpa refers to the cozy fuzz lining the inner and/or outer part of the jacket. Unfortunately, sherpa jackets can be expensive, but that doesn't mean you should go without a sherpa jacket this fall/winter. So, today we will look at 10 sherpa jacket dupes (nearly identical to top brands) that we found on Amazon.
Sherpa Jacket Dupes (Nearly Identical to Top Brands)
Sherpa Jacket Dupe #1: Nearly Identical to the Alo Foxy Sherpa Jacket

Alo is a popular brand, so it should not be surprising to hear their clothing is very expensive. Their foxy sherpa jacket is listed at $198. It is a very fashionable jacket, so the price tag is somewhat understandable. It comes in white, black, and brown and should keep you comfortable.
This jacket comes with a removable hood and zip pockets. Additionally, there is a front-zip closure, oversized silhouette, and ribbed cuffs. The jacket uses plush sherpa on the inside and faux fur on the outside. You should machine wash this jacket in cold water before letting it dry clean.
Unfortunately, at nearly $200, it is not reasonable for most people to purchase this jacket. Fortunately, there is an Alo sherpa jacket alternative on Amazon. It only comes in white but looks the same as the Alo version.
Like the other jacket, it has a removable hood and zip pockets. The manufacturer uses a blend of cotton on the outside of the jacket, with sherpa on the inside. Unfortunately, it is currently out of stock, and as a result, a price is not listed.
---
Trending Article: Joggers that look like Athleta on Amazon
Sherpa Jacket Similar to the Vuori Cozy Sherpa Jacket

Vuori is another popular brand with high-end, designer clothing. Their cozy sherpa jacket is a good option for people that want to stay warm during the fall. It is an ultra-plush jacket that features a high loft sherpa. Additionally, you should be happy to hear that it is an environmentally friendly jacket as it uses recycled materials.
Furthermore, the jacket comes with a full zip with a hidden snap placket and two zippered hand pockets. These features make it a good option for when you are going on early morning hikes. The jacket comes in umber, charcoal, and dusty pine coloring. Unfortunately, its $168 price tag makes it an unaffordable option for many people.
If you like this jacket but cannot afford it, there is a sherpa jacket dupe nearly identical to Vuori's on Amazon. It comes in two designs, black and love birds. The price ranges from $98 to $148, depending on your choice of size and color.
The jacket can be washed in a machine like the Vuori version. Wash it in cold water before tumble drying it. Additionally, it is essential to note that this jacket is made of 100% polyester.
Sherpa Jacket Similar to the Banana Republic Sherpa Full Zip Jacket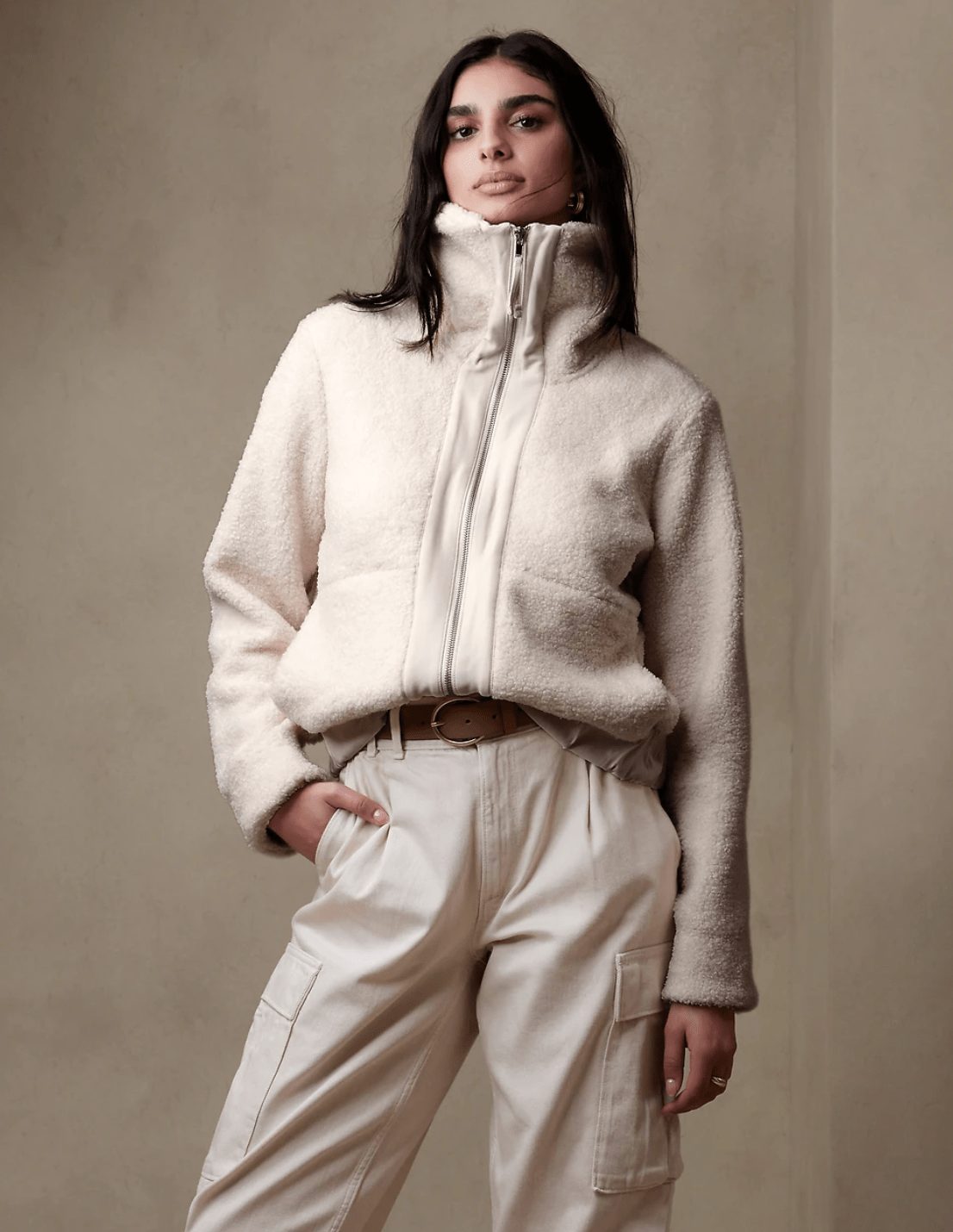 If you are lucky enough to catch this one then you got the deal of a lifetime. This beautiful Sherpa Jacket from Banana Republic is pretty much identical to Vuori's and is on sale for $35!! But you better hurry because they are almost sold out.
---
Sherpa Jacket Similar to the Free People Nantucket Fleece

The Free People Nantucket Fleece is a relaxed-fit half-zip pullover that is available in two colors. This cozy sherpa-style pullover looks best when worn casually for either lounging around the house or for daily wear when out and about on chilly fall/winter days or evenings.
Two popular features of this half-zip sherpa pullover is the drawcord at the bottom for a custom fit as well as the kangaroo pocket for added coziness.
This fleece will cost you a whopping $100. If that is out of your budget, then we recommend this Free People sherpa jacket alternative, which is nearly identical. The only difference you will notice is that it does not have the drawcord or as high of a pile.
Now for the perks…this Amazon sherpa fleece does comes in more colors/patterns and has a warm fleece lining.
---
Sherpa Jacket Similar to the lululemon Cinchable Fleece Jacket

The lululemon Cinchable Fleece Zip-Up is quickly becoming a fan favorite of lululemon lovers. It is very cozy and warm. It has a relaxed fit that comes in 4 colors. Customers are loving the high collar that provides extra warmth when needed. The length is ideal (not too short or too long).
A popular features is the drawstring hem to provide a custom fit. In addition, it comes with a cotton jersey lining to add an extra layer of comfort and warmth.
However, like all lululemon products, this fleece is expensive ($168). That being said, we found a very comparable option for you. This Amazon sherpa jacket has all of the same features as the lululemon sherpa with the exception of the drawstring hem, high collar, and jersey knit lining. But at around $30…this lululemon sherpa alternative is a great choice.
---
Sherpa Jacket Similar to the Athleta Tugga Jacket

Athleta is another popular designer brand with high-quality products. Their Tugga jacket is a popular product for people to purchase in the autumn months. It has a soft fleece outer design,
and a cozy sherpa inner. You also do not need to worry about your neck as the popped collar will keep you safe from cold breezes.
The jacket uses recycled polyester and can be safely washed and dried in your machines. It is a semi-fitted jacket that should skim over your body. Additionally, it is one of the cheaper options from designer brands. You can buy it for $129 on the Athleta website.
An Athleta sherpa jacket alternative is available on Amazon for $35 to $42, depending on your choice of color and size. The most appealing aspect of this jacket is its color options. There are over 30 colors for you to choose from when you purchase this sherpa jacket.
---
Sherpa Jacket Similar to the UGG Maeve High Pile Fleece Jacket

Nordstrom offers a comfortable fleece jacket for $198. While that price might be expensive to some, it is worth the price. This coat is 23 inches long and comes with a front zip closure. Additionally, it has a front zip closure, spread collar, and front zip pockets. You can dry clean, or machine wash this jacket, but you should always tumble dry it.
The jacket uses a 100% polyester faux fur shell. However, the lining is 98% polyester and 2% elastane lining. Finally, this jacket comes in two colors, sidewalk and dark chestnut.
Although the jacket from Nordstrom is worth the price, not everyone can afford to spend $200 on a coat. Fortunately, you can purchase a cheaper option on Amazon. This sherpa jacket has a similar faux fur design and follows the same wash instructions. It also has many similar features. The only difference is it comes in different colors, camel, and white.
---
Sherpa Jacket Similar to the Patagonia High Pile Fleece Down Jacket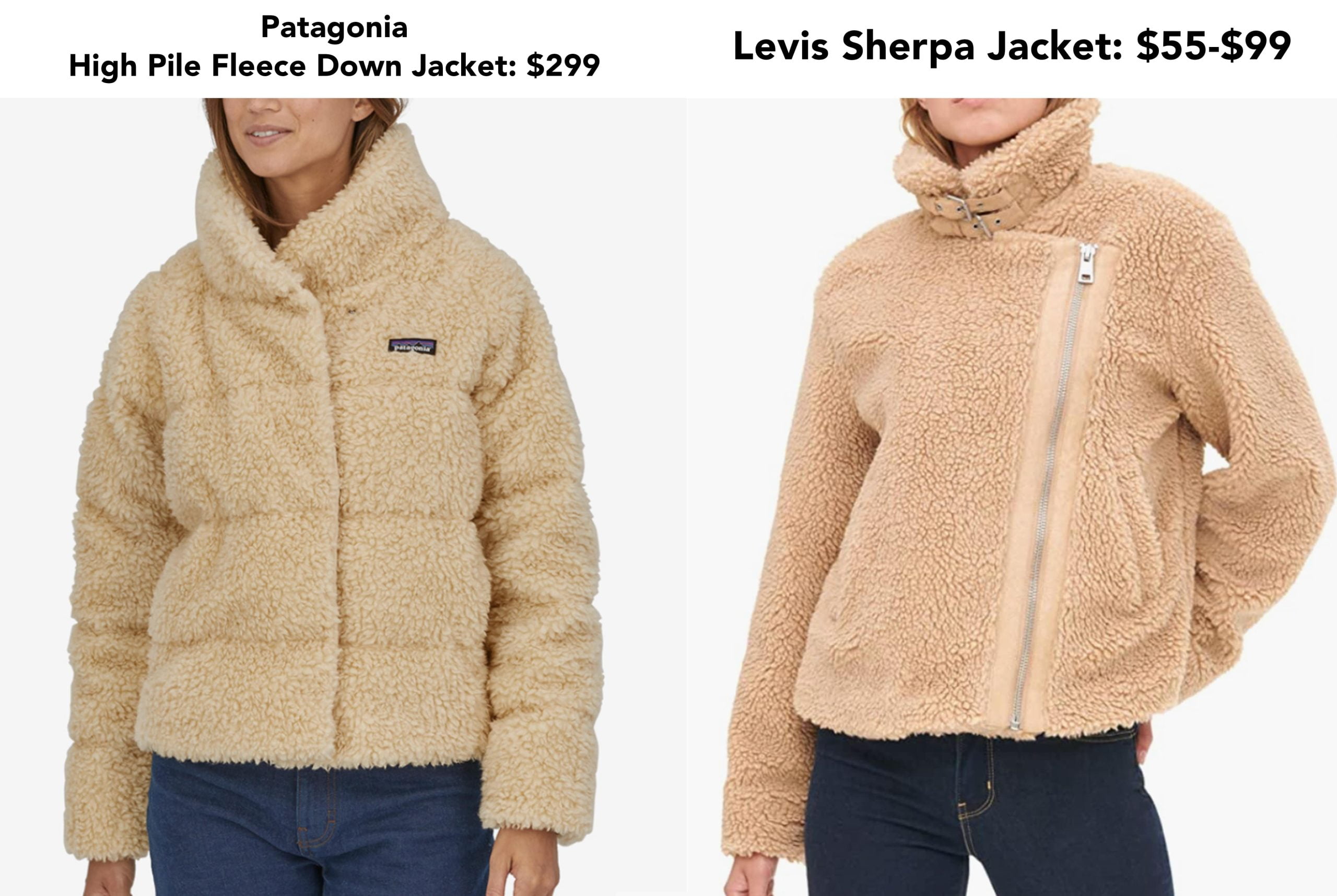 If you are looking to splurge, Patagonia is the place to visit. There you can purchase designer clothing at very high prices. Their products are great, but the prices are somewhat outrageous.
Notably, their sherpa jacket costs $300. It will certainly keep you warm, but is it worth it at that price point?
The jacket comes in tan or white. It uses 100% recycled polyester and half-inch pile fleece to keep it insulated. The fit of this jacket is true to size.
There is no need to spend $300 on a jacket from Patagonia when you can purchase a similar product from Amazon for much less. The Patagonia sherpa dupe costs between $56 and $100, depending on the size and color you choose. Additionally, the Amazon version comes in an extra color, camel, cream, and leopard.
Like the original, it is machine washable and is made of 100% polyester. However, there is no guarantee the Amazon version is recycled polyester. So, if you prefer to be environmentally
friendly, you need to splurge on the product from Patagonia.
---
Sherpa Jacket Similar to the Alo Oversized Sherpa Trench

The Alo Oversized Sherpa Trench is super warm and cozy. It is full length and has an open front with two side zippered pockets. It comes in 4 beautiful colors. This jacket has a relaxed and oversized fit, so sizing down is recommended.
This stylish sherpa trench is a versatile piece and can be worn for many different occasions such as the office, daily casual wear, or date nights. Pair it with leggings, jeans, joggers, boots, heels, or even sneakers.
This Alo sherpa jacket is made from a faux fur (polyester). It is recommended to machine wash it in cold water and either tumble dry on a gentle cycle or dry clean.
At nearly $300, The Alo Sherpa Trench is out of most people's budget. That is why we found this much more affordable sherpa jacket on amazon for under $45.
This full length Amazon sherpa jacket does have a few subtle differences that we should mention. For starters, it isn't as bulky and oversized as the Alo trench. That being said, it won't be as warm but also not as bulky.
The other difference is that is comes in 10 colors opposed to only 4. Additionally, this jacket features a hood for extra warmth.
---
Sherpa Jacket Similar to the Good American Sherpa Jacket

The Good American Sherpa Shacket is an essential layering item for the fall and winter months. It is warm, comfortable and cozy. It has a relaxed fit, button down closure and is available in 8 colors.
This shacket looks best when worn casually. It goes PERFECTLY with jeans, a one piece jumpsuit and sneakers. Or pair it with leggings, fitted tee and boots or booties.
One of the perks of sherpa shackets is that they flatter all body types, making them a great Christmas or Holiday gift.
That being said, not everyone can afford $169 for a shacket, which is why we found a nearly identical Amazon sherpa shacket for only $36.99. The only difference between these two shackets is that the cheaper Amazon option has two side pockets, which are ideal for your phone, keys, and/or cards.
---
Sherpa Jacket Similar to the Victoria's Secret Teddy Fleece Boyfriend Jacket

You might not think of sherpa jackets when shopping at Victoria's Secret, but they have some of the best options on the market. Their coat has a cozy, fleece style that will keep you warm during the brisk autumn months. Additionally, you can zip it up if you get extra cold.
The jacket has an oversized fit, so you should purchase a size up. Furthermore, it comes with a funnel neck collar, front zipper closure, zipper chest, side pockets, and ribbed cuffs. It hits below the hip. The jacket is machine washable and can be purchased in four colors, black, floral, oyster, and French sage. It is more affordable than most designer options, coming in at just under $90.
If you want a jacket similar to this one from Victoria's Secret, it can be had for a lower price and in more colors on Amazon. There you can find a sherpa jacket that is nearly identical to the one from Victoria's Secret. It has the same design, but you must always dry clean it.
In addition to the lower price, you get the benefit of choosing from 28 different colors. So, you can make this jacket match almost any outfit.
---
Final Thoughts: Sherpa Jacket Dupes on Amazon
If you want a sherpa jacket, you have two options. You can buy from designer brands or look for dupes on Amazon. Designer brands have benefits as they are often made from better materials and last longer. However, these alternatives and dupes that are available on Amazon are much cheaper and look ALMOST identical to the originals. Which you choose comes down to your personal preference and financial situation.
---
[sc_fs_multi_faq headline-0="h2″ question-0="Is still in style in 2022?" answer-0="The sherpa jacket is still in style in 2022. It has been slinking down the runway, both for the fall-winter 2021 and spring-summer 2022 seasons. At Stella McCartney, it's been revisited as a cosy knee-length coat with comfortable ribbed trims while at Tod's, we've seen a sherpa bomber jacket that's cosy and stylish at the same time." image-0="" headline-1="h2″ question-1="What is the difference between sherpa and shearling?" answer-1=" Synthetic shearling fur is typically called sherpa. The difference between sherpa and shearling is that shearling has a bit of a sheen to its outer side while real shearling outer hide is dull and a bit tacky to the touch. Genuine shearling is also smoother to the touch than synthetic shearling." image-1="" headline-2="h2″ question-2="Why is sherpa so popular?" answer-2="Sherpa is so popular because of its super soft and luxurious texture. Generally resembling wool or sheepskin, sherpa is the perfect eco-friendly alternative to fleece. The quality of sherpa is very similar to the aforementioned materials, and no animals need to be hurt in the process!" image-2="" headline-3="h2″ question-3="Does sherpa jackets keep you warm" answer-3="Yes! Sherpa jackets do keep you warm. Sherpa is known to retain the heat to keep you cozy during the colder winter months. To determine how warm the Sherpa or fleece jacket you're considering, simply look at the warmth rating in the product description." image-3="" headline-4="h2″ question-4="What is warmer fleece or sherpa?" answer-4="Sherpa tends to be softer and warmer than fleece. Both fleece and Sherpa materials are 100% synthetic materials that have features of wool. They both are soft, warm, and breathable." image-4="" headline-5="h2″ question-5="what is faux sherpa?" answer-5="Faux Sherpa is a fabric made from polyester (fleece), acrylic, or cotton and is sometimes called 'faux shearling,' named for its resemblance to the wool-lined clothing worn by the Sherpa people of Nepal. Sherpa mimics the bumpy texture of sheep's wool." image-5="" count="6″ html="true" css_class=""]