Athleta is a famous activewear brand with several locations in the United States and Canada. They create unique athletic gear for women. Additionally, they have started developing loungewear, dresses, jackets, and other accessories.
While they have been praised for the quality of their clothing, their prices are steep for individual pieces of clothing. If you have the extra money to spend, there is no reason not to splurge on activewear from Athleta.
Unfortunately, many people cannot afford to spend close to $100 on a single piece of clothing. Luckily there are plenty of clothes similar to Athleta available to you at much more reasonable prices.  In this article, we will look at 10 Athleta jogger dupes on Amazon for you.
Trending Article: Athleta Dress Dupes on Amazon
Athleta Salutation Jogger Dupe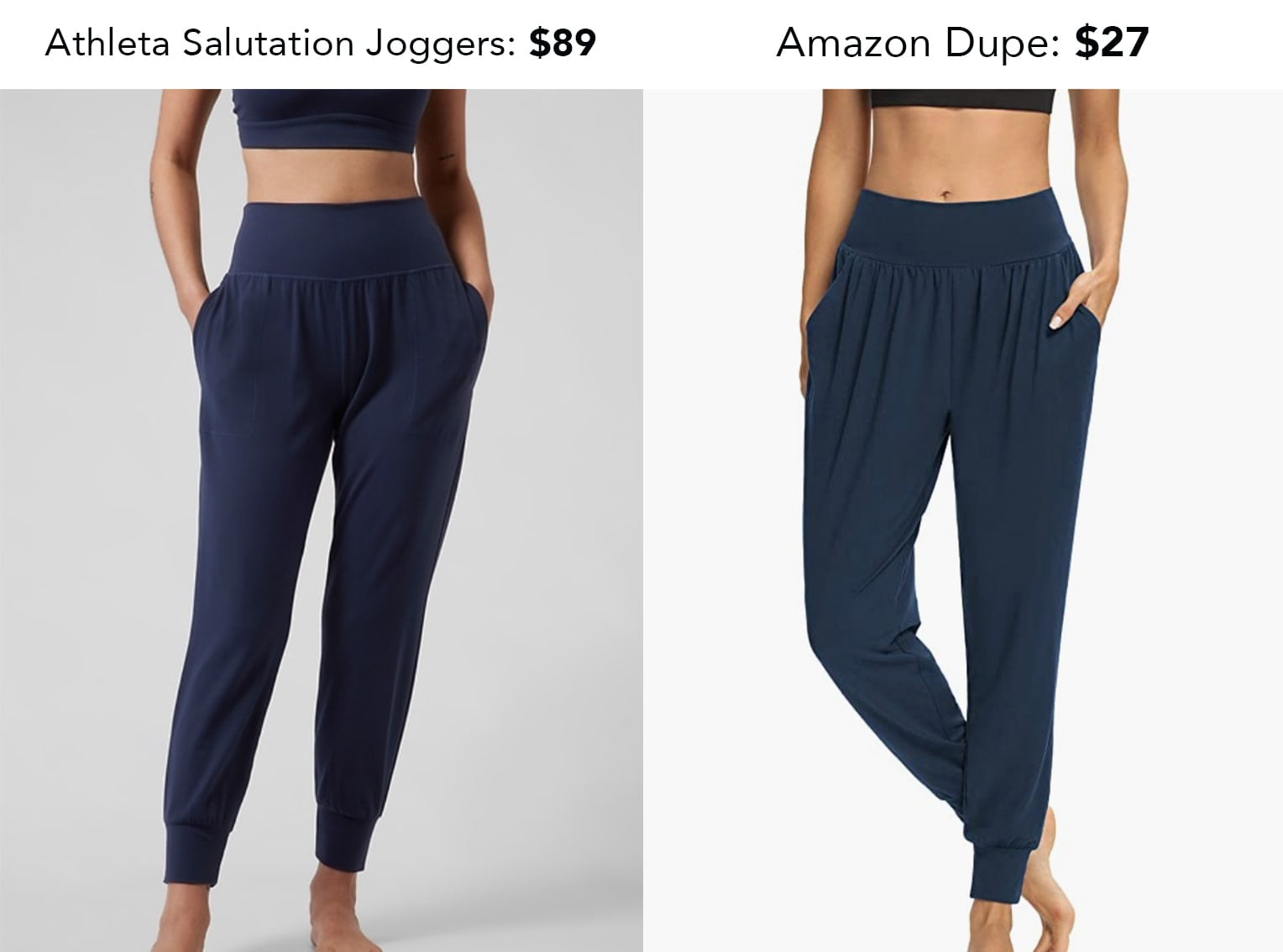 When you purchase a pair of joggers, they should be comfortable for you to wear around the house and when you are doing a light workout. Fortunately, that is what you get from these Salutation Joggers. You can lounge around in them at your house or wear them to the gym for a workout. We recommend wearing them for yoga or long stretching routines.
When you put them on, you will feel the soft fabric as it supports you like a gentle hug. Its curved seam will flatter your form regardless of your body type, and the material is breathable.
As a result, sweat can move through the fabric and evaporate instead of sticking to your clothes and skin.
Additionally, these joggers are rated UPF 50+ for extra protection, and you can wash them with the rest of your clothes. Finally, they have a high waistband and are meant to be worn above your belly button. Unfortunately, the $89 price tag is expensive for most people.
If you want something cheaper, you can purchase a similar Athleta jogger dupes on Amazon for just under $23. They are very similar in design, hugging your body and flattering your form. Additionally, they come in many more colors than the original from Athleta.
The only notable difference is the Salutation jogger dupe does not have as high of a high waistband. As a result, they should be worn just below the belly button.
---
Athleta Venice Jogger Dupe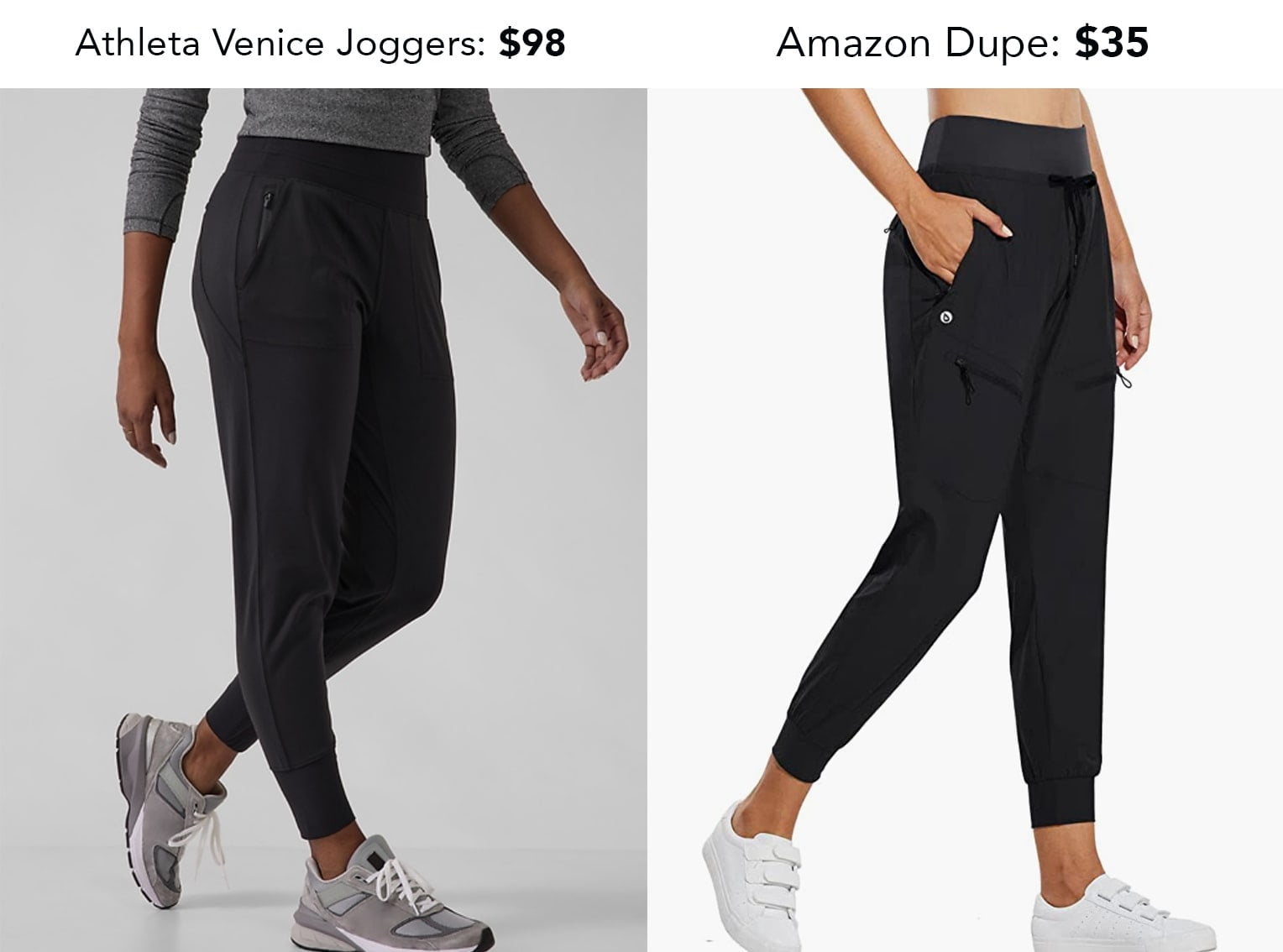 If you want something casual to wear while traveling, these Athleta Venice joggers are a fantastic option. They come in six colors, including black, and are made from nylon and spandex. These materials make the joggers very flexible and comfortable no matter where you are going.
Furthermore, you can easily carry your essentials with you when you wear these joggers as they come with large pockets on each side. So, if you don't want to bring a purse, you don't need
to.
In terms of design, these joggers have a mid-rise waistband and skim easily over the body. They are breathable and dry quickly. You can purchase them for $98
If you want something cheaper but similar, there is an excellent Athleta jogger dupe on Amazon with very similar features. It comes in over a dozen colors and has the same mid-rise waistband. The most significant difference is they are made mostly from polyester. You can purchase the Amazon joggers for just under $23.
---
Athleta Ranier Jogger Dupe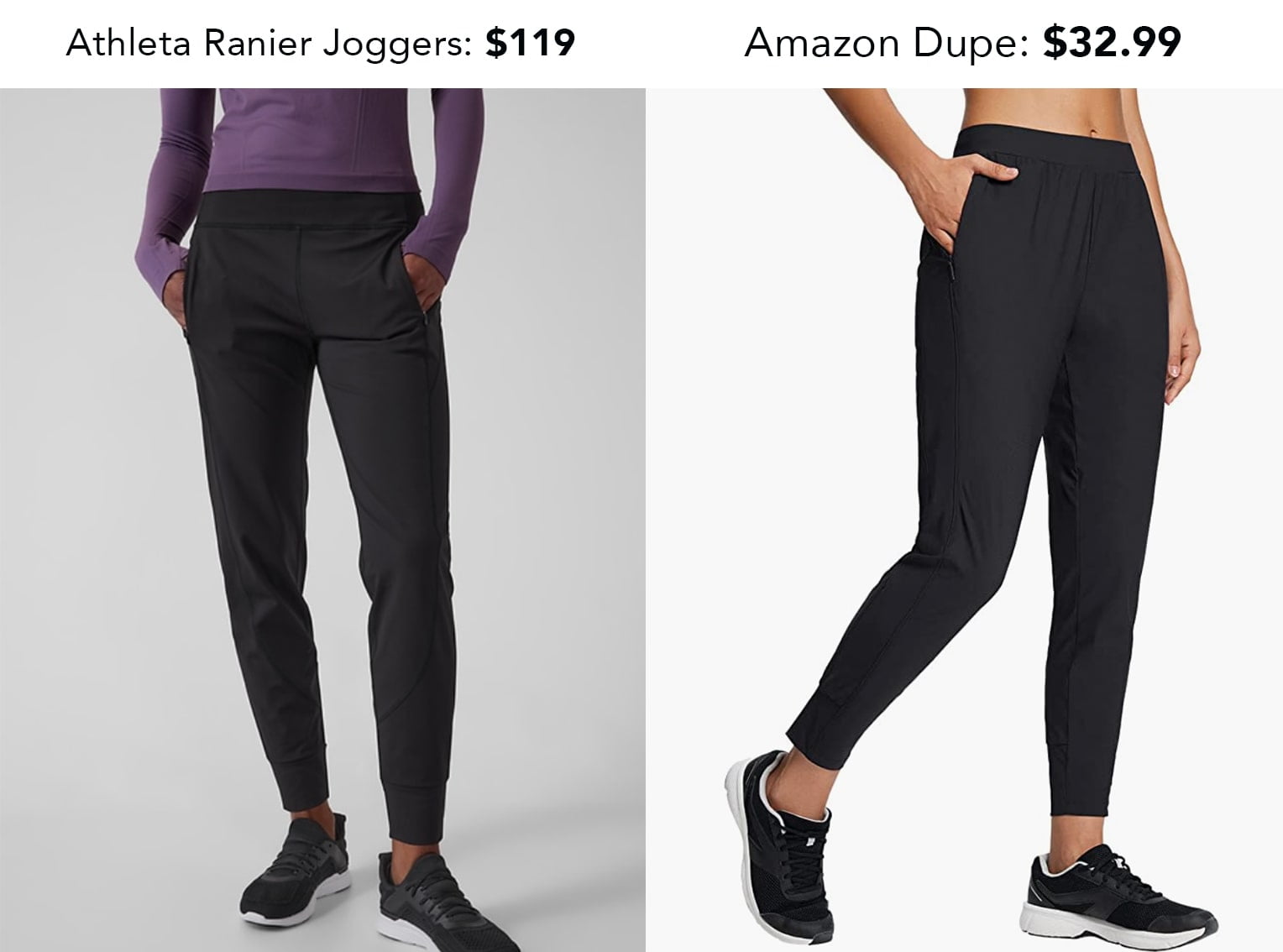 Not all of us are lucky enough to live in warm climates. Many of us are stuck in areas with cold weather most of the year. As a result, many joggers are not insulated enough to wear during the winter. Fortunately, Athleta has a cold-weather alternative available for $119.
These joggers are only available in black, but they do a great job of keeping you warm during the winter months. They can be worn during medium and high-impact workouts and have reflective details to keep you safe during early morning or late-night workouts.
Furthermore, these joggers come with pockets to secure your essentials and an unpinchable three-layer waistband with mesh inner lining streamlines. They are semi-fitted and are made
from recycled nylon and lycra.
Unfortunately, $119 is too much money to spend on a pair of joggers for most people. With that in mind, a similar item for $33 is very affordable. The Athleta jogger dupe on Amazon is much more affordable, and comes in two extra colors.
It has all the notable features from the original, but it uses spandex instead of lycra. While the slight difference in the material makes it feel a little different, you will have a similar experience with these joggers as you would with the ones from Athleta.
---
Athleta Attitude Jogger Dupe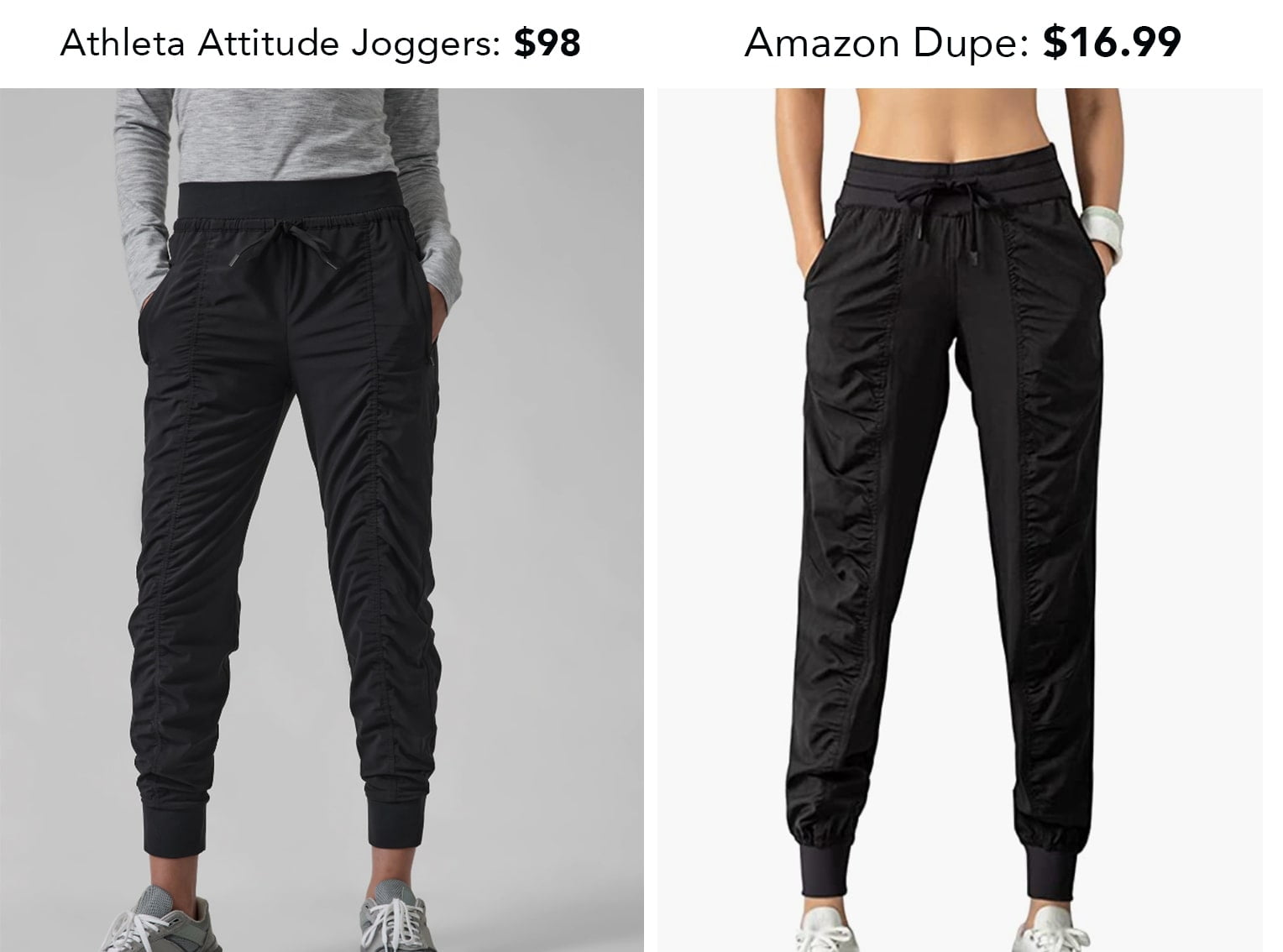 Here we have another pair of joggers that are only available in black. However, these joggers are still a great option. Made with recycled polyester and spandex, these joggers will keep you warm during your workout. You will also love the jersey interlining that provides you with added comfort and warmth.
Additionally, while you will feel warm, the joggers are still breathable, so your legs won't get sticky from sweat.
We recommend using these joggers for trail running because they are abrasion resistant. They are highly resistant to snags and tears, so you can safely wear them on the trails. You can machine wash and dry these joggers.
If you want a more affordable option, you can buy these Athleta jogger dupes on Amazon for just $17. This alternative is made of 100% polyester and has a tighter taper at the bottom. However, other than those changes, there are not many differences.
---
Athleta Balance Jogger Dupe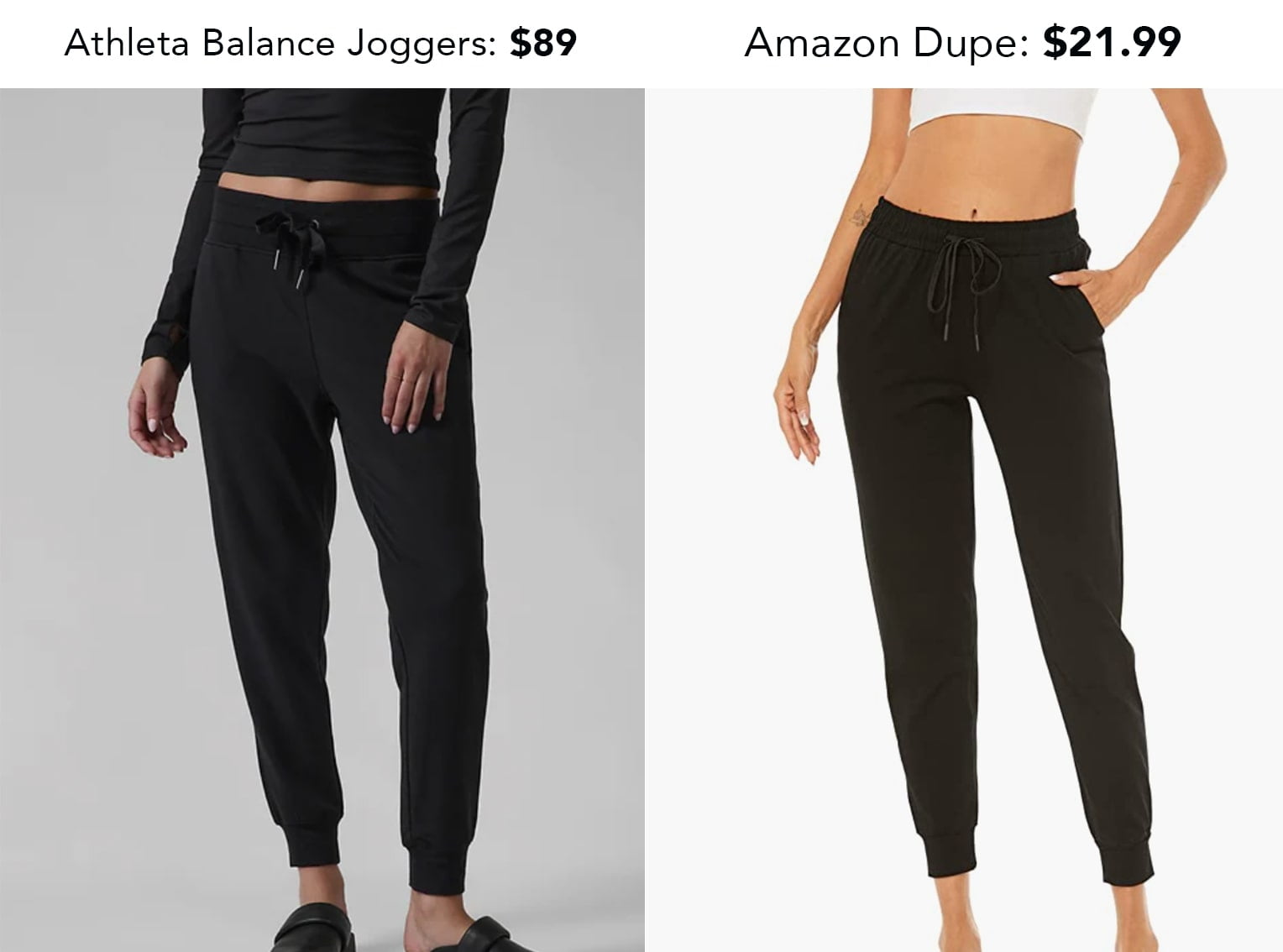 Here we get back to some joggers with several color options. You have five choices in color when you purchase these joggers for $89. These joggers are best used for lounging and relaxing, but you can wear them to the gym too. We like them for the winter months because of their soft fabric and cozy interior.
Furthermore, these joggers have a drawstring waistband with elastic so that you can adjust the fit. It also comes with easily accessible pockets and a hidden card compartment. Athleta makes
these joggers with a combination of Tencel, cotton, Lenzing Modal, and spandex. You can safely machine wash and dry them.
If you want to buy a cheaper alternative, you can purchase these Athleta jogger dupes on Amazon for $22. They look identical to the original, even having the same tapered bottom. However, the material is slightly different as the more affordable alternative uses 95% cotton and 5% spandex.
---
Athleta Trekkie North Jogger Dupes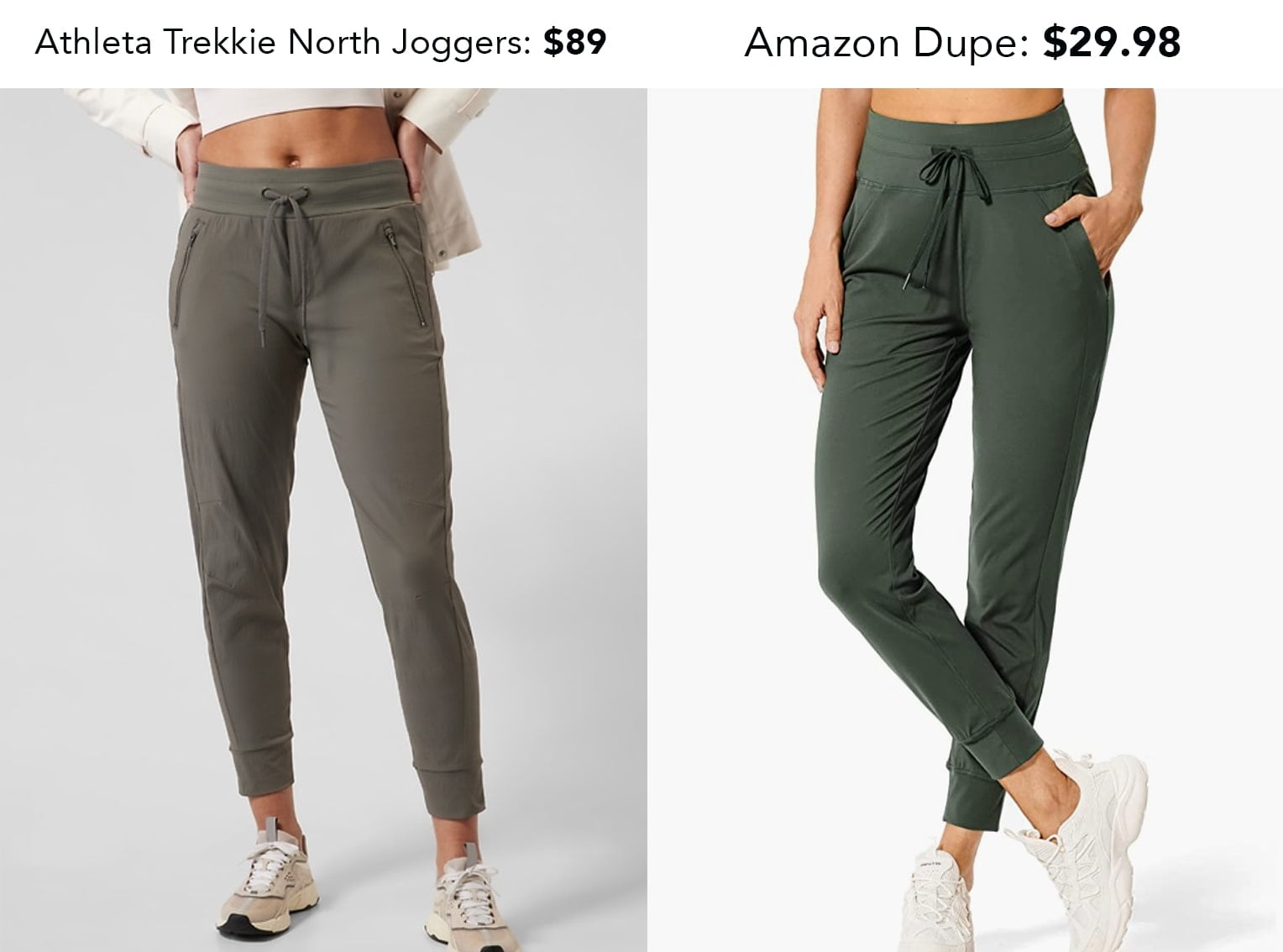 Athleta's Trekkie North Joggers are quite versatile. They are ideal for outdoor enthusiasts who might enjoy hiking, climbing and exploring. Or, they are a comfortable choice to wear casually throughout your day-to-day life. They are available in 8 beautiful colors.
A popular feature of these pants is the two zippered pockets to safely store your essentials while on the trails or just out and about. Additionally, These joggers are breathable, lightweight, and sweat-wicking.
While these joggers have some enticing features, they also come at a high price tag of $89. So we found a more affordable, yet comparable Athleta jogger dupe on Amazon for you.
This pair of joggers similar to Athleta on Amazon has a similar fit and style as the Trekkie North Jogger. Additionally, they are also composed of the same material (nylon/spandex) so they will have the same fabric features as well.
The main differences you will notice between these joggers are the waistband and pockets. The waistband on the Amazon joggers is high-waisted and slightly wider. And the pockets do not have a zipper. However, at $30 these joggers are an excellent alternative to the Trekkie North Joggers.
---
Athleta Studio Jogger Dupe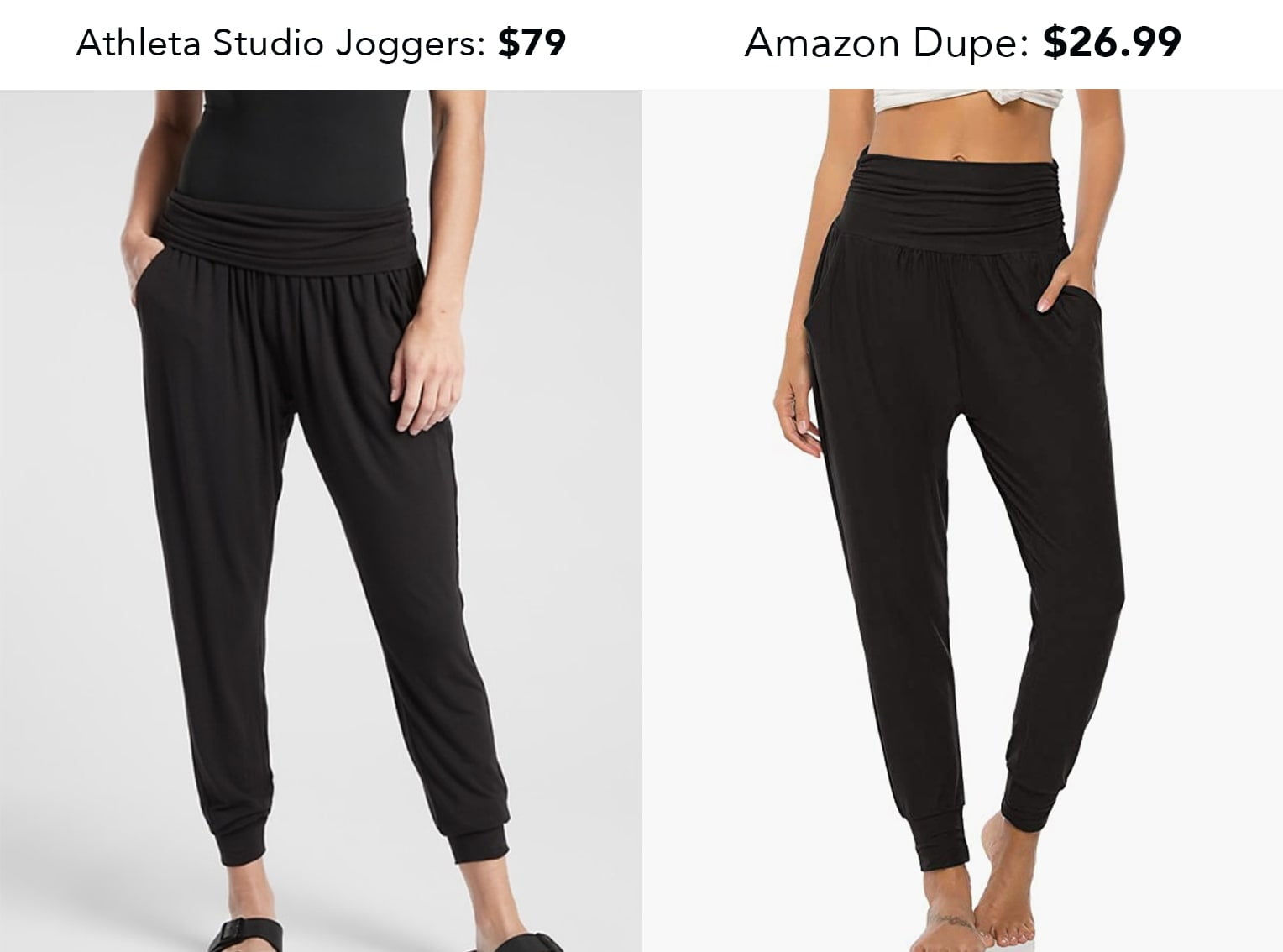 The Athleta Studio Joggers are still considered semi-fitted. They are an ideal choice for yoga enthusiasts, or for just an everyday comfortable pair of pants. They are only available in 2 colors (black and spiced cabernet).
A popular feature of this jogger is its incredibly comfortable waistband that moves with you and never digs in. It sits just at your natural waistband.
Additionally, these joggers are a modal/spandex blend, making them super soft and comfortable. They are easy to care for as well. That being said, they are expensive.
A more affordable yet comparable option would be these $25 Athleta jogger dupes on Amazon. These joggers have a similar fit and feel as the Athleta Studio Jogger. One perk you will notice is that these joggers are available in a much wider variety of colors.
One difference you will notice in these joggers is that the waistband is slightly wider and cinched on the sides. It is also composed of a spandex/polyester blend so they aren't quite as buttery soft as the Athleta Studio jogger. At $27…these joggers are a steal!
---
Similar to Athleta Cabo Linen Jogger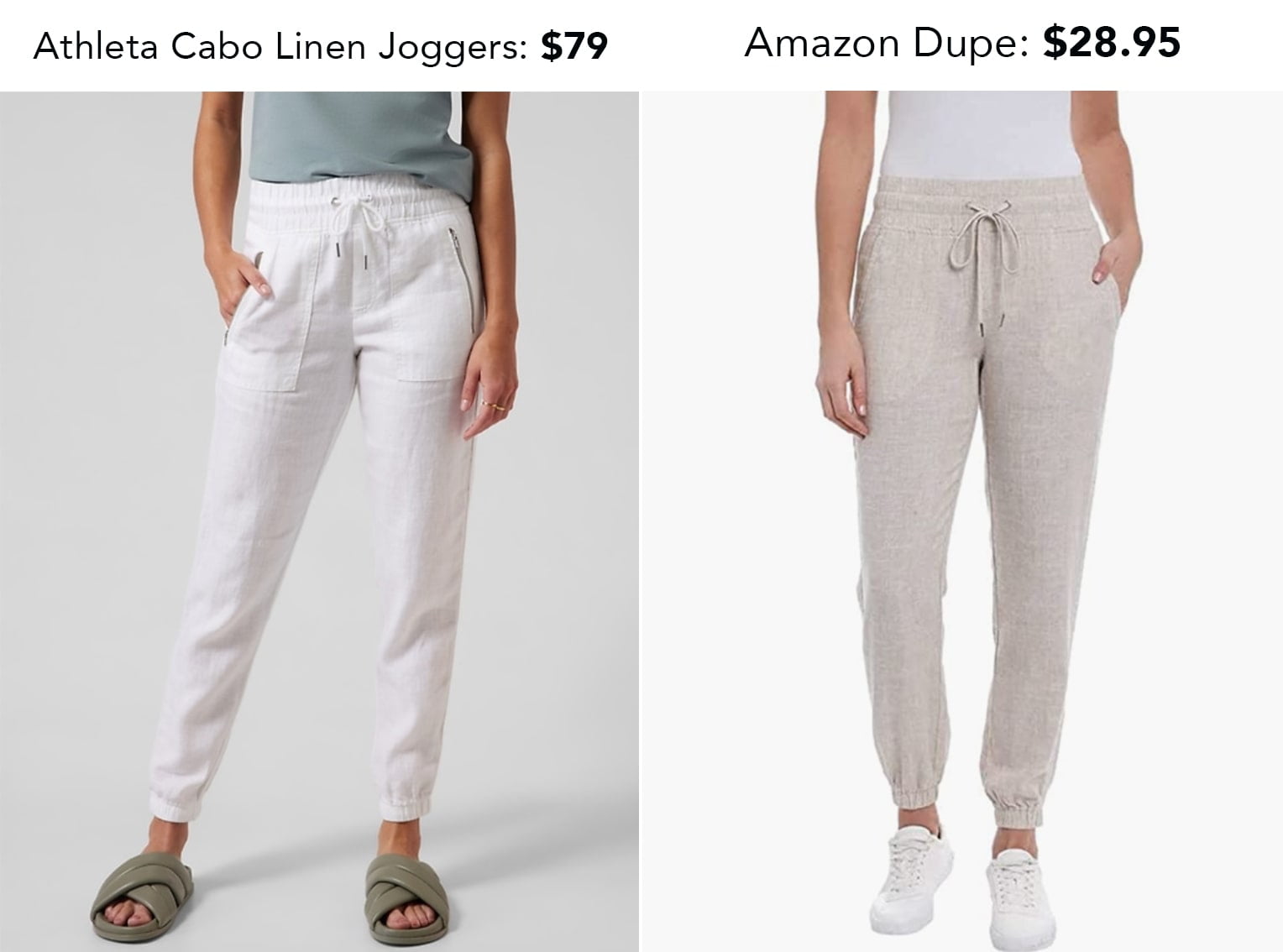 The Athleta Cabo Linen Joggers live up to their name. These joggers definitely remind you of a destination like Cabo. They are semi-fitted, light, and comfortable…perfect for warm-weather beach vacations.
These joggers are available in 5 beautiful colors. A popular feature is the zippered front pockets to securely store any essentials while out and about.
Customers are also loving how versatile these joggers are…you can easily dress them up for an evening out or even for the office.
If you are looking for a comparable yet more affordable alternative to these Athleta Cabo Linen Joggers, Amazon has a great option for you. They are only available in 2 colors but they are almost identical.
The main difference you will notice is that the pockets don't have a zipper and they are a linen/rayon blend so they will have more drape to them. Additionally, they won't stretch out as much since they aren't 100% linen.
---
Athleta Headlands Hybrid Trek Jogger Dupe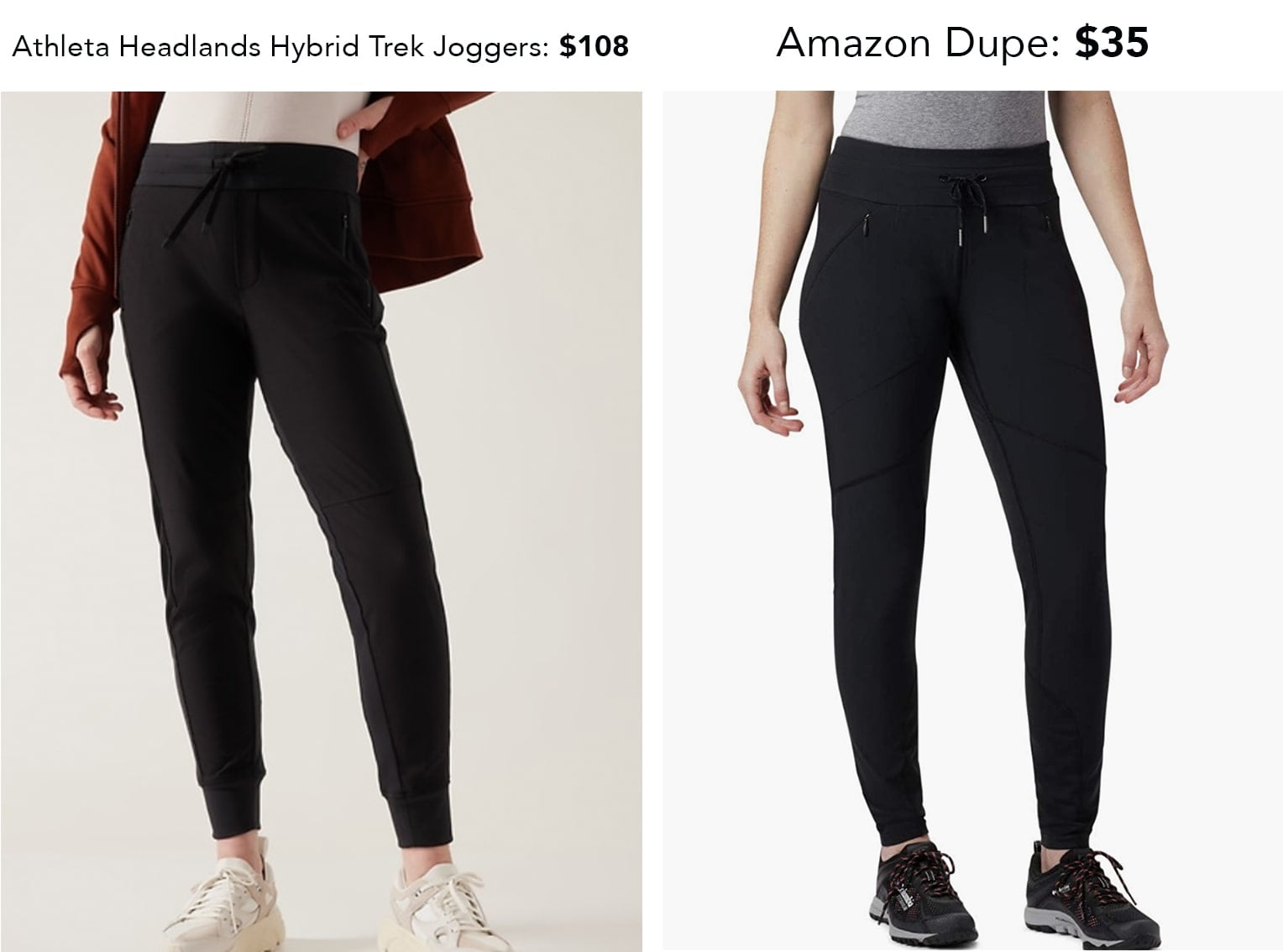 ---
Athleta Brooklyn Jogger Dupe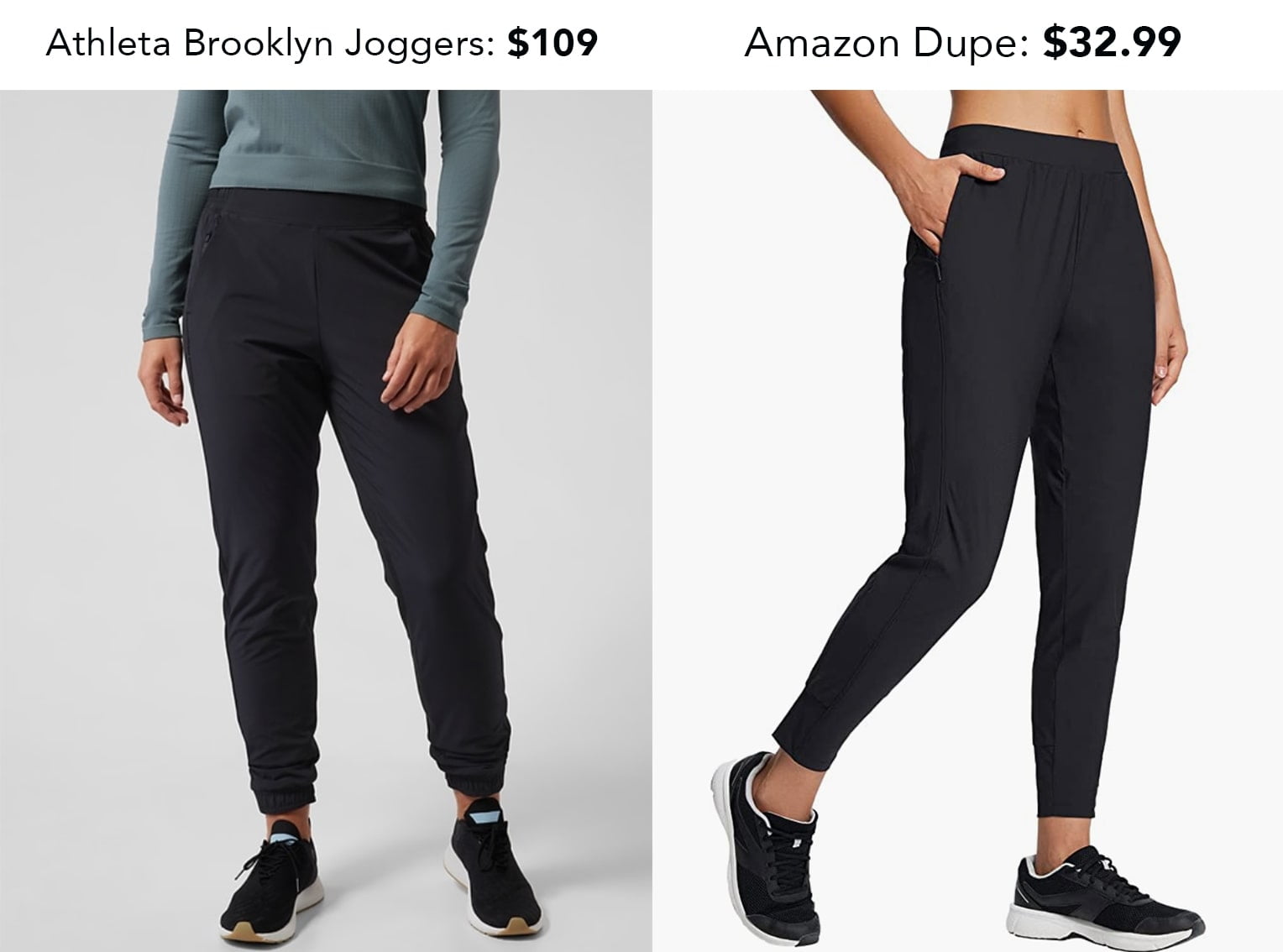 The Brooklyn jogger is a popular semi-fitted Jogger with a mid-rise waist. They are lightweight and stretchy yet will keep you warm in the winter months since they are lined with soft jersey material. Unfortunately, they are only available in black.
These joggers are ideal to wear to work or just as casual everyday pants. They are made from recycled polyester, which makes them breathable, durable, and quick-drying.
However, the Athleta Brooklyn joggers have a $109 price tag. That is why we found these comparable yet much more affordable Athleta jogger dupes on Amazon for you. The only difference you will notice is that there aren't pockets in the back and they aren't lined.
Additionally, the Brooklyn jogger alternative on Amazon is made from a nylon/spandex blend so they will be slightly more stretchy and butter soft.
---
Final Thoughts: 10 Athleta Jogger Dupes on Amazon
Athleta is a fantastic company with high-end clothing, but their clothes are expensive. If you have the money, by all means, splurge on Athleta activewear. However, if you do not have as much disposable income, do not feel bad about buying a pair or two of these Athleta jogger dupes.
These 10 popular Athleta jogger dupes are all available on Amazon and are nearly identical to the real deal.