I recently purchased the mega viral Skims Soft Lounge Long Slip Dress. I saw one of the videos that popped up on facebook in which the caption simply said, "Just buy it." The girl wearing the dress had a similar shape as me and it looked on point so I went ahead and pulled the trigger right then and there and bought it (just as she said!). I could NOT believe they actually had my size. Apparently this dress now has a waitlist of 46,000.
So, I am I happy that I spent the $78+ on it? Ehh…maybe…probably. The dress definitely has some qualities that I love but also a few that I don't love.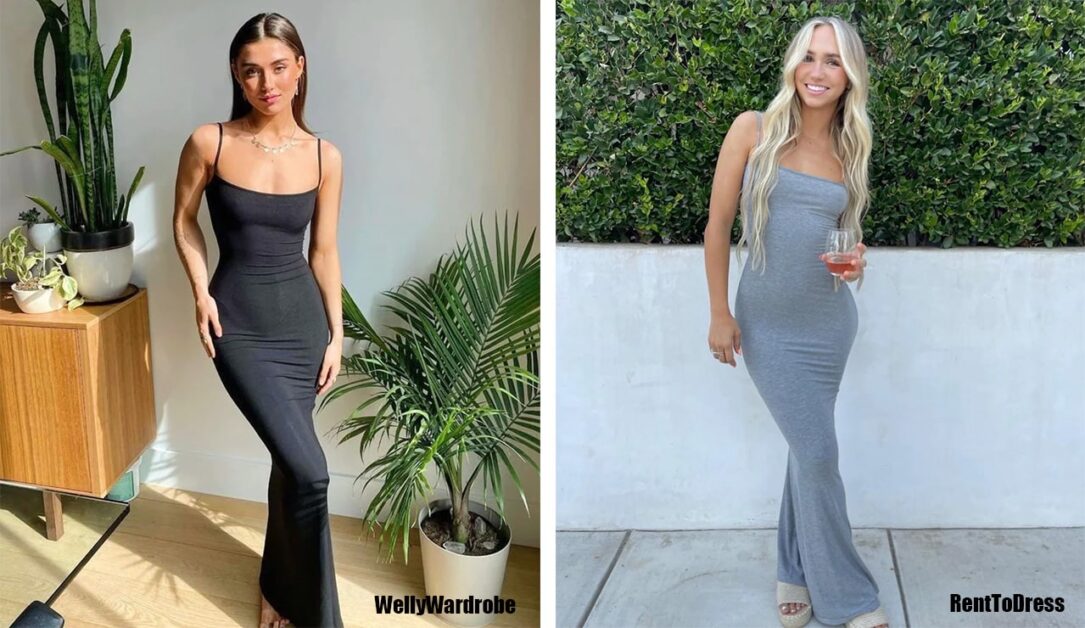 In my opinion, the Skims Soft Lounge Long Slip Dress works really well on those with a great figure. To be honest, I will not wear this dress unless I am having one of those days where I'm feeling extra fit and not bloated at all because it shows EVERY bump and curve.
That being said, I am more on the self-conscious side so I can see how many women would feel more comfortable wearing this no matter what their bodies felt like that day (I'm just not that girl)! I would just keep that in mind before dropping $80 bones on this one.
Dress Details
Material: 91% Modal, 9% Spandex
Price: $78
Colors: Available is heather grey and black. There are a few limited addition colors that are pretty much sold out at all times (marble, cotton candy, honey dew, and camel)
Sizes: XXS – 4X
Customer Rating: 4.8 out of 5 stars
Ribbed Fabric Detail
Maxi Length: XXS – XL is 50 and 1/8 in long and the 2X – 4X is 51 and 1/8 inches long
Semi-Straight, Low Neckline
Adjustable Spaghetti Straps
Slightly Flares Out Below Knee
Curves out at Hips
What Did I Love About the Skims Soft Lounge Long Slip Dress?
Length: I was expecting the Skims Soft Lounge Long Slip Dress to be long and drag on the ground but it surprisingly falls to the perfect length right above my feet. For reference, I am 5'6 115 pounds and ordered the XS.
Adjustable Straps: I have a small bust so it was nice to be able to adjust the straps so the neckline was still snug and secure against my body. It also gave me a sporty and athletic look up top, which I love.
Material: The material is so soft, smooth, stretchy, and resilient. When you stretch it out it bounces right back into place, which is why is is able to hug the body so snugly. It also has a nice weight and drape to it. It falls nicely over the body and is 100% NOT see-through (no matter how much it stretched). You can really tell that a lot of thought was put into every detail of this dress.
Neckline: I love how low cut the neckline is. If you do wear a bra with this dress, it has to be a discreet strapless bra because the top and neckline are quite revealing, which I personally like. Since the straps are adjustable, you can pull it up higher if you want to feel more comfortable and modest.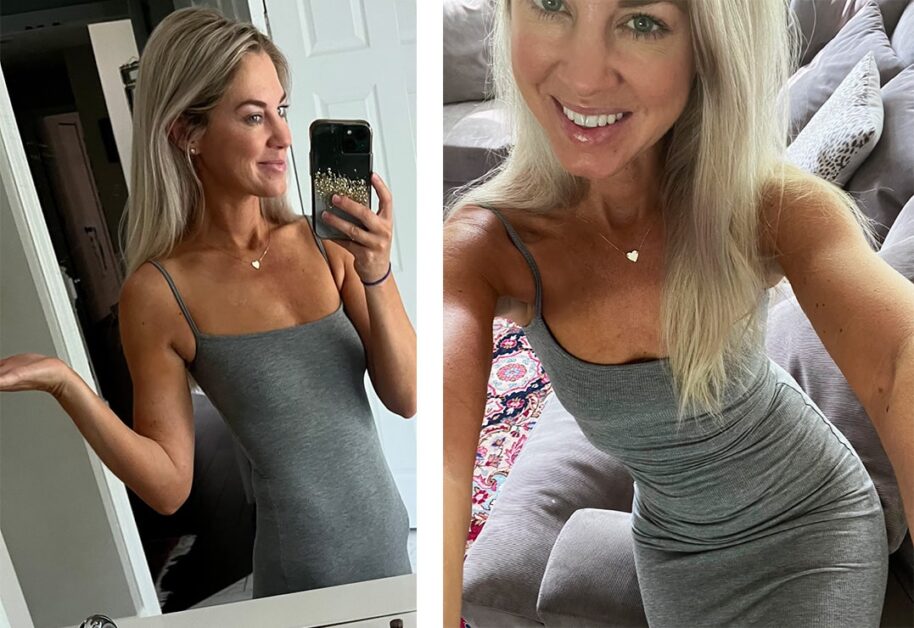 Related Article: Top 10 Compression Swimsuit Brands to Feel Confident at the Pool or Beach
What Did I NOT Love About the Skims Soft Lounge Long Slip Dress?
Shows Everything: Even though the material is high quality and supportive, it hugs the body SO tightly that you can see every little curve, bump, and bulge. Maybe it doesn't show as much on the black one but the grey one defintely shows every little part of my body (but it's not see-through at all)
Needs a Slit or Two: Since the Skims Soft Lounge Long Slip Dress is so form fitting and tight, it seems a bit restrictive around my legs. I wish it had a slit in the back or two slits on the side to allow for ease of range of motion and less of a pencil look.
A Few Other Skims Soft Lounge Long Slip DressCustomer Reviews…
It was actually hard to find any critical reviews of this dress. Women everywhere and of all shapes and sizes are loving this dress. Here are just a few. And most of the reviews in general all sounded very similar to these.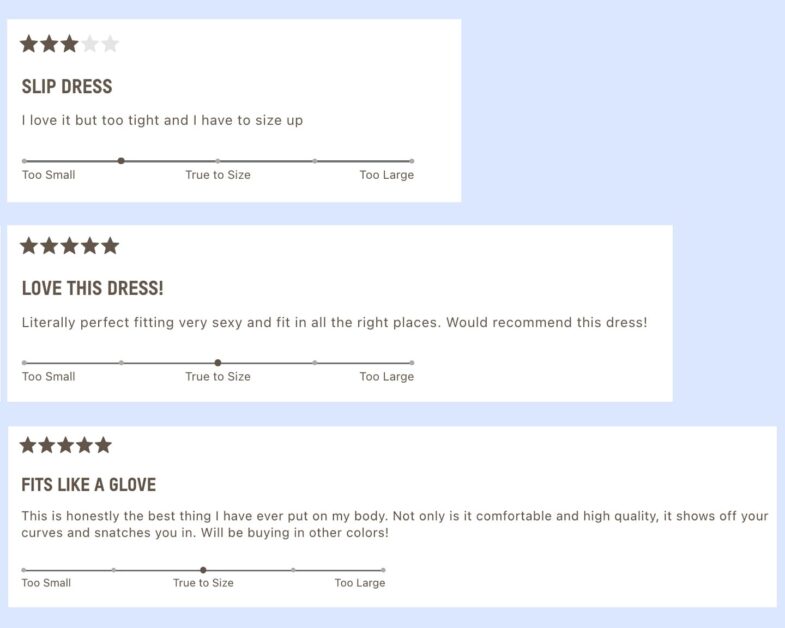 What is the Best Skims Soft Lounge Long Slip Dress Dupe?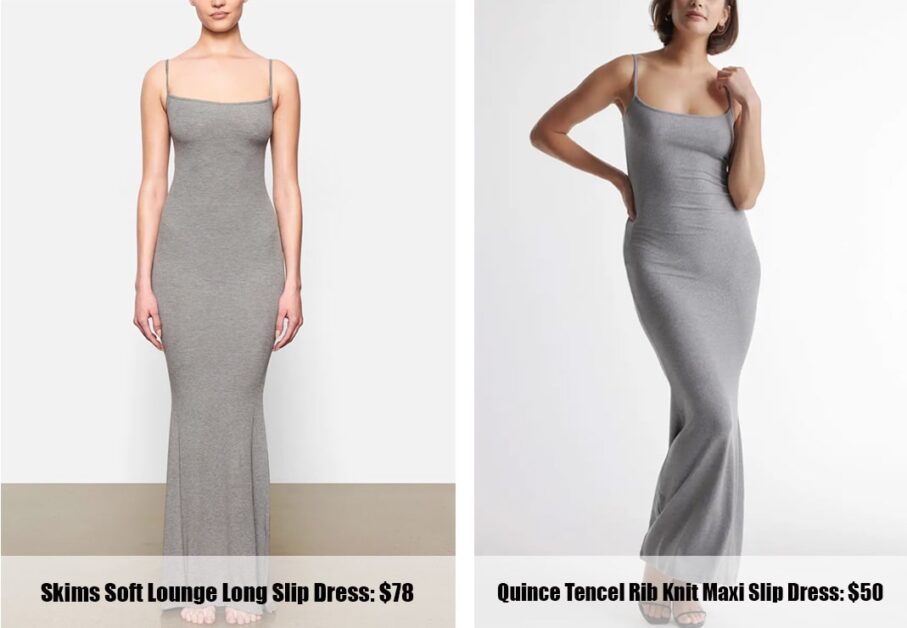 Tencel Rib Knit Maxi Slip Dress from Quince: $49.90 on Quince.com
We found this Skims Soft Lounge Long Slip Dress dupe on Quince.com. It is nearly identical to the original Skims Soft Lounge Long Slip Dress. It's only $49.90 and is made from almost the exact same materials and percentages (the only difference is Skims uses 91% modal which is made from a beechwood tree pulp and Quince uses 91% Tencel, which is made from Eucalyptus tree pulp). Both dresses have the same ribbed texture, adjustable spaghetti straps, body hugging fit, length, and low neckline.
There were a few Skims Soft Lounge Long Slip Dress dupes we found on Amazon but when we looked closely, the quality wasn't nearly that same at all. This one from Quince is actually a worthy dupe.
The Quince dress is available in sizes XS – XL and in several classic colors such as heather grey, black, camel, brown, navy, and dark olive.
Additionally, this Skims Soft Lounge Long Slip dress dupe is made from environmentally friendly materials as well as produced in a Sedex certified factory that guarantees healthy working conditions. Furthermore, this Skims dress dupe also uses AZO free dyes, which are better for the environment as well as the ideal choice for individuals with skin sensitivities.
As a bonus, Quince also provides its customers with FREE Shipping and FREE returns!