I can't help it…I'm starting to fall in love with Skims. For years, my go to style has been classic basics that are form fitting, comfy, and effortlessly sexy. Skims is exactly that. I for see Kim taking a lot of my hard earned money in the near future! Just what she needs, right?
Everything from the branding and sexiness to the basic simplicity of each piece is exactly my cup of tea. The materials are soft, smooth and somewhat thin, while still somehow providing perfect support and shape. You can tell that the brand pays attention to the details and puts thought into each style, design, and fabric with the customer in mind. An excellent word to describe the Skims brand would be "thoughtful".
I also love a good bodysuit. I bought a couple from Amazon that I do like. The materials, length, and fit are great. However, most of the others I have are off….typically with the length being too long where it looks scrunchy up my booty and back or too short where it is uncomfortable as hell.
The other issue I have with most bodysuits is their lack of fit. When I wear a bodysuit it better fit like a glove!
I've seen many advertisements over the past several months for Skims bodysuits (mostly through social media) and have been wanting to try one! However, $62 for a very small piece of fabric seemed a bit steep. I decided I wanted to pull the trigger anyway. I read customer reviews to check on sizing but they were mixed opinions. I didn't like the idea of taking a guess on my size. I wanted to try them on first.
Luckily, I saw that there were a few different styles and colors ranging from XXS-Med in stock at my local Nordstrom. Yaay! I walked into the shape wear department to ask where they were. The associate told me that they don't sell Skims in store. It only shows they are available at the store because they are returns. What?! That is complete false advertising.
However, since I saw online that they were available in store she was allowed to bring out a few styles in the sizes that I thought I might be. They were all size small (and I could tell right away they ran small). I was happy I didn't purchase one online because I probably would have gone with the XS and have had to return it (which is never fun).
I tried on the Skims Fits Everybody Cotton Jersey T-Shirt Bodysuit in black, the Skims Fits Everybody Square Neck Bodysuit in clay, and the Skims Fits Everybody High Neck Bodysuit in clay (all size small).
I loved all of them. However, I opted to go with the Cotton Jersey T-Shirt bodysuit. I liked the square neck and high neck ones as well. However, the color looked too much like my skin and you could see my nipples! Both of those styles would not work well with a bra because of the cut. The Skims black t-shirt bodysuit in cotton jersey was JUST RIGHT. I knew I didn't need a bra with it (but could if I wanted) plus it was the most versatile out of all three.
Related Article: Thinking of Buying the Skims Soft Lounge Long Slip Dress? Here is an Honest Review of the Viral Dress (Plus a Dupe!)
Skims Fits Everybody T-Shirt Bodysuit Details (Cotton Jersey)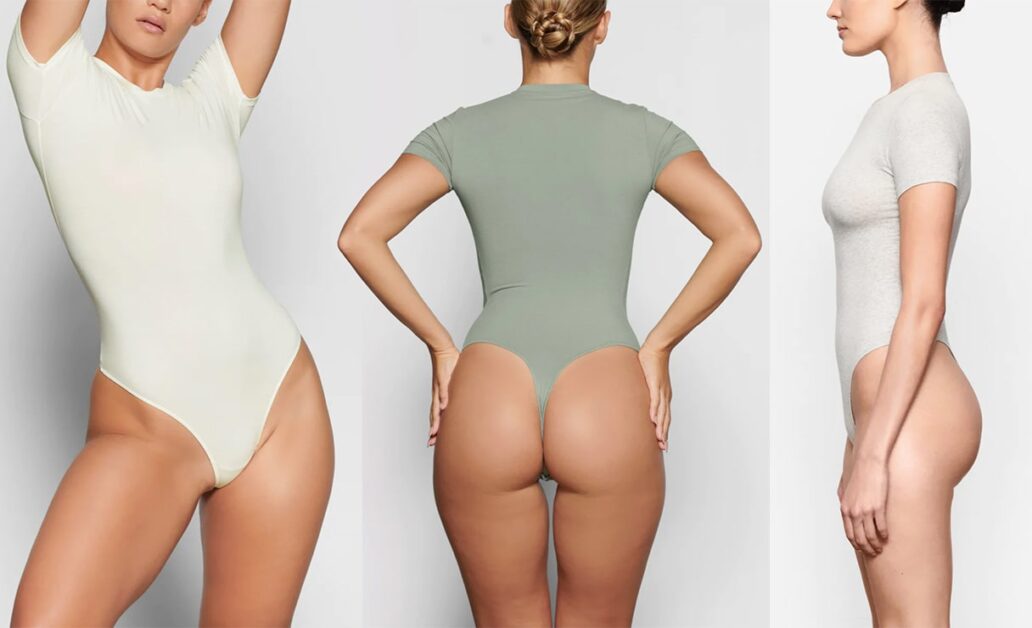 Material: 90% Cotton / 10% Spandex
Colors: Bone, Heather Grey, Onyx, Mineral, Kyanite
Sizes: XXS – 4XL
Length:
Fit: Fitted t-shirt style bodysuit (not compressive), Crew Neckline, Thong Back, Double Snap Closure
How to Style the Skims Fits Everybody T-Shirt Bodysuit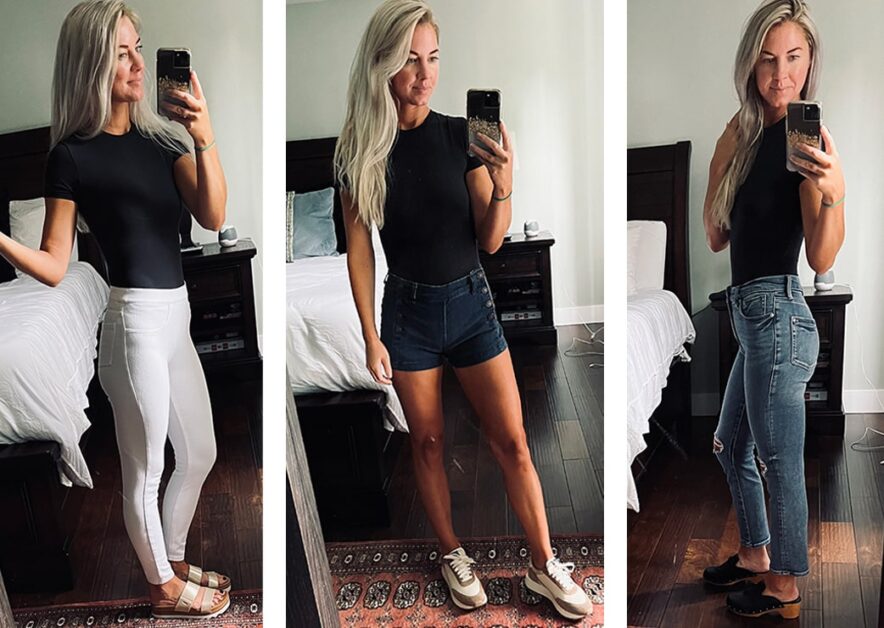 One of the best qualities of the Skims fits everybody t-shirt bodysuit is how versatile it is. It literally can go with everything. You can easily pair this bad boy with: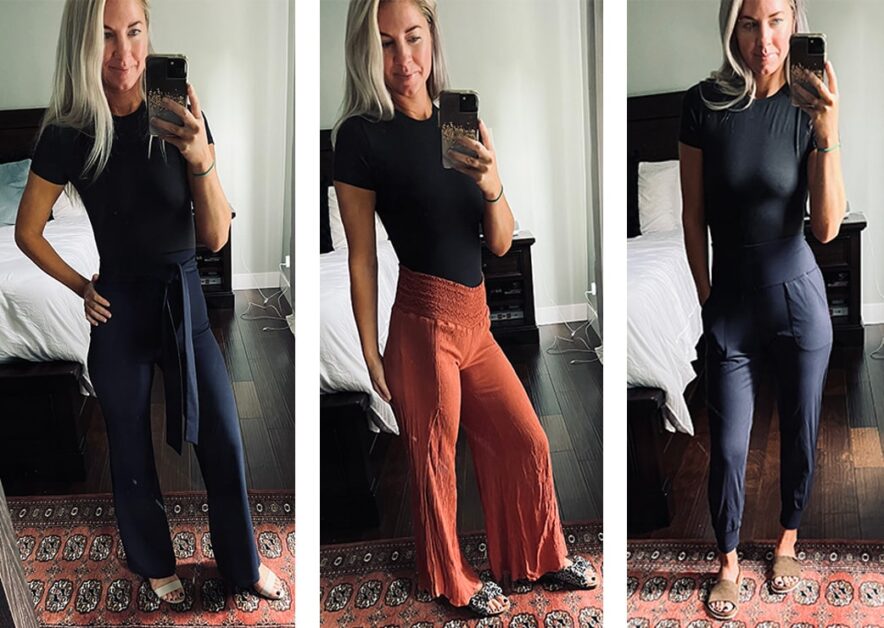 Wide leg slacks and kitten heel sandals for the office or business meeting
Wide leg linen blend pants and bow sandals for travel or resort wear
Joggers and flip flops for around the house or running errands
What People are Saying About the Skims Fits Everybody T-Shirt Bodysuit
Honestly, it was hard to find many negative reviews of the Skims Fits Everybody T-shirt bodysuit. Below are a few of the most common customer reviews. The only negative ones were related to the sizing. This bodysuit runs on the small size and is ideal for longer torsos.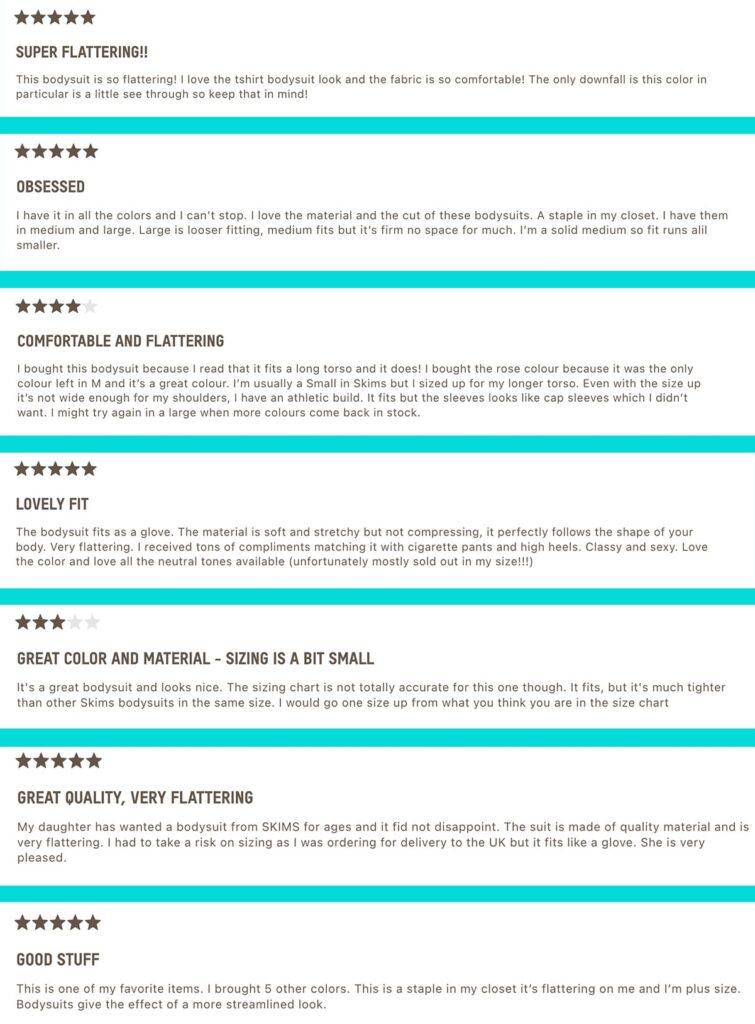 Final Thoughts. Is the Skims Fits Everybody T-Shirt Bodysuit Worth $62?
Overall, Yes. The Skims fits everybody t-shirt bodysuit is worth the $62 price tag. It's worth it because how versatile this piece is. You will most definitely get a lot of use and wear out of this staple. I wear at least once a week and feel amazing in it every time. The fit is perfect, the quality is on point, and it's comfortable.
The only negative that I noticed is the pit stains issue. If you are a sweater or get nervous and anxious easily, then I would avoid buying this bodysuit in any other colors besides the black. Or you can always opt for one of the Skims sleeveless bodysuits.