How to Style Joggers:
12 Easy Ways
It took me a while to like joggers. For the longest time they always looked frumpy and lazy to me. When I would try them on they either made my butt look flat and saggy, the waistband was unflattering, or they were just too baggy and not "put together" enough. Every once in a while, though, I would see someone pull them off and they would always look very put together and on-trend. So was it my body that wasn't made for joggers or was I just not trying on the right kinds of joggers? Well…I wasn't trying on the right joggers. So I did some research on how to style joggers and how to find the right pair.
What to Consider When Choosing the Right Jogger?
There are a few important guidelines to always consider when buying a good pair of joggers and these guidelines are the same for every person (no matter your size and shape). Those guidelines include…
Fabric and Fit: Even though they are called "joggers," that doesn't mean that the overall fit doesn't matter. You want to make sure that you choose a pair of joggers that has good structure and attention to detail as far as the waistband, bottom cuff, seams, length, and stitching are concerned. Having a good quality fabric is important as well so that they are comfortable and versatile.
Good Tailoring: I feel as though joggers should be renamed "jogger pants" because a good jogger always has well-thought out tailoring to them, which should highlight your body's shape but in subtle ways.
Not too Tight but Not too Baggy: There is a fine line between a joggers and sweatpants and there is also a fine line between joggers and leggings. You want to make sure they aren't too baggy, in which case they might look like pajamas. But you also don't want them to be too tight and look like leggings that don't fit right.
Space Between Crotch and Waistband: This is a key factor when choosing the right jogger. Far too often I see people wearing "joggers" that look very baggy between the crotch and waistband, which looks sloppy and lazy…like they should have never left their house in those! This goes back to my point about making sure they are tailored in a structured and proportional way.
What Shoes to Wear with Joggers?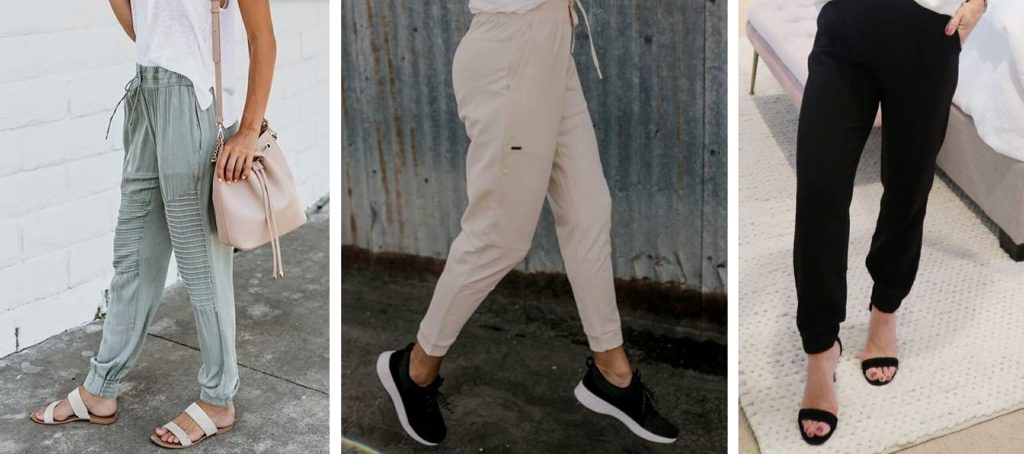 Sneakers: Simple white or black sneakers look great with joggers. And when paired with a simple top, a sneaker with a fun design is a good way to add a pop of style and detail.
Flats: Easily dress up your jogger look to business casual with a dainty flat – in either a solid color or a fun print when paired with a more simple top.
Heels: If you have a date night or event coming up and want to rock the joggers, throw on a pair of stilettos or strappy heels for a sexier, more dressed up look.
Flip Flops: If you are on the move during the spring or summer, throw on a pair of flip flop with your joggers for a easy but cute look.
Sandals: Throw on a pair of sandals with your joggers for a more dressed up spring/summer look.
Clogs: If you are wearing a more tailored jogger with a simple one-piece and are going for an on-trend look that is sure to inspire fashionistas, try a pair of clogs with your joggers!
Simple Ways to Look Stylish in Joggers…
Scrunch the joggers up at the ankle: this is an easy way to create a more put together look (especially if they are too long).
Pair them with a fun sneaker: this is an easy way to add a pop of detail to your look.
Dress them up: throw on a pair of heels, a body suit and a chunky necklace for a night out with the girls or a date night with your man.
Add a Jacket: such as a polished blazer or denim jacket for a more polished look for the office.
How to Style Joggers:
12 Easy Ways
1. With a Cropped Sweater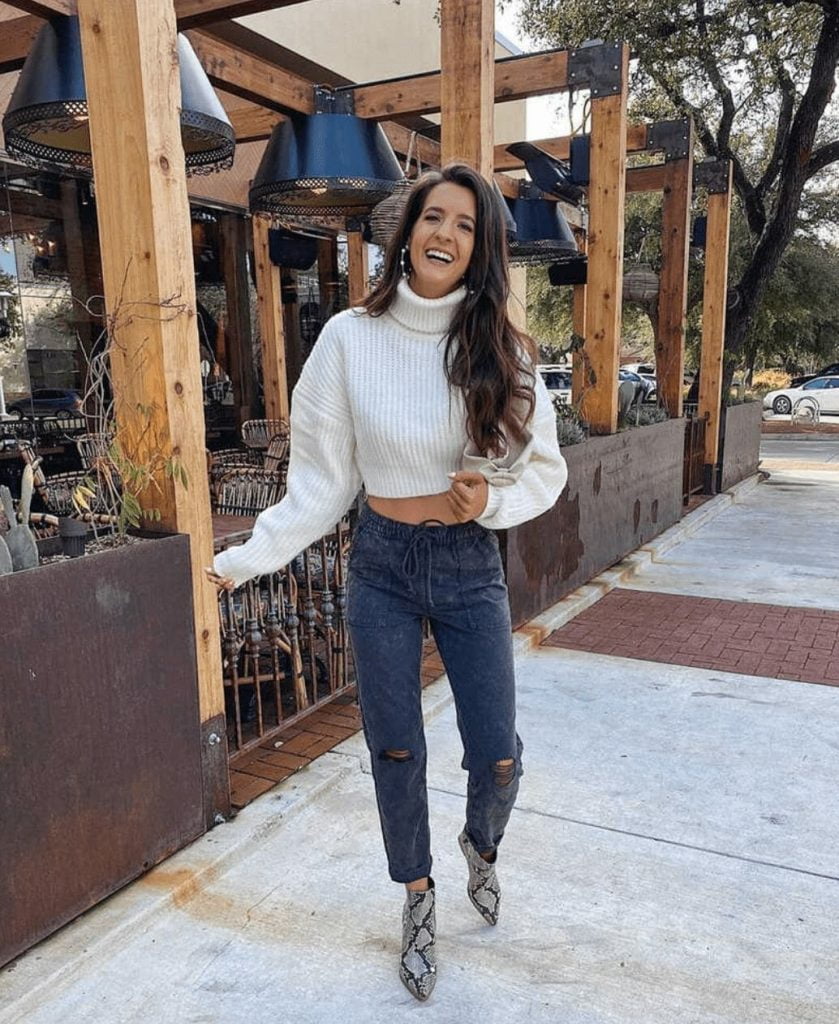 I see a lot of people wearing big boxy sweaters sweaters with their joggers, which can sometimes look lazy. Go ahead and take that look to the next level with a cute cropped sweater and stiletto booties for a cute but casual outfit that's sure to turn heads.
2. All White Ensemble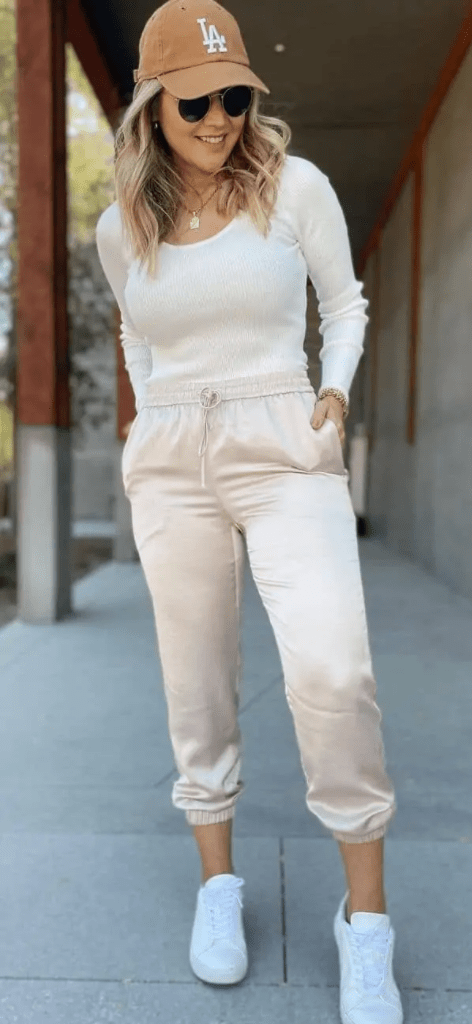 Now that winter is finally coming to end soon, it's time to bring your white wardrobe back to life. Pair your favorite white (or off white) joggers with a tucked in white (or off white) top and polish it off with a clean pair of white sneakers and a baseball cap for a casual yet on trend look. When done the right way, white on white is an easy way to make a statement.
3. With a  Sweater, White T-shirt, and Black Sneakers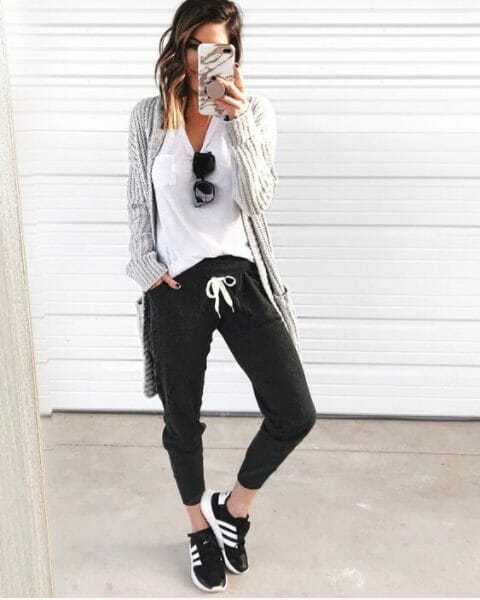 Pair your favorite black joggers with a simple v-neck, black sneakers and a knit sweater for a cozy yet sporty look. I do suggest tucking in the t-shirt in the front to accomplish a more put together and less "lounging" look.
4. With a Baggy T-shirt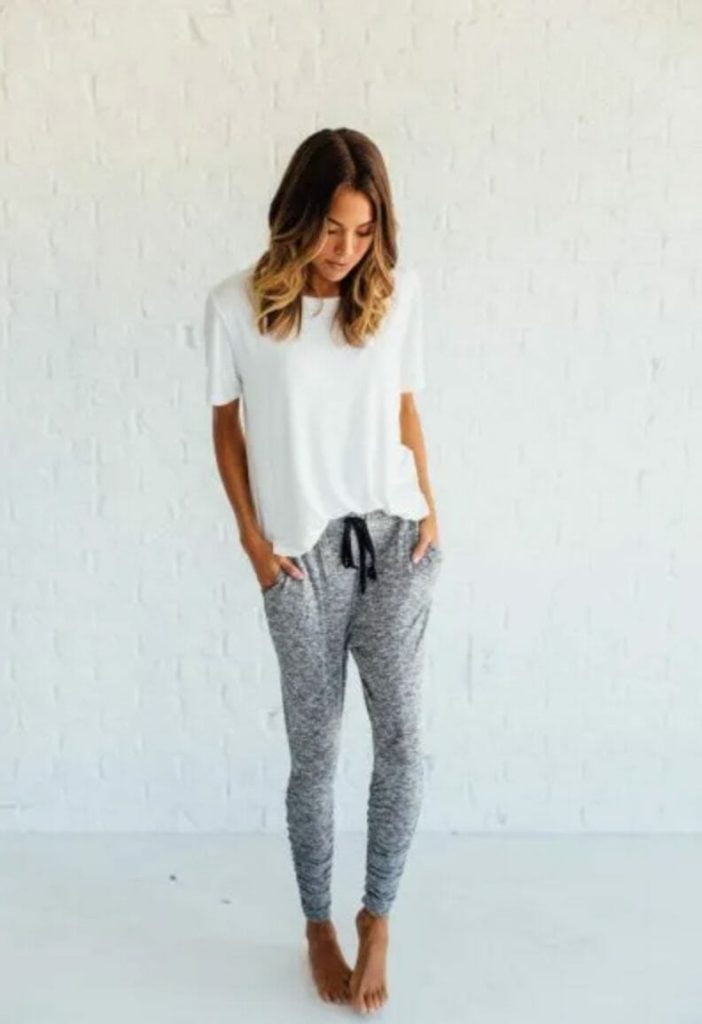 This is probably the most versatile and easy way to rock a pair or joggers. Simply pair a soft, baggy t-shirt with a well tailored jogger (any color) for a comfortable yet chic look. My favorite shoe for this ensemble is a classy flip flop or clean white sneaker. Again, I do suggest tucking in the t-shirt in the front for a more put together every day look.
5. All Black Ensemble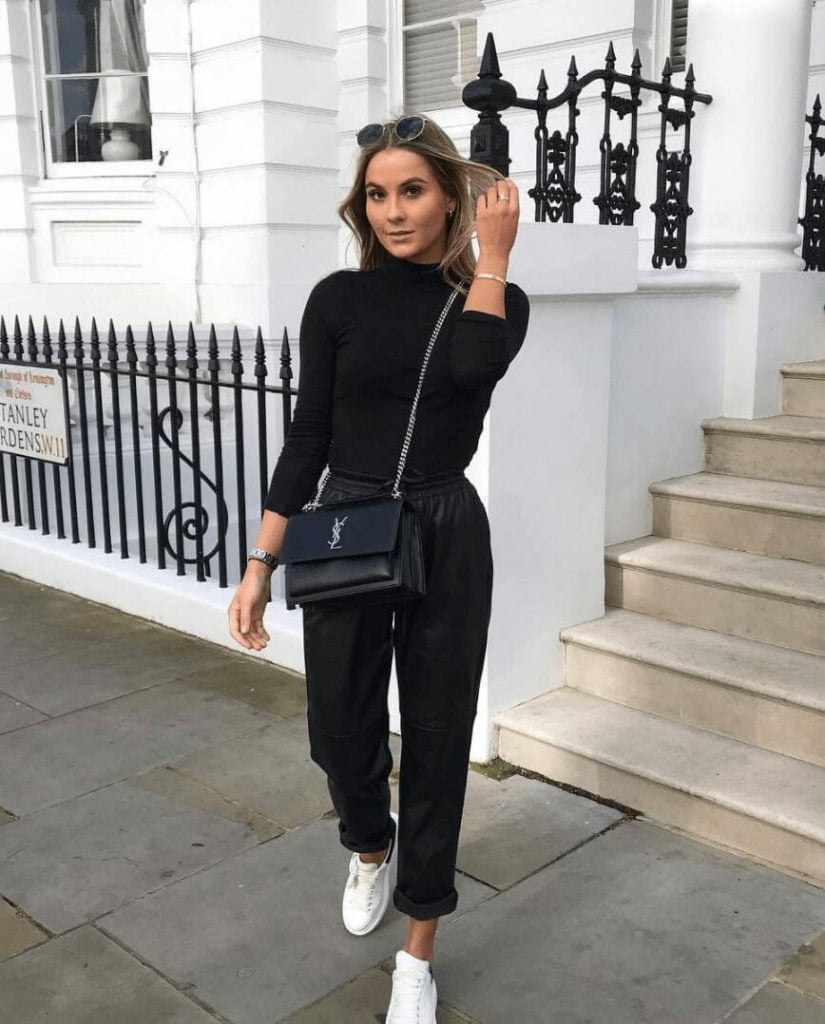 When in doubt…where all black. Black on black is an easy go-to method for looking classy and sophisticated. Pair a simple black bodysuit (or tucked in black top) with your favorite jogger, white sneakers and a chic bag for the most comfortable yet classy look out there.
6. With a Cami and Blazer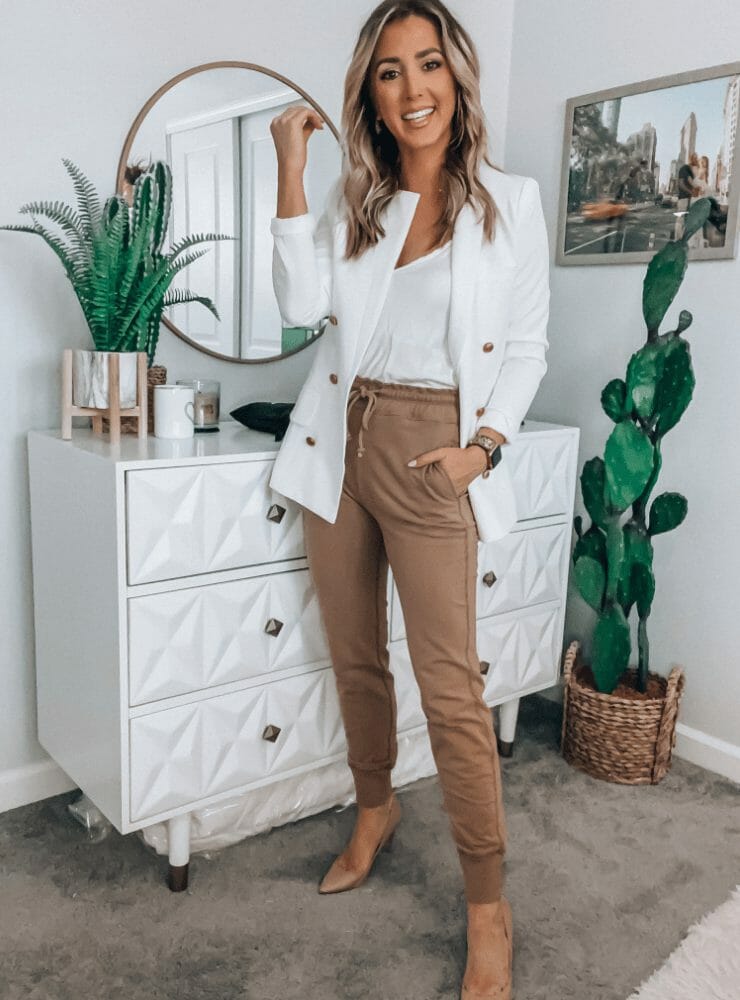 This is one of my favorite ways to look professional with joggers, and it couldn't be easier. Simply throw on your favorite blazer with a white blouse and well tailored jogger for the perfect outfit for the office. I would wear either flats or a simple stiletto to complete the look.
7. With a Leather Jacket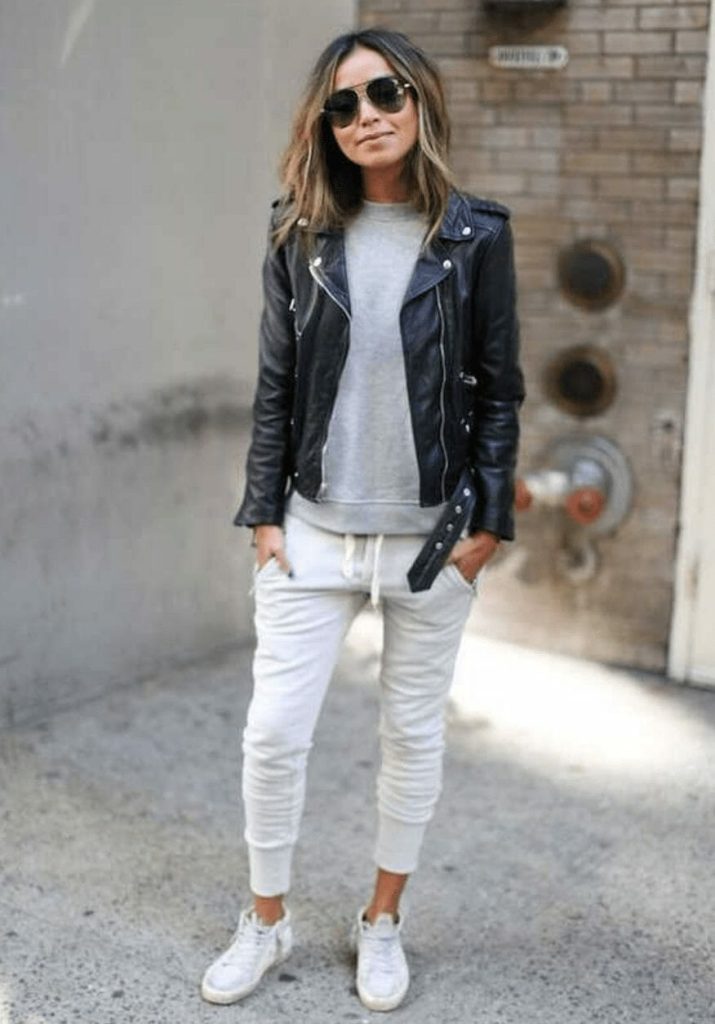 It's not always easy to pull off a leather jacket. They can often be over powering since they are such a statement piece. However, when you dress it down with a casual jogger, t-shirt and sneakers, it brings it to a much more casual yet hip level. Fashion is all about balance and this look represents that principle well.
8. With a Denim Jacket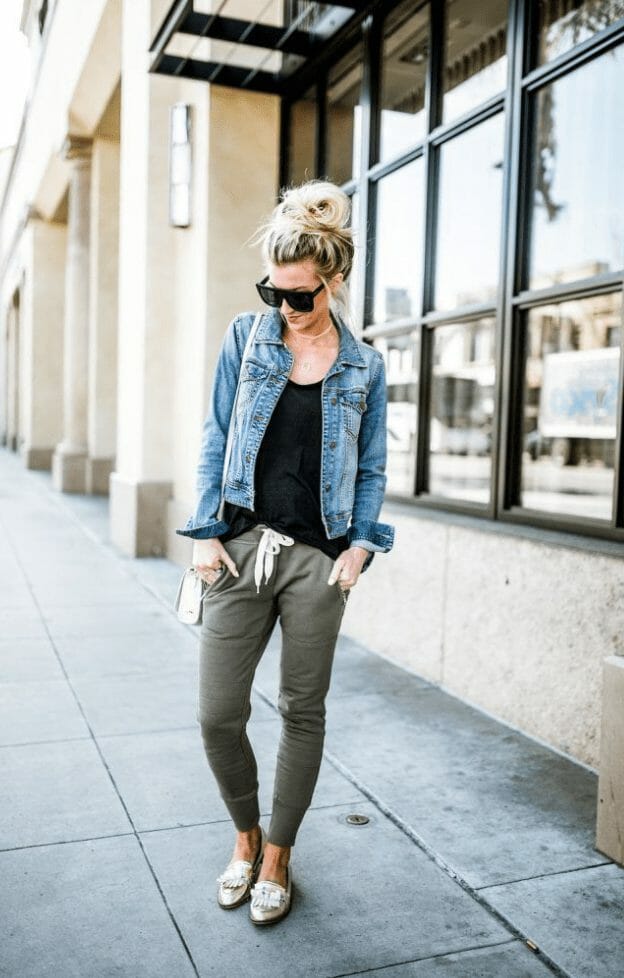 It seems as though the denim jacket never goes out of style. It is a staple wardrobe item and an easy way to jazz up most outfits. Throw on a denim jacket with your favorite pair of joggers and a black tank and you will be ready for whatever your day brings.
9. With a Bodysuit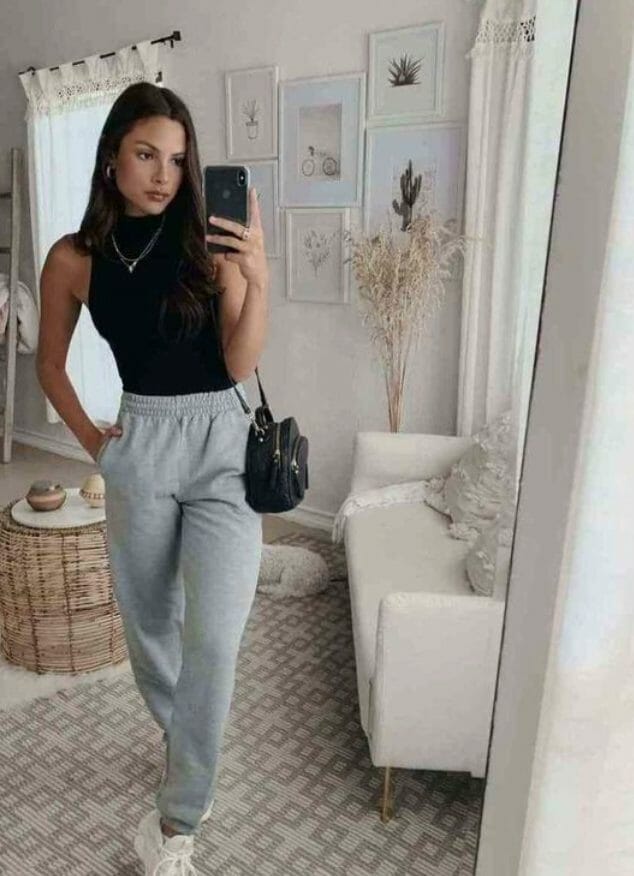 I am obsessed with this look. The high waisted, baggy nature of joggers combined with a form fitting bodysuit is such a bold yet classy way of looking very sexy. For a more casual look, pair the bodysuit with a less tailored sweat pant jogger and sneakers. Or you can dress this look up with a more tailored jogger and stilettos or flats.
10. Coordinating Set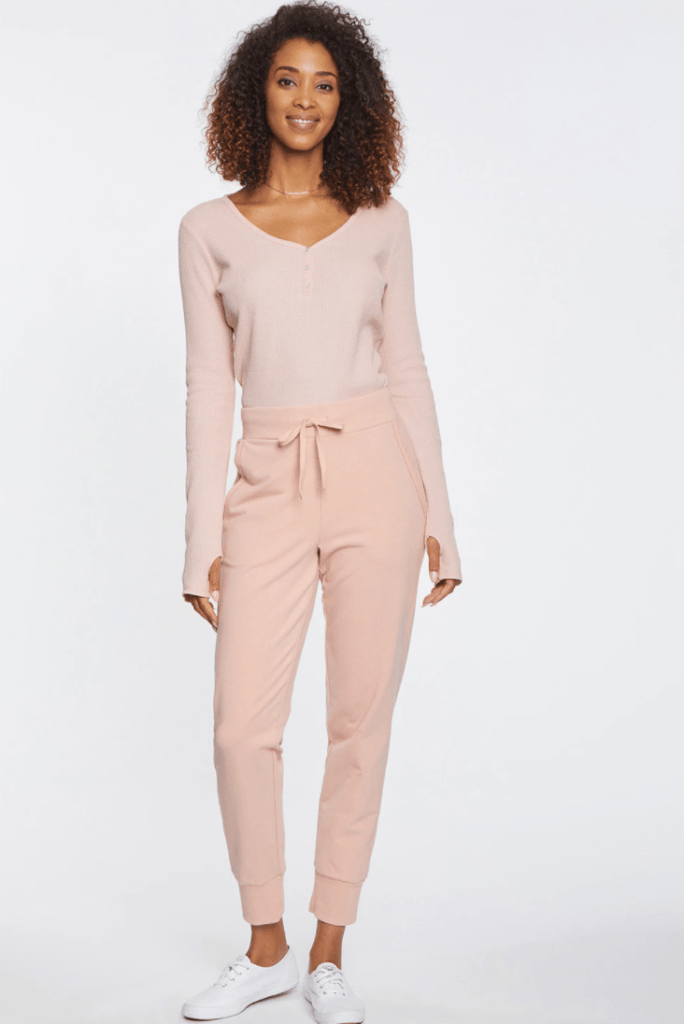 Coordinating sets aren't just for toddlers anymore….they've really made a comeback in recent years. Wearing joggers with a matching top is a quick and easy way to make a statement. I would veer away from sets with busy prints, since there is a fine line between  looking like on trend and looking like you walked out of your house in your pajamas.
11. Faux Leather Joggers with Bodysuit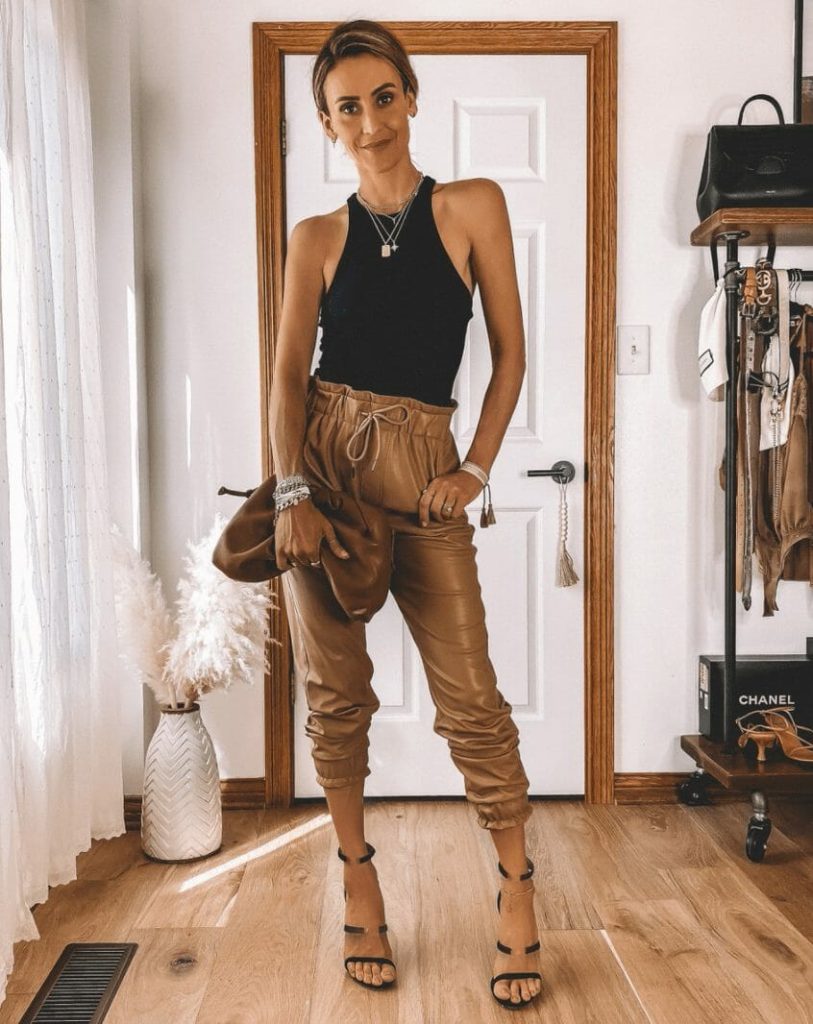 Pairing a sleek bodysuit with faux leather joggers is a great date night or girls' night outfit. Scrunching the joggers up at the ankles and pairing them with a strappy heel will complete the look.
12. With an Off-Shoulder Top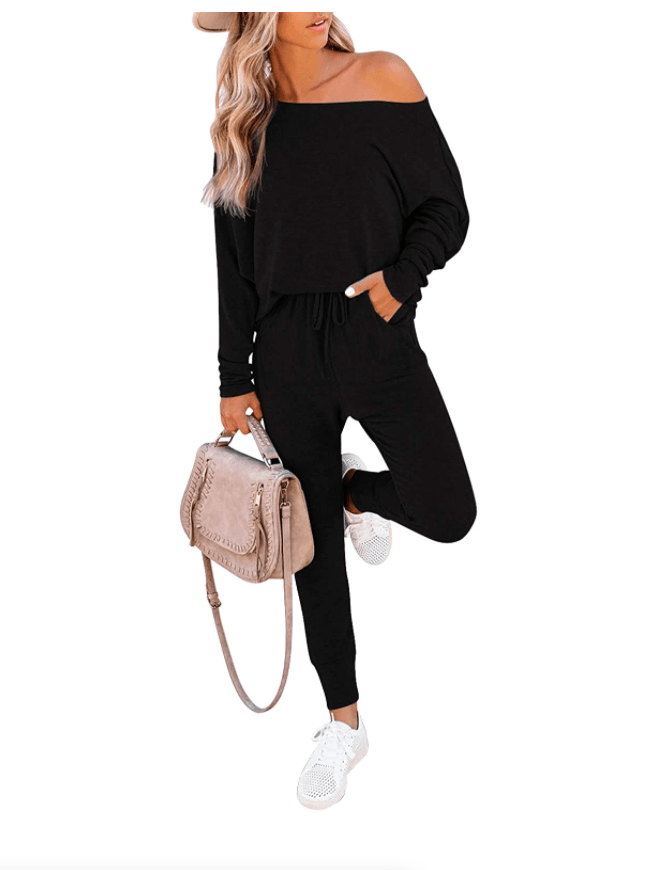 Showing off a shoulder is an easy way to remain casual and comfortable but still add some add shape and detail to your jogger look. I think the off-shoulder top looks best when paired with the same color jogger so it looks more complete but that's not a deal breaker. You can always dress this look up with a hate, chunky gold necklace, and even a pair of flats or strappy sandals.
CONCLUSION: How to Style Joggers
Even though I used to be a jogger hater, I am learning to love them more and more. Joggers are a great way to switch up your every day legging look but still remain comfy. Or pair your joggers with the right top, shoes, and accessories to easily give them a professional look or night out look.
Joggers don't have to be frumpy and lazy looking. They can be sexy, sassy, and stylish when you choose the right ones and pair them with the right pieces. They are one of the most versatile pieces out there. I hope this article gave you inspiration on how to choose the right joggers and how to style joggers while remaining comfortable, and confident.