Beyond Yoga Spacedye Leggings: Everything You Need to Know
I was walking through REI yesterday with my kiddos to pick up my husband's Valentines Day present and walked past a display of beautiful Beyond Yoga Spacedye leggings. Being the leggings junkie I am, I had to stop and check them out. First things first, I had to feel them. I couldn't believe how soft they were! I'm used to my lululemon align leggings (which are obviously super soft and buttery) but these were on a whole other level. So what are these crazy soft Beyond Yoga Spacedye leggings all about anyway?
Unfortunately, my kids are 2 and 4 and wouldn't let me explore the leggings too much – definitely wouldn't let me try them on – ha! So I left REI yearning to learn more about this brand. That's what leads me here to this point…at my office…away from my needy toddlers, taking a deep dive into the world of Beyond Yoga Spacedye leggings. So here we go…
Trending: Leggings Like Lululemon: 10 Best Options
What are Beyond Yoga Spacedye Leggings?
Beyond Yoga Spacedye Leggings  are made from Beyond Yoga's signature "spacedye" material. I'm not exactly sure where the name comes from but if I had to guess I'd say its because of the color/print of the fabric. They don't come in a complete solid shade. They have a subtle "heathered/speckled" look to them that kind of looks like "space".
Not only does the fabric look like space but the material feels "out of this world." Ok…I'll quit with the cheesy quotes and puns. But seriously, the the material is like nothing I've ever felt. The blend is 87% polyester and 13% lycra, which gives them a durable yet buttery soft feel.
If I had to compare them to another brand, I would say they are most similar to Alo's Alosoft lounge leggings. Lululemon doesn't have any leggings that compare to the look and feel of Beyond Yoga Spacedye leggings. The closest lulu comparison would be the align, however, the spacedye leggings are softer and slightly thicker.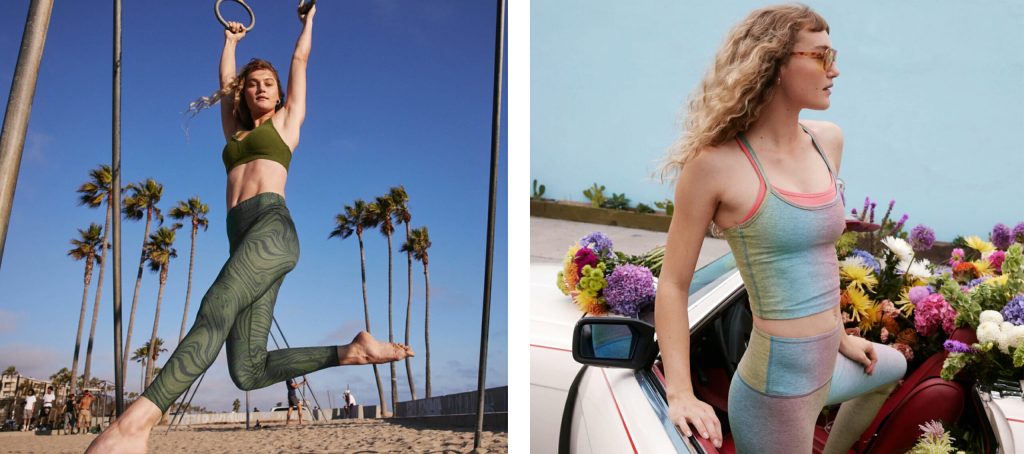 Spacedye Fabric Features:
Buttery soft performance fabric
Unique texture and exceptionally soft
4-way stretch
Moisture wicking
UV protection
Low to medium compression
What are the Pros and Cons of the Spacedye Leggings?
Overall, I would say there are more pros than cons. However, there are a few characteristics that might be a negative for you depending on your lifestyle, preferred workouts/activities, and unique body type.
Pros:
They come in a variety of colors
The bottom of the waist line is lower than most leggings, which is flattering for the booty
The waist line hits right above your belly button, which is slimming
Squat proof – you can't see through them when bending
Wide 5″ waistband for extra comfort and support
Buttery soft and stretchy feel
True to size – don't size up or down
Cons:
They don't come in solid colors – only the "weathered/speckled" print (however it is very subtle)
The spacedye print isn't as slimming as solid colors tend to be
The material is heat absorbent – so might not be preferred in the summer months
Not a "performance" fabric – so wouldn't be great for intense training and running (better for yoga, pilates, and low impact)
They don't have the famous v-shape seam above the booty to lift and add shape
Pricey…but you can find them at Nordstrom Rack for half price most of the time
Which Beyond Yoga Leggings are Available in Spacedye?
Spacedye Caught in the Midi High Waisted Leggings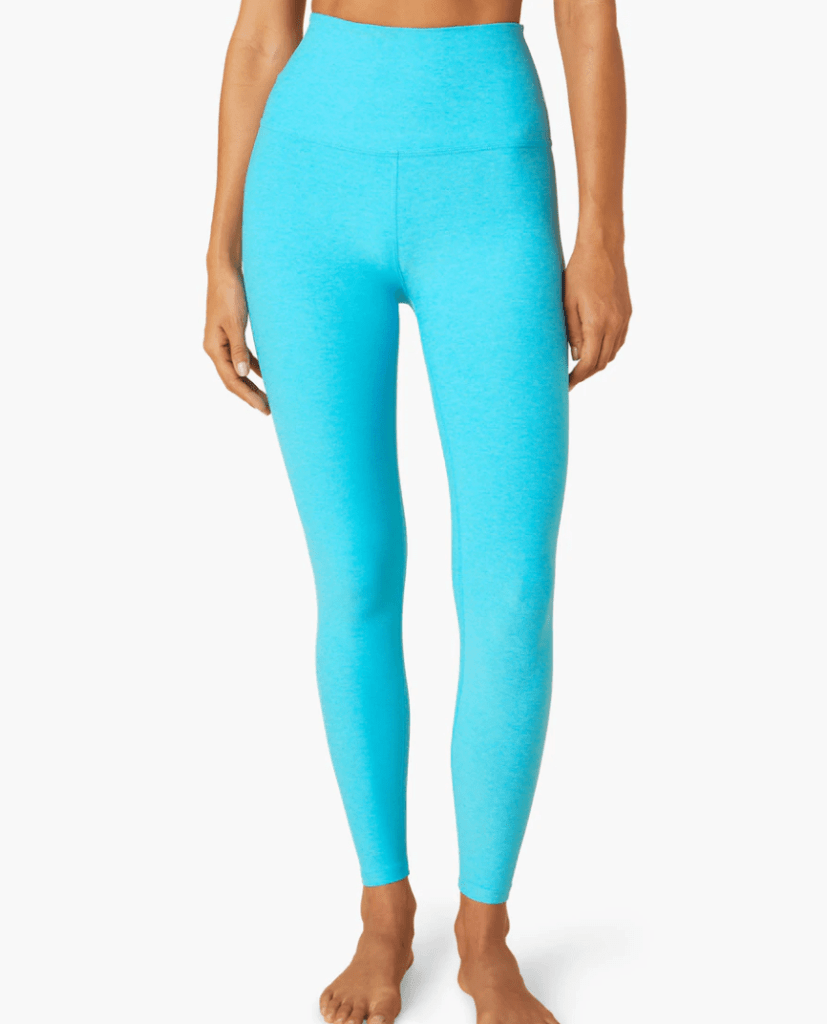 These are Beyond Yoga's most popular legging – with over 2 million pairs sold so far. They are also available in the widest variety of colors. The word "midi" refers to the length – they are 25″, which is one of the most popular legging lengths, hitting right at your ankles (lower or higher depending on your height). The waist band is very wide at 5″. That might be too high if you have a short torso, but if you have a long torso like me, you will love it. These leggings do have a very subtle elastic seam at the top of the waist band but you almost don't even notice it.
Price: $97
Buy Spacedye Caught in the Midi High Waisted Leggings
Spacedye At Your Leisure High Waisted Midi Leggings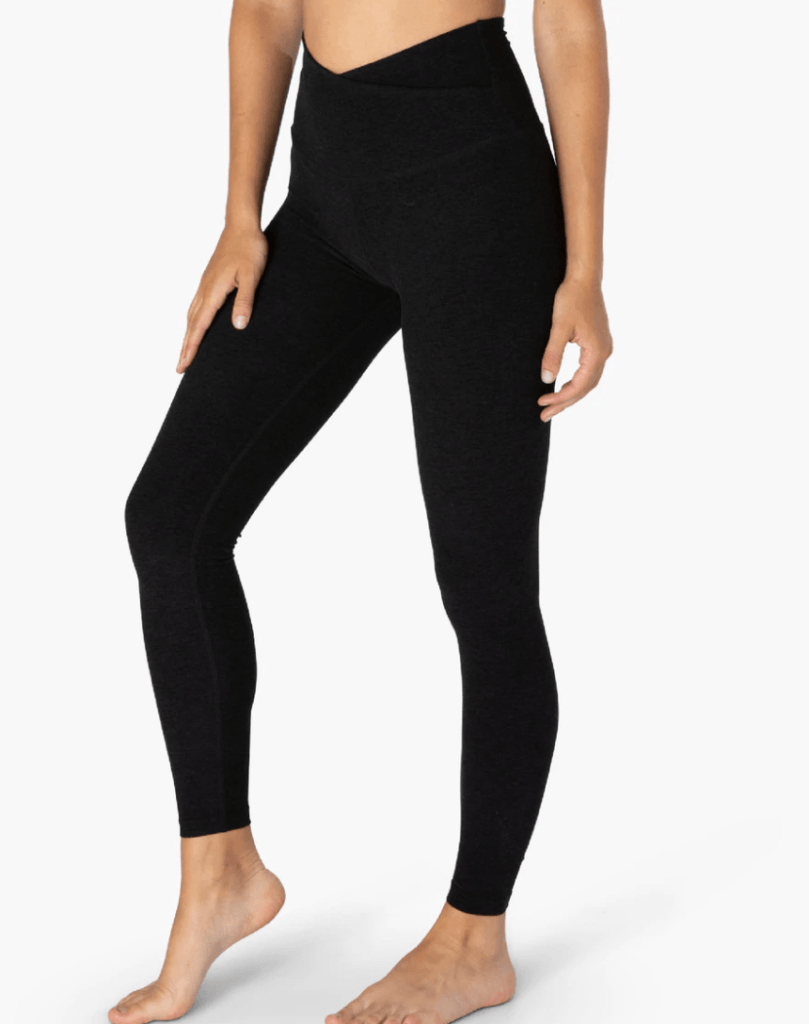 The main difference between the At Your Leisure leggings and the Caught in the Midi leggings is the waistband. The At Your Leisure leggings have a cross over waistband, which means it is constructed of two layers in the front, crossing over each layer and dipping down slightly in the center. I liked this feature because it had a slimming effect on my waist, all while accentuating my shape. You might prefer this style over the Caught in the Midi leggings if you have a shorter torso since the waistband isn't as high.
Price: $99
Buy Spacedye At Your Leisure Midi High Waisted Leggings
Spacedye Midi Jogger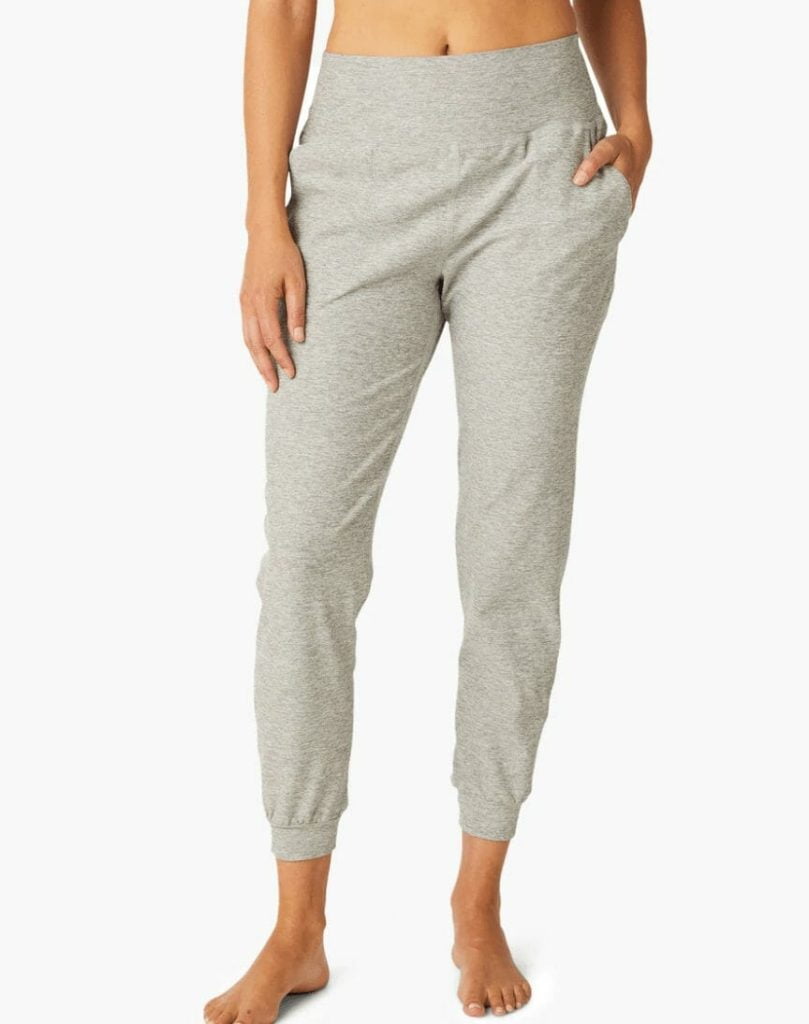 The Midi joggers are made from the exact same spacedye material as Beyond Yoga's other spacedye leggings. These joggers are everything you would want in a jogger. They are super soft and comfortable yet slightly slim fitting so you have the option of wearing them to run errands, lounge around, or you could even dress them up a bit for a night out.
Price: $110
Spacedye Walk and Talk High Waisted Capri Leggings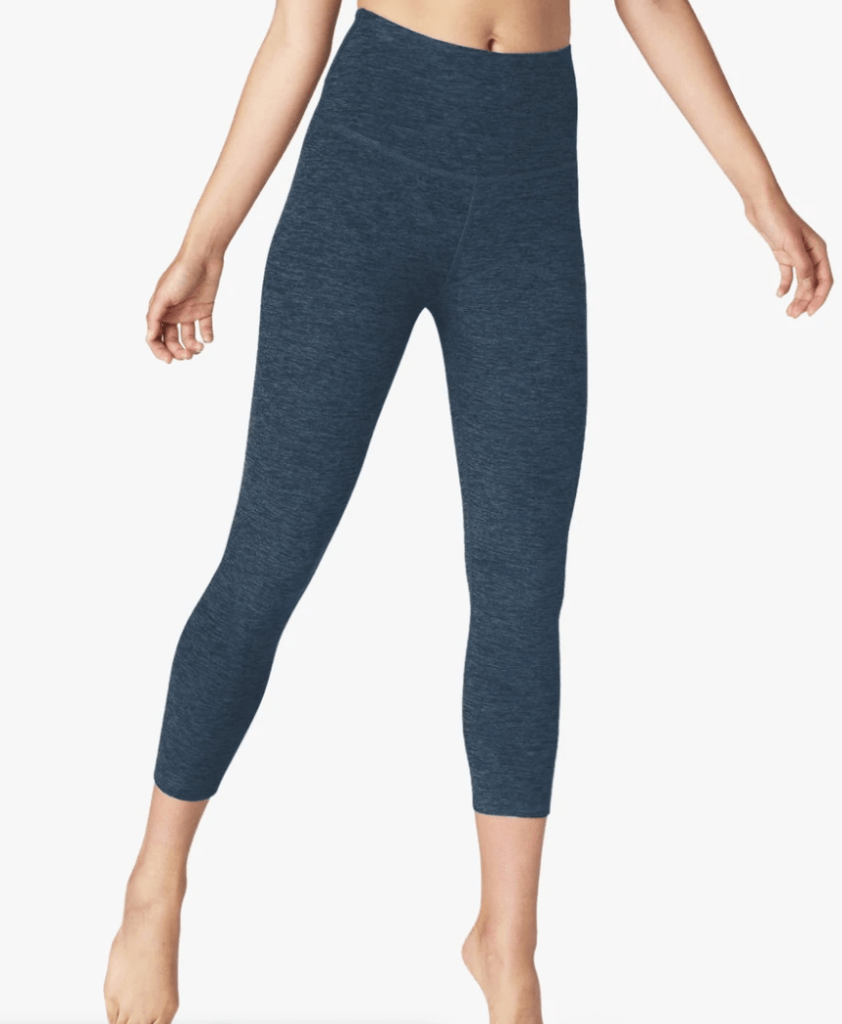 The Walk and Talk high waisted capris are the exact same as the Caught in the Midi leggings but instead of the "midi" length (25″ inseam) they are the capri length, which has a 21″ inseam. The hit right above your ankle. The Walk and Talk capris are the perfect length if you are shorter.
Price: $88
Buy Spacedye Walk and Talk High Waisted Capris Leggings
Spacedye Commuter Leggings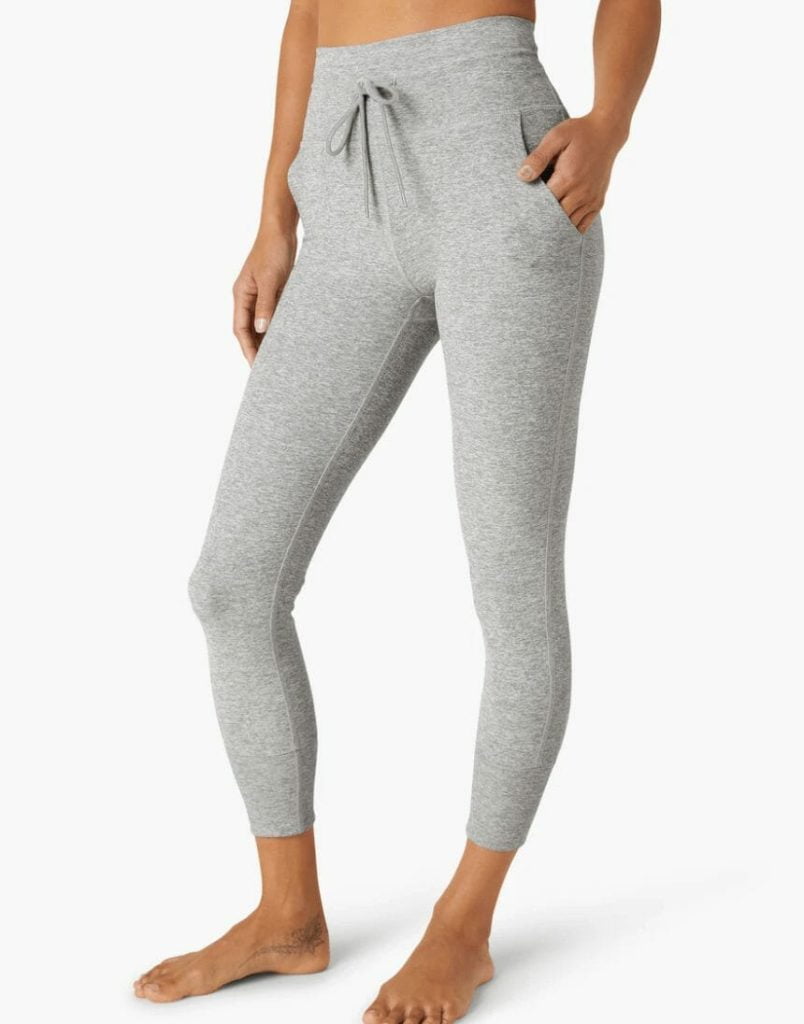 The Spacedye Commuter leggings are similar to the Caught in the Midi leggings but with a few new design details. The signature high-rise waistband now has  a drawcord and new patch pockets on hips to give it that athleisure look. These leggings are super versatile – the perfect activewear bottom to pair with a cute crop tank or hoodie to wear on days off, wear them to run errands or for workouts.
Price: $99
Buy Spacedye Commuter Leggings
Spacedye Out of Pocket High Waisted Midi Leggings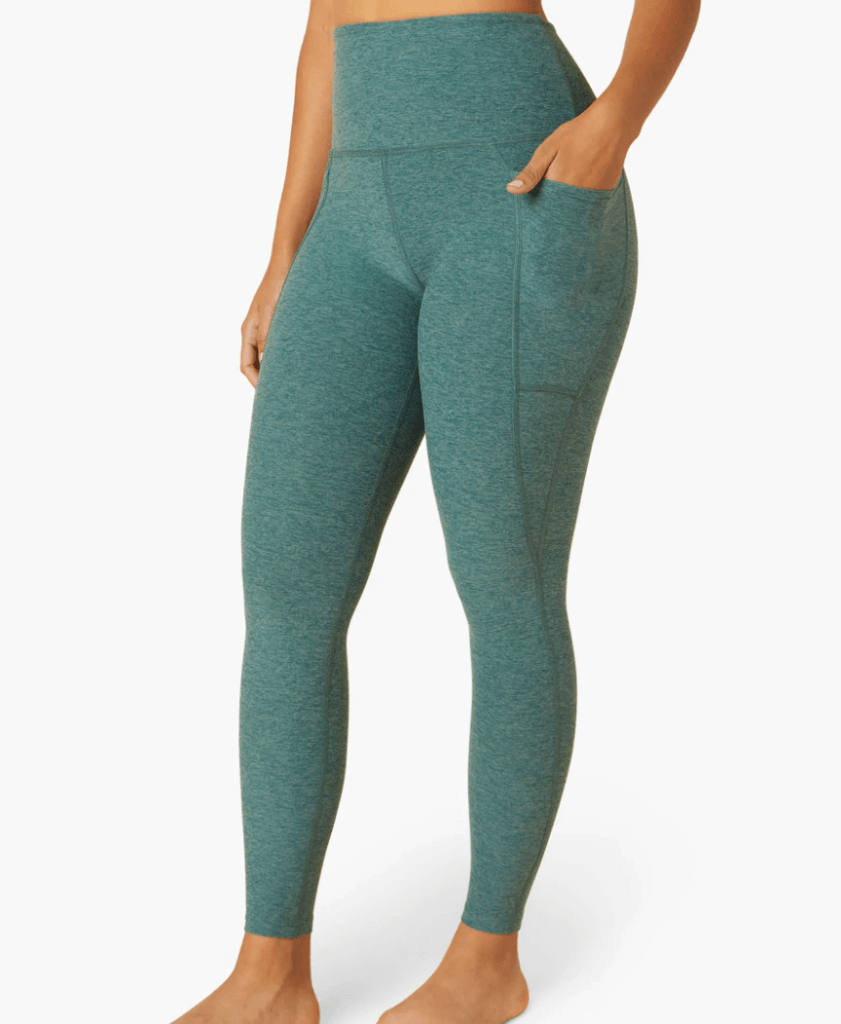 The Spacedye Out of Pocket high-waisted midi leggings are pretty much the exact same legging as the signature Caught in the Midi high-waisted leggings but they've added two deep pockets along your hips that are perfect for keeping your phone, keys, and cards safe while you are working out or out and about.
Price: $99
Buy Spacedye Out of Pocket High Waisted Midi Leggings
In Conclusion
Beyond Yoga's Spacedye leggings are hands down the softest leggings I've ever felt or worn. The fabric provides the perfect combination of softness and support. This line is great for everyday wear,  yoga, pilates, and more low impact workouts.
That being said, if you are a runner or participate in more high intensity training, I would not suggest Beyond Yoga's Spacedye line and steer you toward lululemon, Athleta, or Gymshark, which offer a wider range of high performance fabrics.