Leggings Like lululemon: Here are the 10 Best Alternatives
Looking for leggings like lululemon (lululemon leggings dupes)? I'm not going to promise you exact lululemon legging dupes because the harsh reality is that there is no exact match to lululemon's iconic leggings (we are dedicated to honesty at LuxYou). The fabric technology and construction are on a whole other level, which has resulted in their cult following.
It doesn't seem to matter what size or shape your legs and booty may be…lululemon leggings will sculpt and shape them beautifully. Not to mention their overall comfort and that they have a style for just about every lifestyle, workout, size, shape, build, etc.
Now with that being said, there are several alternatives to lululemon leggings that are pretty darn comparable and typically at a fraction of the price. So if you are someone who loves lululemon leggings but doesn't have the bank to splurge on them as much as you'd like, then you have come to the right place, my friend.
While scouring the internet on this subject, I found a lot of other blogs sharing "comparable" leggings to lululemon, but as I dug deeper, I found out that they were not as comparable as they led you to believe. I took a deep dive and studied many Youtube videos where they tried the lululemon duplicate leggings on and moved around in them so you could see how they look when being worn. Many of the videos also had very in-depth descriptions, all of the pros and cons, etc. I then narrowed it down to the top 10, so you don't have to do all the work yourself.  So here we go!
Trending: Which Lululemon Leggings Have Pockets?
1. Spanx Faux Leather Leggings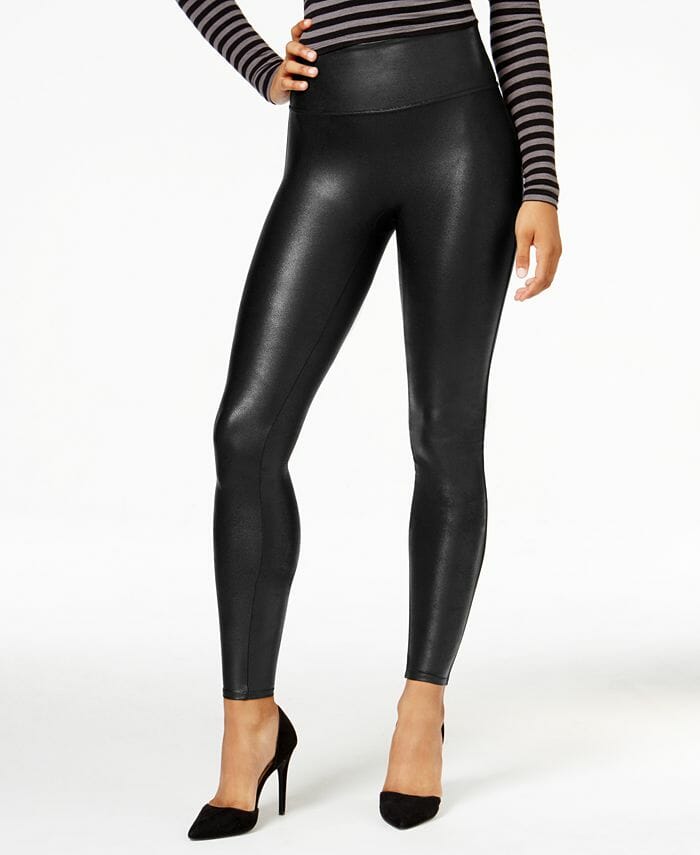 Material: Body: nylon/spandex
Waistline: polyester/spandex
Price: $98
Pros:

Holds everything in comfortably
Excellent tummy control

Cons: Expensive
The Spanx brand leggings aren't just slimming at the waist but all over. The Spanx technology makes these leggings hold everything in and has a lot of compression yet comfortably and fluidly. You can dress these leggings up or even wear them to the gym. The tummy control feature is excellent on these and without squeezing you too tight. I've had mine for a couple of years now, and they hold up very well. Even after many washes, they still maintain their "leather" look.
---
2. Yogalicious Leggings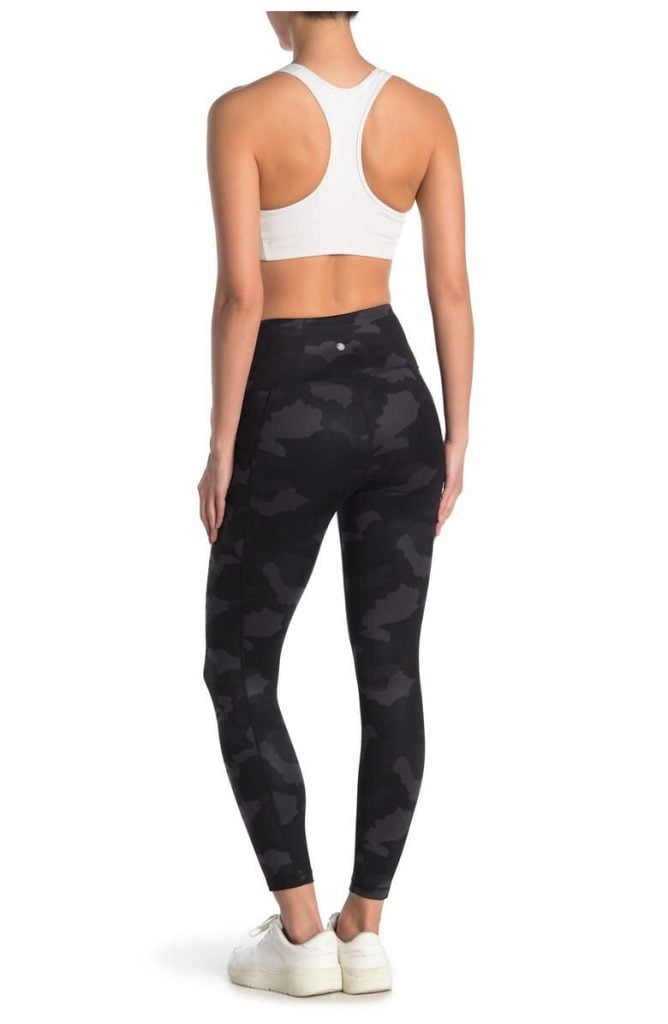 Material: 83% Polyester 17% Spandex
Price: $22.99
Pros: Affordable
Cons:

Prone to camel toe
The waistband has a small elastic seam
The Yogalicious leggings are ultra-soft. They feel very similar to lululemon's Align leggings but not as buttery and also have less compression. They fit like a glove and are very stretchy. They don't pill.
Some run longer than others, so if you are short, make sure you purchase the cropped version. The material and quality are always consistent. They are $25 on Amazon and only about $16 at TJ Maxx!
They aren't great if you are concerned about specific areas because they don't have the best compression. They also have a side pocket that is perfect for your phone.
---
3. Zella Live in High Waisted Leggings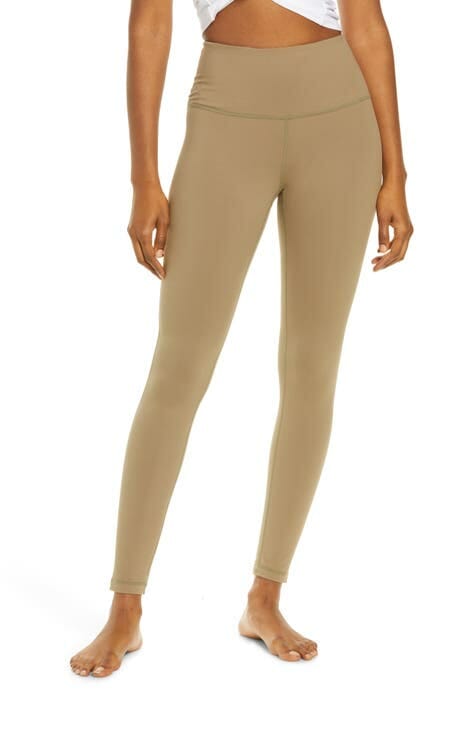 Material: 88% polyester, 12% spandex
Price: $50-$60
Pros:

Good Compression
Has v-shape seam above booty

Cons: NONE
There is a rumor that lululemon's former Creative Director started Zella. The Zella Live in High Waisted leggings are the most similar to lululemon's Align leggings out of all the lululemon dupes in this article. However, they are even better! How are they better, you ask? Well, they are soft and durable, have a perfect seamless waistband, the iconic v-shaped seam above the booty, and slightly more compression than the aligns (but not too much where they are uncomfortable).
They lift your booty, stay in place, and hold up well even after years of washing and wearing. They are one of the most versatile pairs of leggings on the market. You will definitely get your money's worth for half the price of most lulu leggings.
HOT TIP: I usually find these leggings at Nordstrom Rack for as low as $25!!!
---
4. Fabletics Oasis Pant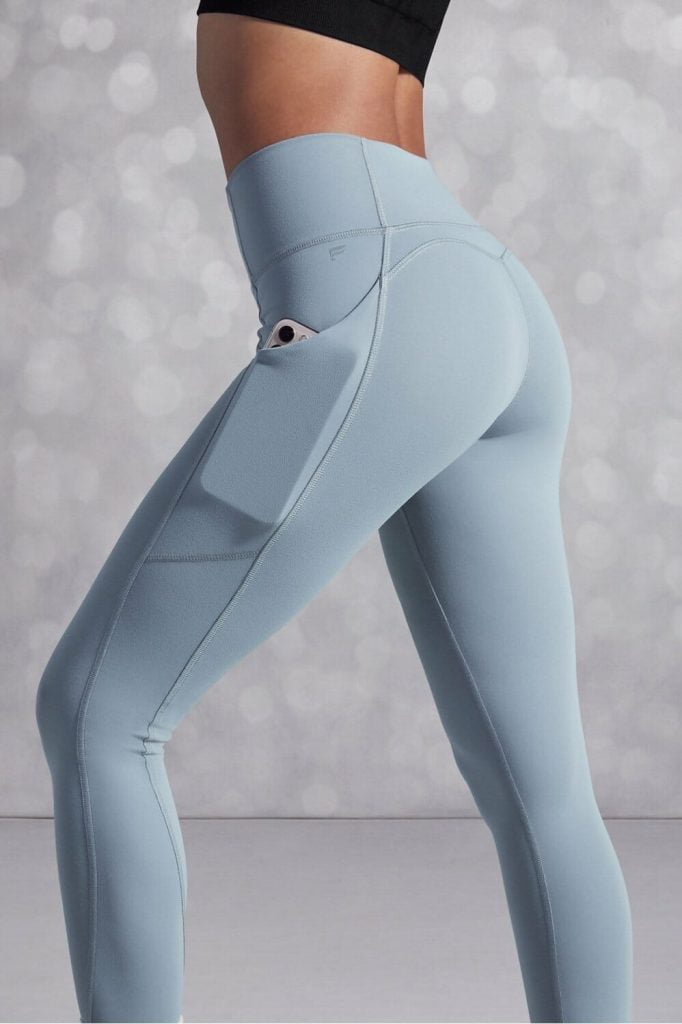 Material: 82% Polyester, 12% Elastane
Price: $74.95 (VIP members – 2 for $78)
Pros:

Has two deep side pockets
Has v-shaped stitching above booty for added booty contour

Cons: Not as high-waisted as Lululemon Align leggings
The Fabletics Oasis pants are incredibly similar to lululemon's Align leggings. They are almost the same material. The fabric is their pure luxe fabric with a butter feel and full range of motion like the aligns. It has a soft double-layered, seamless waistband. These leggings have over 5,000 reviews with an average of 4.7 stars which is very good and very high.
---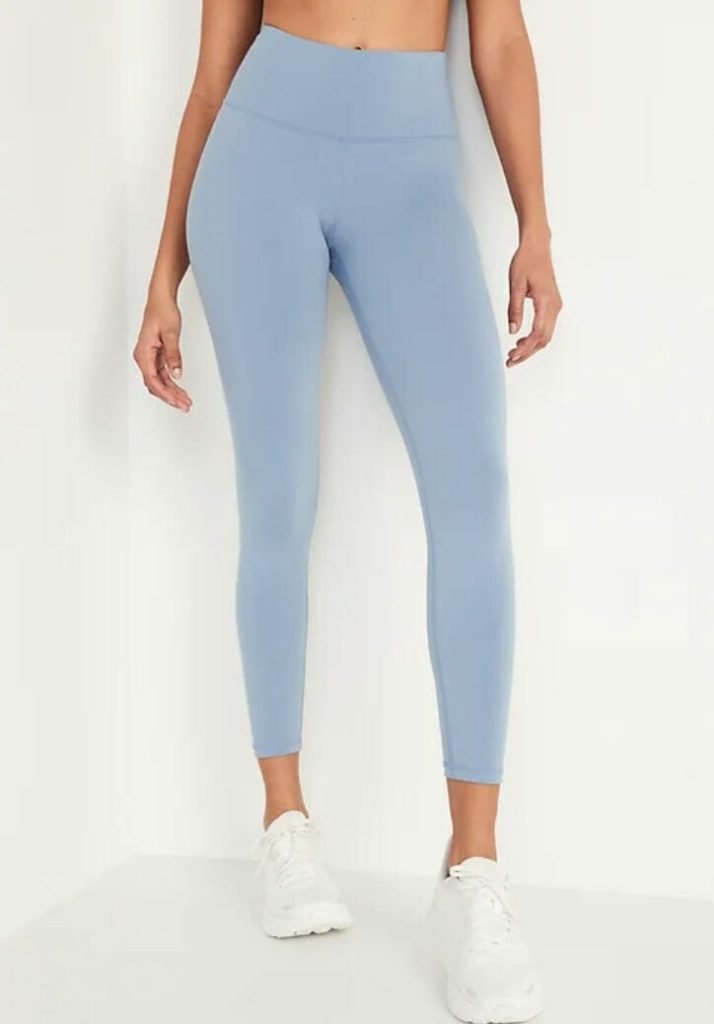 Material: 85% polyester, 15% spandex
Price: $39.99
Pros: Affordable and high-quality construction
Cons: Small elastic seam on the waistband
Old Navy's Power Press high-rise leggings are stretchy yet sturdy. They seem very high quality for the price. You can tell that the fabric is more technical than some of their other lines. They stay in place very well. I do Zumba – where you move and jump around a lot, and I don't have to pull or tug on them. They have a light compression – more than the aligns, but they don't squeeze you in too much. They have a small elastic band at the top that I'm not a fan of. I like that they have a tag-free label. I'm not sure why lululemon still has those long tags.
---
6. Colorful Koala Buttery Soft High Waisted Leggings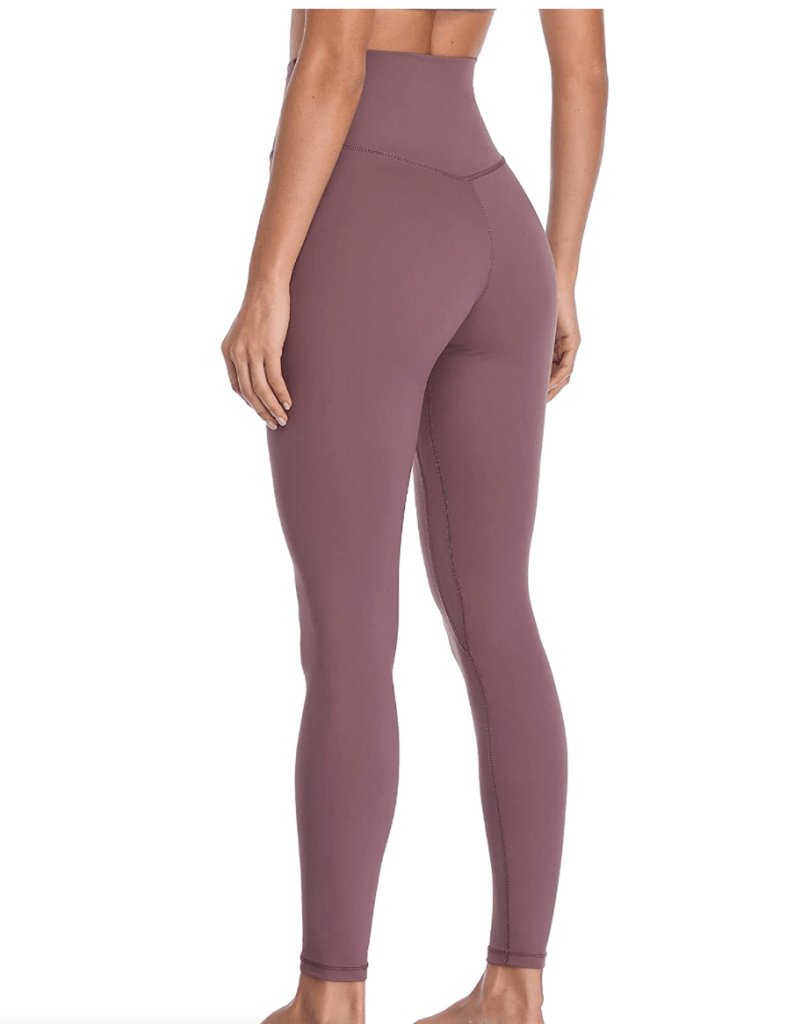 Material: 80% nylon, 20% spandex
Price: $22.95
Pros:

Affordable
Has v-shape seam along the top of booty for added contour
Seamless waistband

Cons: Low-quality stitching
The Colorful Koala buttery soft high-waisted leggings are a very affordable lululemon alternative. The waistband lays flat on your belly and doesn't have that annoying seam. They have low to mid compression and are super soft and stretchy. They pass the squat test by staying in a place with deep movement. The waist hits the slimmest part of my waist, which I love. I would suggest sizing down because they are so stretchy.
---
7. Coastal Rose Yoga Pants

Material: 80% Nylon, 20% Elastane
Price: $22.99
Pros:

Affordable
The same material as lululemon Align
Two deep side pockets

Cons: Low-quality stitching
The Coastal Rose Women's yoga pants 7/8 length high-waisted leggings are available on Amazon and are freakishly similar to lululemon's Align leggings, however, they are about a quarter of the price! They are made from almost the same materials, so you will get that buttery soft, and super stretchy feel. They are very stretchy, so I would size down. They have two seams instead of one down the side to add to the quality and construction. In a blind test, I could not tell the difference between these and the Align leggings. They also have the seamless wide waistband that we all know and love. The Coastal Rose leggings don't have much compression; however, the buttery soft, and stretchy material hugs your body so well that a lot of compression isn't necessary.
---
8. HeyNuts Hawthorne Athletic Essential Workout Leggings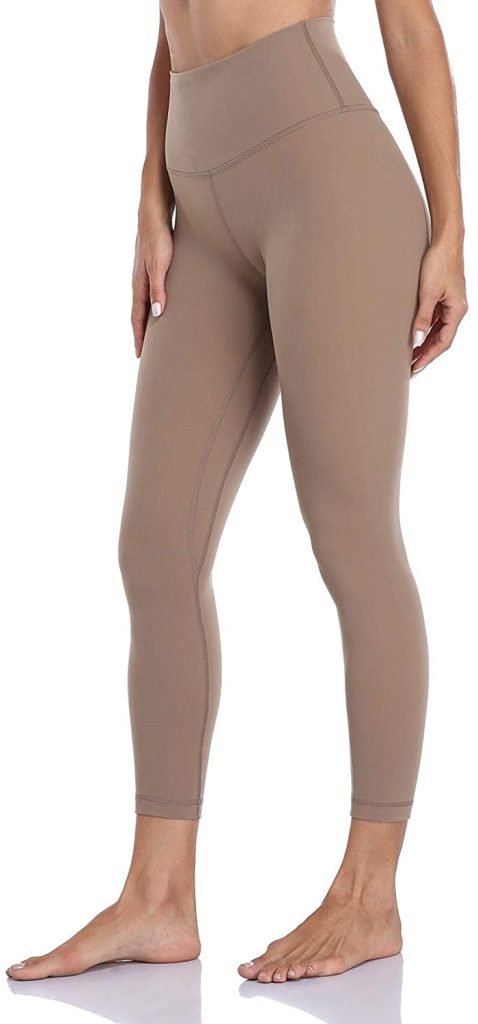 Material: 70% Nylon, 30% Spandex
Price: $26.99
Pros:

Affordable
Seamless waistband

Cons: Not as soft and supportive as Lululemon Align leggings
The HeyNuts Hawthorne Athletic Essential Leggings are available on Amazon for the going rate of only $26.99! At that price, you can buy 4 for the price of one pair of lululemon leggings. If you are looking for slightly more compression than lululemon's Align leggings, then I would go with these. The spandex material provides more compression than the elastane.
---
9. Gymshark Vital Seamless Leggings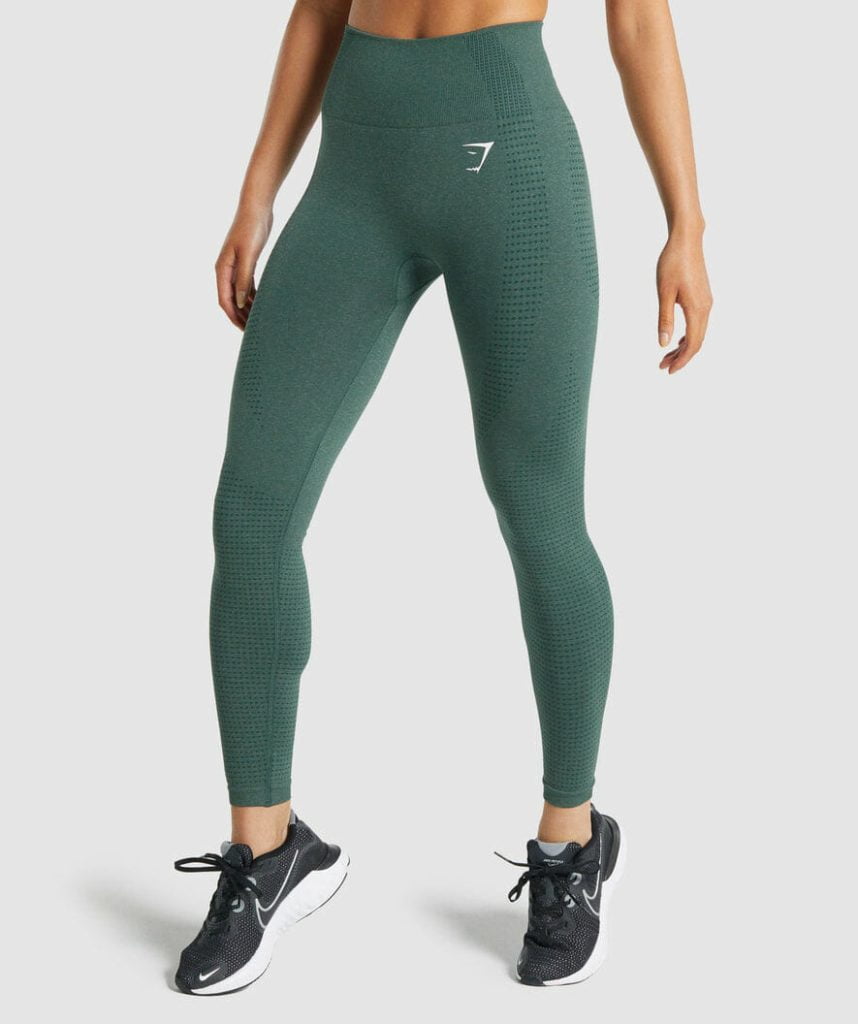 Material: 93% nylon, 7% elastane
Price: $50
Pros: Available in a wide variety of patterns and colors
Cons: Very tight with a lot of compression
Gymshark has become more and more popular over the last couple of years. They offer a great product at about half of what you will pay at lululemon. Gymshark's Vital Seamless leggings are true seamless leggings; however they have a contouring design throughout them to help give your booty and legs more shape, which is a plus because truly seamless leggings aren't always the most flattering.
These are mid to high compression. I usually don't like a lot of compression, but these are not nearly as restrictive as other high-compression leggings. They don't dig into your skin because of the ribbed material. There is a seam along the middle of the booty, which adds a bit of contour. The bottom around the ankles is also ribbed, so they don't ride up. I love how the website provides a short video of some of their products so you can see how they fit while moving.
---
10. Gymshark Adapt Leggings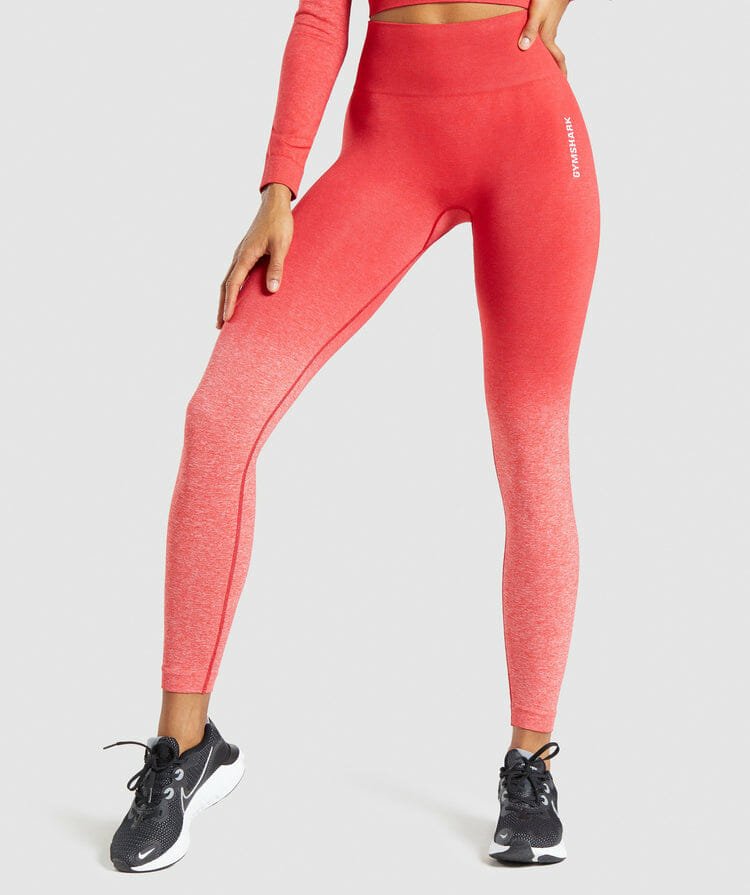 Material: 79% Nylon, 15% Polyester, 6% Elastane
Price: $60.00
Pros: Cinched booty detail adds shape
and separates your cheeks
Cons: Very tight with lots of compression
Gymshark's Adapt Leggings are similar to the Vital Seamless leggings, but the Adapt Leggings have slightly less compression. The waistband is seamless and hugs the top of your waist nicely.  I recommend sizing up in these; otherwise, they will squeeze you too tight.
The waistline is ribbed, making it even more comfortable and helps them to stay in place. There is no seam in the crotch area, so you won't have to worry about a cameltoe. I am 5'6, and they hit right at my ankles which is the perfect length.
One feature I love about these leggings is a slight booty scrunch to help separate and define your booty. This feature typically looks trashy on cheaper knockoff versions that don't offer enough support, but since these leggings offer the proper support, the scrunch just adds a little oomph to your booty (this is especially nice if you have a "flatter" booty). However, if your booty is bigger, this feature might be a little too much.
Overall, Gymshark has a great product at a great price. You can tell they put thought and care into the subtle details in their construction and design without making you break the bank. The material of these leggings is the perfect combination of softness, compression, and stretchiness!
---
11. Athleta Elation Leggings (BONUS PICK)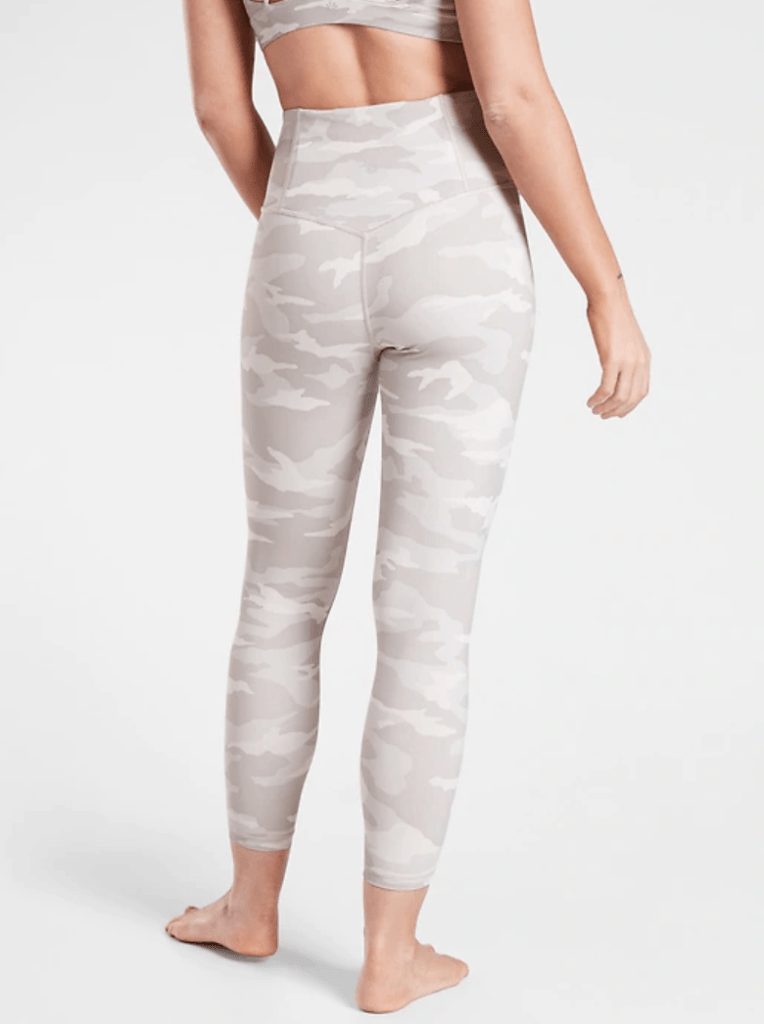 Material: Nylon/Lycra
Price: $89
Pros: Has V-cut in back to help shape booty
Cons: Has small seam along waistband
The Athleta Elation Leggings are very similar to lululemon's Align leggings. They have more compression and are a little thicker, so these are a great alternative if you want something that looks and feels a little more put together.
They have that same v-cut in the back like the Align leggings that everyone loves to help shape your booty. These leggings' main downfall is that they have a seam at the top of the waist. However, it is much more comfortable than any other seam I've ever experienced.
You will experience some pilling with these, just like the Align leggings. The nylon and lycra combination gives them a buttery-soft feel but is a little more "shiny" than the Align. These leggings have a similar price point to lululemon. However, Athleta has a lot of sales, unlike lululemon. These are a great alternative to the aligns if you want slightly more compression but still retain that buttery softness and stretch.
In Conclusion
Out of all the leggings like lululemon (aka lululemon dupes) out there, you will never find a TRUE match. However, several different brands see the gigantic success of lululemon and have gotten very close to replicating the material, construction, and design and are available at a fraction of the price of lulu. So go ahead and expand your leggings horizon with the many leggings like lululemon out there!