This post contains affiliate links. Read the full disclosure here
7 Best Cropped Workout Tanks under $25 (2022)
I've always struggled to find the best-cropped workout tanks. I am all about spending top dollar for the perfect pair of leggings since I practically live in them.
However, I have a hard time justifying paying $50 or $60 on a tiny little top that I don't wear as regularly and also uses very little fabric.
That being said, I typically end up with a few sub-par workout tanks that I don't necessarily love but just "get the job done."
Trending: Essential lululemon Shorts: The Ultimate Guide (2022) | LikeNew Lululemon Reseller Program: Ultimate | lululemon Shoes!?
The other problem I run into with finding a good workout tank is the length.
In my experience, most workout tank tops are either too long…where they hide my waist and figure, or too short…where they show my stomach.
The sweet spot seems to be cropped tanks that are long enough to cover your stomach when wearing high-waisted leggings or shorts but short enough where it shows off the shape of your waist, booty, and figure.
With all of the activewear options available, I knew if I invested some time to do the research I could find the perfect cropped workout tanks…and not break the bank.
Here are my findings for the best-cropped workout tanks under $25.
1. Iserkafe Seamless Workout Tank Top (View at Amazon

)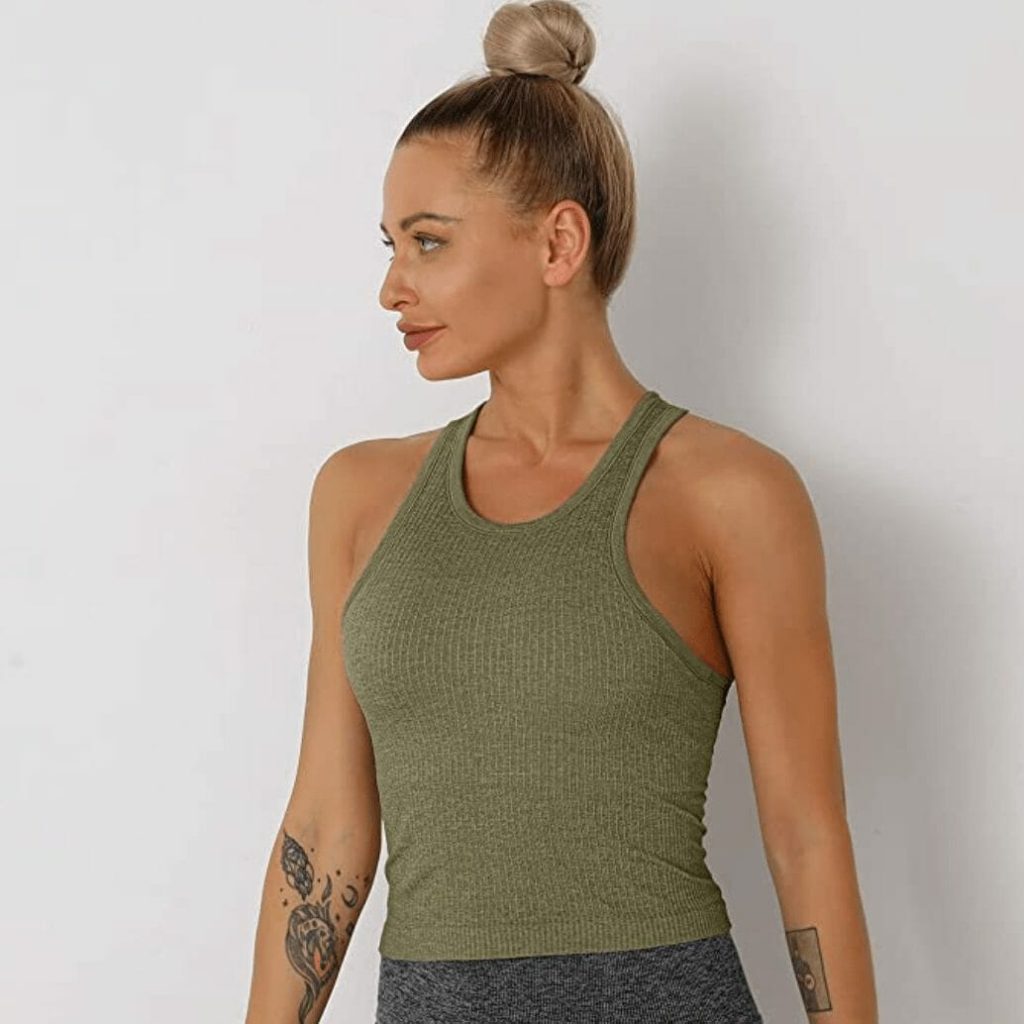 This women's seamless ribbed tank on Amazon is almost the same top as lululemon's Ebb to Street cropped racerback tank top. However, at $18, you certainly won't have the same guilt as buying the Ebb to Street tank, which will run you $58! The only difference between these two tops that I could notice was the cut along the side boob line. The Amazon version had a deeper cut. So if you have a bigger cup size I would recommend the Lavento racerback tank instead.
This affordable Amazon cropped workout tank top has the same ribbed texture, neckline, wide racerback, built-in bra, and is the same length as the lululemon Ebb to Street tank top.
I know this workout tank isn't exactly cropped…it hits just below the waistline but it is so flattering and such a good Ebb to Street dupe that I had to include it.
Trending: Beyond Yoga Spacedye Leggings: Everything You Need to Know
2. Lavento 2-in-1 Workout Tank (Shop Now

)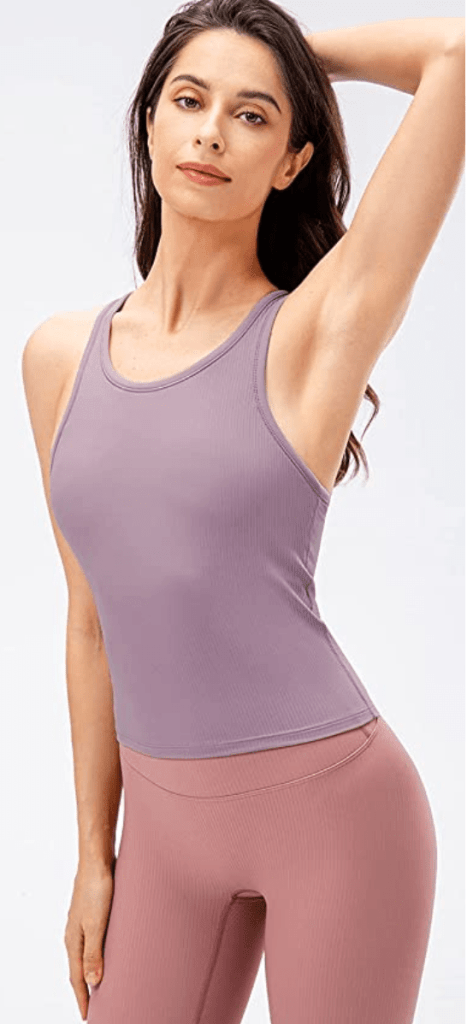 The Lavento 2-in-1 workout tank is a high-quality tank for the price. It is also similar to lululemon's Ebb to Street tank top except this one has a wider cut along the side of the boobs, but not as much as the Iserkafe tank. The material is thicker than most workout tops. However, it still has a soft hand – almost has a brushed feel. It is called the "2-in-1" tank because it has a built-in padded bra, which is a bonus.
The Lavento tank hits right above the hips, which I love since it's long enough to cover your stomach with high-waisted leggings but short enough to show off the shape of your waist, booty, and entire figure.
This cropped workout tank would be a good option if you have a bigger cup size since the neckline is high enough to cover any cleavage. This Lavento tank is very form-fitting so I would suggest sizing up if you don't want to feel so "squeezed in".
---
3. Kamo Fitness Ellyn Tank Top (Shop Now)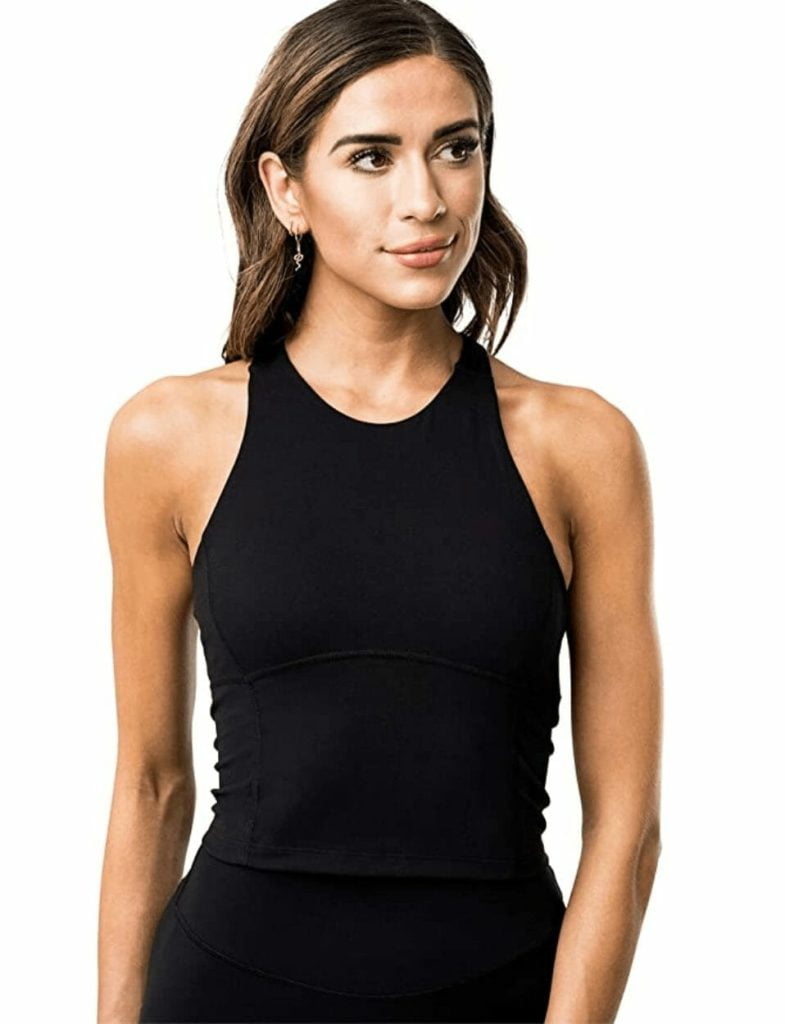 The Kamo Fitness Ellyn Tank is freakishly similar to lululemon's Key to Balance tank. It even has the same seams on the sides of the front and back as well as the criss-cross racerback like the Key to Balance tank. However, at $24, it's about a third of the price of the Key to Balance tank, which will run you a whopping $68! When you put these two tanks side by side you can't tell the difference at all except for the lulu logo on the back.
The shape and length of this tank is very flattering – it hits right above your hips, which is the perfect spot – not too short but not too long. It is compressive but not too compressive and super soft – very similar to the nulu fabric from lulu. This top also has a built-in sports bra with great support. The high neckline will prevent any cleavage from showing.
---
4. HeyNuts Hawthorn Athletic Longline Crop Top (View on Amazon)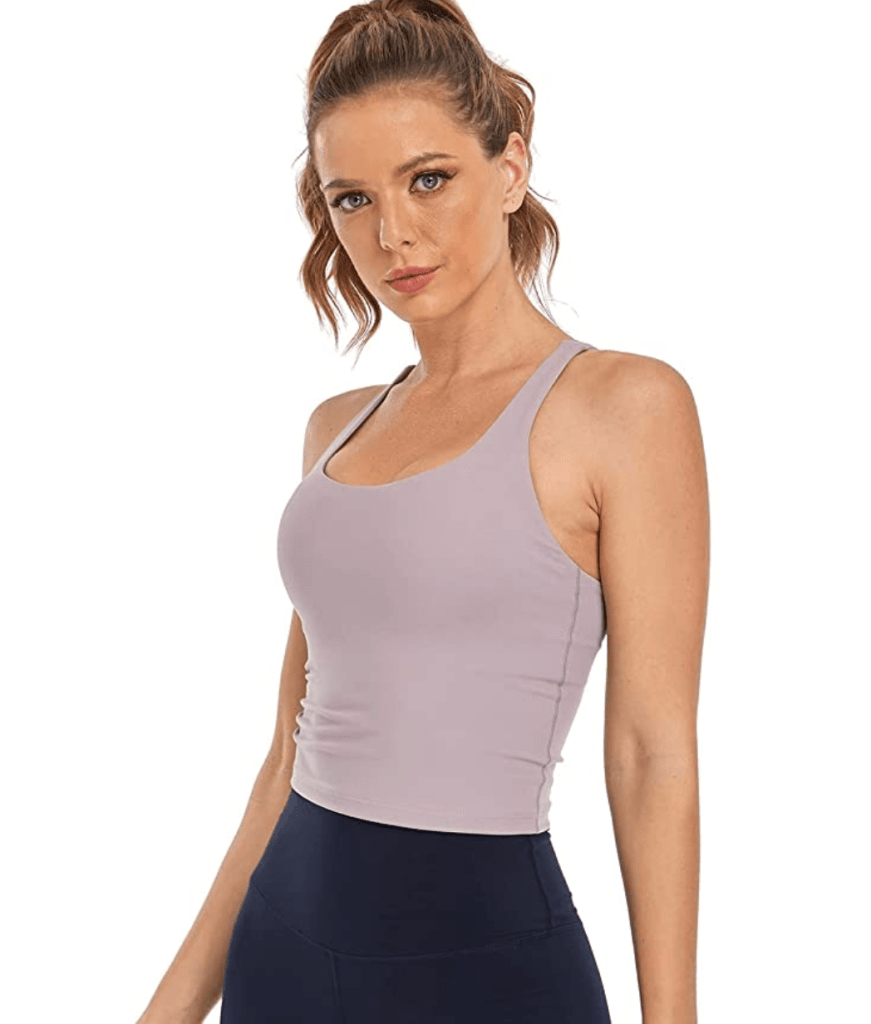 I love the HeyNuts Hawthorne Athletic longline crop top. It's 70% nylon and 30% spandex so it has a buttery soft hand like lulu's Align tank and is also stretchy and comfortable. It has a lower neckline than most workout tops so if you have a bigger cup size you might want to go with the Lavento racerback tank because your cleavage will show in this tank. The built-in padded sports bra has more support than I expected since the material is so thin. You can always wear an additional sports bra if you want even more support during high-intensity workouts like running. However, the criss-cross strappy detail in the back is quite flattering with nothing under it.
---
5. Lavento Women's Racerback Crop Tank (Buy on Amazon)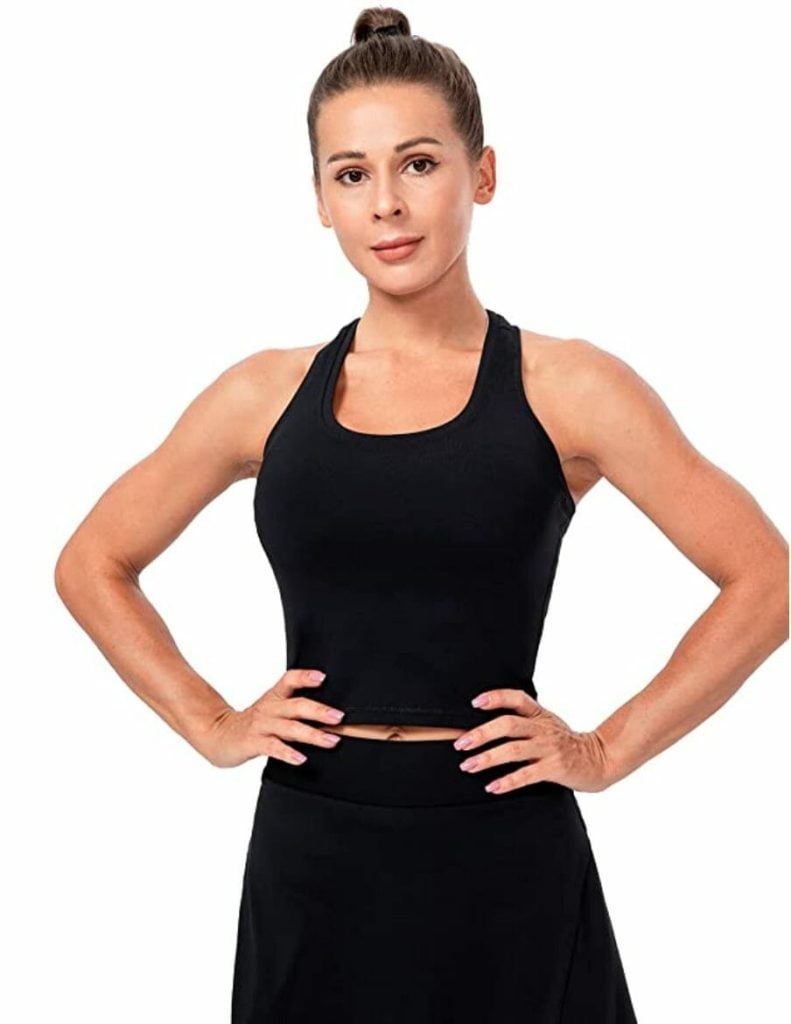 Another great workout cropped tank from Lavento is their racerback top. The overall feel and length of this cropped tank is similar to lululemon's Cool Racerback short tank. The material is 87% nylon and 13% spandex so it has that buttery soft feel and stretchy fabric like lulu's nulu fabric. The length hits right above the waist – long enough to cover your tummy with high-waisted pants and shorts but short enough to show off your shape. They both have a similar scoop neckline and racerback, which allows for more range of motion. Personally, I prefer the Levanto racerback tank over lululemon's cool racerback just because it is slightly more form-fitting. And at $16.99 vs. lulu's price tag of $68 it's a no-brainer on which one to buy.
---
6. Target – All in Motion™
Crop Tank Top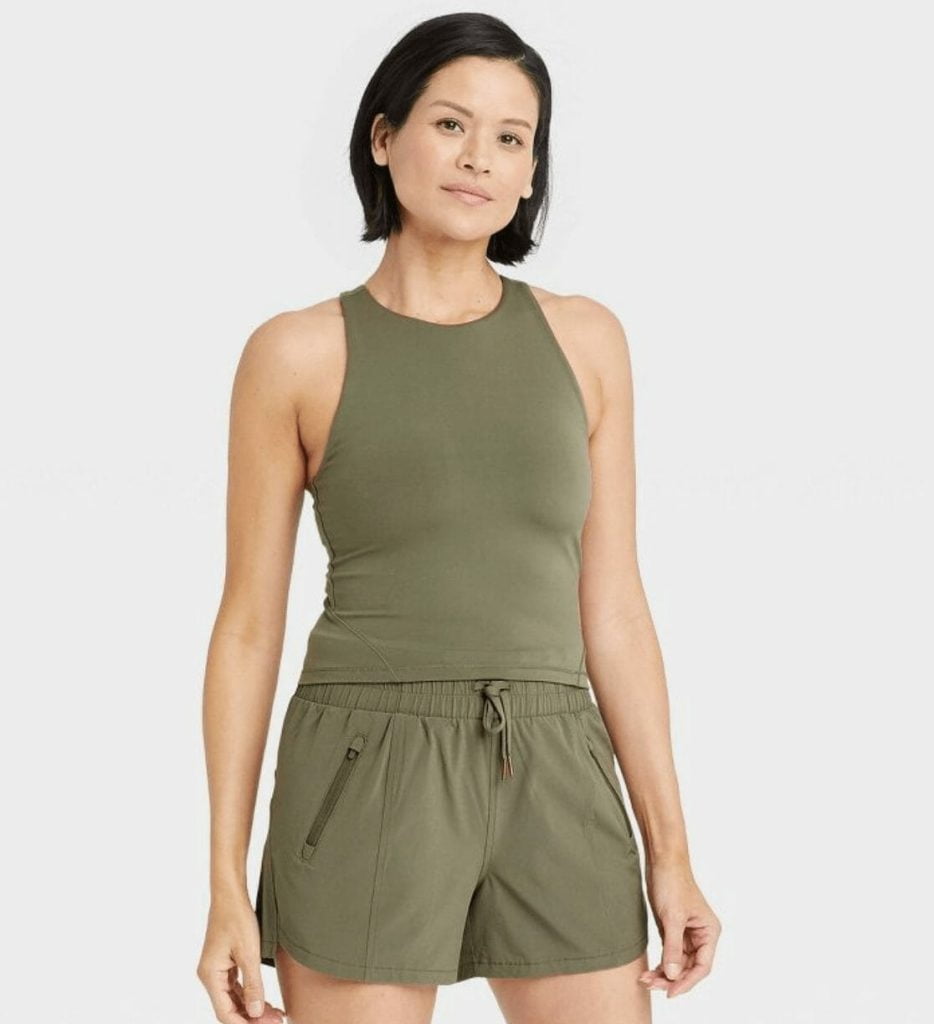 Target's All in Motion crop tank top is similar to lululemon's Align high neck tank. The main difference between the two tops is the length. The Target top is longer than the Key to Balance top. Targets hit just at the waistline, while lulu's hits just above the waistline. Target's All in Motion tank top has a classic racerback and the Align tank does not have a racerback. The Align will burn a $68 hole in your pocket while Target's will be much less painful at only $20.
---
7. Gymshark Pause Cami Tank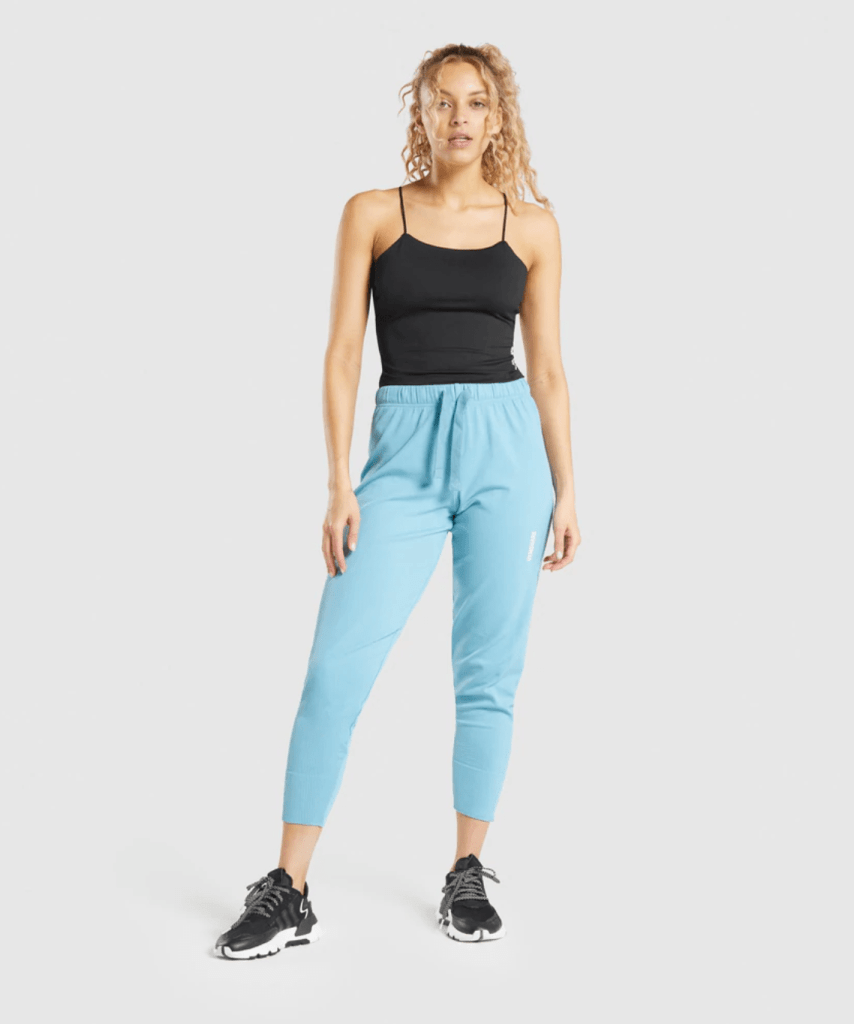 Gymshark has really stepped up its game on the quality and variety of workout gear they offer. Their prices are always on point too. The Pause Cami Tank is such a steal at only $20. It's constructed of 88% polyester and 12% elastane so it is super delicate, stretchy, and soft. Since it is so thin and delicate, there is extra lining under the bust to give you more nipple coverage. You will definitely still need to wear a bra though! I love this top because the thin spaghetti straps give it a versatile look, so you can wear it with joggers, jeans, skirts, or to work out. The length is also perfect – hitting just at the waist.
Gymshark's Pause Cami Tank is similar to Beyond Yoga's Spacedye Slim Racerback Cropped Tank. However, the Beyond Yoga material is slightly thicker and more buttery soft. It also has the spacedye "print" instead of solid colors. Last but not least, it has a racerback and is a bit more form fitting than Gymshark. And with a price tag of $66, you could buy 3 of the Gymshark Pause Cami Tanks.
---
Conclusion: Best Cropped Workout Tanks under $25
It's easy to find great quality (and overpriced) cropped workout tanks at lululemon, Athleta, or Beyond Yoga. It is also easy to find low-quality cropped workout tanks that are either too short or too long.
However, it isn't always so easy to find a cropped workout tank that is high quality, the perfect length, and affordable. I hope this article helps you find just that…the perfect cropped workout tank that you put on and say to yourself, "Damn…I look (and feel) good!"
Are crop tops good for working out?
Crop tops are not only good for working out but great. They offer positive air flow along with super ease of movement. We are a big fan of crops tops for working out.
Are tank tops better for working out?
Tanks tops are better than almost any other type of shirt for working out.
Do you wear a bra with the lululemon align tank?
NO! Never wear a bra with a lululemon align tank as it is not required and will make you uncomfortable.