Lululemon is one of the most popular clothing brands in North America. Specializing in activewear for men and women, they provide some of the best products in the industry.
Unfortunately, they are not an affordable option for many people. While their products are high quality, their prices are not cost-effective. For those people, it is crucial to find affordable alternatives. When looking for alternatives or dupes, one of your best resources is Amazon. There you can find a wide variety of clothing options that are similar to Lululemon. They might not have your favorite brand logo on them, but they are great options. Here we are going to look at some of the most popular womens Lululemon shorts dupes…7 fantastic alternatives to lululemon.
Trending: 10 Sherpa Jacket Dupes Nearly Identical to Top Brands
Most Popular Womens Lululemon Shorts Dupes: 7 Fantastic Alternatives to Lululemon
1. Hotty Hot Shorts Dupes
(high-rise, 4″ inseam)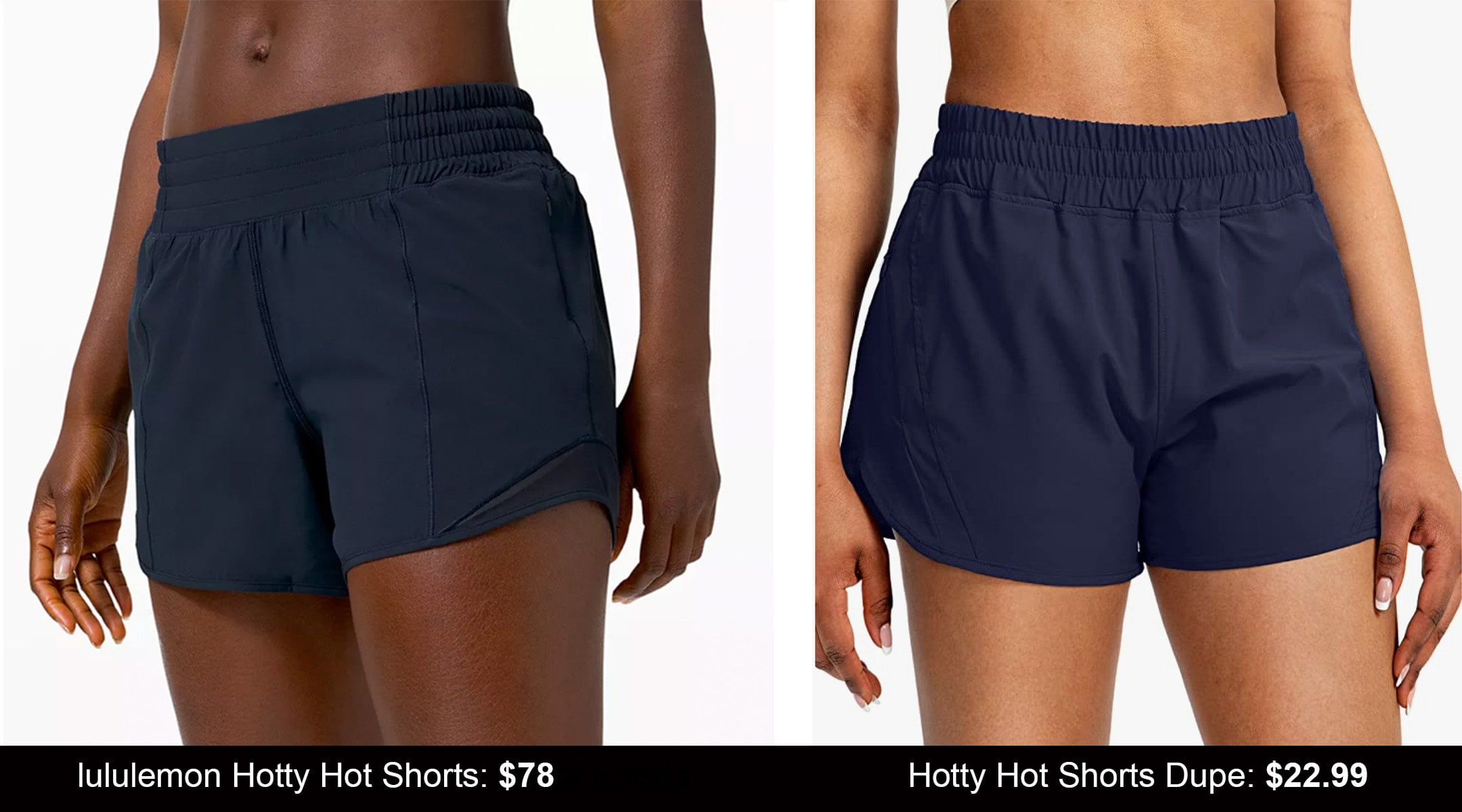 The first pair of womens Lululemon shorts dupes in our lineup are an alternative to the Hotty Hot high-rise lined shorts from Lululemon. Designed for athletic use, they have several features that support exercise and an athletic lifestyle.
They have quick-drying fabric that is lightweight and breathable. As a result, they should help you stay cool during the hot summer months. They are high-waisted with a drawstring for a custom fit while running and feature zippered pockets to carry your phone and keys. There is a built-in liner to provide women with a comfortable feel. Finally, the split leg design gives your legs more freedom of movement when you are running and stretching.
All of the features mentioned above are present in the lululemon shorts. Looking at the shorts, you cannot see a difference. The features are the same, and the differences in the material are tiny. They both mostly use polyester, with the dupe having a slighter higher percentage. However, the lululemon version uses elastane as the secondary material, whereas the dupe uses spandex. They are both designed for running and have over a dozen color options.
The product has a 4.3 out of 5-star rating on Amazon. Top reviews give praise to the comfort level of the shorts. They like the quality and find them suitable for most sports.
---
2. Align Shorts Dupe
(6″ inseam)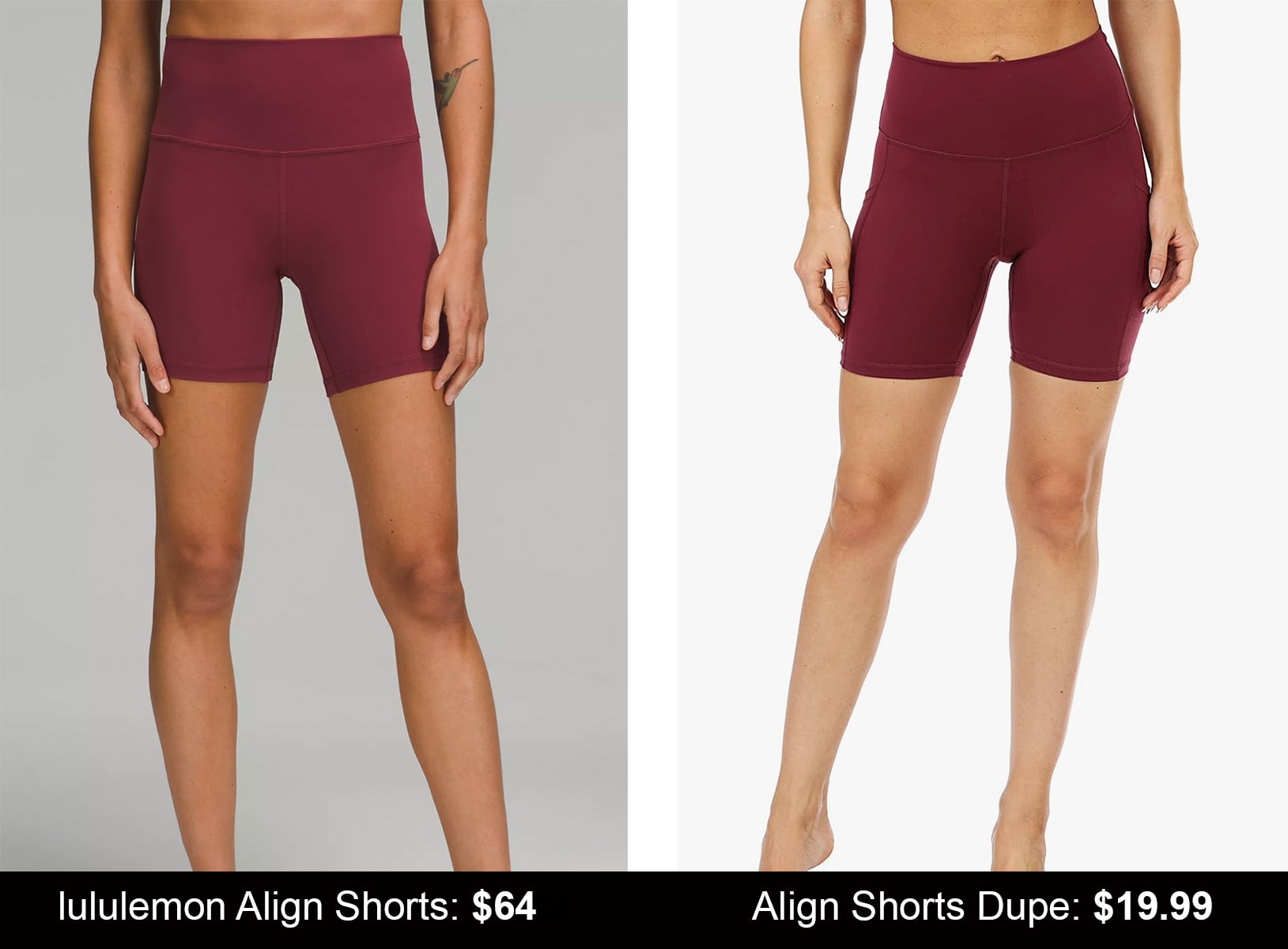 Here we have another pair of womens Lululemon shorts dupes inspired by the Align shorts. They are not shorts in the way you would normally picture them. Instead, they are essentially half-leggings with the shorts label.
Looking at the product on Amazon, you will see high-waisted athletic legging that reach halfway down the thigh. They are designed with a buttery soft and stretchy fabric to provide wearers with the naked sensation and unrestricted movement. However, there is still room for pockets to store your personal items. The waistband sits lightly at your natural waist, above the belly button. Additionally, the manufacturer recommends turning the shorts inside out before washing them.
When you look at the dupe and original product from Lululemon, it is challenging to find any differences. They have similar fabric linings, and both come in over a dozen colors.
The features present in the Amazon shorts are also present in the lululemon version. However, the material is different in the two products. The original product from Lululemon uses 81% Nylon and 19% Lycra elastane. Conversely, the Amazon shorts use 75% Polyester and 25% Spandex.
The Amazon shorts receives high ratings from customers with an average of 4.6 out of 5 stars on Amazon. Reviewers on Amazon love the feel of the tights and consider them perfectly stretchy. Additionally, many make a point to mention that they do not ride up their legs or butt. They also love how much space they have in the pockets.
---
3. Wunder Train Shorts Dupe
(5.5″ inseam)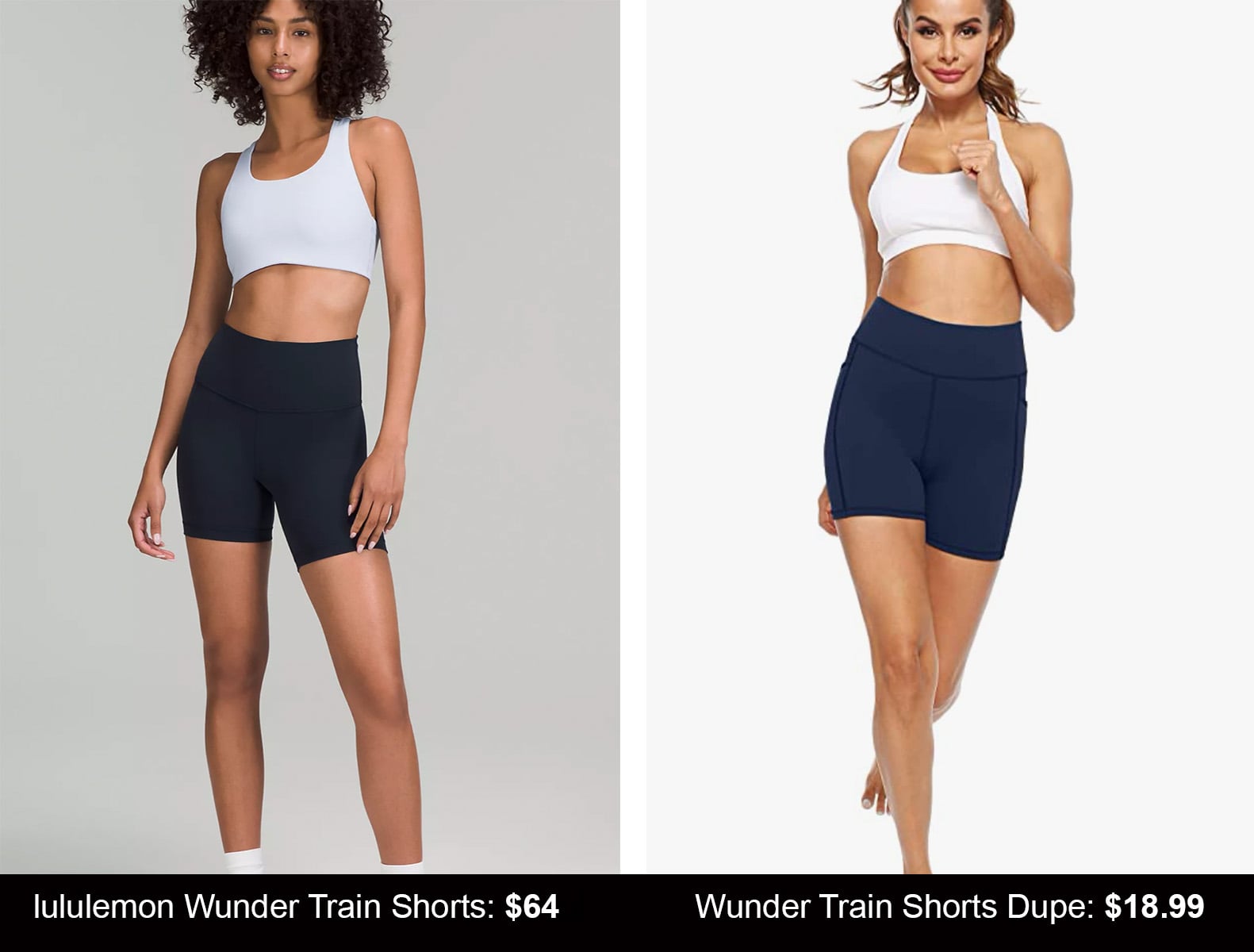 Here we have another pair of lululemon womens shorts dupes that are not really shorts. Instead, they are closer to half leggings. The shorts we are looking at are a Wunder Train shorts dupe from Lululemon.
The shorts have a realistic and natural color with active and fashionable patterns. They have a pull-on closure and are machine washable. You can wear them in the summer thanks to their moisture-wicking and breathable fabric design. These features help remove moisture from your body. Additionally, for those of you concerned about leggings being see-through, you have nothing to worry about here. The shorts pass the squat test, meaning you can wear them wherever you work out. Finally, there are two useful outside pockets for you to store your personal belongings.
The features on the Lululemon shorts are nearly identical to the original. The only notable difference is the Lululemon shorts have a drawcord to adjust the fit. However, the stretchiness of the dupe means that the drawcord is not missed. The Amazon shorts even has a slight edge because it is available in more colors.
The reviews for the Amazon shorts were very favorable as they averaged to be 4.7 out of 5 stars. Many buyers praised the quality, saying it is better than what you get from luxury brands like Lululemon. They also mention that they are very durable and show no signs of fading after six months of weekly wear. These shorts are definitely one of the BEST alternatives to lululemon.
---
4. Speed Up Shorts Dupes
(mid/high rise, 4″ inseam)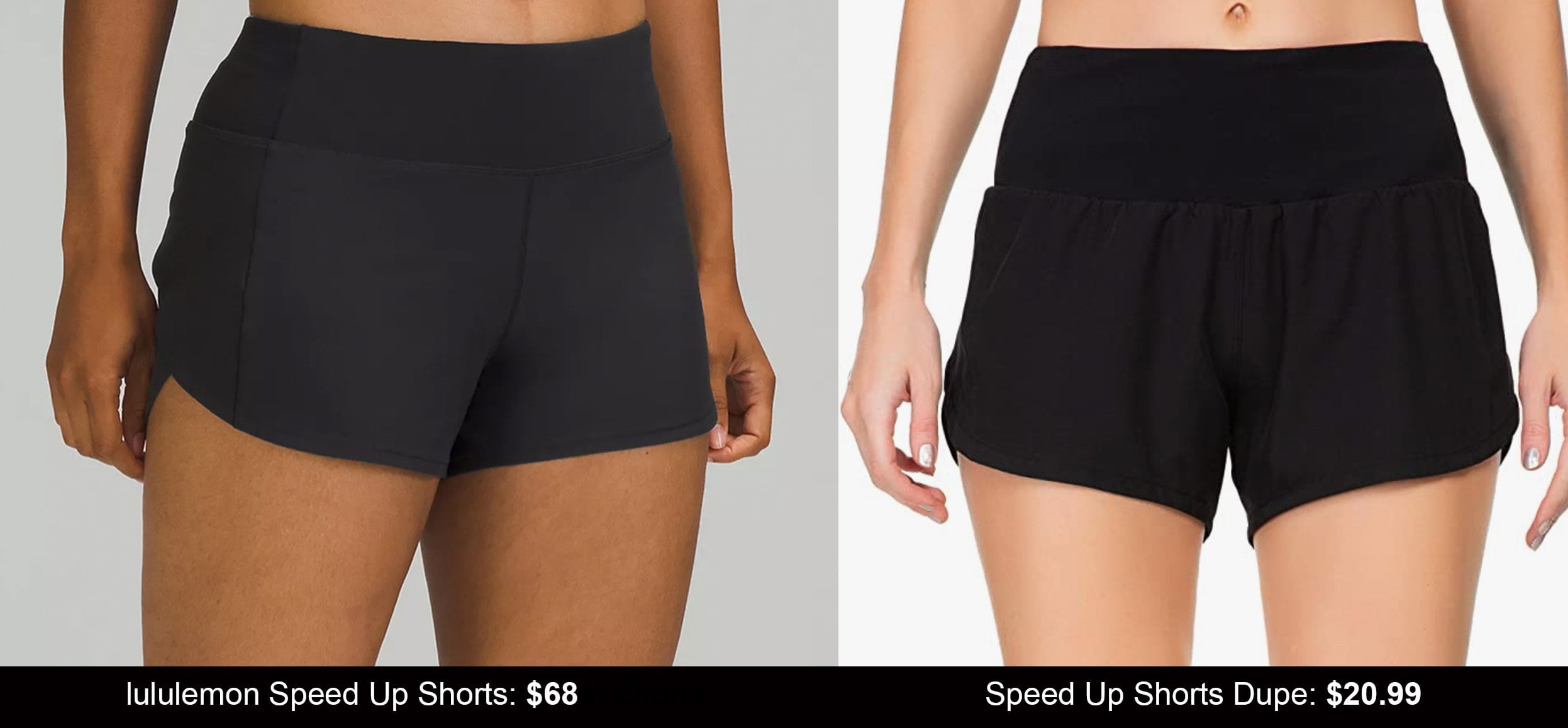 Here we have a pair of Lululemon Speed Up shorts inspired shorts. The shorts are similar to the Hotty Hot shorts we looked at earlier. They are running shorts with a medium waistband.
The dupe on Amazon features a drawstring closure and breathable fabric. They are lightweight, skin-friendly, and highly durable. As a result, you can safely wear them in almost any athletic environment. Additionally, they feature pockets on both sides of the shorts protected by a zipper. So, you can safely store all of your personal belongings. The waistband is stretchy and sticks to your skin, but not so much that it gets uncomfortable. Finally, there is a built-in mesh liner to provide excellent support.
The features present in the Amazon shorts are identical to those in the original. Both versions are available in similar colors, but with a few differences. If you are looking for a dupe at a cheaper price than the original, you will not find something closer than these shorts.
Shoppers on Amazon love these shorts and gave them a 4.3 out of 5 stars rating on average. Many reviews praised the comfortable and breathable design and said it gave them great freedom of movement. Some reviewers even believe these shorts fit better than the version from Lululemon.
---
Track That Shorts Dupe
(high-rise, 2.5″ or 5″ inseam)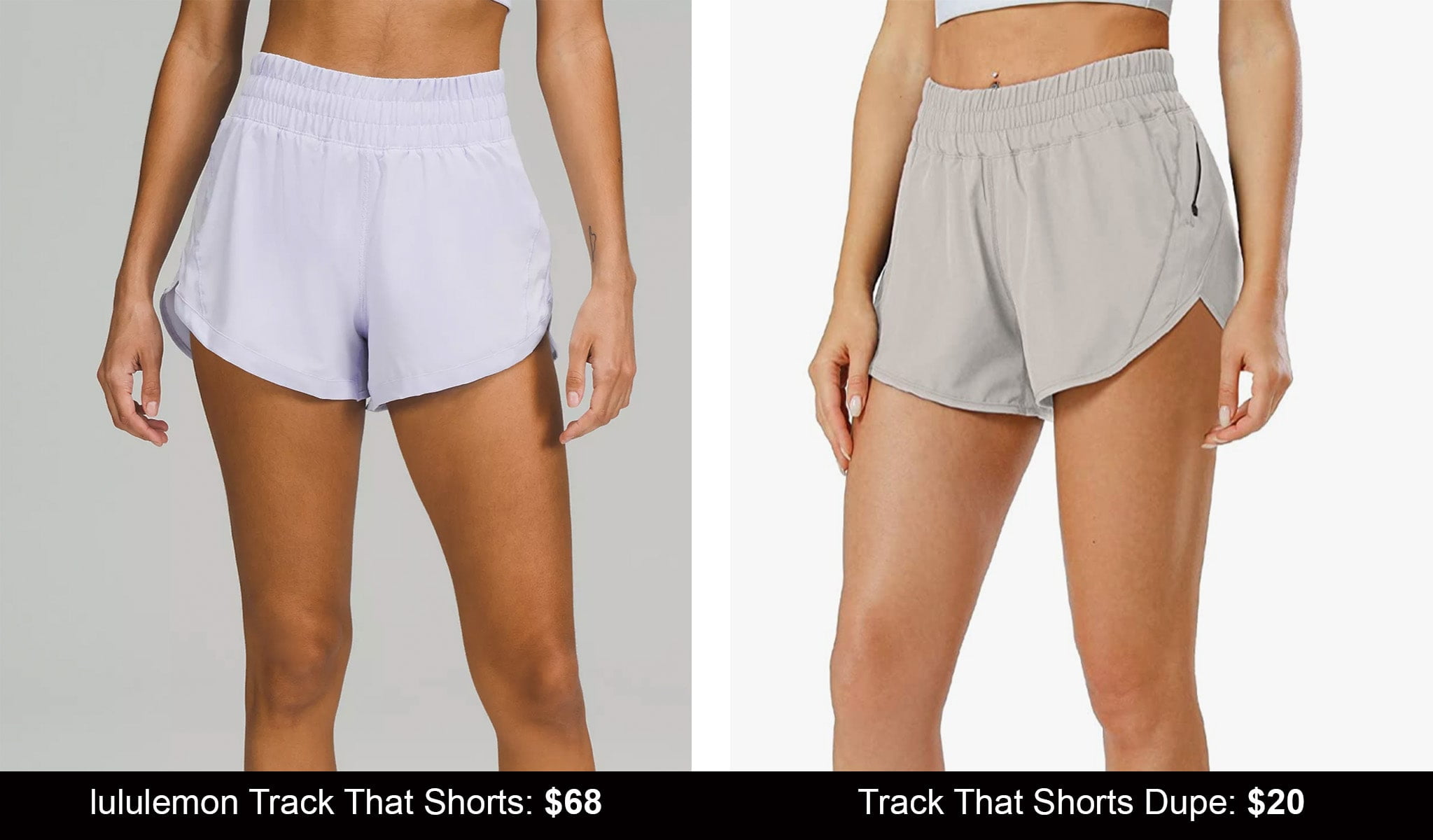 Here we have another pair of shorts that are great for running. You can buy them with a 2.5 or 5-inch high rise. The dupe on Amazon is very similar to the Lululemon Track That shorts but with a lower price tag.
The Amazon shorts features a zipper closure and a built-in liner. The liner allows you to safely exercise and move freely without worrying about chafing. Additionally, there is a zipper closure on one side that easily has enough space to carry your phone and card. Finally, you can safely wash these shorts in a machine.
Looking at the shorts from Lululemon and the dupes on Amazon, there do not appear to be any aesthetic differences. However, the material in each product is slightly different. The dupe is made of 100% polyester. Conversely, the body, liner, and inner waistband have different compositions in the Lululemon product. The body is made of 86% polyester and 14% elastane, the liner 83% polyester and 17% elastane, and the inner waistband 87% nylon and 13% lycra elastane. Finally, it is crucial to note that the lululemon product only comes in pastel blue, whereas the dupe comes in over 20 colors.
Reviews from buyers are very favorable as it lands at a 4.4-star rating. The lining is very popular, and many reviewers mention the color is identical to those shown in the pictures.
---
6. Tracker Shorts Dupe
(mid-rise, 4″ inseam)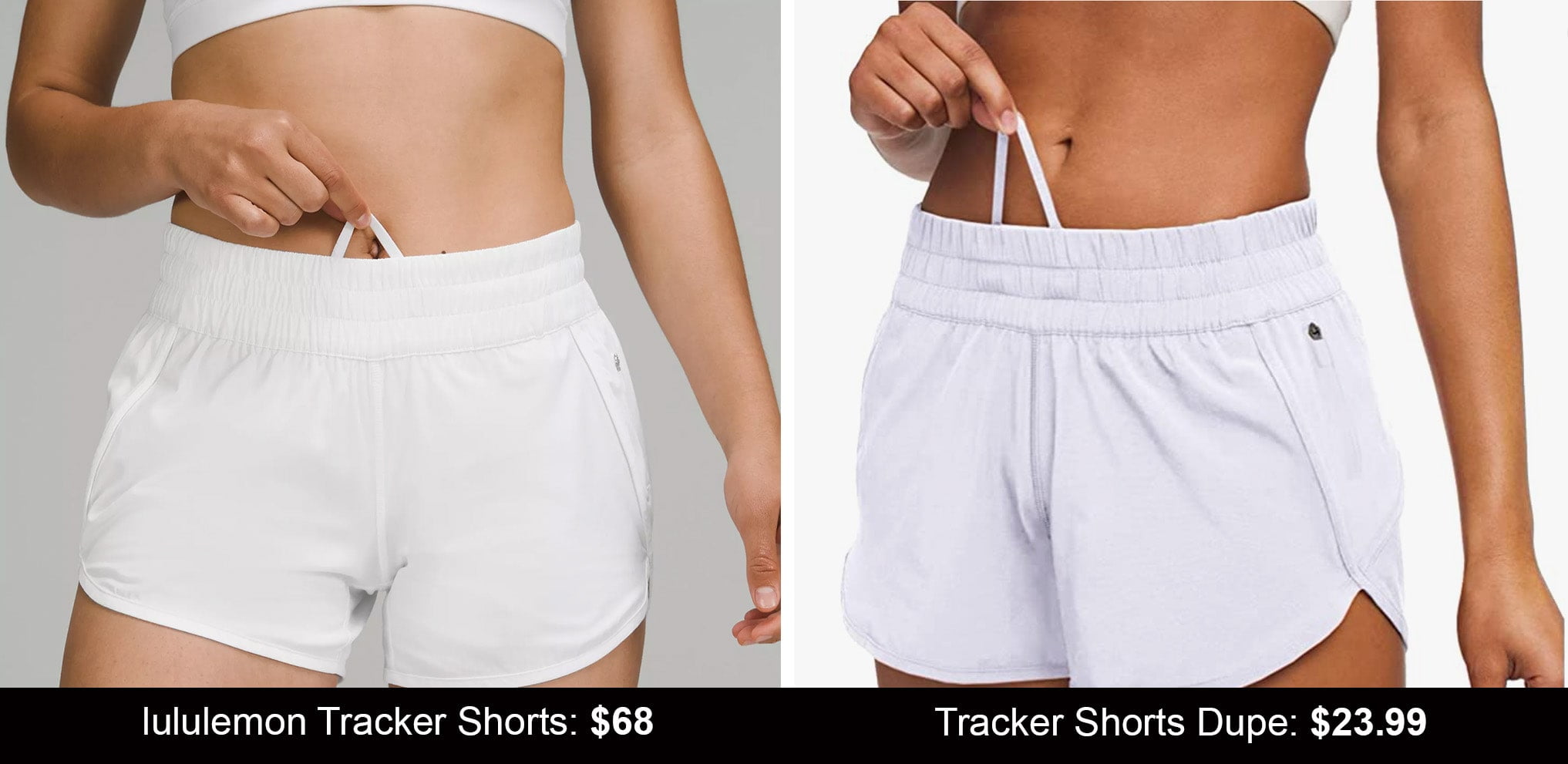 Here we have a pair of womens lululemon shorts dupes inspired by the Tracker short. Although not made by a luxury brand, the product on Amazon has most of the same features and a similar composition.  As a result, it is a solid option for people looking for a more affordable pair of shorts.
These are 4-inch shorts with a low-rise waist. They have zipper pockets, a stretch waistband, a mesh liner, and sweat-wicking material. The manufacturer designed them to provide runners with extra coverage. Additionally, they made them to be suitable for long-distance runners and sprinters. Finally, there is a continuous drawcord that will not get pulled inside the shorts or lost in the wash.
Looking at the two products, it is hard to not see the similarities. The features are nearly identical, and you cannot see much of a difference aesthetically other than having a few more options on Amazon. Even the material is similar, albeit slightly different. The Amazon shorts are made of 85% polyester and 15% spandex. Conversely, the Lululemon product has a different material breakdown for the body, liner, and waistband. The body is made of 86% polyester and 14% elastane, the liner 89% polyester and 11% lycra elastane, and the waistband 87% nylon and 13% lycra elastane.
Reviews for this product remain high as it received an average customer rating of 4.4 stars. Most reviewers said the fit was true to size. Additionally, they praised the comfort level and pockets.
Finally, several comments mentioned that the shorts held up well in the wash.
---
7. Find Your Pace Shorts Dupe
(mid-rise, 3.5″ inseam)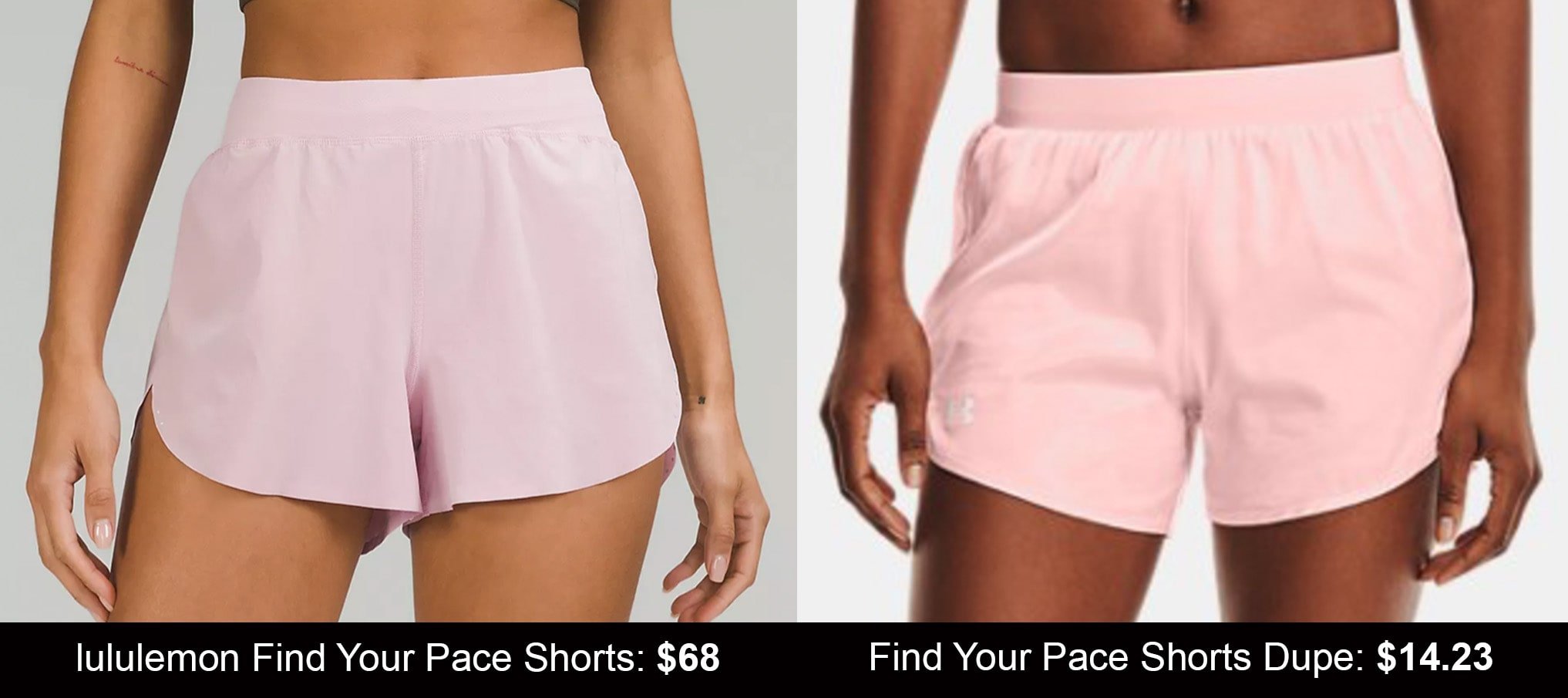 The final pair of womens Lululemon shorts dupes we want to look at today is a Find Your Pace shorts dupe.
If you want an affordable option, you can purchase these shorts on Amazon. They come with all the features present in the pair from Lululemon. They are made with woven fabric which makes them more comfortable, lightweight, and durable than most other options. The material wicks sweat and dry quickly so that it does not stick to your skin. Additionally, it features built-in briefs for enhanced coverage. There is also an internal draw cord so that it easily fits your waistline.
Unfortunately, the Amazon shorts are missing a back drop-in pocket that is present in the original from Lululemon. However, all other features are identical. Although this does not make up for it, the Amazon shorts are available in significantly more colors. As for materials, the dupe is made of 100% polyester. Conversely, while the product from Lululemon is mostly comprised of polyester, it also contains significant amounts of nylon, lycra elastane, and elastane.
The reviews for this product give it an average rating of 4.5 stars. Buyers love the lining and said it helped them avoid the baggy and unflattering feeling present in many athletic shorts.
Final Thoughts: Womens Lululemon Shorts Dupes: Alternatives to Lululemon
Finding a high-quality pair of athletic shorts at a reasonable price can be challenging. Everything is so expensive these days, and luxury activewear brands do not help. Fortunately, there are plenty of affordable options on Amazon. Even if you desire a pair of lululemon shorts, you can find many womens lululemon shorts dupes on Amazon with only a few differences. All seven options listed above are great options for women in need of activewear. I hope one (or more) of these alternatives to lululemon is exactly what you were looking for!