Brands Like Skims | Robes that Look Like Skims for Under $50
Just like Kim Kardashian, her SKIMS brand has taken the world by storm. Her sleek, simple, sexy clothing line is massively popular. Some of her more popular products are even on a waitlist. In this article we will keep it simple and focus solely on the SKIMS robes, which range in price from $88 – $148. Not everyone can afford that so we found a few brands like Skims who sell robes that look like SKIMS. They are almost as good as the real deal (if not better!)
SKIMS offers a wide variety of clothing including: shape wear, bras and underwear, leggings and pants, bodysuits, tees, and tanks, hoodies and sweaters, loungewear, pajamas, and ROBES. All of her products carry a similar theme: sleek, basic designs in solid neutral colors. One perk the SKIMS provides is a vast range of sizes. Most of her products are available from sizes XXS – 5X to accommodate EVERY body.
Now back to the robes…
Here are 5 Brands like Skims | Robes that Look Like SKIMS for Under $50
Similar to: SKIMS Soft Lounge Robe
Amazon Essentials Knit Robe: $22.50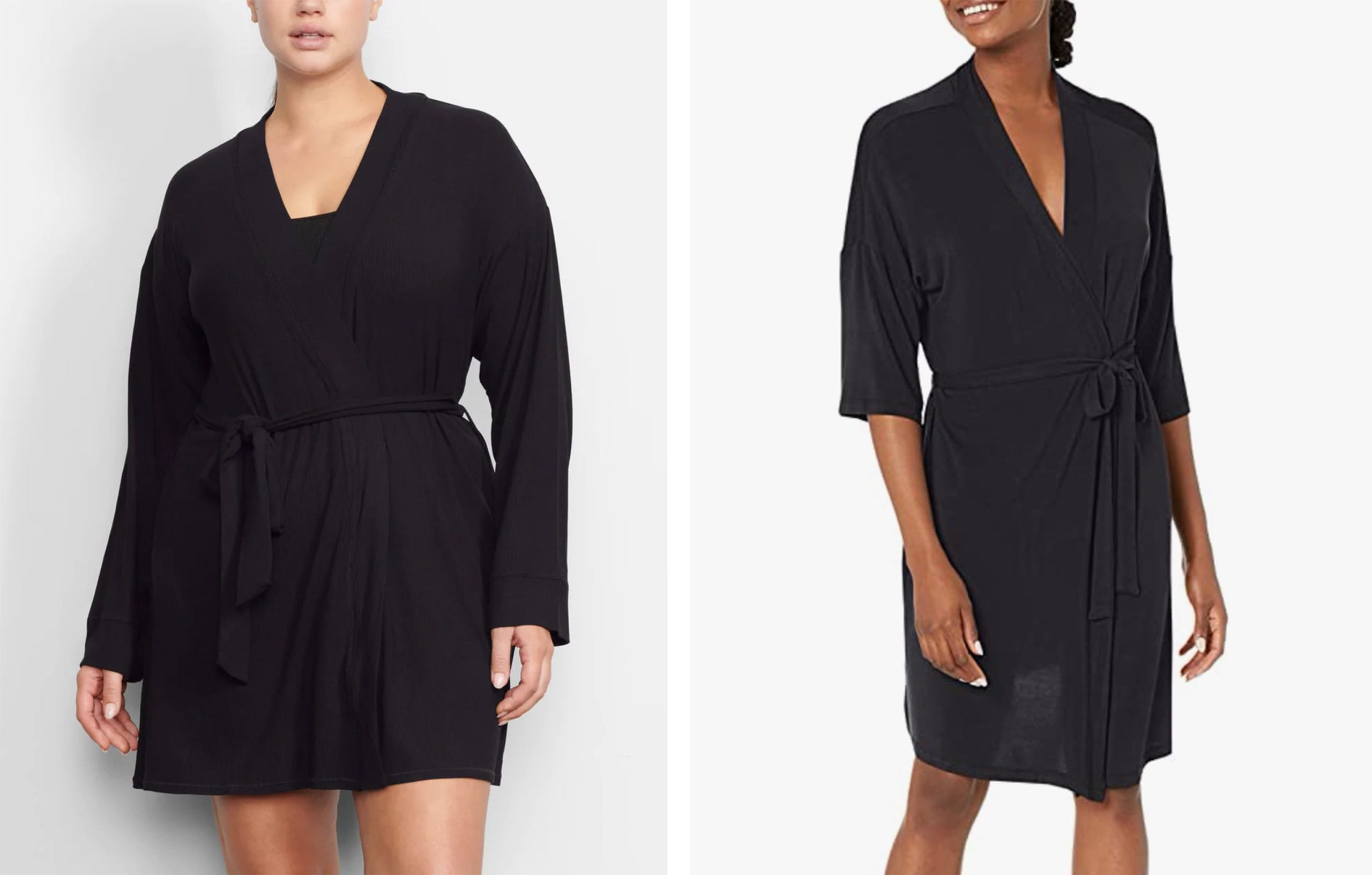 The original SKIMS Soft Lounge Robe is $88 and is made from 91% Modal and 9% Spandex – making it very soft and stretchy. It is available in 4 colors in sizes XXS – 4X. This robe features a wide adjustable self-tie with belt loops, cuffed sleeves, two side seam pockets, and ribbed fabric detail.
This robe is great for summer months or warmer climates since it is thin and airy. One review said there were a lot of loose hanging threads and that it ran on big so to size down.
Features:
$20
95% Modal / 5% Elastane (extremely soft and stretchy)
Sizes XS – XXL
17 Colors
Adjustable Self Tie
Runs Big
No Inner Loop Tie
4.3 Stars on Amazon
WHY CUSTOMERS LOVE IT: Customers are loving this robe that looks like SKIMS. Their favorite features are how great it is for travel since it can be folded up very small. Additionally, they are loving how buttery soft the fabric is. The fabric is almost identical to the SKIMS Soft Lounge Robe which is 91% Modal / 9% Spandex.
Related: 8 Best Robes that Look Like Skims Duvet Robe (2023)
---
Similar to: SKIMS Cozy Knit Robe
7 VEILS Cozy Knit Robe on Amazon: $39.90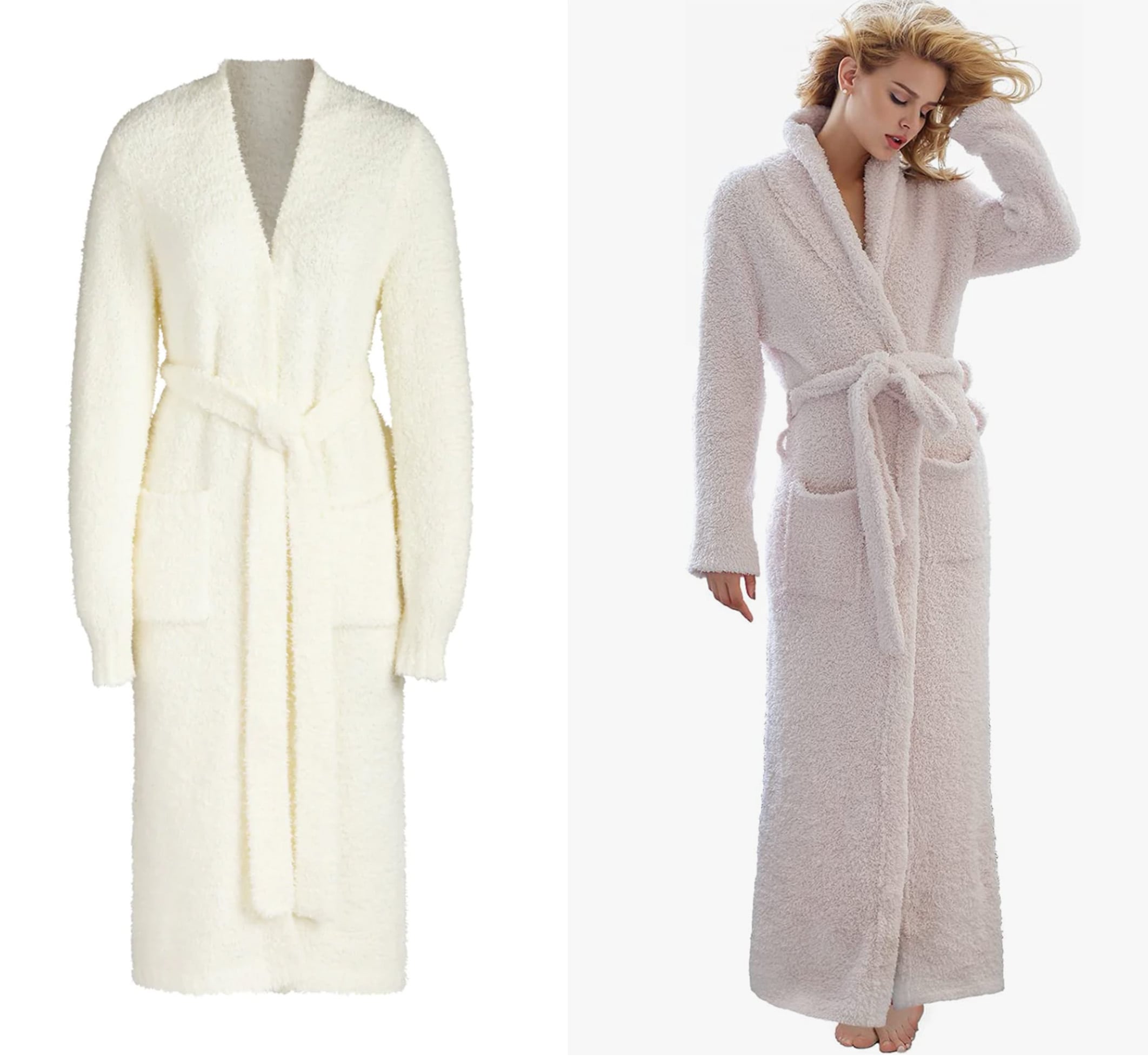 The original SKIMS Cozy Knit Robe is $128 and is made from 76% polyester and 26% spandex. This robe is available is available in 7 colors and in sizes XXS – 5X. It features a removable/adjustable belt so it can be worn as either a robe or a cardigan. Additionally, it features two patch pockets.
Customers complained that this robe  gets dirty easily with lint, is heavier than expected, and that it runs big. However, overall, customers love how comfortable and warm it is.
Features:
$39.90
100% Knit Microfiber Polyester
Sizes S – L
4 Colors
Adjustable Self Tie
Collar
Two Front Patch Pockets
Fits True to Size
Breathable Boucle Yarn
Cuffed Sleeves
Ankle Length
Warm, Soft, Fluffy (Not Bulky)
4.5 Stars on Amazon
WHY CUSTOMERS LOVE IT: Customers are loving this robe that look like SKIMS from 7 VEILS! Several customers claimed that they preferred this robe that looks like skims over the original SKIMS Cozy Knit Robe. Customers say it is like wearing a soft blanket but not bulky.
---
Similar to: SKIMS Velour Robe
PRODESIGN Velvet Robe on Amazon: $35.90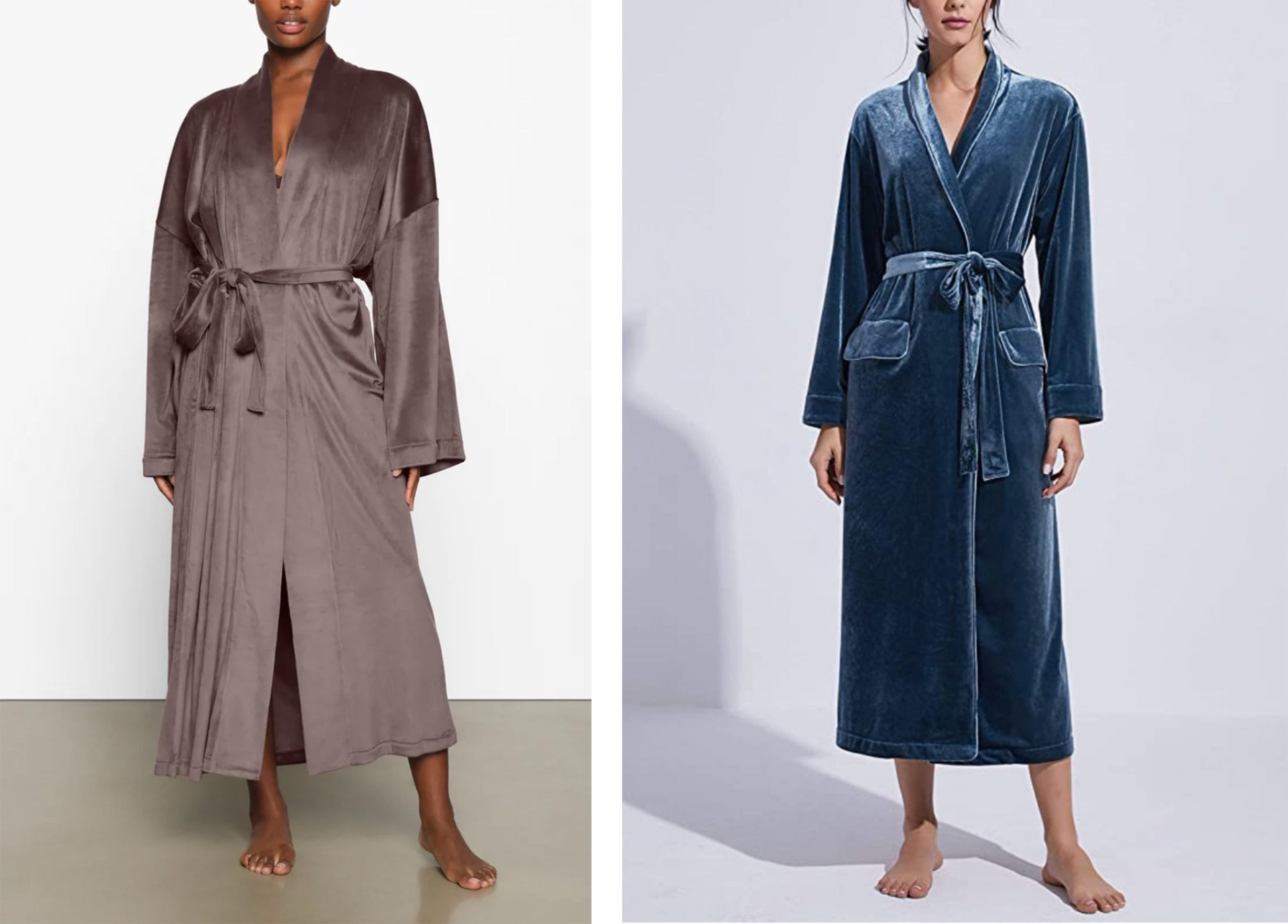 The SKIMS Velour Robe is $128. It currently has 4.8 stars from customers. The only negative that a few complained about was how large it ran. Some recommended sizing down one or even two sizes. This robe is made from a polyester/spandex blend and features a removable exterior tie as well as an interior tie.
Features:
$25.99
Sizes S – XL
5 Colors
Adjustable/Removable Self Tie
Collar
Two Flap Front Pockets
Customers Love Fabric – Feels Expensive
Lightweight – Not Bulky
4.2 Stars on Amazon
WHY CUSTOMERS LOVE IT: Customers are loving this robe that look like SKIMS because of how luxurious the fabric is and how nicely it drapes…it isn't too bulky. The main complaint was that it doesn't stay closed well since there is no interior tie.
---
BONUS PICK Similar to: Skims Cozy Knit Pants and Tank
Fuzzy 3 Piece Pajama Set on Amazon: $45.99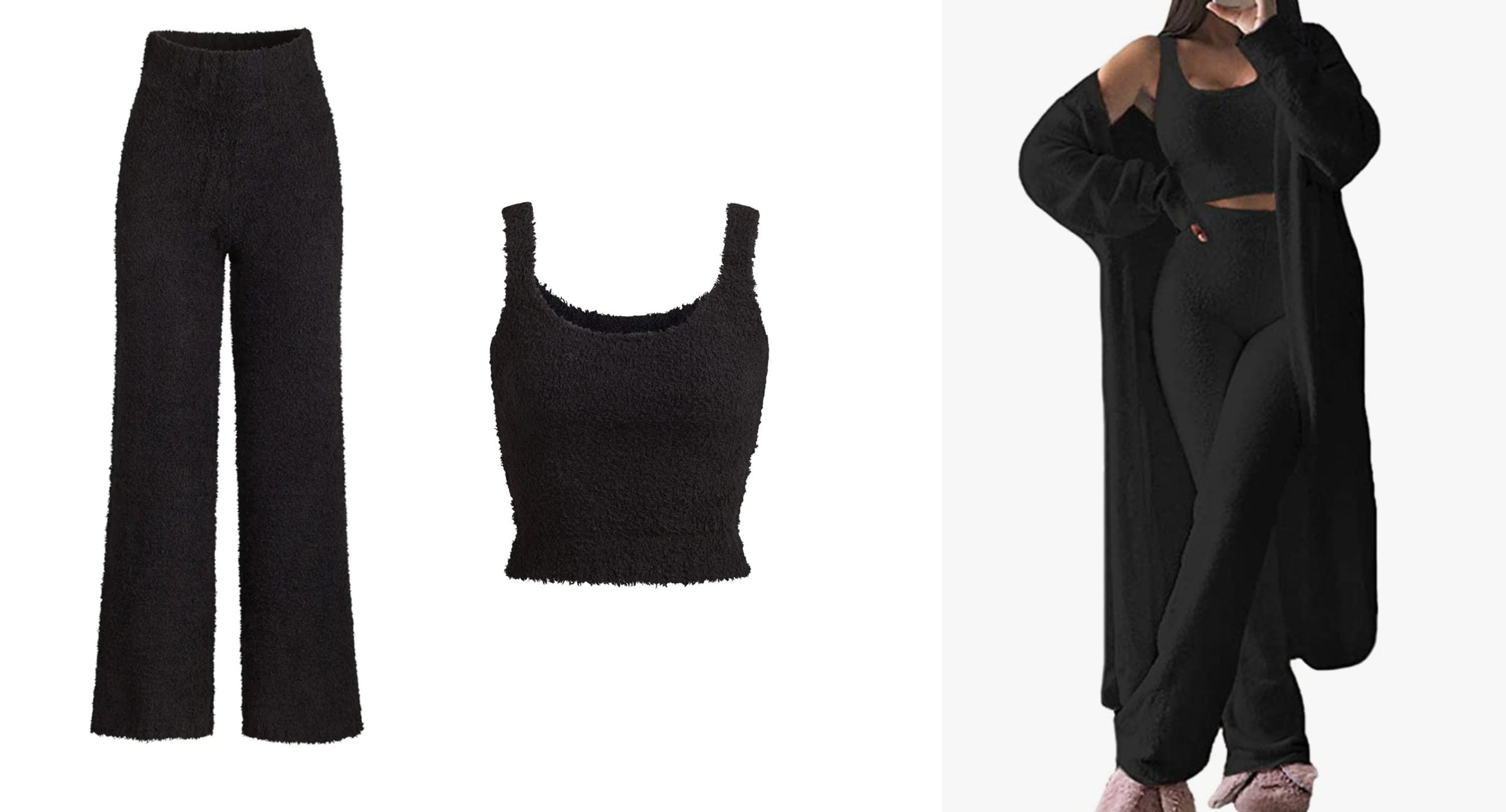 The SKIMS Cozy Knit Pants are $88 and the SKIMS Cozy Knit Tank is $52. Both are made from a polyester/nylon stretchy boucle yarn. The pants are high waisted with a relaxed fit and feature a elasticated waistband. The tank features a sexy scoop neck and cropped length.
Both products received reasonable reviews. The main complaint was that the pants were too long and that the tank top was shorter than expected.
Features:
$45.99
Sizes S – XL
12 Colors
100% Polyester (Soft Jersey Sherpa Fabric)
4.1 Stars on Amazon
Pants:

High Waisted
Wide Leg
Elastic Waistband

Tank Top:

Cropped
Slim Fit
Sexy Scoop Neck

Cardigan:

Ankle Length
Adjustable Self Tie
Cuffed Sleeves
Two Pockets
WHY CUSTOMERS LOVE IT: Customers are loving how comfortable, soft and sexy this 3-piece set is. It is thin, lightweight, and has a comfortable waistband. Each piece can also be worn separately with other pieces, making it the most versatile of all our robes that look like SKIMS.
---
BONUS PICK #2 Similar to: SKIMS Velour Wrap Sleep Set
Skpabo Velour Pj Set from Walmart: 29.99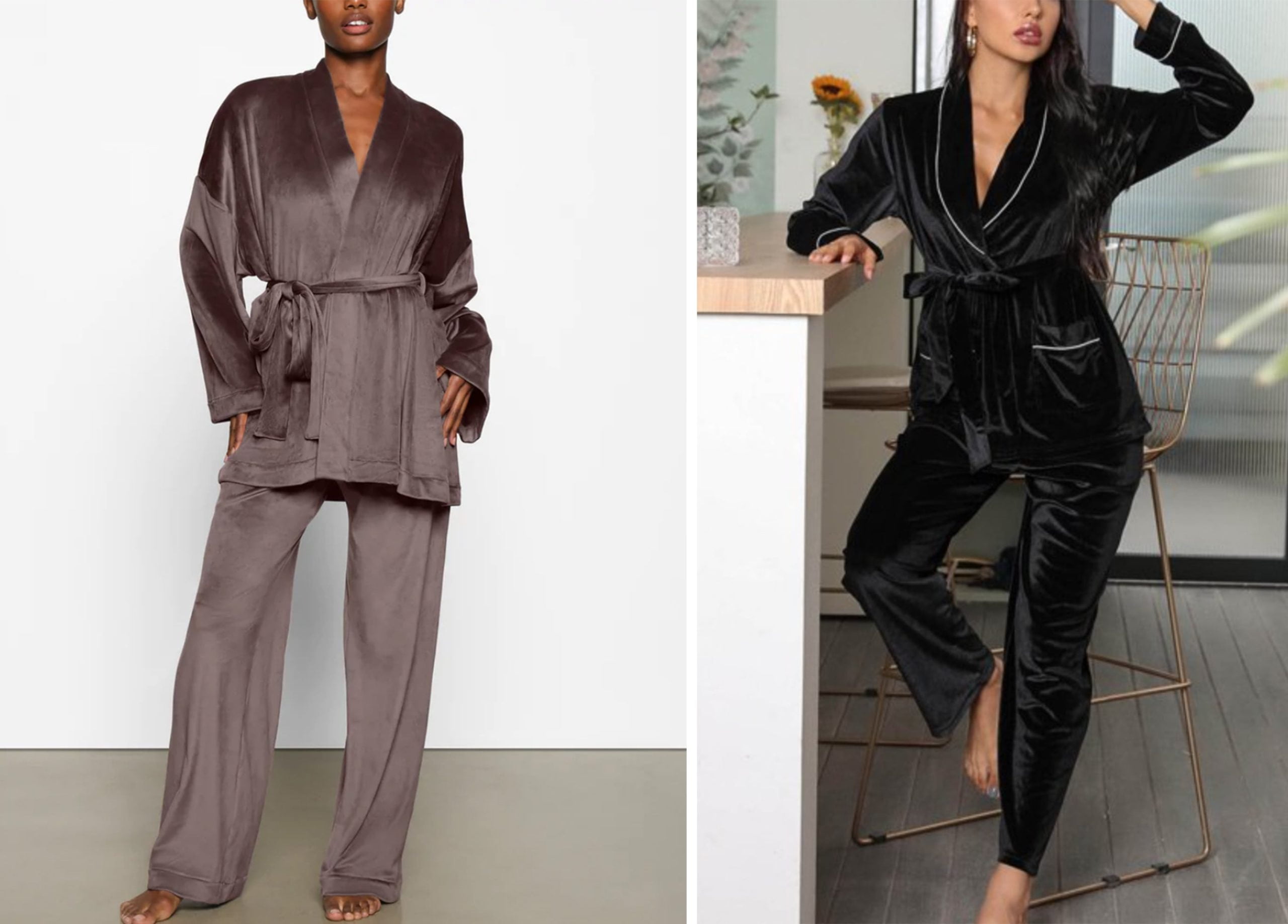 The original SKIMS Velour Wrap Sleep Set is $148. It is available in 4 colors and in sizes XXS – 4XL. It has a a relaxed fit with straight leg pants. It is composed of 92% polyester/8% spandex. There is no collar. The description claims that there are two pockets but I don't see them in any of the pictures.
Features:
$29.99
85% Cotton Blend
Sizes S – 5X
2 Colors: Black and Wine
Relaxed Fit Straight Leg Pants
Adjustable Self Tie
Collar
Elastic Waistband
Two Deep Front Pockets
Runs Small – Size Up
This set that looks like SKIMS robe set is a new product at Walmart so there aren't any reviews yet.
---
Brands Like SKIMS | Robes | FAQs
What is similar to Skims but Cheaper?
The Brabic Bodysuit Shapewear ($18.39, Amazon) is a dupe for the extremely popular Skims Sculpting Bodysuit with Snaps ($62). The Amazon option costs just under $20, for a savings of about $40.
Should I go down a size in Skims?
Because of how stretchy they are, we'd recommend sizing down for a more form-fitting look.
Where does Kim K get her Skims from?
She explained how she used ImportYeti, an online tool to unveil material suppliers to popular brands. She discovered that Turkish manufacturer, Eurotex Tekstil Ticaret, was responsible for supplying to SKIMS. She noted that the manufacturer also supplies for companies such as Spanx.
What does SKIMS stand for?
We went through so many different names. We were thinking, "It's like skin. It's on your body. It's [a second] skin." But I wanted Kim in it — because that was the reason I [originally] picked Kimono, so I just thought, "Skim," and then we put an "s" on the end because we kept on always saying, "Can I have my Skims?