Spanx. That is probably the brand you think of when you hear the term faux leather leggings. I've owned my Spanx Faux Leather Leggings for almost 2 years now and I am obsessed. They have been my go-to piece for everything from running errands and Sunday brunch to date nights, holidays, and even business meetings. At $98, they are on the pricey side but worth every penny (trust me).
Trending: 12 Easy Ways to Style Joggers
What Are Spanx Faux Leather Leggings?
Spanx faux leather leggings aren't just any regular faux leather legging. Once you put these leggings on, you will notice they are faux leather leggings with a mission and a purpose and they do a very good job at achieving their mission and purpose…to provide comfort, quality, slimming compression, and style.
Let's talk about the way these famous faux leather leggings look. Even though these leggings have the word "leather" in them does not mean that they actually look like leather. They have more of a subtle crackle finish and shine to them that reflects light well, adding just enough detail sure to turn heads. Don't worry…you won't look like you came straight out of grease lighting.
Price: Now, at $98 these leggings are quite pricey. However, you can find them on sale during the Nordstrom anniversary sale for $65 or you can often find them on sale from other online outlets as well such as ASOS , Shopbop, Amazon, and more.
Size: The general consensus is that these faux leather leggings do run true to size. For reference, I am 5'6 and 115 lbs and wear an XS. I typically wear an XS in most leggings and a size 2 in the lululemon Align leggings. They are also available is petite, regular, and tall to accommodate different heights.
Care Instructions: Spanx faux leather leggings will last you for years to come as long as you take proper care of them. For best results, machine wash them inside out on the gentle cycle and lay them flat to dry. Easy enough, right?
Material: It's all about the material! These Spanx leggings are constructed from 87% nylon and 13% elastane. The polyurethane coating that gives them that leathery shine is made from 80% polyester and 20% elastane. The nylon provides amazing stretch and the elastane provides the incredible shape retention. They never stretch out while you are wearing them and they never loose their shape even after years of washing them.
Design and Construction Details: Spanx faux leather leggings are tight in all the right spots without being uncomfortable, and there is never any extra material bunching up.
One of the key details that gives these leggings such great compression and support without feeling thick or uncomfortable is they have an almost undetectable double layer of material, which provides great mobility.
The tummy control waistband is slimming and on point, hitting just at the sweet spot right above your belly button.
There is no seam up the middle which not only helps them to lay extra flat against your belly and look even more slimming but it also prevents the dreaded camel toe.
And…of course your booty will always be perfectly supported and boosted!
Trending: Most Popular lululemon Joggers (2022)
Are They Worth the Money?
YES! Spanx Faux Leather Leggings are worth every penny. For starters, they are extremely comfortable and snug without feeling too tight or digging in anywhere. They aren't too thick or too thin. They feel like a second skin.
Another reason why the Spanx leather leggings are worth the money is because of how versatile they are. I live in the midwest and can easily wear them in 3 out of the 4 seasons (with summer being the exception). You can style them in a variety of ways as well. Easily dress them up for a girls' night or date night. You can also wear them more casually to run errands or grab a coffee.You can even wear them to the office for a business casual look.
Spanx faux leather leggings are my go to piece for looking effortlessly chic. The only thing I would not wear them for is working out. I also wouldn't consider them an "athleisure" legging either. They are pretty much in their own category.
How to Style Spanx Faux Leather Leggings
One of the best perks of the Spanx faux leather leggings is how versatile they are. Effortlessly pair them with so many different pieces for a variety of looks occasions…
Casual: Pair your Spanx with either a loose sweater, cropped sweatshirt, button down shirt, or a tank top. Complete the outfit with a pair of sneakers.
Business: Pair your Spanx with a cami and a blazer or a turtleneck sweater. Complete the outfit with either flats or booties.
Night Out: Pair your Spanx with a cami and a blazer, or a one-piece and a blazer. Complete the look with a pair of stilettos.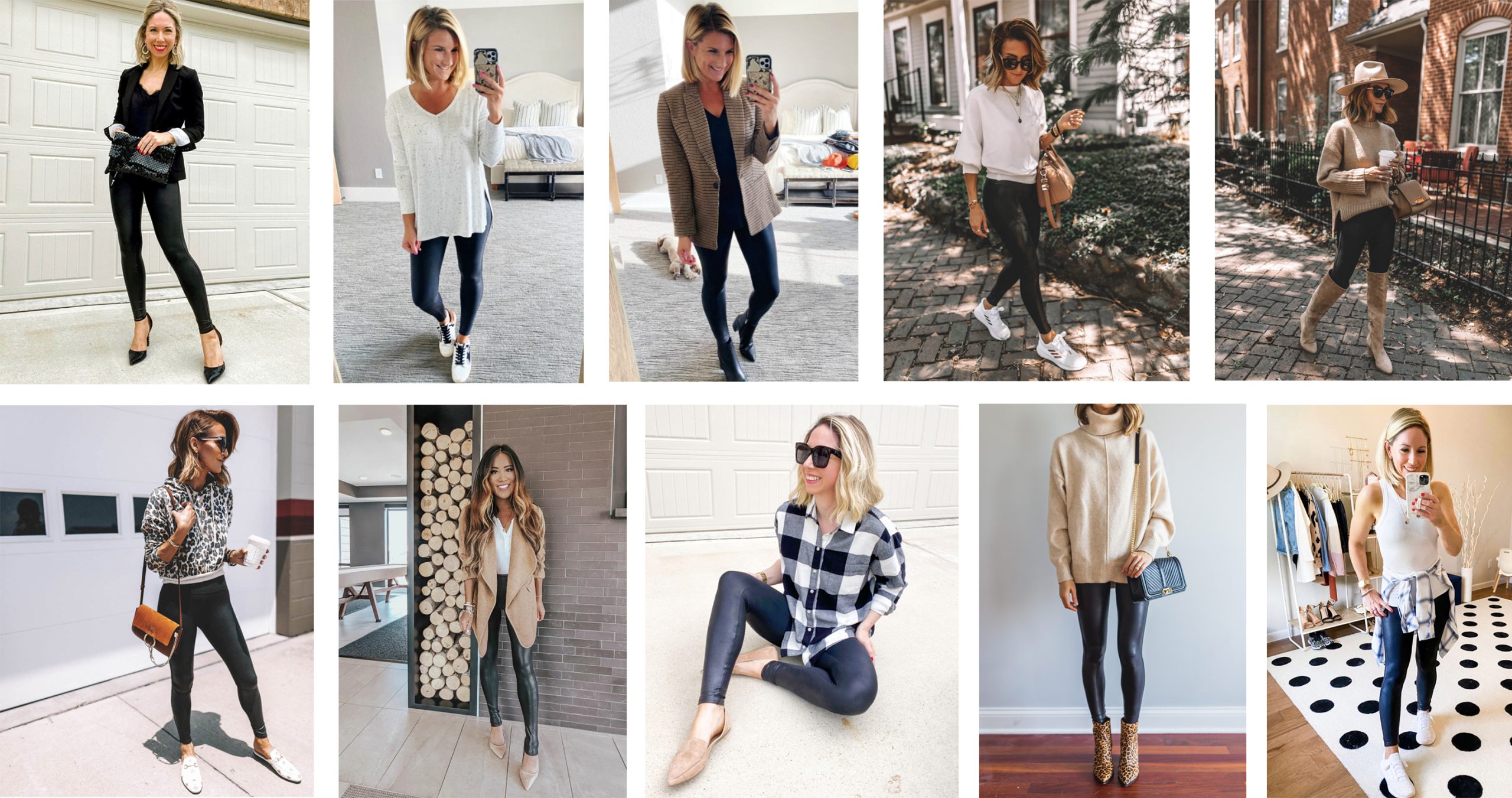 Shop Spanx Faux Leather Leggings
Qualities to Look for in Faux Leather Leggings
No Scrunching or Extra Fabric: There is nothing worse than extra fabric when it comes to faux leather leggings. They need to fit like a second skin otherwise they will not only be uncomfortable but will look cheap and not put together.
No Noise: There is a fine line between faux leather and pleather. You want to avoid cheap pleather materials that make noice every time you move!
Not too Shiny or Leathery: You want to make sure your faux leather leggings have a crackly finish that gives them the perfect amount of shine, catching the light just right. You don't want to look like you came straight out of the movie, Grease!
Comfort: One thing I was intimated about when shopping for my first pair of faux leather leggings was comfort concerns. You want to make sure you enjoy wearing them and that they don't squeeze you in too much or are uncomfortable when you sit down or move.
Good Compression: Compression is everything when it comes to any pair of leggings. Some compression is good – it holds everything in. However, too much compression is not only uncomfortable but it also hides your figure.
Top 3 Spanx Faux Leather Leggings Dupes
Spanx must really have the faux leather leggings game on lockdown because it was quite challenging to find comparable Spanx faux leather leggings dupes. However, after digging deep I was able to narrow it down to a couple other brands that are somewhat close to the same level as Spanx.
OFFLINE By Aerie The Hugger Crossover High Waisted Crackle Legging
I love these faux leather leggings by Aerie. I love how they really have a size for everyone. They range in sizes from XXS to XXL and are available in either short or long. Another great perk is they come in a variety of colors. Out of all of the Spanx faux leather leggings dupes, these were most similar.
There were a few subtle differences. The first difference I noticed is that they have a slightly more defined crackle look than the Spanx leggings.
Also, the waistband is a crossover style, which some people love and some people hate. I happen to love it because it defines my shape better than a traditional waistband.
They have a very similar level of compression to the Spanx leggings and stay in place well. At $38, these are a GREAT buy!
Buy Faux Leather Leggings from Aerie
Amazon Retro Gong High Waisted Faux Leather Leggings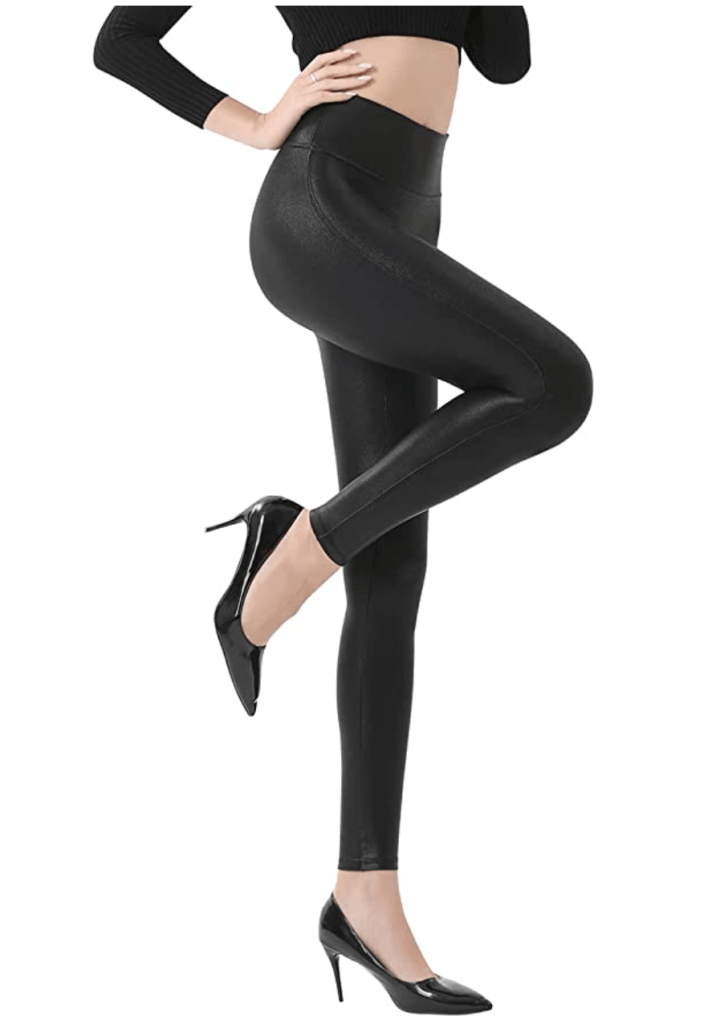 The Retro Gong Faux Leather Leggings from Amazon are famous on Tik Tok for being super similar to the Spanx Faux Leather Leggings. They have gotten so popular that they recently raised their price from $47 to $59.
There are a few subtle differences between these Amazon faux leather leggings and the Spanx faux leather leggings.
The material is freakishly similar to the Spanx leggings, however the waistband isn't quite as tight and the compression overall isn't as on-point as Spanx.
The final difference is the texture. The Amazon faux leather leggings have a bit more of that crackly texture than the Spanx…but it's hard to notice unless you look closely.
Buy Retro Gong Faux Leather Leggings on Amazon
Assets By Spanx Faux Leather Leggings from Target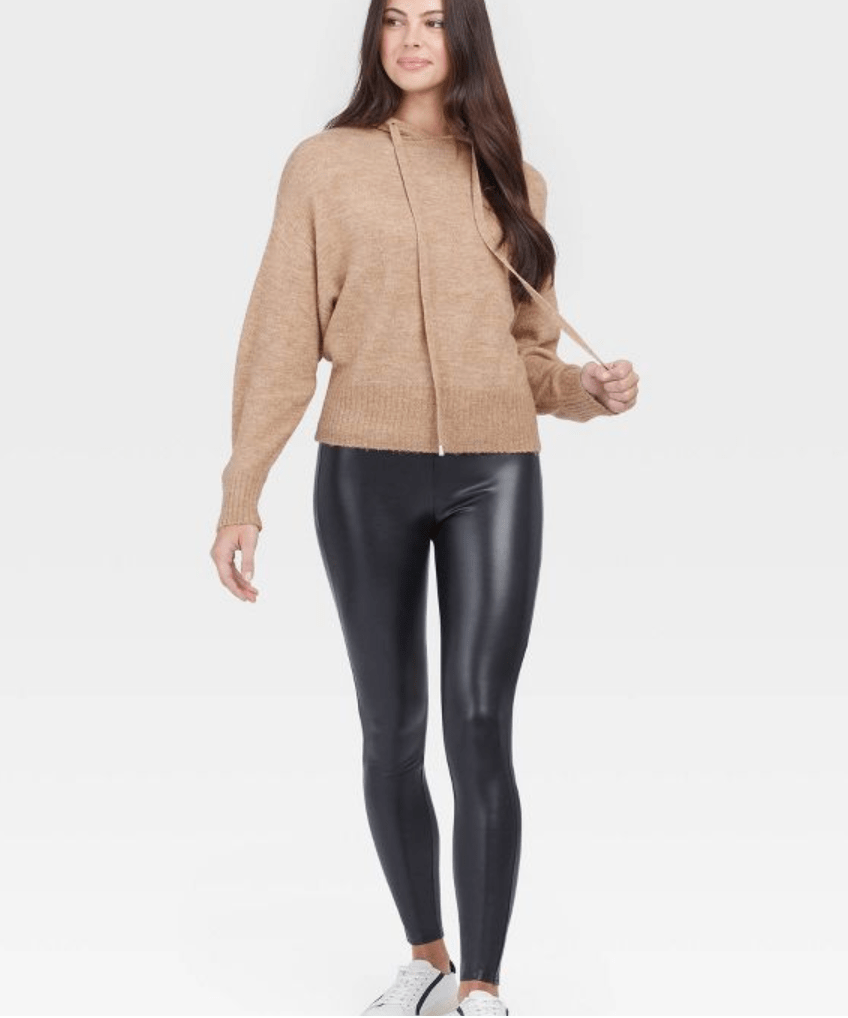 Target now offers a more affordable Faux Leather Leggings option from the Spanx brand. At only $40, The Assets by Spanx Faux Leather Leggings are less than half the price of the original Spanx faux leather leggings. However, since they are still from the Spanx brand you will get some of the same slimming benefits.
There are a few differences between the Assets by Spanx faux leather leggings and the original Spanx faux leather leggings.
The first difference you will notice is the waistband. The waistband is made from a matte elastic material that is different from the rest of the leggings. It is high waisted and has a good amount of compression, giving you that great tummy control we expect from the Spanx brand.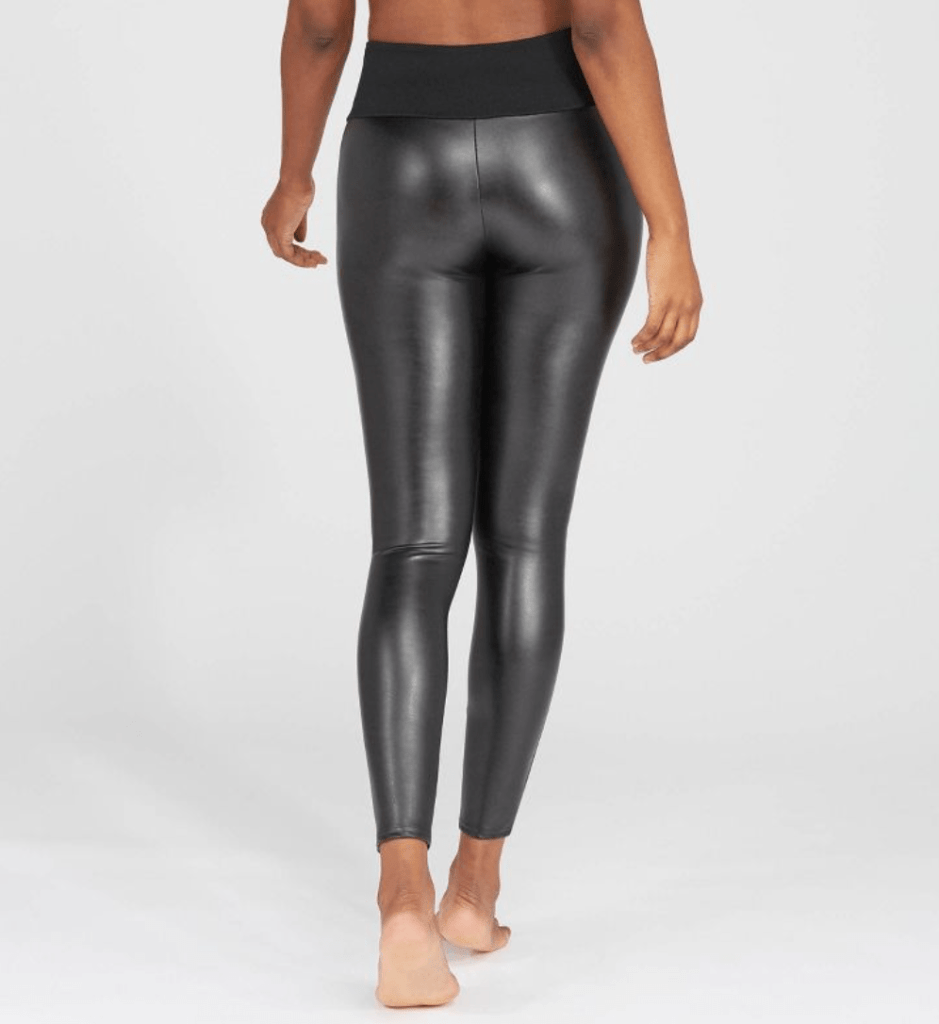 The other difference is the overall material. The Assets by Spanx faux leather leggings are slightly thicker than the original Spanx faux leather leggings and they don't have the double layered fabric so the compression isn't as good but it still gets the job done. They are also shinier than the original Spanx faux leather leggings.
Buy Assets by Spanx Faux Leather Leggings from Target