No matter your age, shape, or size, one thing that most moms struggle with is finding the perfect bathing suit. Most bathing suits either don't have enough coverage where it matters, are too tight, are too loose, or are just flat-out uncomfortable.
It is a challenge to find that ideal swimsuit that provides just the right amount of sexiness and style but also is modest enough to make you feel comfortable while chasing your little ones around at the neighborhood pool. In this article, we will discuss 12 of the best swimsuits for moms based on different body types (for under $40).
Features to look for in the Best Mom Swimsuit
Comfort/Fit: This is key. The material and cut need to feel comfortable on your skin and around your curves. You don't want it too tight or too loose in all the wrong places.
Proper Bottom Coverage: As a mom, it is important to look for a bathing suit that isn't too cheeky. It needs to have the proper amount of coverage where you aren't in constant fear of it riding up your bum.
Proper Bust Coverage: If you have little ones, you are aware that they tend to pull on you, so it's essential that your bathing suit top is tight enough and has the right amount of coverage so that one of your girls doesn't pop out.
Sexy Yet Modest: There is a "sweet spot" in swimsuits for moms, in which you feel sexy and are turning heads. However, everything is properly covered and in place to instill confidence and comfort.
Trending: Leggings Like lululemon: 10 Best lululemon Leggings Dupes (2022)
Best Swimsuits for Moms With an Athletic Build
Holipick Two Piece High Waisted Criss Cross Bikini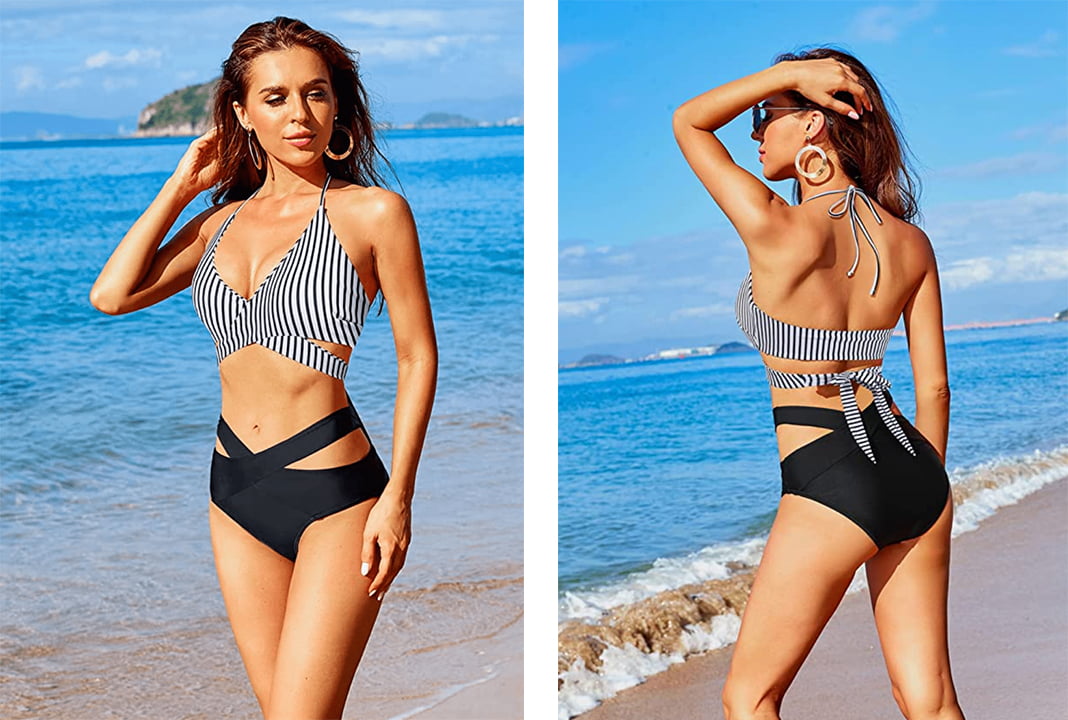 Price: $28.99
Material: Nylon/Spandex
Colors: 30
Sizes: XS – XXL
This is an excellent choice for our mamas with an athletic build.
This budget-friendly swimsuit has a unique cut sure to turn heads. The bikini top has a tie closure to provide a custom fit. The halter also has a "push-up" effect. The v-shape waistline adds a slimming effect as well.
---
DaiLiWei Women's Two Piece Ribbed Bikini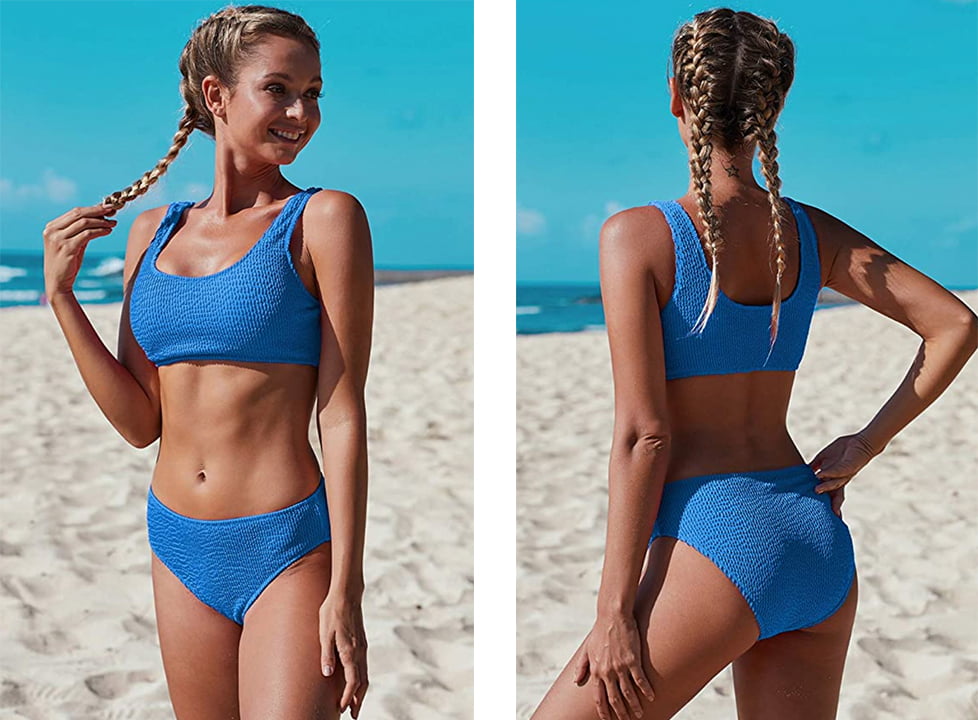 Price: $28.99
Material: Polyester/Spandex
Colors: 16
Sizes: S – XL
This feminine yet sporty bikini is an ideal choice for our fit moms with an athletic build.
The ribbed material adds a subtle detail sure to turn heads. The entire suit is fully lined to prevent anything from showing through. The bottom has a moderately high cut that elongates the legs. The bikini top is not only lined but has pads to enhance support and prevent your nipples from showing.
---
CharmLeaks Halter High Waist 2 Piece Swimsuit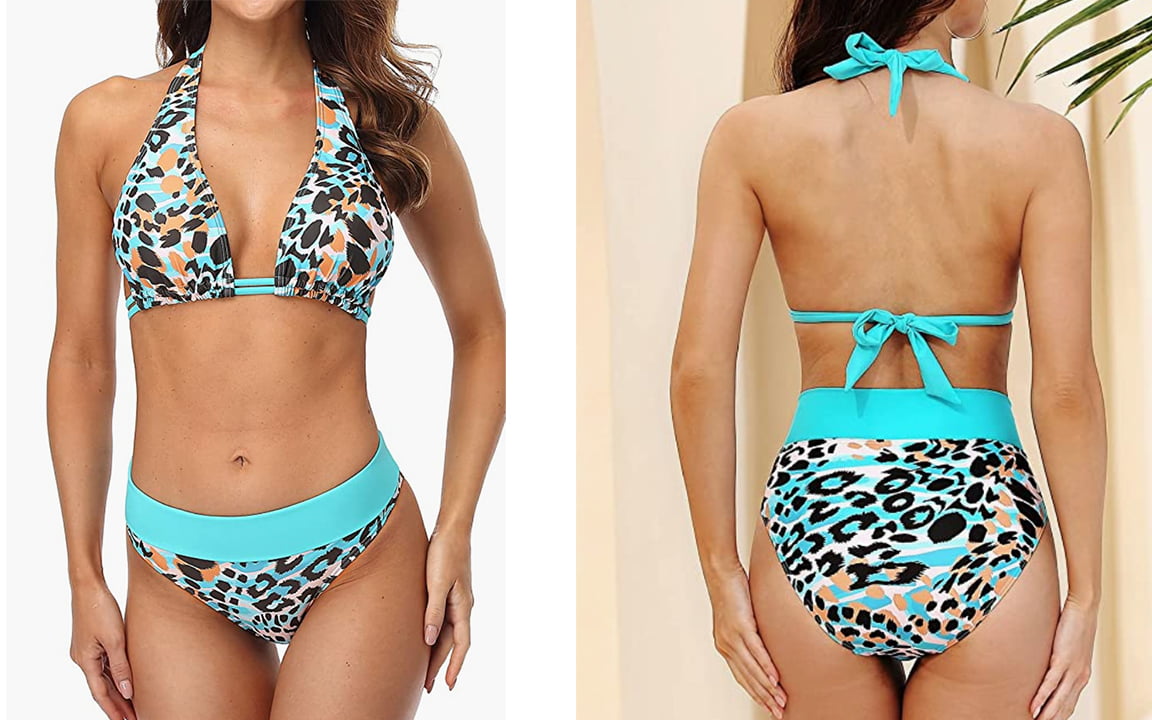 Price: $29.99
Material: Polyester/Spandex/Nylon
Colors: 11
Sizes: S – XL
Customers are loving this swimsuit for moms who are athletic because of the amount of customization it offers.
For starters, it has a sliding bikini top to provide more or less coverage. Additionally, there is a self-tie back to make it tighter or looser. And finally, it features a foldable waistband, so you have the option to wear it as a high-waisted bikini for more coverage or roll it down if you're feeling extra fit.
---
Best Swimsuits for Moms Who are Curvy
Aqua Eve Plus Size One Piece Bathing Suit with Sexy Halter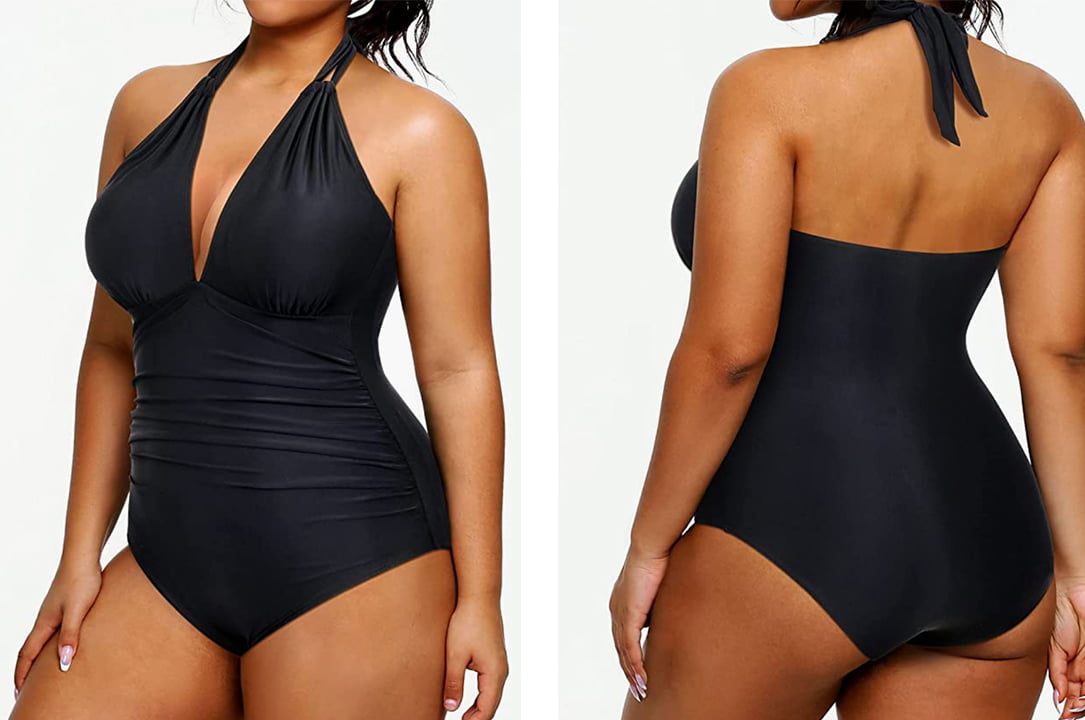 Price: $30
Material: Polyester/Spandex
Colors: 11
Sizes: 12 Plus – 24 Plus
Our curvy mamas are loving this plus-size one-piece swimsuit. The deep v-neckline and open back make this suit super sexy.
The halter top includes removable pads. It ties in the back so you can customize it to fit your body. This suit's design allows you to switch up the neckline by turning it into a keyhole style to accentuate your cleavage. The torso features a ruched design, giving your tummy a slimming effect while accentuating your curves.
---
B2prity Women's One Piece Tummy Control Swimsuit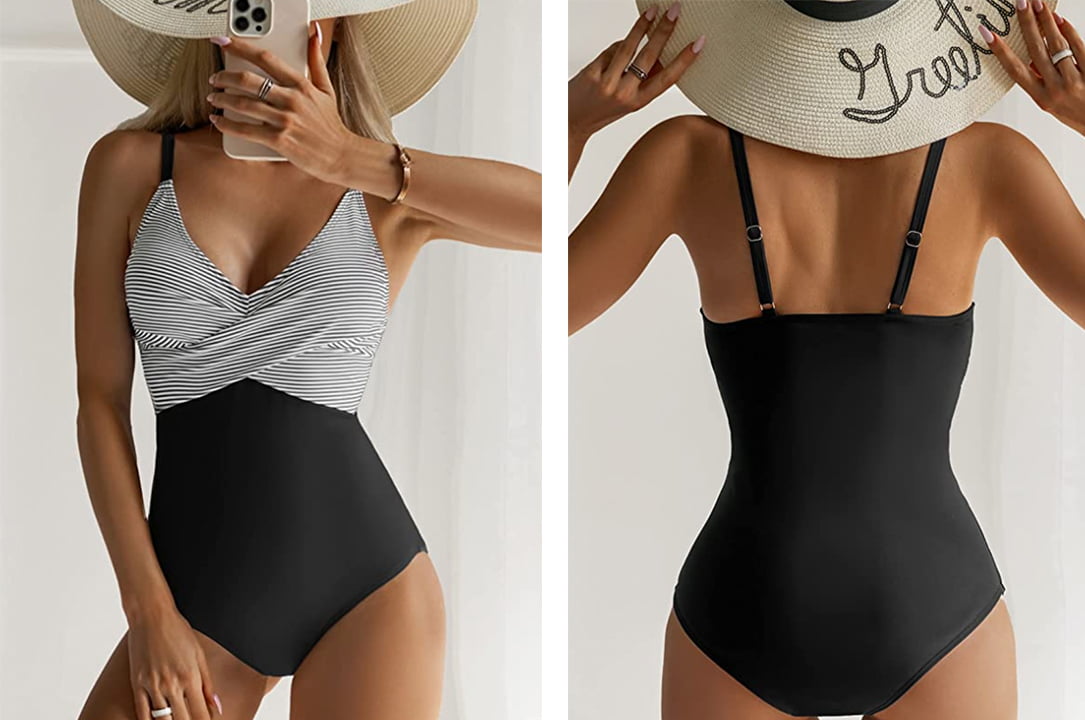 Price: $25.99
Material: Chinlon/Spandex
Colors: 40
Sizes: XS – 22 Plus
This one-piece swimsuit on Amazon accentuates your breasts and cleavage while remaining modest.
Our curvy mamas love the wrapped v-neck design on the top paired with a simple torso, while the bottom remains simple. It is a nice way to feel like you wearing a 2-piece without showing your tummy. The wrapped style top portion contains removable pads and an optimized bust design to provide extra support. It also features adjustable straps to accommodate both small and larger busted mamas.
---
Yonique Plus Size High Waisted Swimsuit with Tummy Control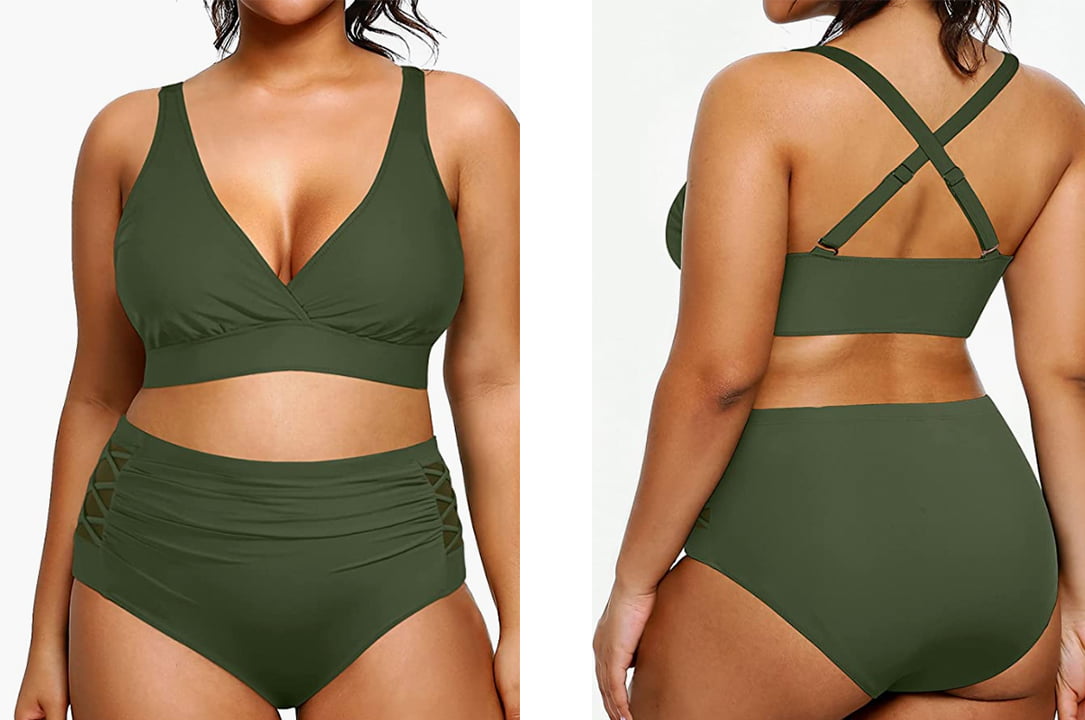 Price: $30.99
Material: Polyester/Spandex
Colors: 31
Sizes: M – 26 Plus
If you are a curvy mama but want to rock a two-piece bikini, then this is the bathing suit for you!
This two-piece swimsuit on Amazon features adjustable wide straps to accommodate all different-sized chests and busts. The bikini provides a lot of sex appeal but is also comfortable and supportive with a removable padded push-up bra. The bottom is lined and ruched to provide additional tummy control and coverage.
---
Best Swimsuits for Moms with a Large Bust
Yanekop Women's Two Piece High Waisted Swimsuit with Push-Up Halter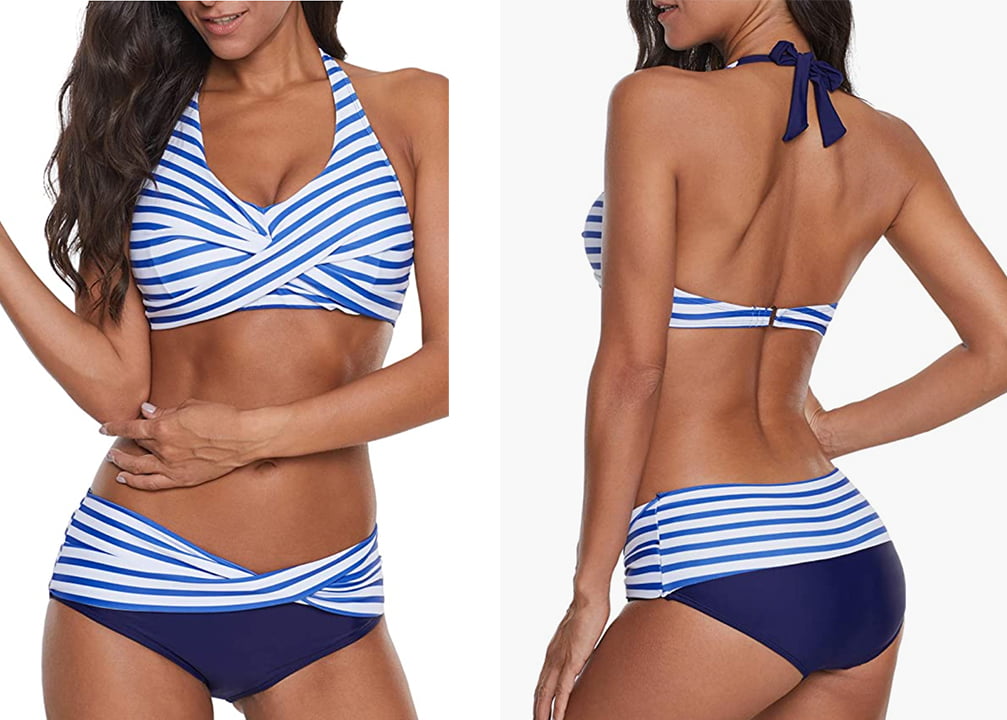 Price: $26.99
Material: Polyester/Acrylic
Colors: 17
Sizes: S – XL
This budget-friendly bikini has just the right amount of sex appeal and coverage.
The criss-cross halter top design adds support (and style). It comes with removable pads as well for additional coverage and support. The straps are adjustable too to better accommodate all sizes.
The bikini bottom is somewhat adjustable, so you can easily pull it up to cover those dreaded love handles. Additionally, the waistband is v-shaped, adding a nice slimming effect.
---
Tempt Me High Waist Retro Two-Piece Swimsuit with Rouched Halter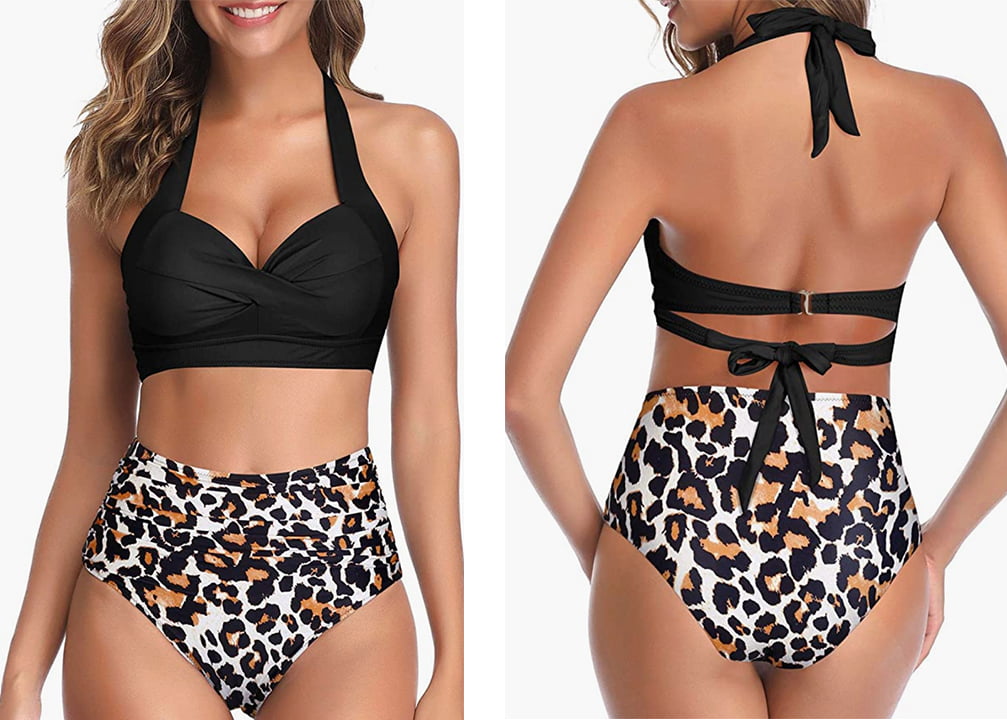 Price: $26.99
Material: Polyester/Spandex
Colors: 40
Sizes: XXS – 18 Plus
This retro high-waisted bikini has some fantastic reviews on Amazon. Customers are loving how secure and supportive the halter top is.
This criss-cross bikini top features two adjustable tie straps (one around the neck and one around the back) and a clasp closure on the back, providing ultimate support for bigger-busted moms.
The bottom is great as well. The pleated front panel is ideal for hiding any imperfection you might not want to show.
---
Husmeu Women's High Waisted Bikini with Mesh Contrast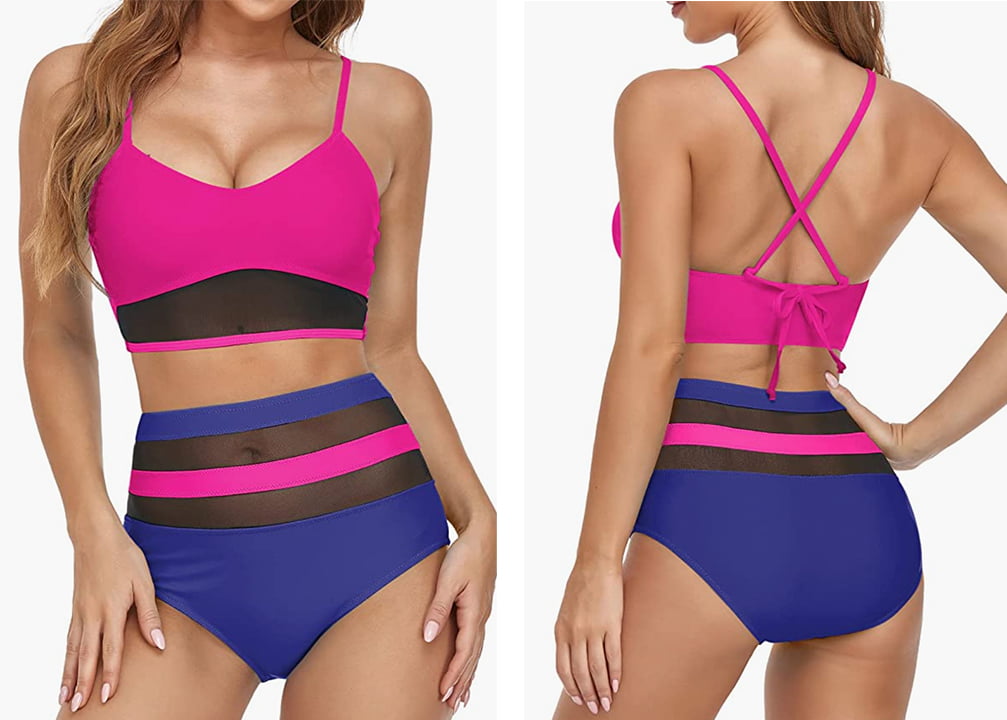 Price: $26.99
Material: Polyester/Spandex
Colors: 9
Sizes: S-XL
Not only does this budget-friendly two-piece bathing suit provide excellent bust coverage, but it also offers great tummy control.
The top is sporty and features an adjustable criss-cross back for customization and extra support. Additionally, this top is versatile and can be worn as a crop top for running or hitting the gym.
The bottom has a stylish contrast mesh design that hides your belly but highlights your curves.
---
Best Swimsuits for Moms for Tummy Control
Tempt Me Tummy Control High Bathing Suit with Front Tie Halter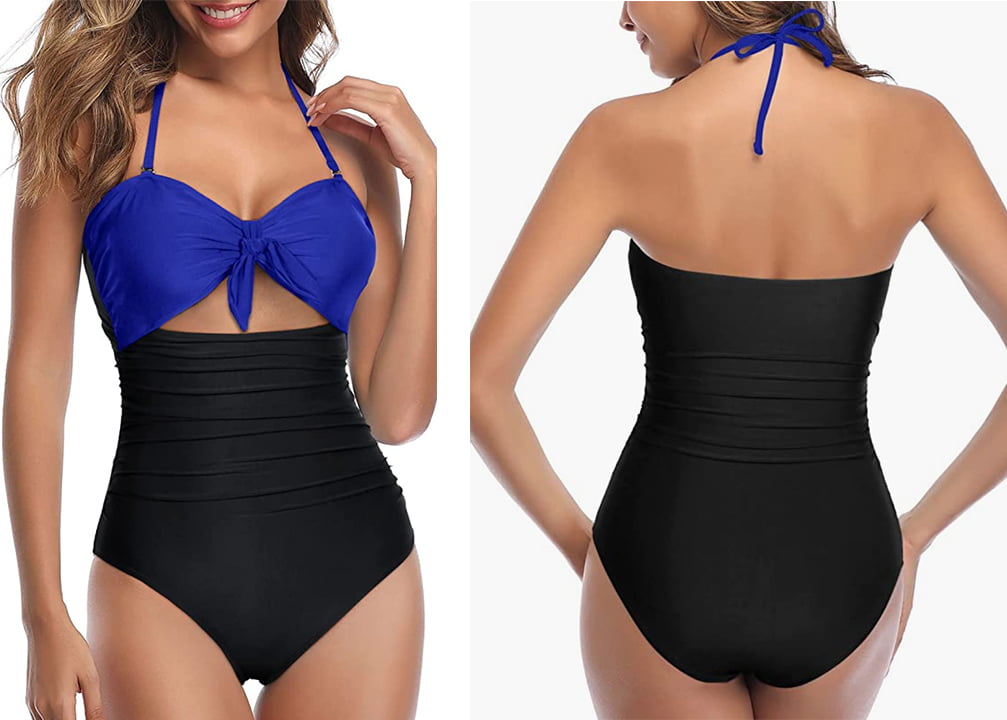 Price: $33.99
Material: Nylon/Spandex
Colors: 36
Sizes: XXS – 24 Plus
This swimsuit is an excellent choice for moms of all shapes and sizes. It is especially ideal if you have a "mommy pouch." The ruching in the torse gives an excellent slimming effect and hides any imperfections.
The top features an adjustable halter top and tie knot design that is super sexy yet provides excellent coverage simultaneously. It looks great on both large and smaller-breasted moms.
---
SFHFY One-Shoulder One-Piece Swimsuit with Ruffle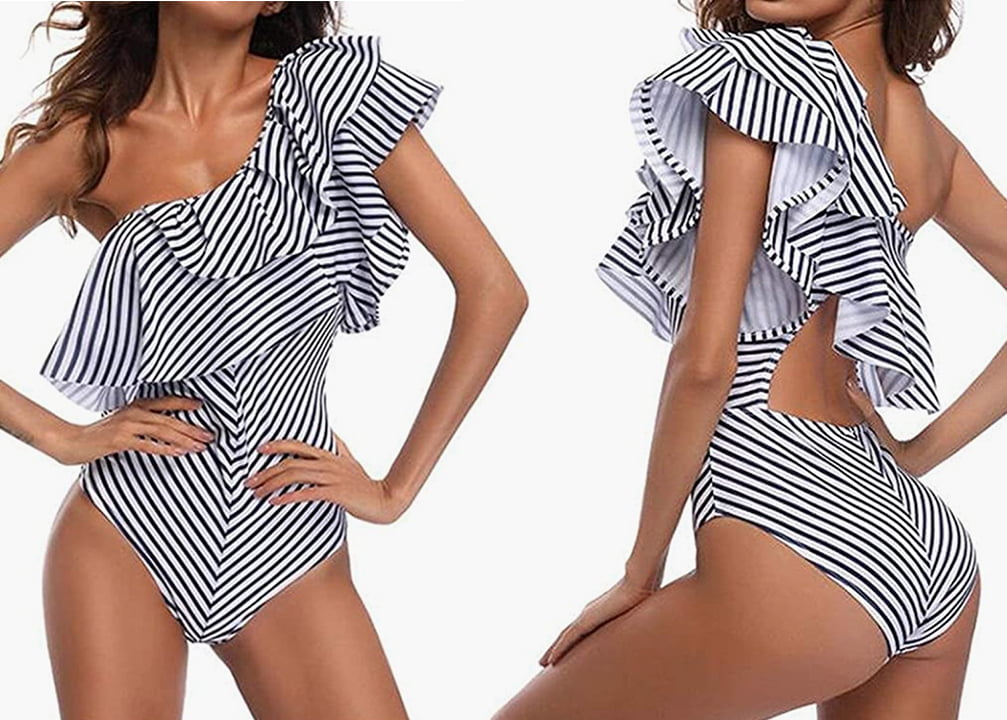 Price: $26.99
Material: Polyester/Spandex
Colors:
Sizes:
This one-shoulder, ruffled, one-piece bathing suit is a stunner. Customers are loving the slimming effect that the design offers.
The lines in the design create a slimming effect. The ruffle on the top also has a way of making the tummy appear narrower. Overall, this suit has great sex appeal while remaining modest and comfortable.
---
Holipick High Neck One-Piece Swimsuit with Mesh and Open Back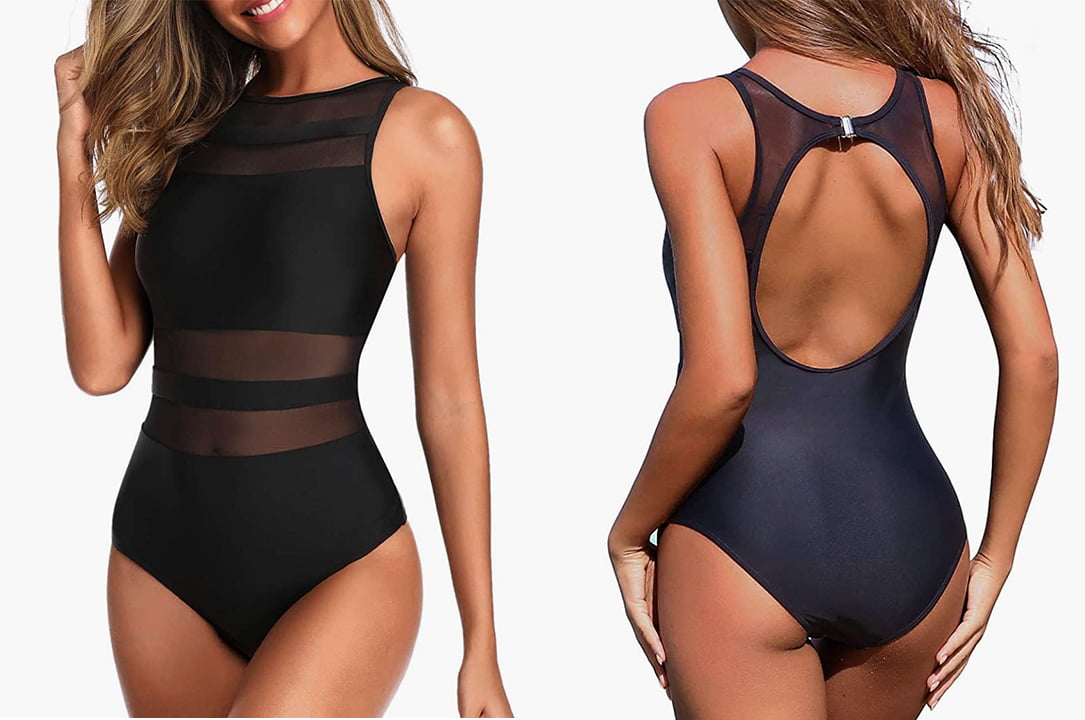 Price: $32.99
Material: Nylon/Spandex
Colors: 16
Sizes: XS – XXL
This one-piece swimsuit is ideal for all moms but is especially great for moms who want some extra tummy control. It hides any imperfections but is very sexy at the same time.
The contrast mesh design is great for moms with an hourglass figure since it highlights your curves while hiding the mom pooch.
The back features a beautiful open back and medium coverage on the bottom so that you will feel sexy yet comfortable.