Vuori Joggers offers a fashionable and functional choice that can be worn everywhere and for any activity, from relaxing to working out, doing errands, and going on vacation. Typical Vuori joggers combine the comfort of sweatpants with the slightly tighter fit of leggings.
While they have been recognized for the high quality of their products, their prices for specific clothing items are expensive. As a result, most individuals cannot afford to spend $100 or more on a single piece of clothing.
Like this article? Bookmark LuxYouLifestyle.com to look elegant and classy while on a budget!
As a result, we discovered several Vuori jogger dupes that are available on Amazon. So, if you've been looking for a new pair of Vuori joggers, take advantage of these under $30 alternatives from Amazon…
Here are the Top 10 Vuori Jogger Dupes Available on Amazon…
Vuori Boyfriend Jogger Dupe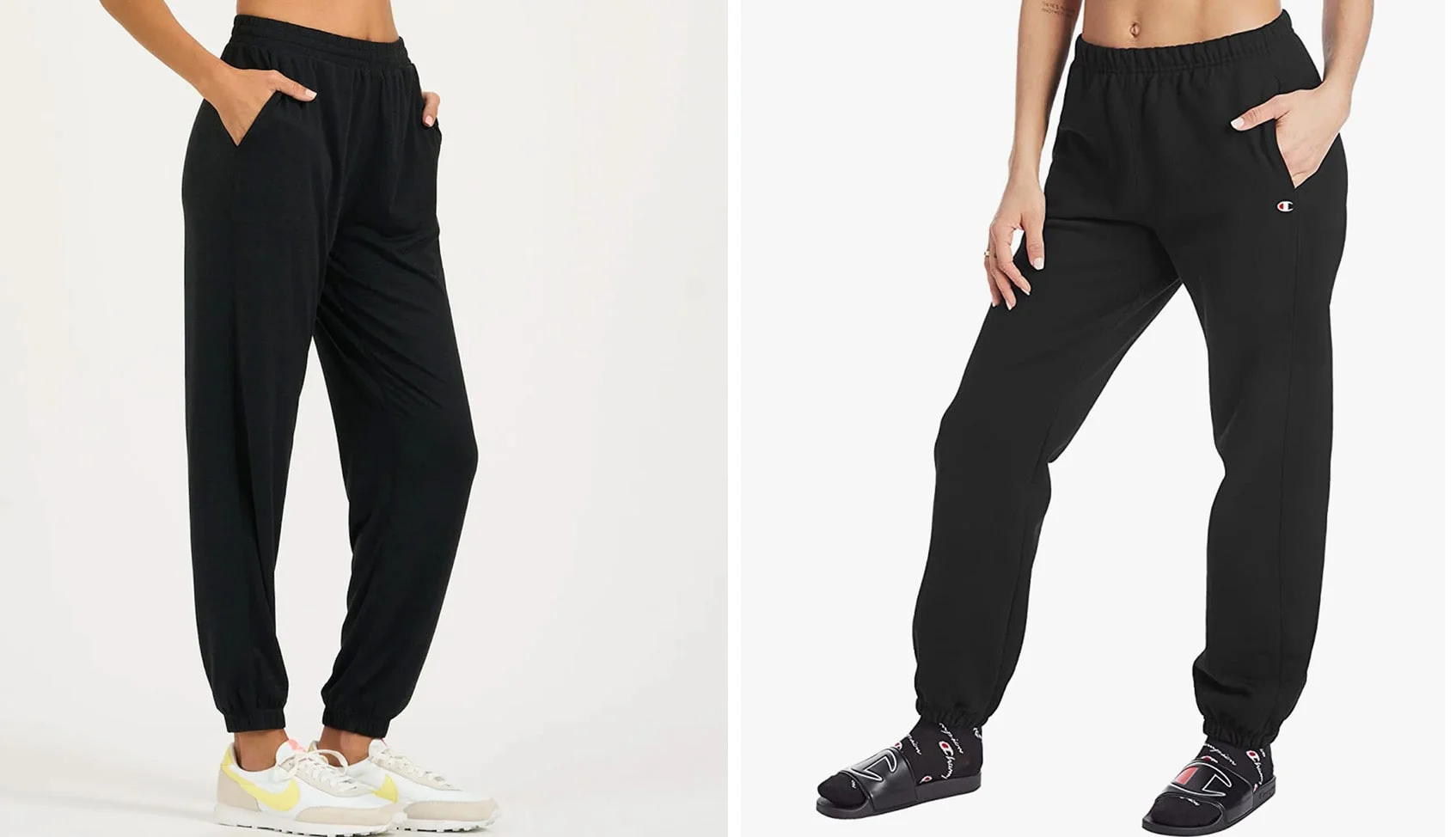 The Vuori Boyfriend Joggers are very comfortable. They are made of soft brushed jersey with a midrise elastic waist, two side pockets, and a fabulously roomy fit. They are the perfect lazy Sunday jogger.
Despite their good quality, Vuori boyfriend joggers are pricey at $98. Fortunately, there are some Vuori boyfriend jogger dupes available in numerous colors and sizes on Amazon with a similar look to the original. 
These Champion's Reverse Weave boyfriend joggers for women are made of soft, brushed interiors and are double-stitched for durability. 
However, they vary in terms of material. The alternative is made of 82% cotton and 18% polyester, while the original is made of 13% elastane and 87% recycled polyester.
But they both have an adjustable draw cord for the perfect fit. The single back pocket is a bonus that the original does not have, making them more ideal for storing small essentials.
Trending: 10 Vests Similar to the Lululemon Wunder Puff Cropped Vest
Vouri Weekend Jogger Dupe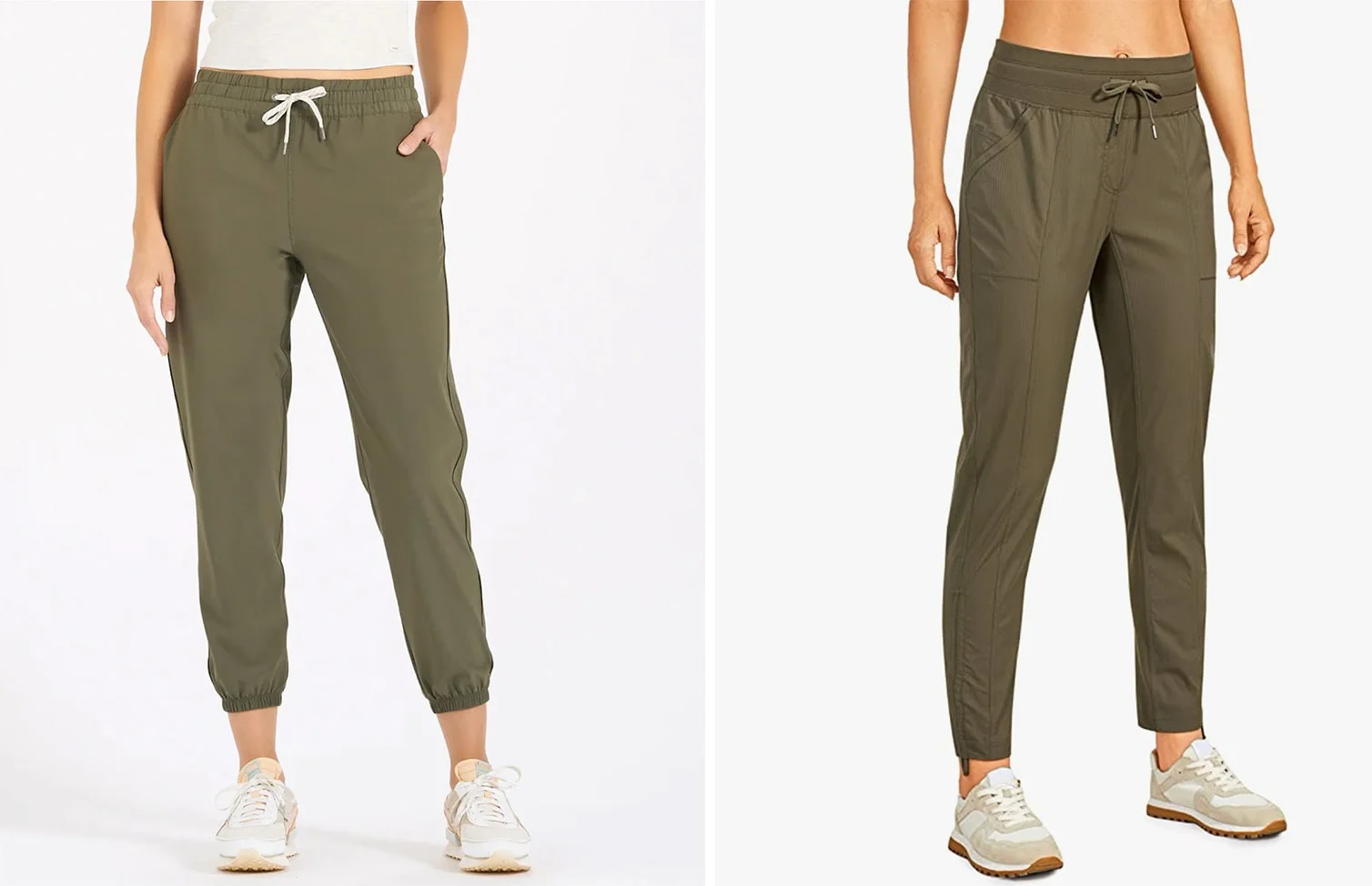 If you're looking for a stylish pair of joggers that won't compromise comfort, consider the Vouri Weekend Jogger. It's crafted from high-quality materials that stretch in all directions and wick away sweat. 
Vouri Weekend Jogger's price tag is $84, but you can purchase its dupe on Amazon from $30.00 – $32.00. This Crz Yoga Womens Casual Weekend Jogger is similar to the original one; as they both are made of lightweight, woven vertical pinstripes for a slimming aesthetic that are also incredibly breathable and durable. 
As a result, they are a little stiff and structured but have highly quick-drying and sweat-wicking. 
Both contain two side pockets, but the alternative adds an extra back pocket to keep your belongings like keys, cards, and phones. The flexible waistband is wide for no dig-in or muffin top and has a draw cord for a personalized fit.
Furthermore, the joggers on Amazon have elastic strips placed throughout the legs for more excellent give and enhanced ventilation and mobility. They also feature a drawstring at the ankle so you have the option of adjusting the length.
Vuori Performance Jogger Dupe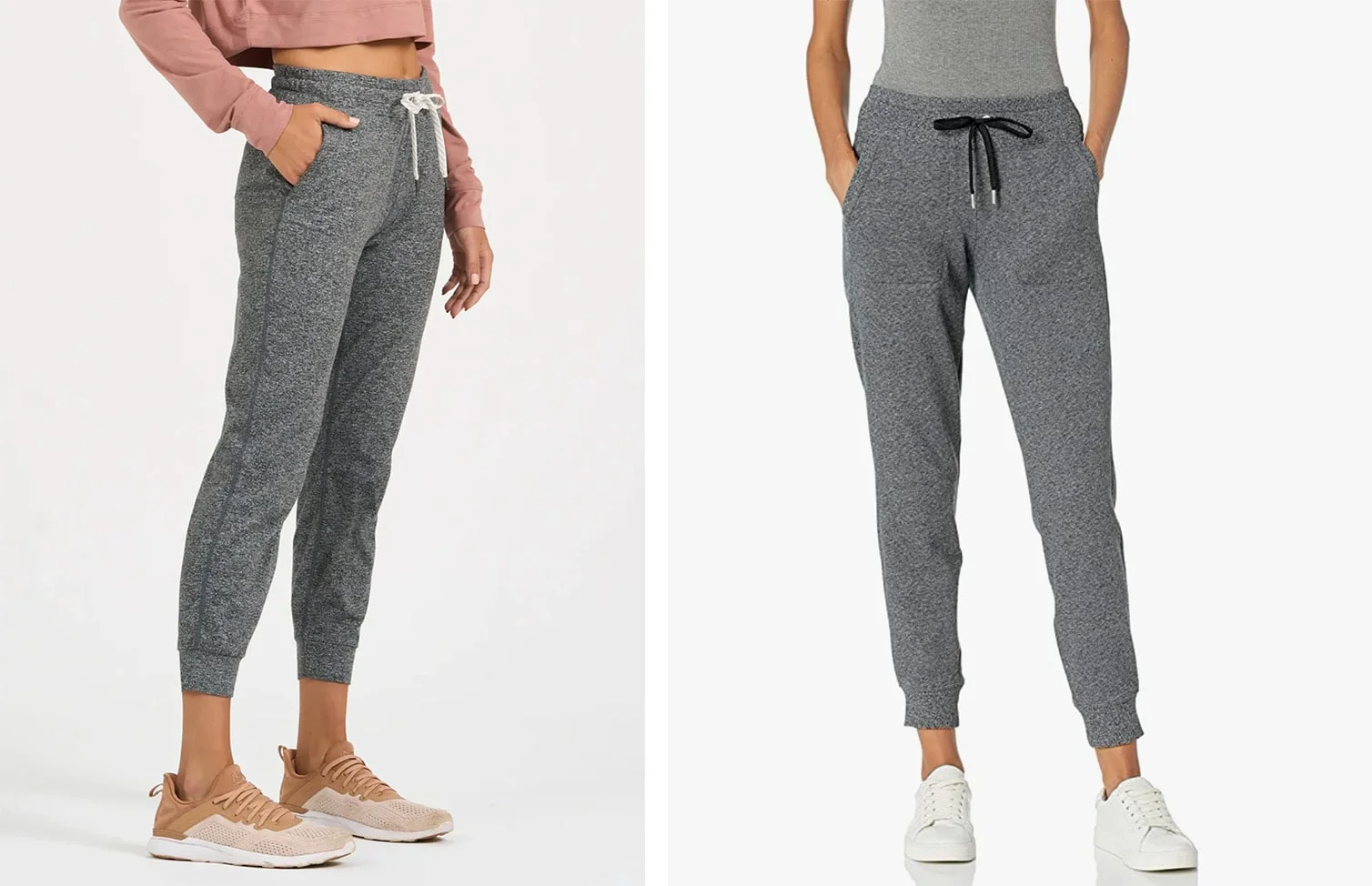 Vuori Performance Joggers are smooth and easygoing joggers that are trendy enough for running errands and will make your work-from-home trousers more comfortable.
In terms of design, these performance joggers offer a narrow yet relaxed fit, side pockets, a slightly cropped leg, and a drawstring. They're your new go-to, made from the softest premium stretch fabric.
Unfortunately, for most people, $94 is too much money to spend on a pair of joggers. If you want something comparable but less expensive, with similar features and over a dozen colors then the next pair of Vuori jogger dupes have you covered.
These Calvin Klein Women's Premium Performance Fleece Joggers look and feel just like the original. 
The only difference is the material. The joggers on Amazon are made of 40% warm poly fleece and 60% cotton, with an adjustable closure and drawcords. While the original one is made of 11% Elastane  and 89% Recycled Polyester.  
However, both include a ribbed elastic waistline and stretch ribbed cuff for enhanced mobility. But the dupe has an iconic 1.25-inch embroidered Champion C logo for additional elegance. 
Vuori Miles Jogger Dupe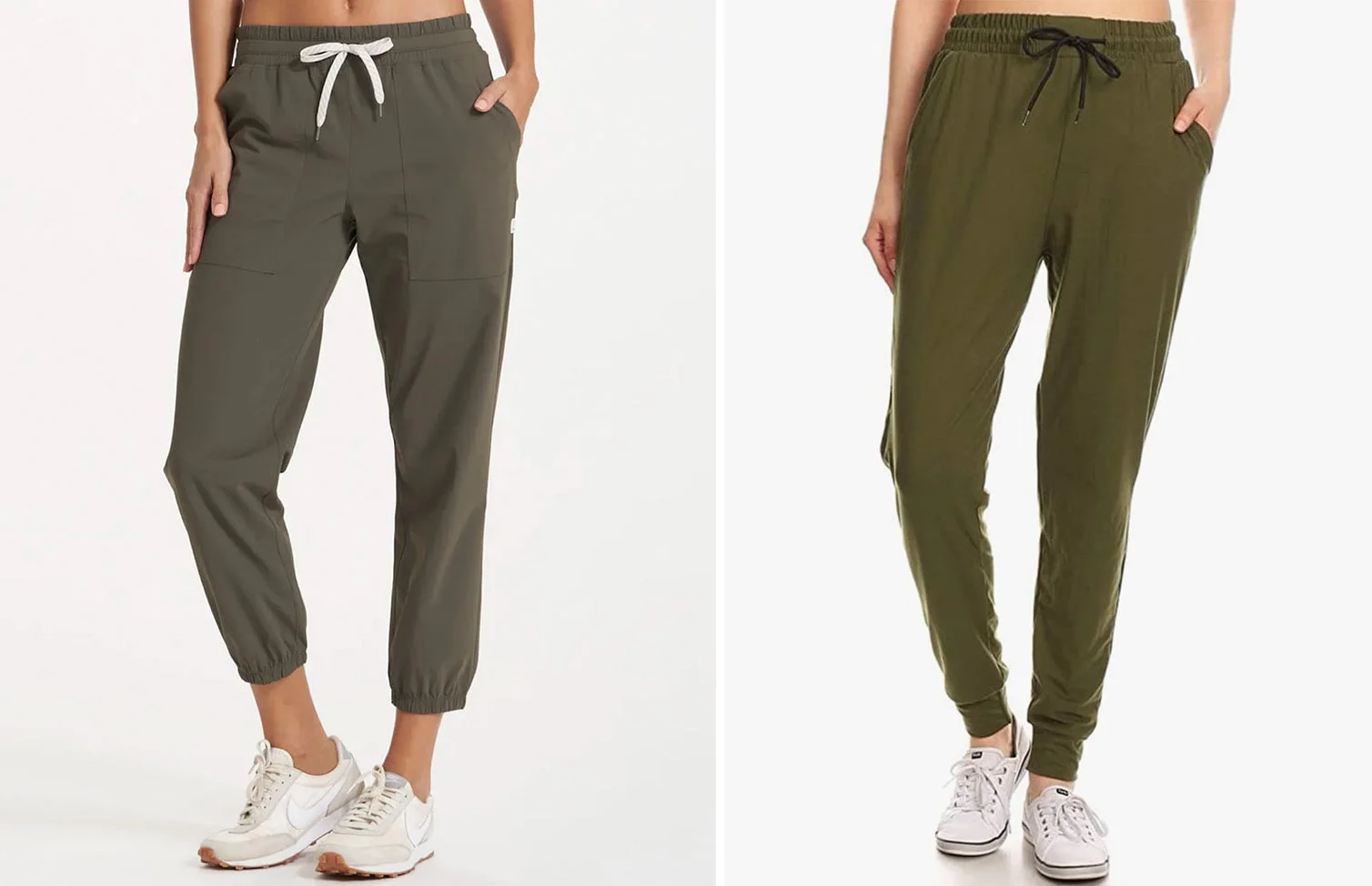 Vuori Miles Joggers are crafted from high-quality materials that stretch in all directions and wick away moisture to keep you dry. Nothing will slow you down with this sustainable performance fabric that is so breathable and weightless. This is ideal for vacation or your next adventure.
The pricing of the Vuori Miles Joggers is $118. Luckily, Amazon sells a similar jogger with comparable features from $9.99 to $16.99.
Leggings Depot Women's Printed Solid Activewear Jogger is similar to the original Vuori Miles Joggers. Both joggers are made of high-quality materials that stretch in all directions and keep you dry with a moisture-wicking fabric. 
However, there is a tiny material difference. The alternative is made of 84% polyester and 16% spandex, while the original is made of 21% elastane and 79% recycled polyamide. 
Additionally, both joggers contain pockets on both sides, and are intended for everyday usage and will keep you comfortable all day. 
Vuori Daily Jogger Dupe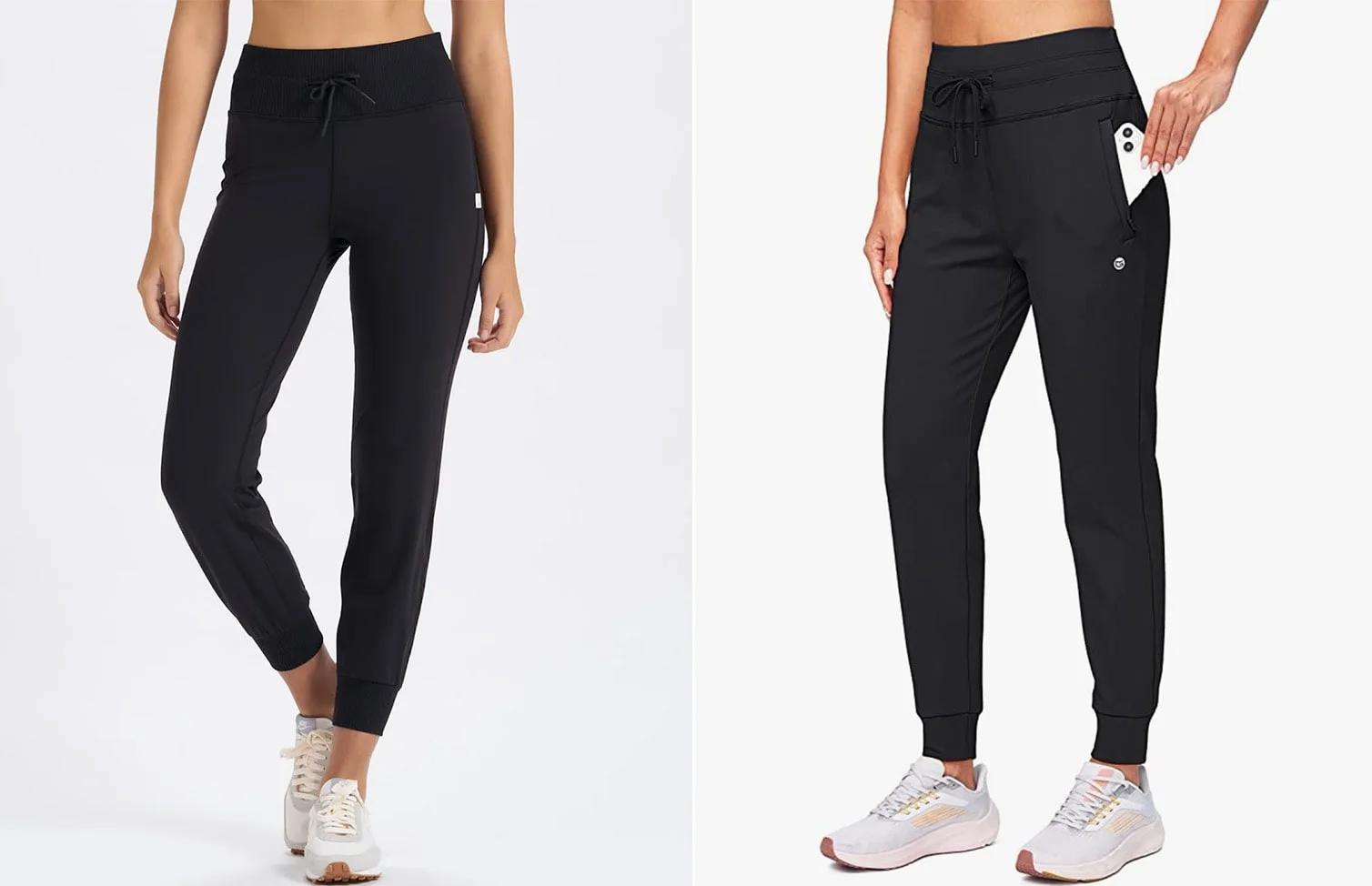 Vuori's daily joggers are so cozy and comfortable. They feature a ribbed high-rise waistband, breathable fabric, and beautiful cuffs. These joggers are excellent for yoga, jogging, hiking, and travel.
While these joggers have some appealing characteristics, they are also expensive at $98. So we found a less costly but similar pair for you on Amazon called G Gradual Women's Fleece Lined Joggers for $$28.99 – $29.99
Both joggers are made of thermal, durable, water-resistant covering that keeps you warm and dry while walking your dog on a rainy or light snowy day or similar activities.
Additionally, they have a 4-inch waistband with an adjustable drawcord that provides mazing belly control exactly like the original.
However, unlike the original, these fleece-lined Vuori jogger dupes offer two zipper pockets for storing your phone and valuables, allowing you to free your hands while exercising or to put your hands in when it's chilly.
Vuori LUX Harem Jogger Dupe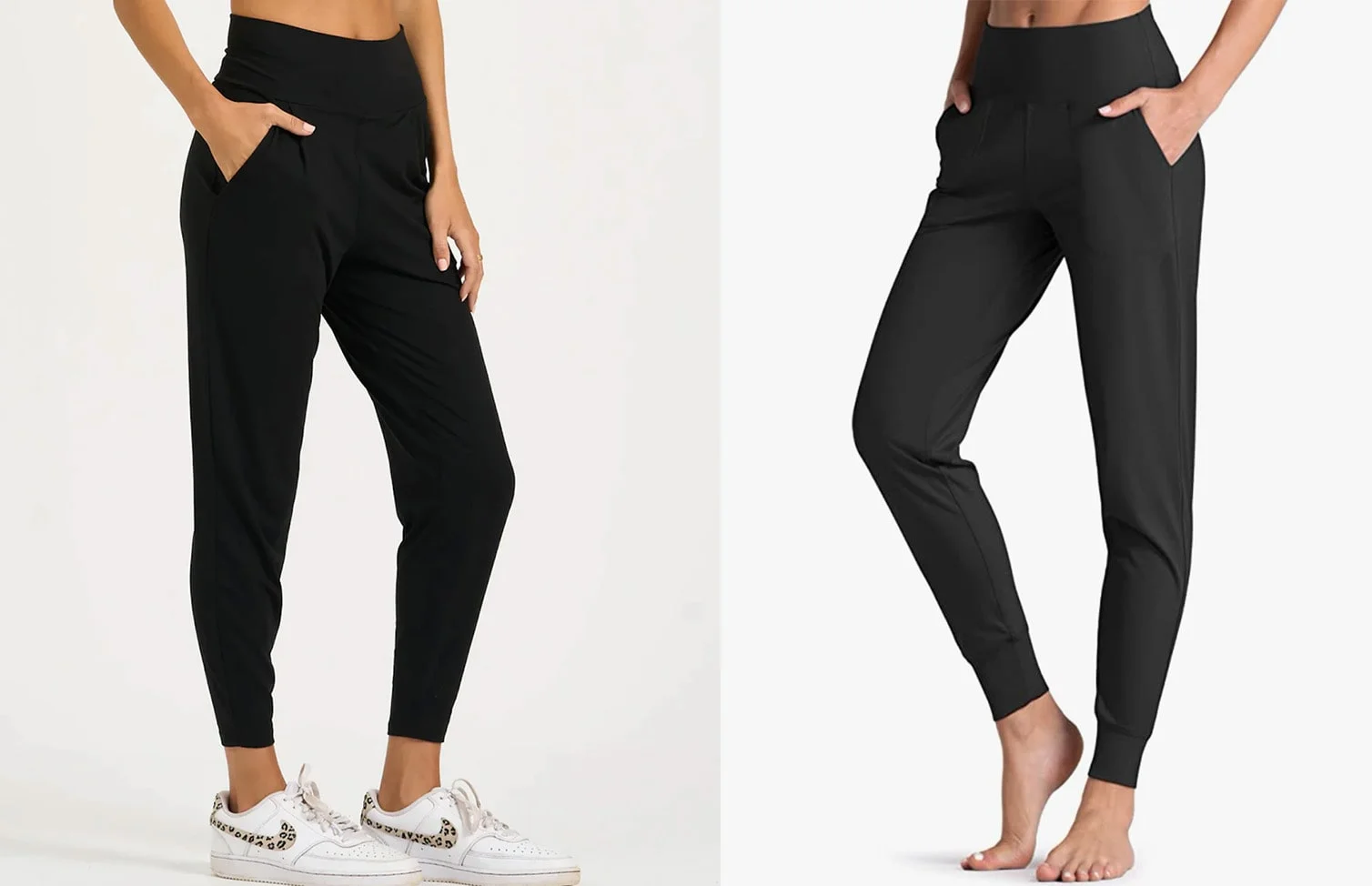 Vouri Lux Harem Joggers are light and silky. They feature a high-rise wide waistband, side pockets, and a slim yet comfortable fit.
The Lux Harem Pants provide all the performance qualities required for training. You get five options in color when you buy these Vouri Lux Harem joggers for $78. However, you can get its cheaper look-alike with the same features as the original at $18.99 – $29.99.
The look-alike is Wjustforu joggers, made of Polyamide and Spandex fabric, which will give a slightly different feel than the original. The original is made of a midweight fabric, and the dupe is exceptionally soft, quick-drying, and lightweight.
Additionally, It features a 4-way stretch construction, giving you greater range of motion. They also offer belly control with a wide waistband to streamline your form. Both joggers include two side pockets large enough to hold a credit card or a key.
Vuori Halo Performance Jogger Dupe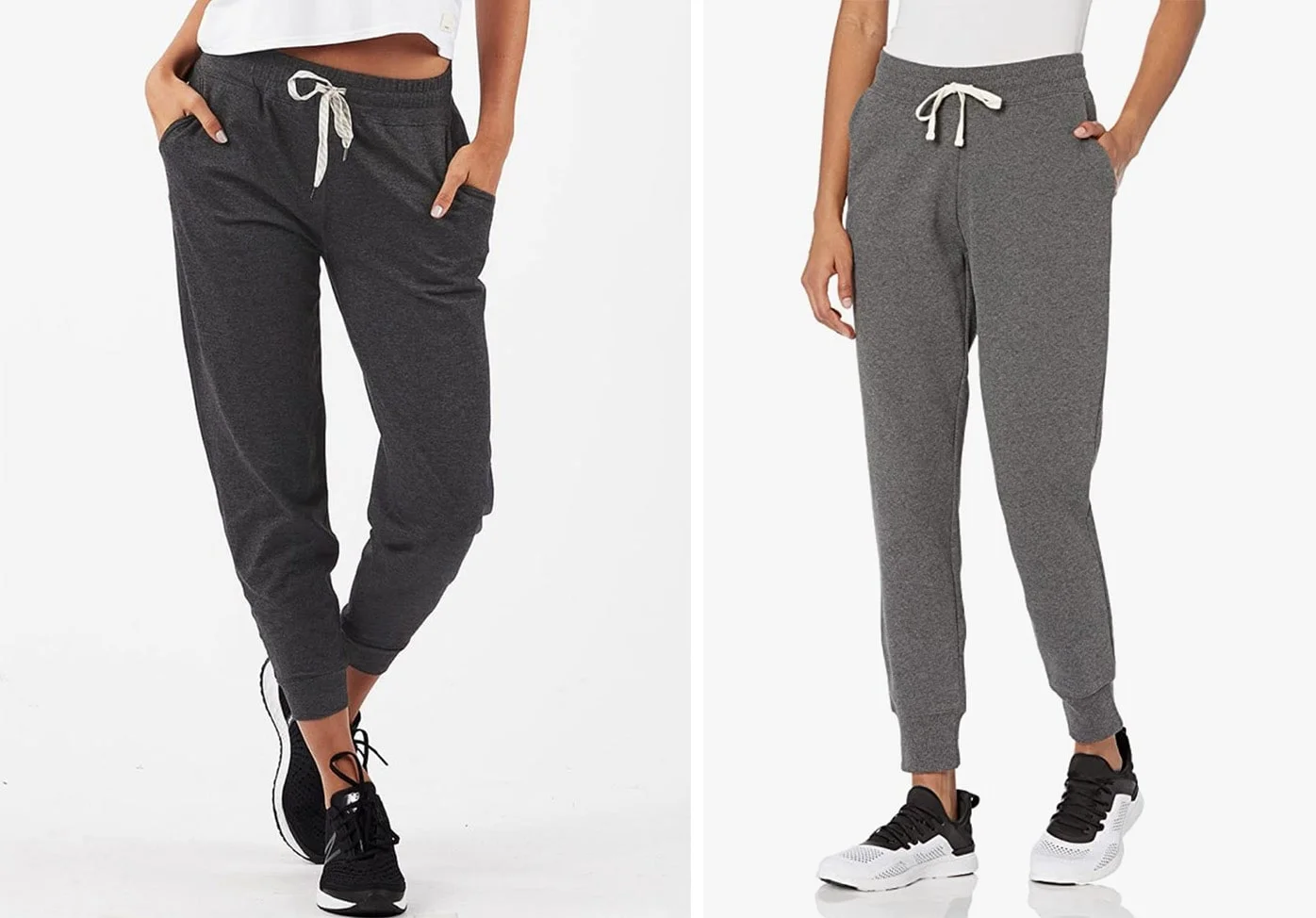 Vuori Halo Performance Joggers are lightweight and comfy. However, a pair of Vuori Halo Performance joggers is $94. That's why we went shopping on Amazon and came up with these Vuori jogger dupes that are similar.
Women's French Terry Fleece Joggers are similar to Vuori Halo Performance joggers and range in price from $12.00 to $25.10. The only variation is the material, which is 60% Cotton/40% Polyester, while the original has a premium stretch fabric.
In terms of design, both joggers include two large side pockets for storing items. Slide your smartphone and money into your pockets and go about your business. Very handy for everyday use! 
Furthermore, both joggers feature an elastic band and adjustable drawstring.
Vuori Lux Rib Performance Jogger Dupe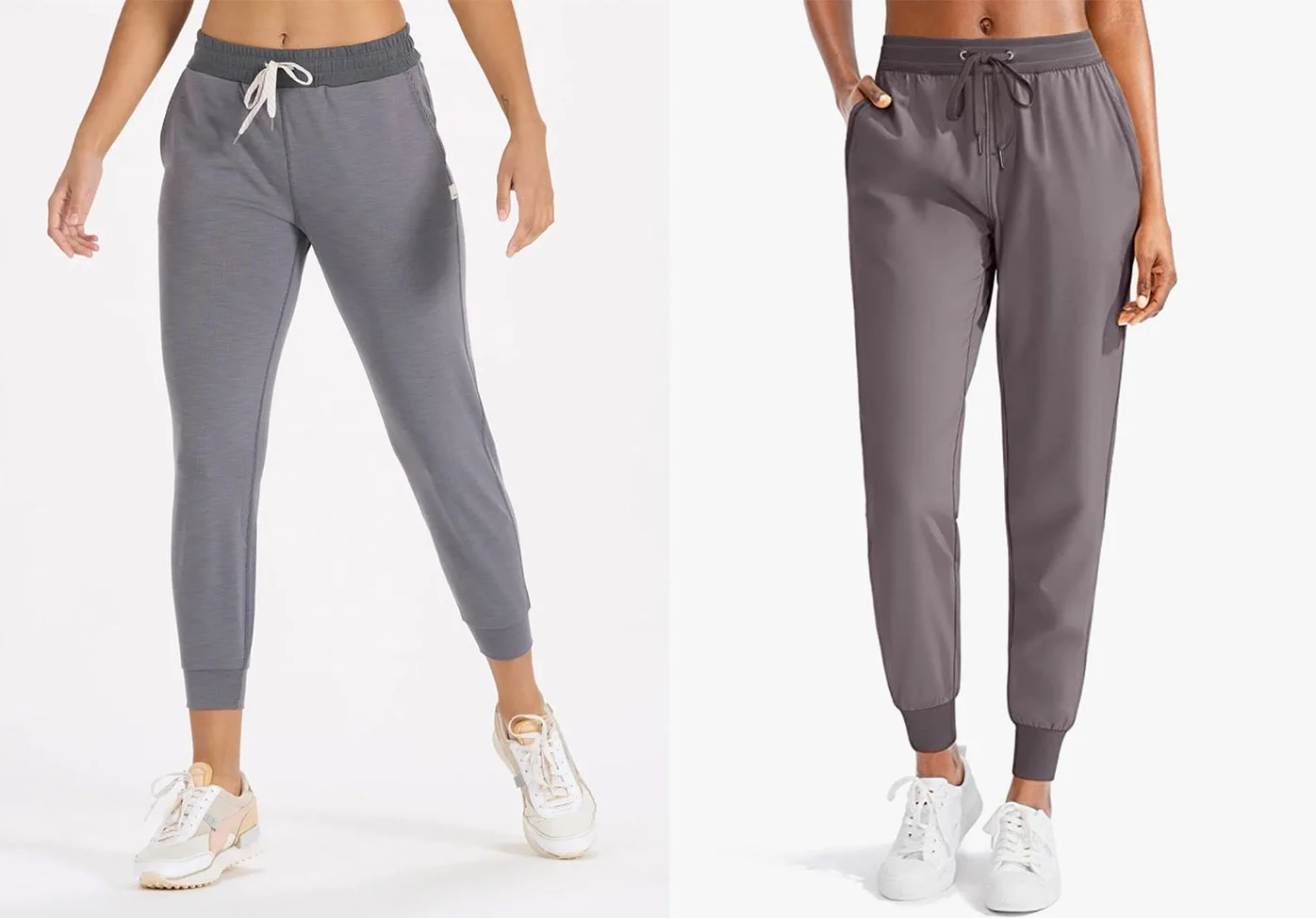 You can change up your jogger profile with this ultra-soft Lux Rib Performance Jogger. They have a relaxed fit, a mid-rise design, two side pockets, a drawcord, and a comfy elastic waistband.
On the other hand, the Vuori Lux Rib Performance Joggers will set you back $62. We did some research and discovered something similar on Amazon for around $25.
Soothfeel Women's Joggers are comparable to the originals; however, the material is somewhat different. Soothfeel women's joggers are constructed of 95% polyester and 5% spandex, making them lightweight and breathable.
Both joggers feature two side pockets, but the Soothfeel Women's Joggers include two back pockets as well. The side pockets are deep enough to fit your hands, phone, and wallet.
Furthermore, both joggers are spacious across the glutes and thighs without becoming baggy. These loose-fitting, sweat-wicking joggers keep you cool and protected after workouts and beyond.
Vuori Summits Woven Jogger Dupe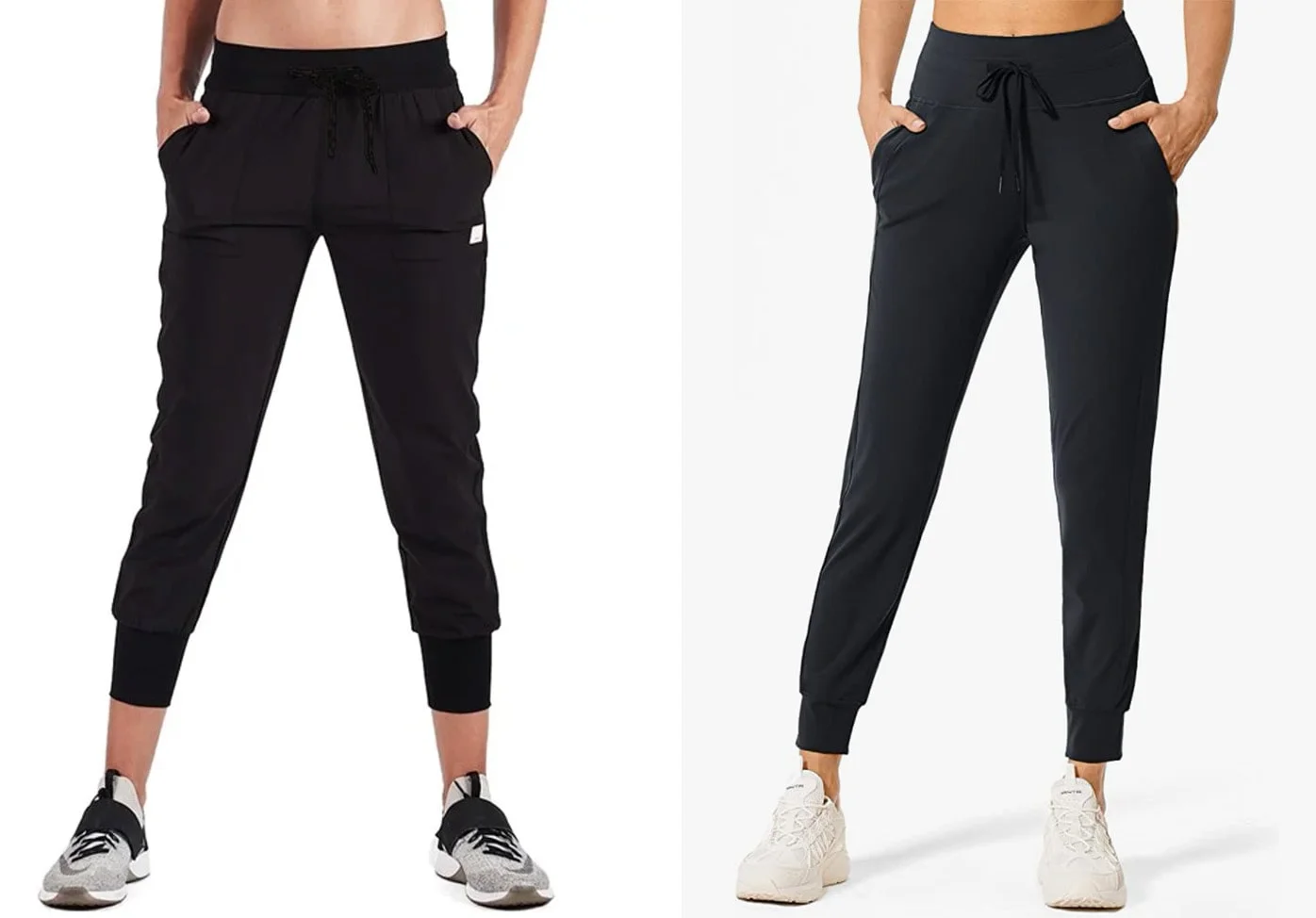 Vuori Summits Woven Jogger is a fabric that is incredibly flexible, skin-friendly, wrinkle-free, and does not attract hair. These joggers have a 4-way stretch and allow you optimal comfort.
These adaptable sweatpants are ideal for workouts, running, yoga, hiking, golf, jogging, fitness, outdoor activities, lounging, casual wear…pretty much anything! Their tag price is $61.99. However, these Vuori jogger dupes on Amazon are much cheaper at $26.
ZUTY Joggers are similar to the original ones, with slightly different materials. Zuty joggers comprise 75% nylon and 25% spandex, making them softer and more comfortable than polyester. The lightweight, four-way stretch ensures optimal comfort, support, and coverage throughout your exercise.
The original has a performance 4-Way Stretch Ripstop Fabric with 86% Polyester and 14% Elastane.
However, both feature a high-rise elastic waistband that will not dig in or slide down and give superior tummy control. In addition, they each include two side pockets that are deep enough to accommodate your phone, keys, wallet, and cards and are easily accessible.
Vuori Ripstop Jogger Dupe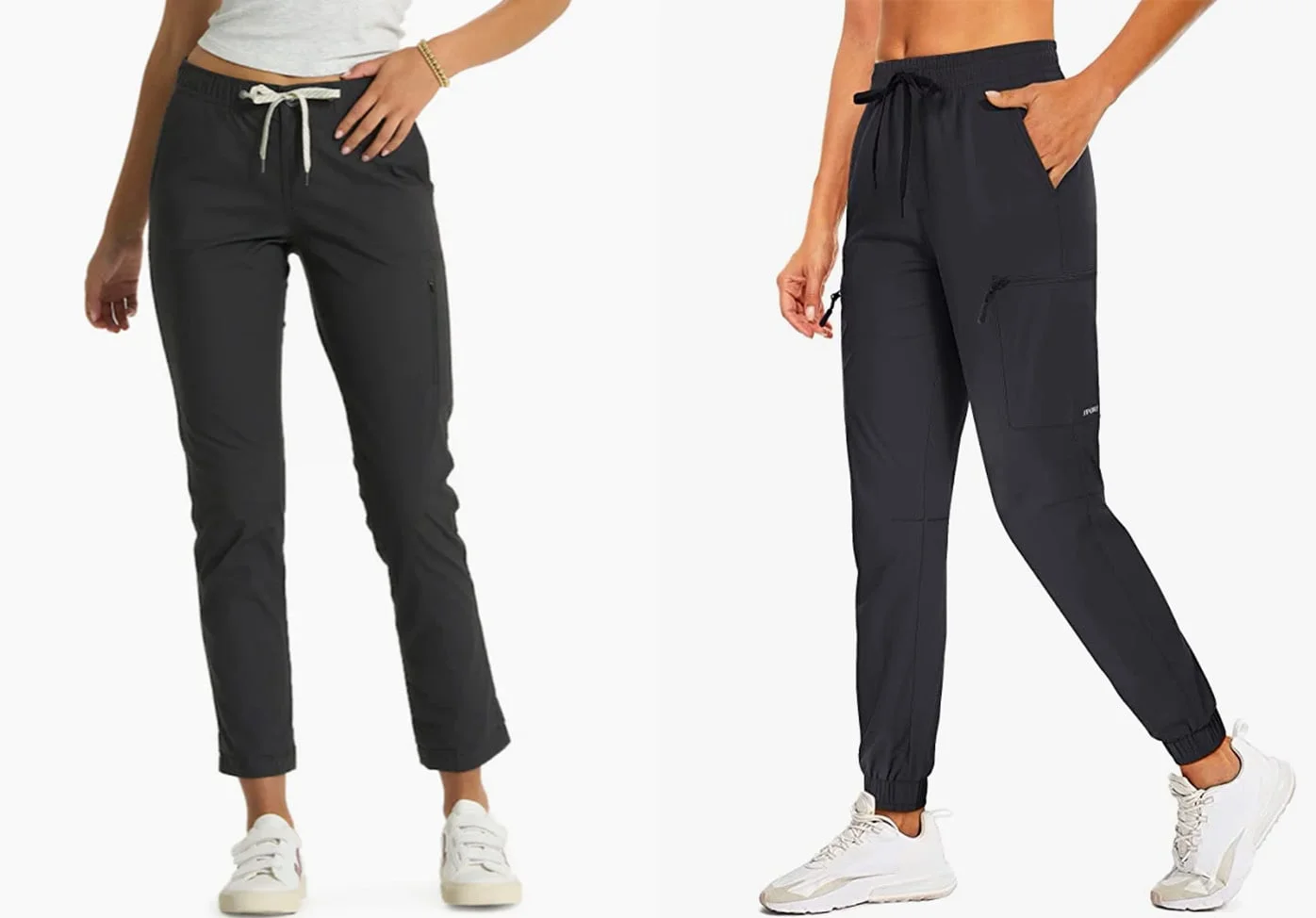 The Vuori Ripstop Joggers are a slim fitting cargo pant that feature the Dura Terra® fabric that has a two-way stretch for increased range of motion when staying active outdoors. The cotton/elastane blend will also provide you ultimate comfort. 
The pricing of the original Vouri Ripstop Pants is $98. However, we found these Vuori jogger dupes for only $26.99. These Quick Dry Cargo Joggers were made for the outdoor enthusiast. They have a whopping 6 pockets to store all your essentials…including two slant pockets, two zippered thigh pockets, and two back pockets. Additionally, they are a lightweight, stretchy, quick-drying, water-resistant, and breathable to keeps you cool and fresh all day.
The main difference you will notice between these two joggers is at the ankle. The ankle on the Vuori pants is wider and does not have any kind of cuff, while the Amazon alternative does.
Final Thoughts: Vuori Jogger Dupes On Amazon
Vuori is a great company that makes high-quality clothes, but they are costly. If you have the money, you should buy Vuori. 
But you shouldn't feel bad about buying Vuori jogger dupes if you don't have as much extra money. They are almost the same and cost a lot less. Thanks for reading!
Joggers Like Vuori FAQs
[sc_fs_multi_faq headline-0="p" question-0="Which Vuori jogger is softest?" answer-0="The Performance Joggers have a slim but relaxed fit with a slightly cropped leg, side pockets and a drawstring. Designed with DreamKnit™, our softest premium stretch fabric, they're your new go-to." image-0="" headline-1="p" question-1="Why is Vuori so soft?" answer-1="Lululemon joggers are made from "buttery-soft" (80% Nylon, 20% Lycra® Elastane) that's lightweight and sweat-wicking with 4-way stretch. And while the Vuori joggers are 89% Polyester and 11% Elastane, I can't really tell any difference when feeling them. They're both crazy soft." image-1="" count="2″ html="true" css_class=""][sc_fs_multi_faq headline-0="p" question-0="Are Vuori joggers good?" answer-0="The Vuori Performance Jogger is made to look and feel better than any other jogger you've worn before. Made with a combination of recycled polyester and elastane, this jogger is one of the softn the planet. It's also made to not pill or fade for long lasting comfort and style for years to come." image-0="" count="1″ html="true" css_class=""]