Many pregnant women (like myself) cringe at the thought of purchasing maternity clothes.
For starters, you only wear them for a few months. Secondly, they are often more expensive than traditional clothing. Additionally, most maternity clothes don't fit right and are uncomfortable. And lastly, many women aren't overly concerned with looking stylish or sexy throughout their pregnancy (especially towards the end).
However, I discovered that the Spanx Mama maternity products might actually make you excited about shopping for maternity clothes. Spanx strives to ensure that you feel comfortable, stylish, and even sexy. 
Maternity Clothing Satisfaction Depends on:
The way you wear them
The time you wear them
Overall quality
Overall comfort
That's why, in this article, we will review the Spanx maternity line. Spanx is an American, worldwide famous shapewear manufacturer with over 20 years of business, and their products never cease to amaze us with their quality, comfort, and style.
---
1. Spanx Mama Look at Me Now Seamless Leggings
Price: $78 – $105
Sizes: XS-XL
Material: Spandex/Nylon
These leggings have a stretchy, soft, and high waistband that easily accommodates a growing belly. They are made from sturdy, thick, non-see-through fabric, which is also super comfortable.
The fabric is seamless and perfectly smooths hips and thighs, and due to a seam-free center, you won't have to worry about a camel toe.
What They are Best for?
The Spanx Mama Look at Me Now Seamless Leggings are ideal for the 2nd – 3rd trimesters of pregnancy. Whether you have a meeting to attend, want to go for a walk, or just spend the day in the comfort of your home, these leggings are an excellent choice.
Why We Love Them?
Comfortable

Versatile: easily combine them with any other piece
The Cons
These leggings are not a good fit for the "apple" shape.

The price is on the higher side at $105
---
2. Spanx Mama Faux Leather Leggings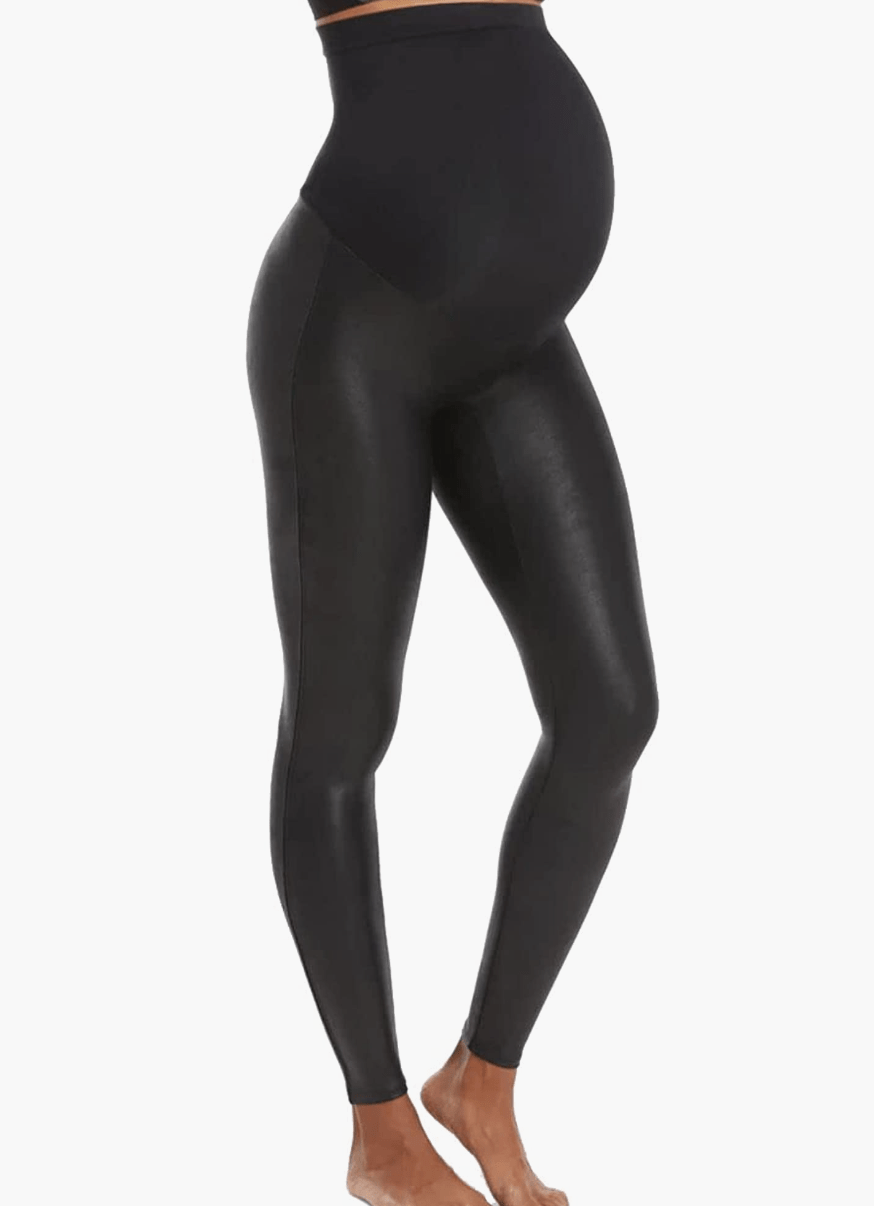 Price: $198
Sizes: XS-XL
Material: Nylon/Elastane
If you love the Spanx faux leather leggings, then you will love the maternity version too. These leggings might be your best choice if you are looking for a sexier look sure to turn heads. They are also comfortable and have a supportive waistband that grows with your bump.
What They are Best for?
These leggings are best for your 2nd to 3rd trimesters. Spanx Mama faux leather leggings are very versatile. They are best for a night out, a special event, or a chic office look.
Why We Love Them?
Accentuates all the right areas

Perfectly tight, yet comfortable
The Cons
These faux leather maternity leggings are a splurge at $198!
---
3. Spanx Mama Ankle Jean-ish Leggings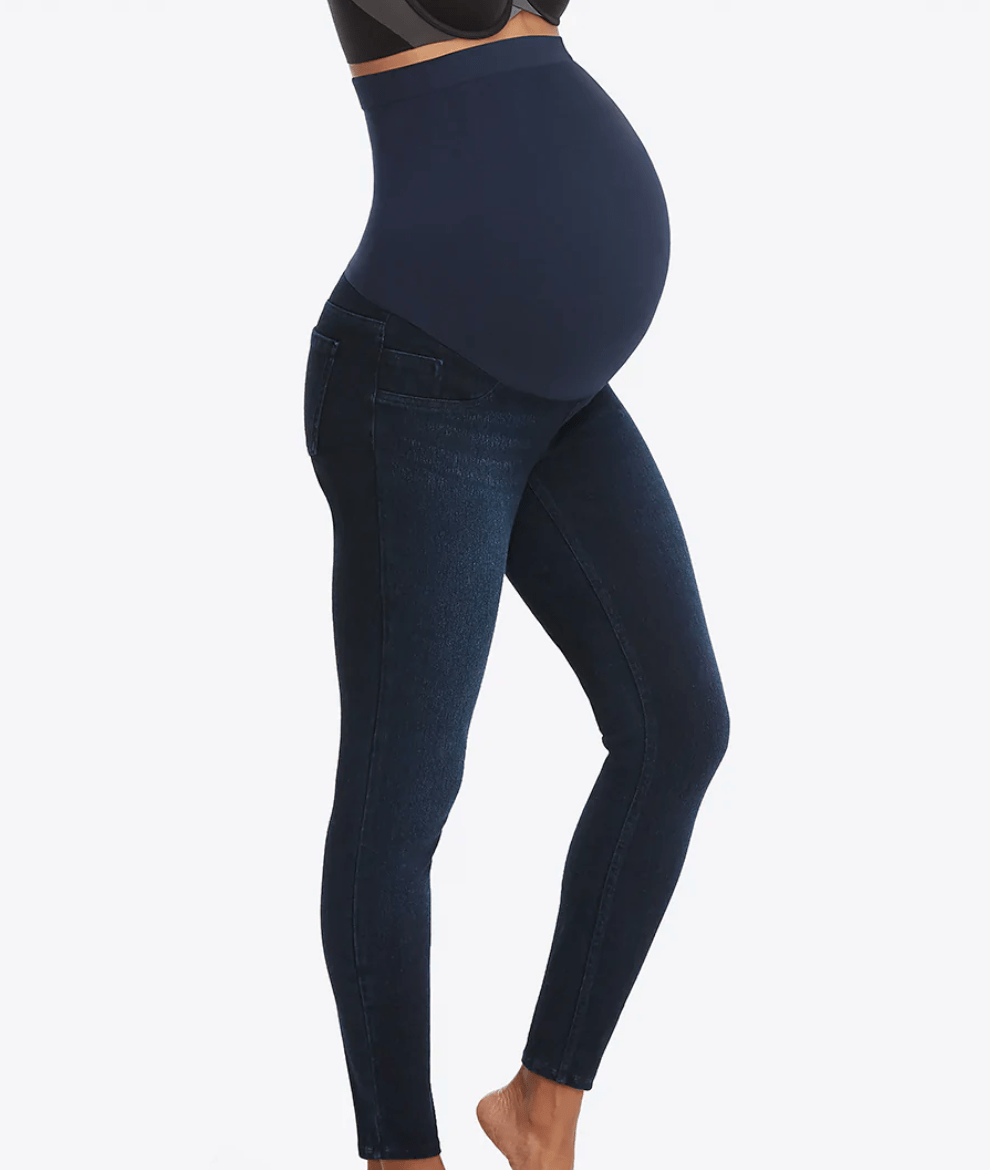 Price: $110
Sizes: XS-XL
Material: Cotton/Polyester/Elastane
If you are fond of jean-ish leggings, this is another excellent choice you should check out. The leggings come in three beautiful colors. 
What They are Best for?
These leggings are best for women in their 2nd – 3rd trimesters who want to look chic and stylish while still feeling comfortable. Dress them up with a blazer and flats for a sleek business casual look, or wear them casually to run errands.
Why We Love Them?
Come in three colors

Are super comfortable

Are versatile
The Cons
Some customers have reported that the Twilight Rinse color has caused blue dye on everything after washing.

The price is on the higher side at $110
---
4. Spanx Bra-Llelujah! Mama Nursing Bra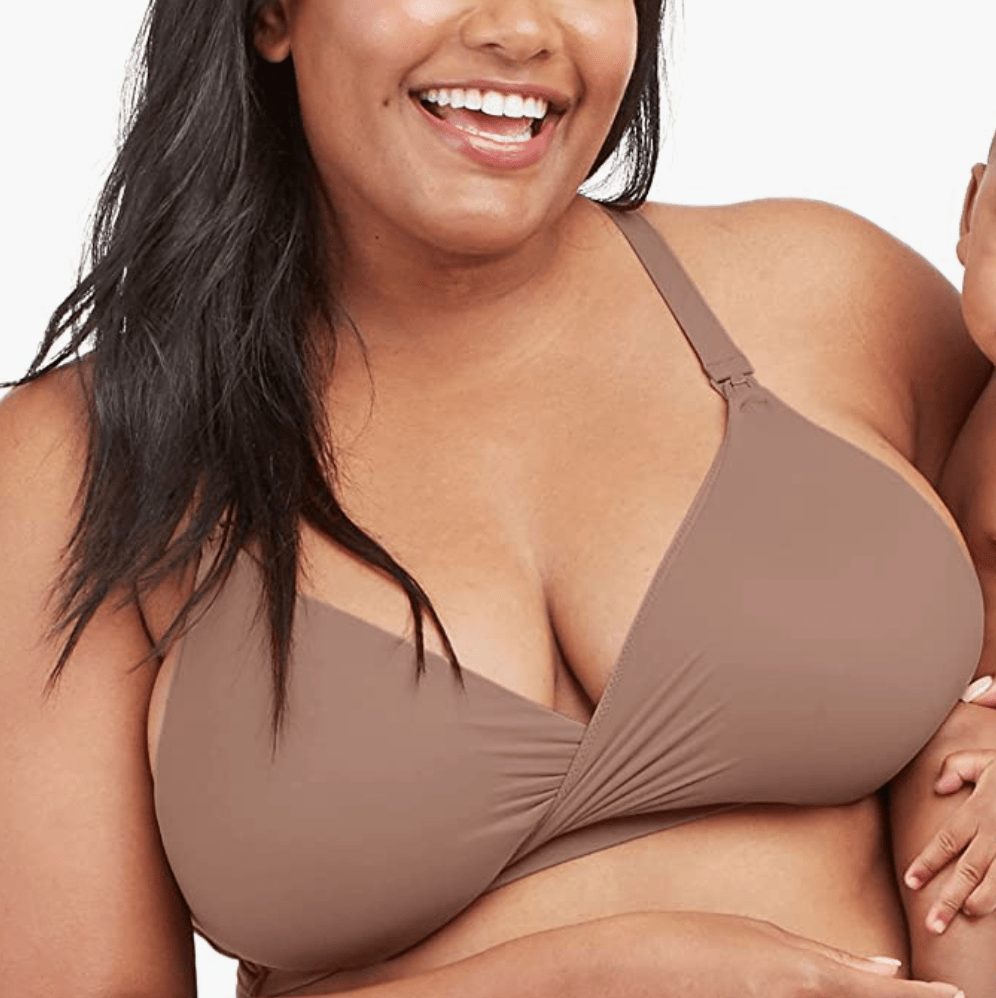 Price: $58
Sizes: XS-XL
Material: Nylon/Elastane
After years of perfecting the product, Spanx has recently made one of the most comfortable nursing bras. It is designed with clip-down cups for one-handed breastfeeding and has a wrap-over design that keeps the opposite cup in place.
This nursing bra has a four-way stretch fabric, which is brushed for a super-soft feel on the skin. It is perfect for sensitive skin types.
What This is Best for?
This is one of the best bras for women who want to easily breastfeed their baby. You can do it easily and with one hand.
Why We Love This Product?
Super comfortable – back is completely made of hosiery

Has removable pads 

4-way stretch to accommodate breast fluctuation
Stays in place
The Cons
The clasp is a bit weak and might break if you are not careful. *Note that you won't be able to get a refund in that situation.
---
5. Spanx Mama Power Shaper Short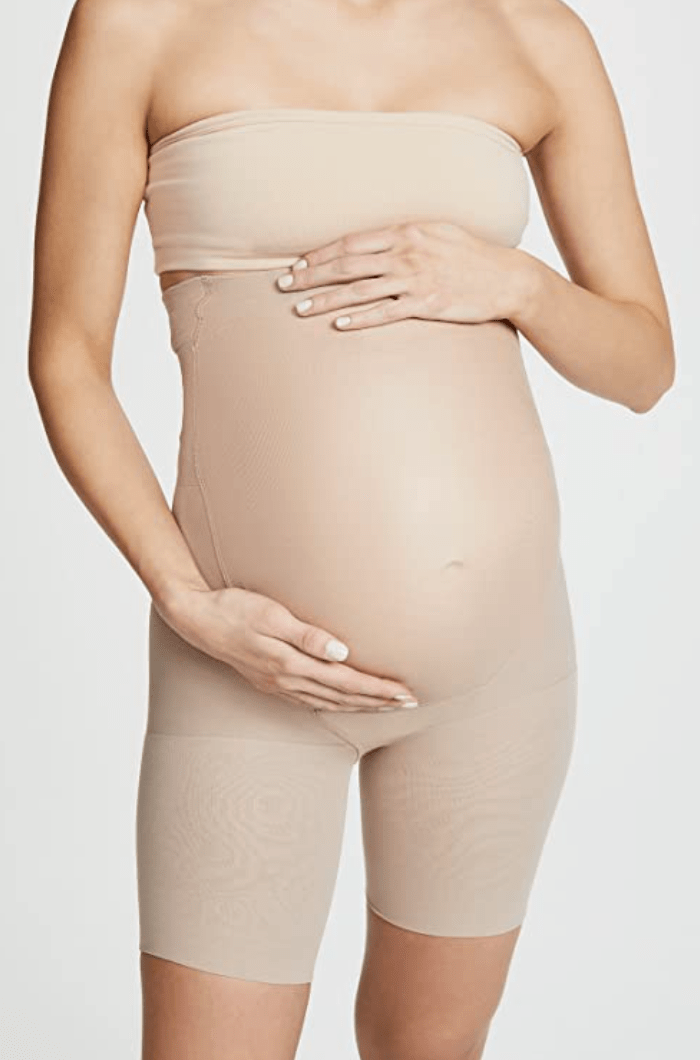 Price: $32
Sizes: A-D
Material: Nylon
This is a very comfortable undergarment that, due to its cotton gusset, really makes panties optional. It perfectly supports the bump and smooths the hips and thighs to ensure you look gorgeous through all nine months of pregnancy.
What This is Best for?
This product is best for women from the end of their 1st trimester through the end of their pregnancy who want to smooth things and look sexy while pregnant.
It is the go-to undergarment for wearing tighter garments but want to smooth and shape certain parts of your body that have grown during pregnancy.
Why We Love it?
Comes in three different colors

Super smooth and comfortable
The Cons
Some customers have reported that when they sit down, the waistband rolls down, causing mild discomfort.
---
Spanx Maternity: How to Choose the Right Size
Measure and Compare: Clothing sizes often vary by retailer. When shopping online, it is essential that you measure your bust, waist, and hips and compare the measurements with the size chart on the website.
Return Policy: Another thing you should do is confirm the store's return policies. An excellent time saver would be to buy the same product in multiple sizes, check which size suits you best, and return the other products.
Things to Consider When Purchasing Spanx Maternity Products
Material: One of the primary things you should consider when buying maternity products is the material. It is important that you buy a product that stretches since you don't know where the weight will grow during the pregnancy. Products with a flex or stretch fabric will always give you more flexibility and comfort.
Sheerness: Another thing you should do is to test for sheerness. Simply bend over, touch your toes, and ask the attendant if they can see any sheerness. You should avoid clothes that go sheer when stretched.
Ruching: You might also consider ruching since it allows your clothes to grow as you grow.
Beyond Pregnancy: When buying maternity clothes, you should also think beyond pregnancy. For example, if you intend to breastfeed, you should buy garments in which you will feel beautiful and comfortable for nine months and even after that.
Reversible Clothing: You should also consider buying reversible clothing. Since you get two items in one, it is a great way to create the look you want with minimal items. Besides, buying reversible clothing is a great way to save space and wash less.
Stage of Pregnancy: Many women don't actually need to begin wearing maternity clothes until around the 5 or 6-month mark. So it is important you wait until you actually need maternity clothes before you purchase them to ensure that you select the right size since it's hard to predict how your body will grow.
Are Spanx Mama Maternity  Products Worth the Splurge?
The bottom line is – the Spanx maternity line is definitely worth the splurge! All their products offer an excellent price-to-quality ratio. On top of that, you will look and feel gorgeous no matter your maternity garment.