This post contains affiliate links. Read the full disclosure here
High-rise flared yoga pants are back in style and lululemon offers a great version of these comfortable and versatile pants. The lululemon groove super high-rise flared pants are constructed from lululemon's coveted Nulu fabric, making them comfortable, buttery soft, stretchy, and flattering. However, like many lululemon products, these pants come with a hefty price tag, which can be a turn-off. That's why in this article we provide several comparable alternatives so you can find the perfect lululemon Groove Pant dupe for your one-of-a-kind body, lifestyle, and budget.
What are lululemon Groove Super High Rise Flared Pants?
Think of lululemon Groove Super High-Rise Flared Pants as leggings with an elevated look to them. The contrast of the high-rise waist and flared bottom create a slimming silhouette. The flare is what also allows these pants to be more versatile than your average leggings. You can dress them up or down depending on the occasion.
How to Style lululemon Groove Pant Dupes
One of the key benefits of high-rise flared yoga pants (aka lululemon Groove Pant dupes) is how versatile they are. You can dress them for many different occasions…
Casually: Easily pair your lululemon groove pant dupes with a cropped t-shirt or sweatshirt and sneakers or flip-flops for an everyday on-the-move look.
Working Out: Pair your flared yoga pants with a cropped tank for a yoga session or throw on a pair of sneakers for a low-impact workout.
The Office: The flare of these pants gives them an elevated (more elegant) look that you won't achieve with regular leggings. Therefore, you can easily dress them up with a button-down blouse or turtleneck and a pair of simple stilettos or flats for the perfect office or work look.
A Night Out: Pair your lululemon groove pant dupe with a tight body suit and a pair of strappy sandals or stilettos for a simple yet sexy look on a girls' night or date night. LOVE THIS.
What is the Best lululemon Groove Pant Dupe?
Lululemon Groove Pants are expensive. They will run you a whopping $118! Not everyone can or wants to spend that kind of cash on a pair of pants. Luckily, there are many lululemon groove pant dupes on Amazon that will cost you a fraction of that.
Baleaf Women's High-Waisted Bootcut Yoga Pants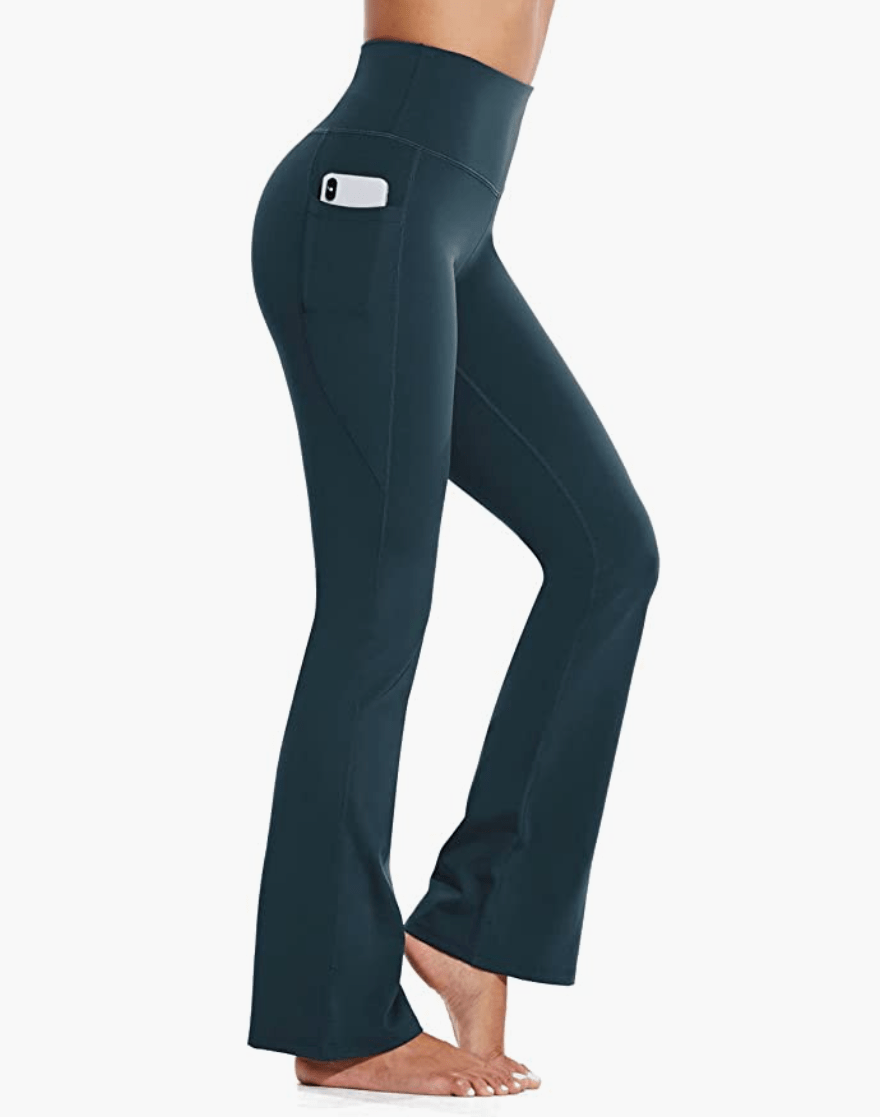 80% polyester / 20% spandex
29″ – 32″ inseam
4.5″ waistband
2 deep side pockets
Hidden waistband pocket
Best for yoga, low-impact workouts, lounging, casual everyday wear, or the office
smooth and comfortable fabric
Flattering on all body types
The waistband stays in place
Shop these lululemon Groove Pant DUPES
---
AFITNE Women's High-Waisted Bootcut Yoga Pants with Pockets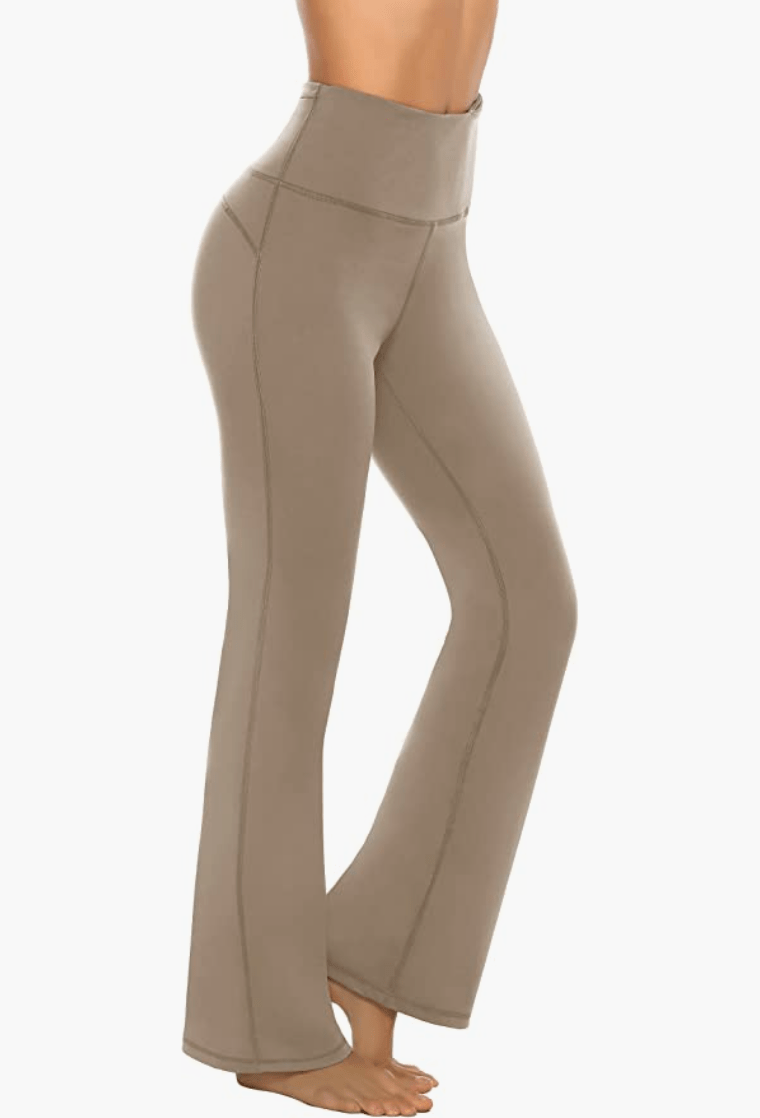 75% polyester / 25% spandex
30″ inseam
High waistband with two pockets

Hidden waistband pocket in front (for keys or cards)
Zippered waistband pocket in the back (for phone)

Best for yoga, low-impact workouts, lounging, casual everyday wear, or the office
4-way stretch, Moisture-wicking, breathable fabric
The waistband provides great tummy control
Flattering seam above booty
30″ inseam is long on shorter/more petite women

They run small (tight) so consider sizing up
Shop these lululemon Groove Pant DUPES
---
ODODOS High-Waisted

Bootcut Yoga Pants for Women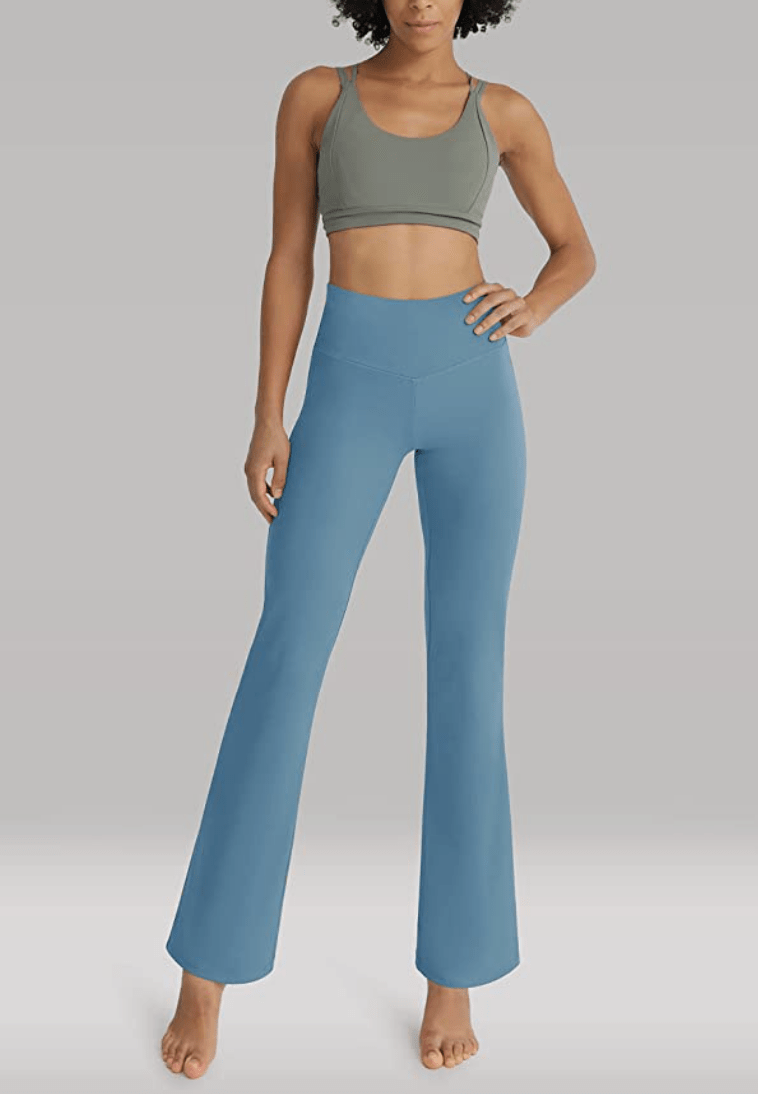 72% polyamide / 28% elastane
29″ – 35″ inseam (depending on your size)
High waistband with hidden waistband pocket in front (for keys or cards)
Best for yoga, low-impact workouts, lounging, casual everyday wear, or the office
4-way stretch, Moisture-wicking, buttery soft, breathable fabric
Flattering v-shaped seam in the front and above the booty
Constructed from Odlex interlock fabric (a double-knit technology that is firm and stable).
They run true to size
The flare begins right above the knees, which some customers did not like
Shop these lululemon Groove Pant DUPES
---
RIMLESS 7 Women's Bootleg Yoga Pants with Pockets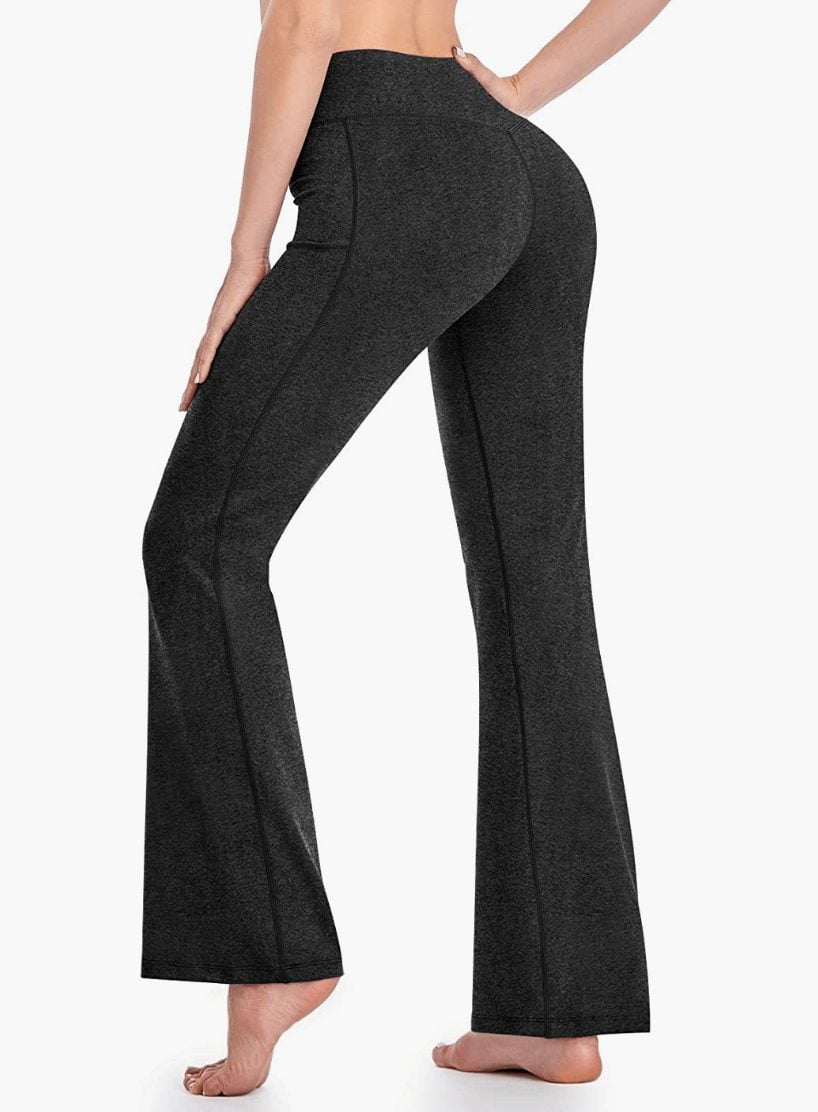 87% nylon / 13% elastane
29.5″ – 30.5″ inseam (depending on your size)
High waistband with hidden waistband pocket in front (for keys or cards)
Best for yoga, low-impact workouts, lounging, casual everyday wear, or the office
4-way stretch, Moisture-wicking, buttery soft, breathable fabric
Flattering v-shaped seam above the booty
They run true to size
Customers appreciate that the flare is subtle and not too wide
These pants are available in a capris length and a wider leg (that includes side pockets)
Customers love the quality of the fabric – thick yet stretchy, soft, and breathable
Shop these lululemon Groove Pant DUPES
---
Ywyxhzha Women's High-Waisted Bootcut Yoga Pants with V Crossover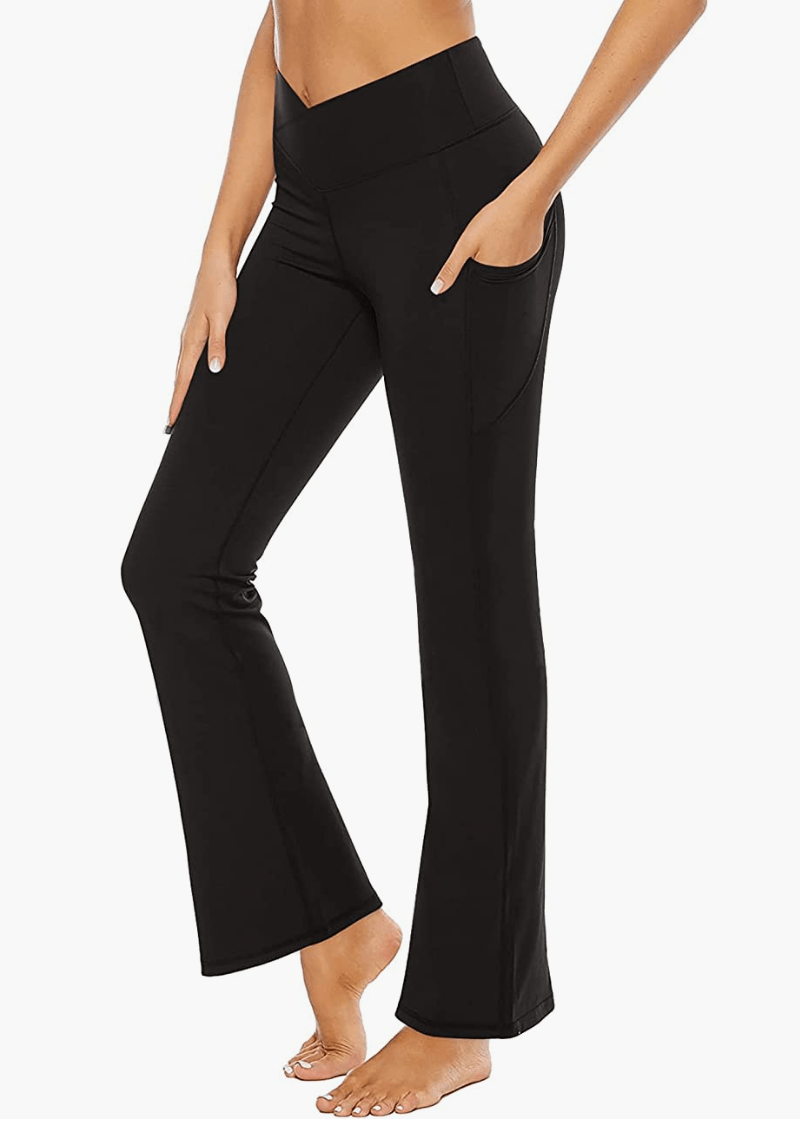 78% nylon / 22% spandex
24.5″ – 29.5″ inseam (depending on your size)
The V-shaped high waistband is slimming and flattering
Best for yoga, low-impact workouts, lounging, casual everyday wear, or the office.
The split hem makes these pants easy to dress up for a date night or business meeting
4-way stretch, Moisture-wicking, buttery soft, breathable fabric
Flattering v-shaped seam above the booty
They run true to size but are shorter (might be too short if you are tall)
The flare is subtle and not too wide
Customers love how comfortable these pants are: stretchy, soft, and breathable
Shop these lululemon Groove Pant DUPES
---
CTHH High-Waisted Flare Yoga Pants with V-Crossover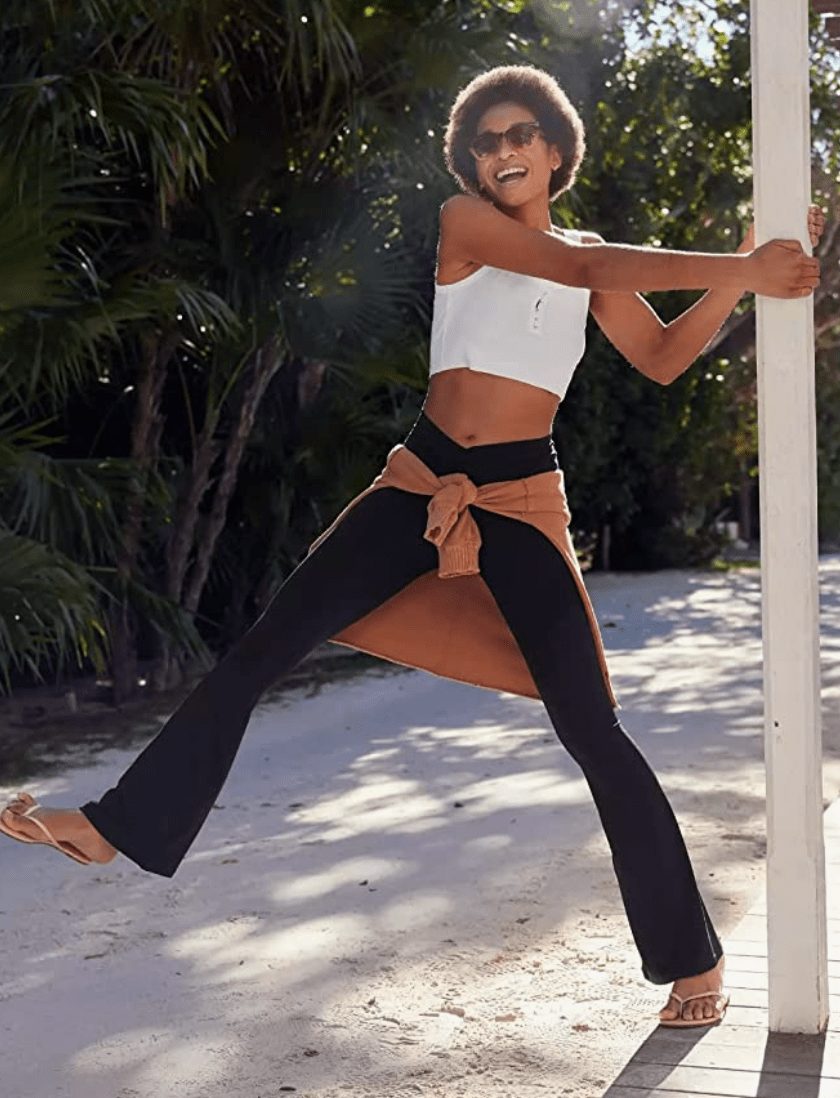 92% nylon / 8% spandex
30″ – 32″ inseam (depending on your size)
The crossover v-shaped high waistband is slimming and flattering
Best for yoga, low-impact workouts, lounging, casual everyday wear, or the office.
4-way stretch, Moisture-wicking, durable fabric with great compression
They run true to size but are long (might be too long if you are short)
100% of the reviews on Amazon are 5 stars
Shop these lululemon Groove Pant DUPES
---
Yogalicious Flare Leg Yoga Pants with Crossover Waistband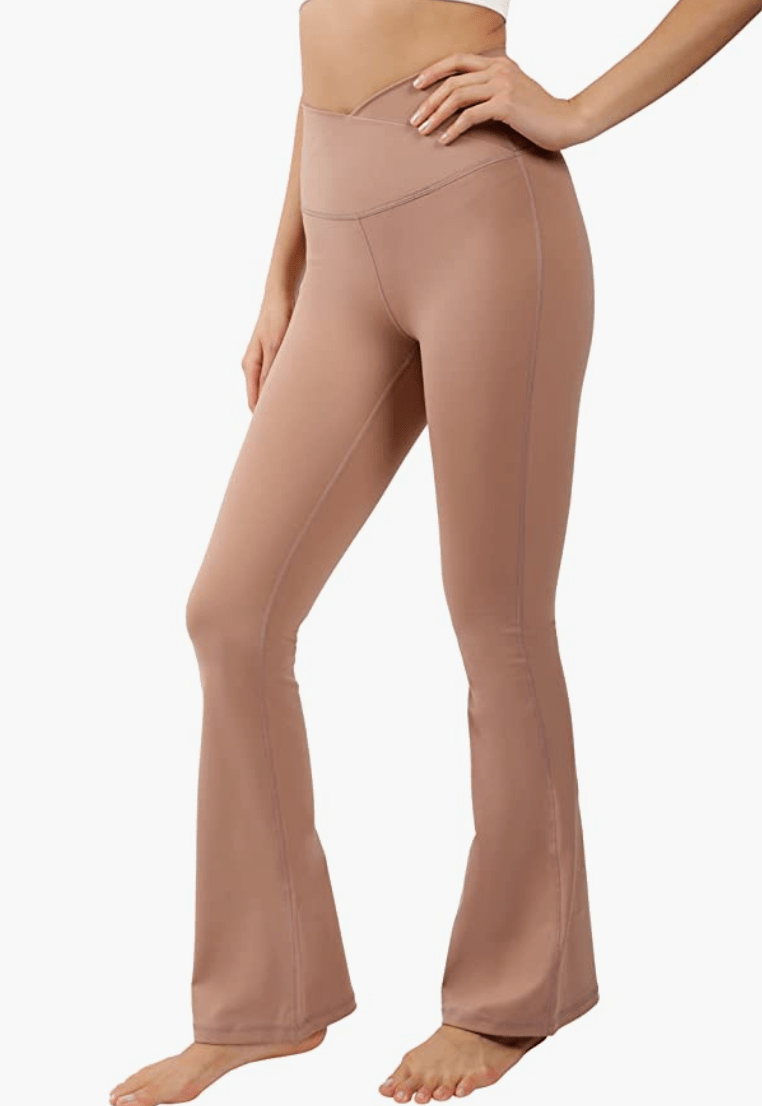 83% polyester / 17% spandex
The crossover v-shaped high waistband is slimming and flattering (sits right at your belly button)
These lululemon groove pant dupes don't have pockets but fit great
Best for yoga, low-impact workouts, lounging, casual everyday wear, or the office.
V-shaped seam above booty is flattering
These pants have a subtle flare
4-way stretch, Moisture-wicking, durable fabric
Some reviews claim they are shinier than the images portray
They run big and are long (I recommend  sizing down)